Meet the

DEUS AERO

inflatable kayak
The one-of-a-kind BOTE DEUS [day-us] Aero 11′ recreational inflatable kayak enters the kayak category with no rival. Utilizing industry-shaping design and engineering, this versatile recreational kayak is constructed with BOTE's inflatable AeroBOTE Technology and goes from travel bag to a 11' sit-on-top kayak in a matter of minutes. Remove the top chamber and it becomes a super stable stand up paddle board in seconds. The military grade PVC construction makes the DEUS incredibly lightweight as well as super easy to store and transport.
God of Adventure
Love recreational kayaking? Get yourself a DEUS Aero Inflatable Kayak, the one-of-a-kind aero kayak unsurpassed in quality, convertibility, and price. Entering the kayak category with no rival, the DEUS is everything a solid a kayak wishes it was: extremely lightweight, extremely useful, and extremely awesome.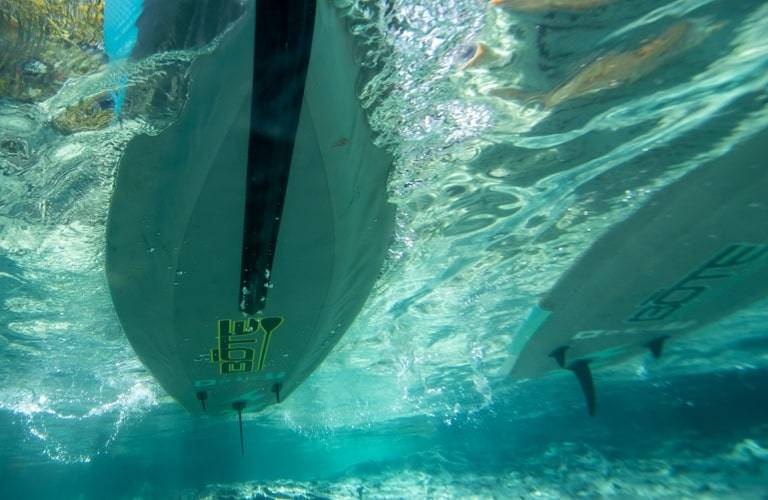 UNPARALLELED PERFORMANCE
When using an inflatable kayak, you shouldn't have to sacrifice performance for convenience. The BOTE DEUS delivers both industry-leading performance and unparalleled convenience. With it's four-chambered construction for stability, 10-inch removable fin for tracking, and ample keel guard for durability, you won't miss a second of time out on the water screwing around with all the hard plastic kayaks out there. Just grab it, pump it up, and go. The BOTE DEUS is not only a hybrid kayak or even an inflatable stand up paddle board, it is a transformer that quickly converts from kayak mode to stand up paddle board almost instantly. It's military-grade PVC construction provides an ultralight vessel that's easy to get in and out of the water.
COMFORT AND CONVERTIBILITY
With the BOTE DEUS inflatable kayak in its sit-on-top configuration and with its self-bailing cockpit, you stay comfortable and dry during your long awaited time on the water. Converting to a stand up paddle board configuration couldn't be easier – just pop the top and use it as an additional float for your cooler. This is what you've been waiting for. A one-stop kayak shop that does it all.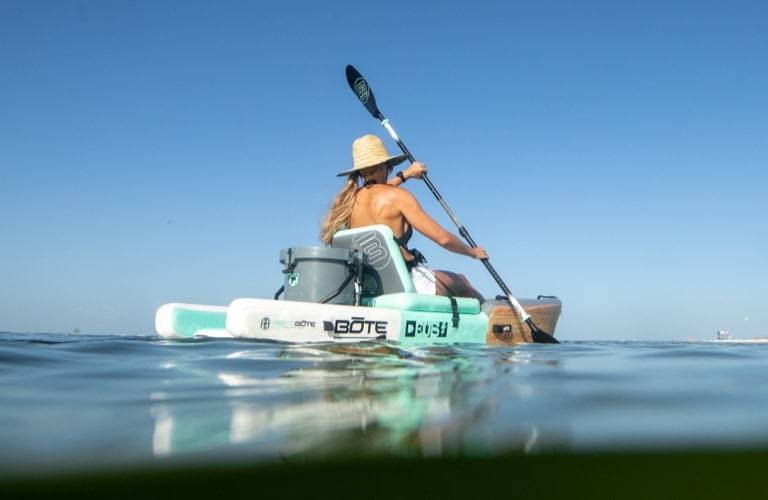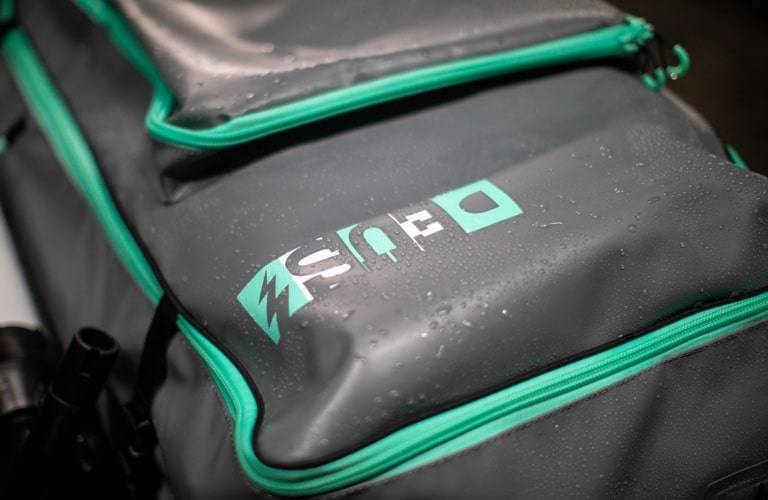 THE PERFECT CARRY-ON
No more fooling around with unwieldy, hard plastic kayaks that force you to sit wet in the cockpit. Loading and unloading, setting up and taking down, packing and unpacking are all part of the process. Converting from backpack to kayak to backpack in minutes means less time and effort transporting and more time enjoying what you live for: the outdoor lifestyle and experience.
Take it anywhere; store it anywhere. Whether you want to hit the water after work or take it on a 1,000-mile road trip, the BOTE DEUS comfortably travels anywhere a normal suitcase can. When you are not on the water, store it anywhere you call home.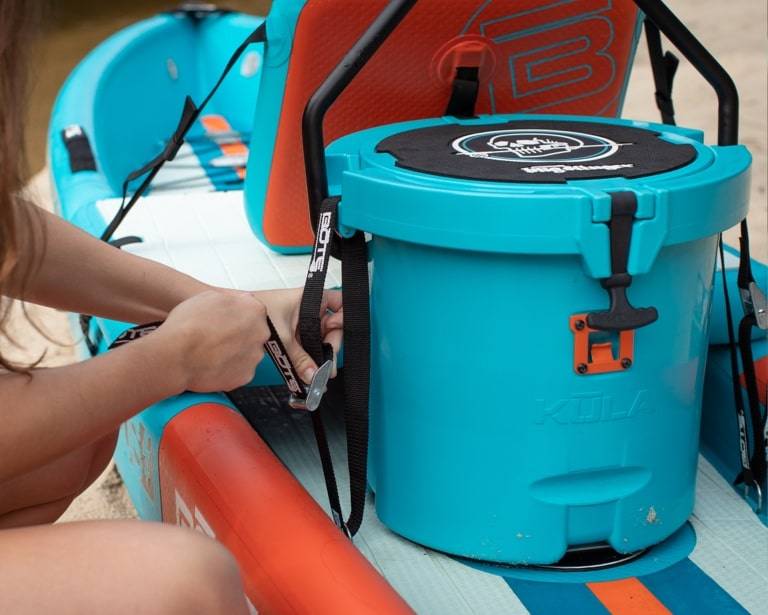 Tie-Down Points
Tie down points on the deck of the board, perfect for lashing down a cooler (or other gear).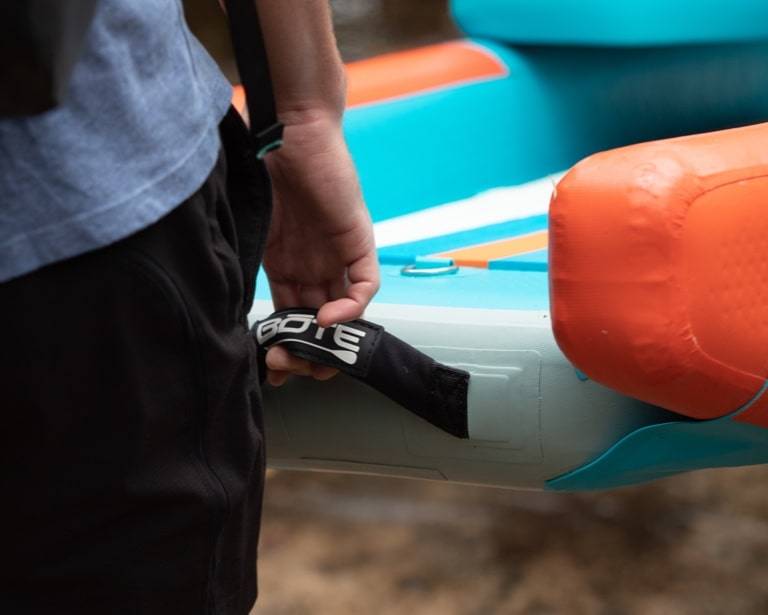 Grab Handles
Redesigned to be the most comfortable Grab Handle found on any paddlecraft. No more numb fingers or weak leverage while transporting your board.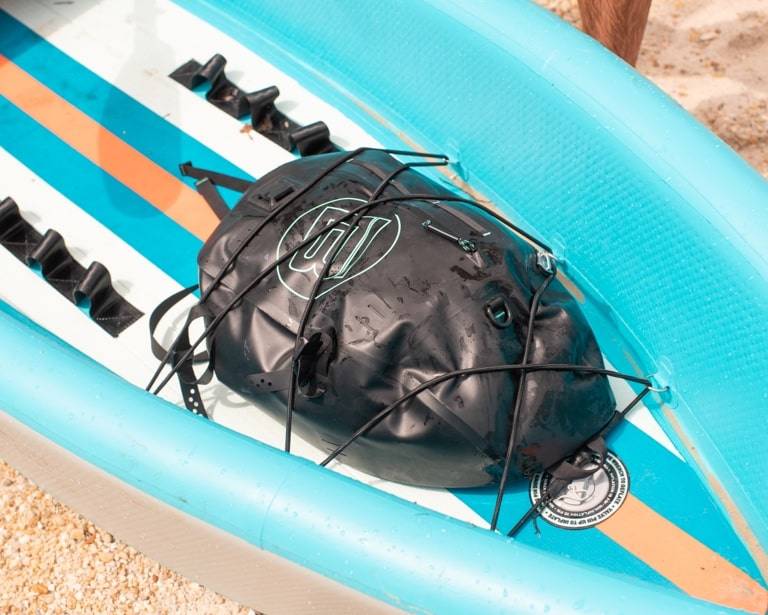 Front Bungees
Adjustable Bungee Straps provide quick and easy storage of extra gear and are available on all of our board and kayak models.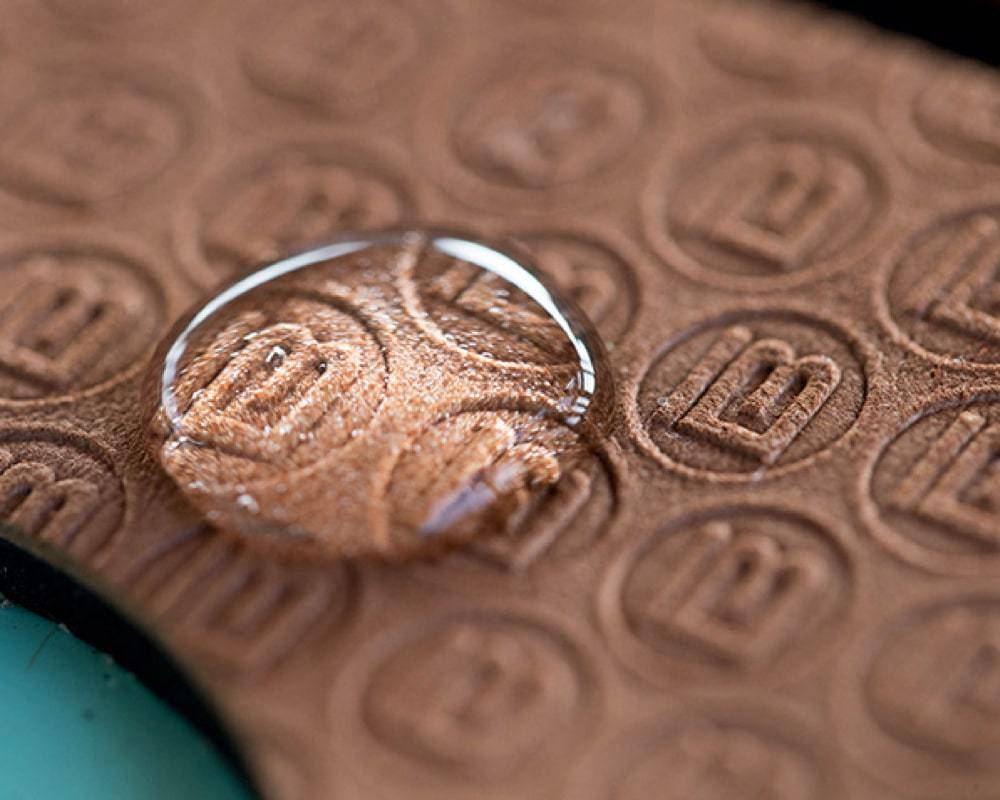 BVA Foam Deck Pad
The BVA multi-textured deck pad is heat sealed to shed water and provides plenty of cushion to reduce fatigue and anti-slip traction.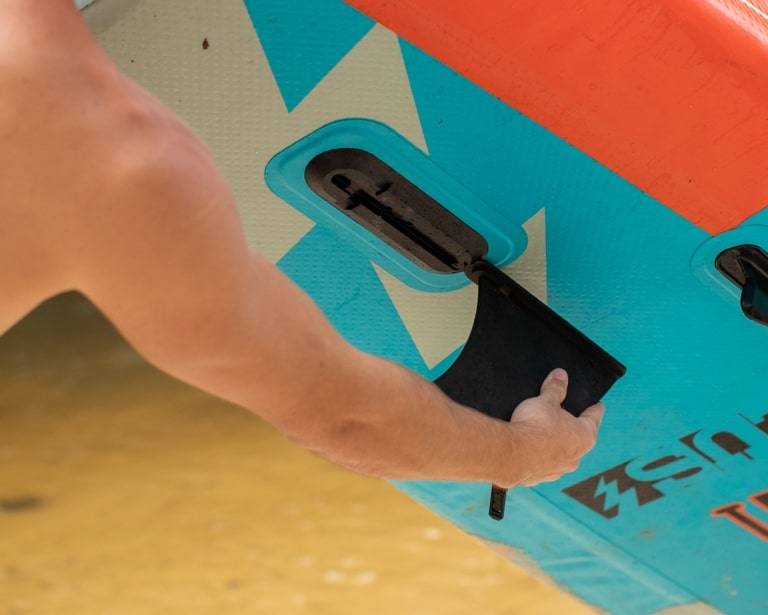 Detachable Aero Center Fin
A center fin that is removable with a tethered attachment pin to allow for ease of transport and storage.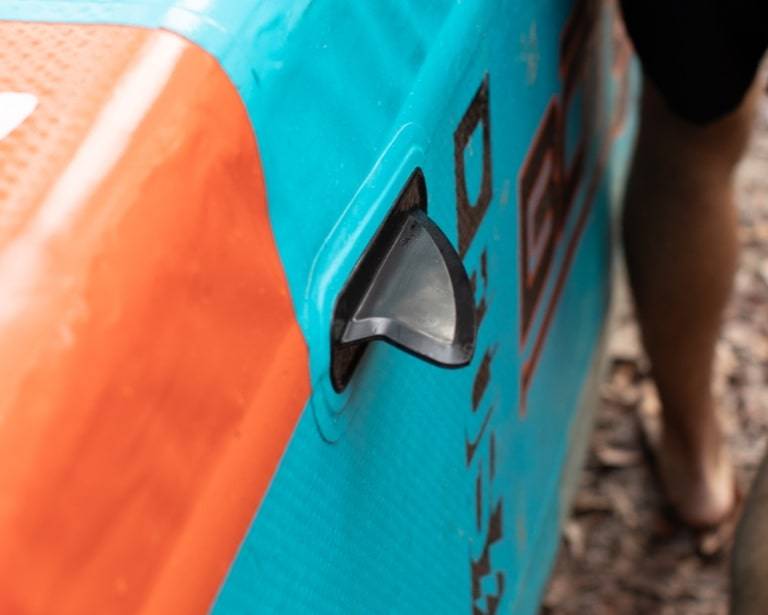 SIDE BITE FINS
These fins are molded into the hull for increased tracking.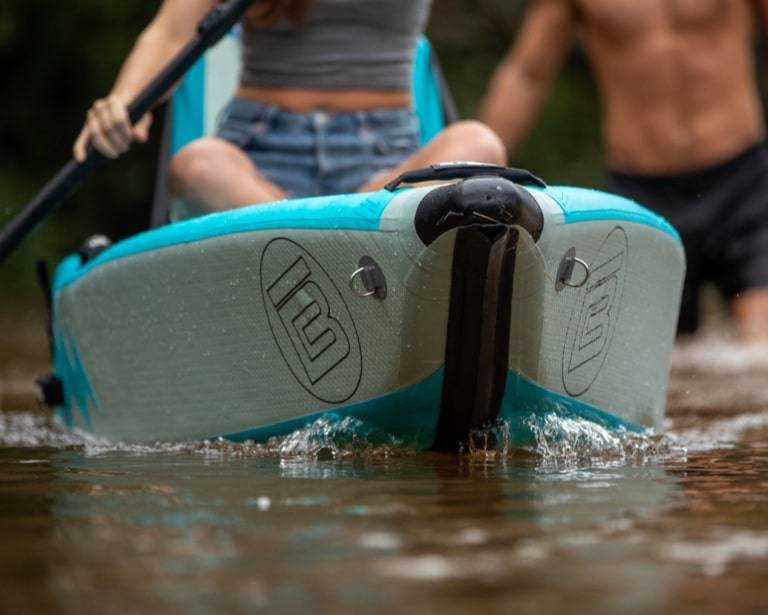 KEEL GUARD
All inflatable kayaks have a keel guard running halfway down the underside of the kayak, that helps paddle more efficiently and saves the bottom from abrasion.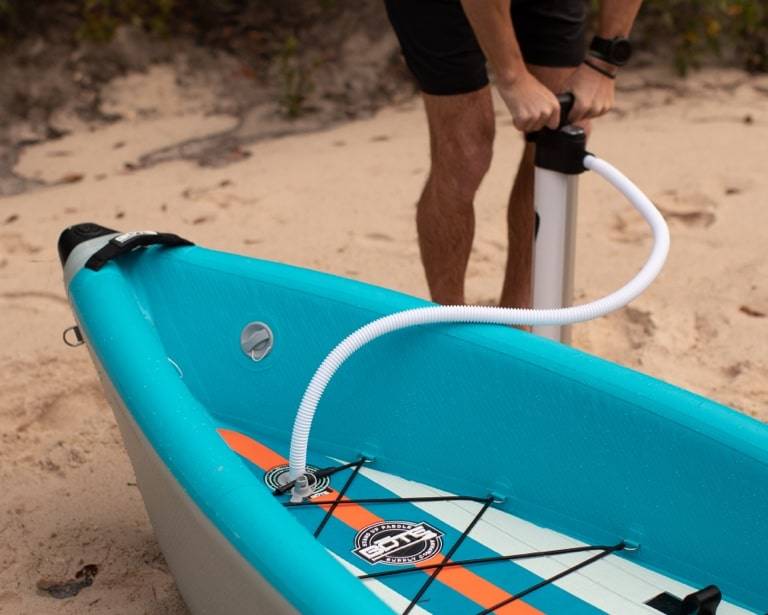 Made With Aero Technology
Constructed with our Aero Technology™ to ensure peak rigidity and performance.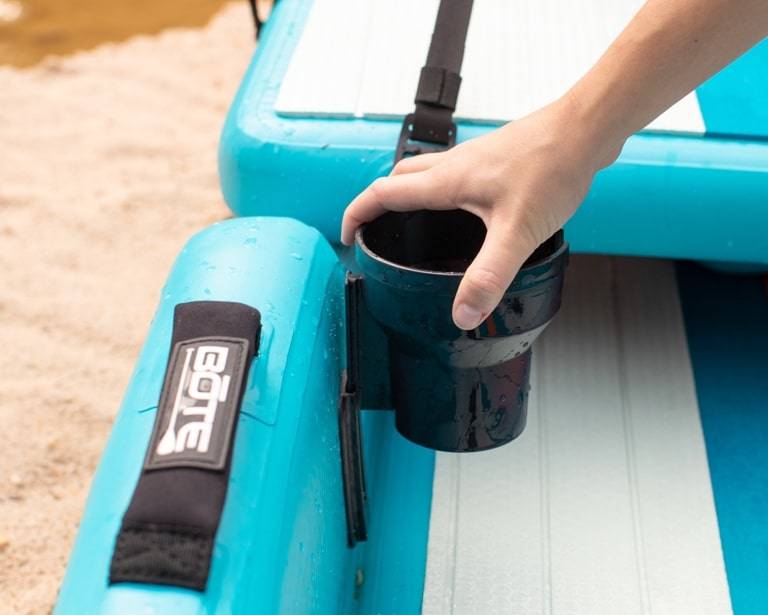 Cup Holder Compatible
Integrated Cup Holder Receivers can be used to hold the BOTE Cup Holder accessory, keeping your beverage secure from tipping and within reach.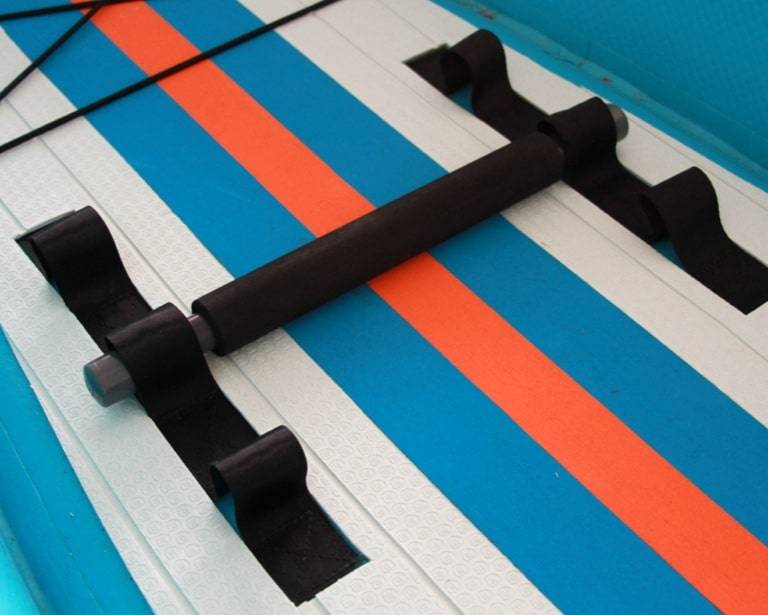 removable foot bar
The adjustable, removable Foot Bar gives you a place to rest your feet as you paddle, strengthening your paddle strokes. Use the MOLLE Loops on the deck to adjust to your comfort.
SELF-DRAINING COCKPIT
DEUS rids itself of unwanted water by funneling it out through the stern.
COMPARE
DEUS Aero
Zeppelin Aero
LONO Aero

4-Chambers with
Flared Bow & Keel Guard

1 Floor Chamber
2 Pontoon Chambers

4-Chambers with
Flared Bow & Keel Guard

MAGNEPOD™ Accessory Compatible

Aero Paddle Seat Compatible

Aero Cup Holder Compatible

Power-Pole® Micro Compatible

Accessory Mounting Points