LIMITED TIME ONLY
Buy a LONO Aero Inflatable Kayak and get $200 OFF the APEX Pedal Drive.
Inflatable kayaks
Pioneering the inflatable kayak
Inflatable Stand Up Paddle Boards
Anything but Soft
Meet the BOTE Inflatable Kayaks Lineup
If you're looking for the best inflatable kayaks on the market, you've come to the right place. The BOTE fleet of inflatable kayaks is not only super diverse in terms of what's on offer—from the lightweight Zeppelin Aero 10′ to the heavy-duty LONO Aero 12′6″—but BOTE inflatable kayaks also consistently deliver across the board when it comes to durability, stability, packability, portability, speed, comfort, design, innovation, the list goes on.
In fact, some might even say BOTE revolutionized kayaks. Over the years, we've created a dangerously good-looking (and durable) group of inflatable kayaks. How we've done it is a simple and painstakingly meticulous process. With innovation and industry-shaping technology, we've done everything in our power to create the best inflatable kayaks that push boundaries and pull waters like it's no one's business.
Ready for the ultimate waterborne adventure? Every BOTE inflatable kayak performs with the utmost durability and stability required for days on the water. But what makes them truly unique is their packability. Our inflatable kayaks come equipped with a custom travel bag so they can pack down into even the smallest spaces. BOTE inflatable kayaks are perfect for recreational kayaking, kayak fishing, tandem kayaking, and just about any type of flat water kayaking activity out there.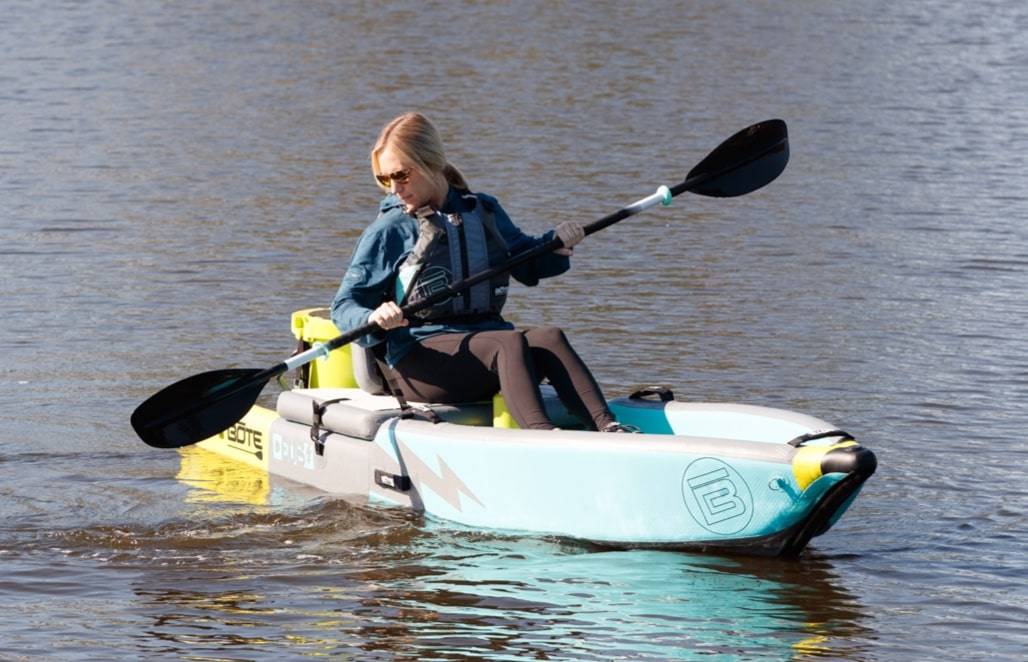 Aero Technology
BOTE inflatable kayaks are made with Aero Technology for supreme durability, portability, and packability. Aero, in its simplest terms, is a construction material that by nature can expand and contract in volume. BOTE has created this product with 4 performance dynamics in mind: durability, portability, storability, and being super lightweight.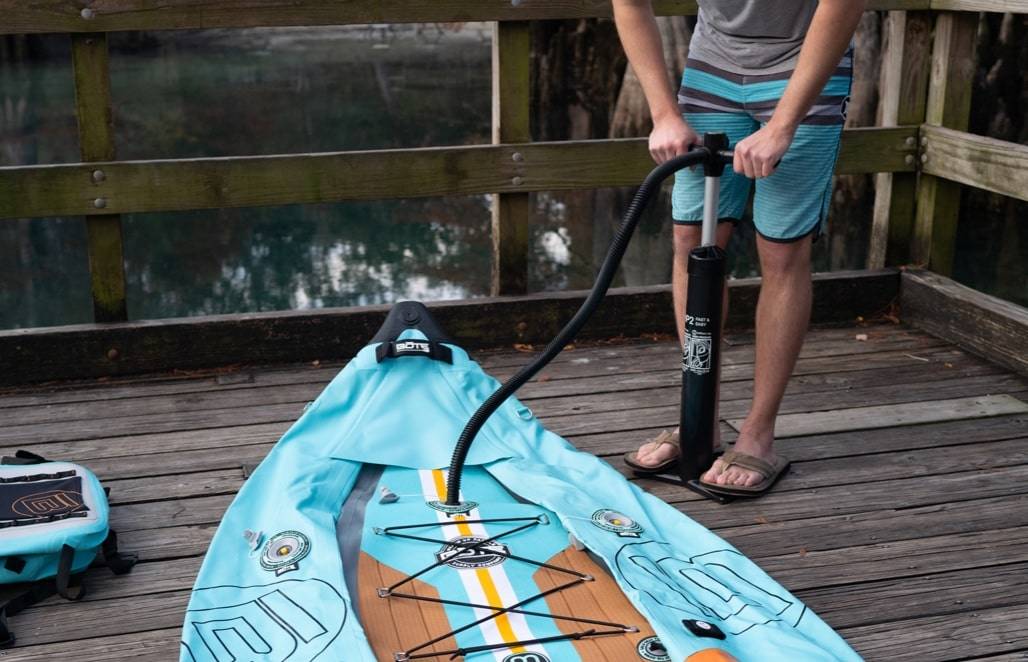 The most important aspect of water sports is getting on the water in the easiest, fastest way possible. Your experience as a whole—loading, unloading, cleaning, storing—ultimately affects how often you actually paddle. That was the impetus for developing AeroBOTE technology, which delivers unsurpassed rigidity thanks to tens of thousands of composite fibers, drop stitched to connect to a military-grade PVC skin. Once inflated, it's hardly indistinguishable from a solid board. Off the water, it can be deflated and rolled up into a backpack. And don't worry about scratches and dings because the military-grade PVC skin is virtually indestructible.
deus Aero 11′
Love recreational kayaking and kayak fishing? Get yourself a DEUS Aero 11′ Inflatable Kayak, the one-of-a-kind aero kayak unsurpassed in quality, convertibility, and price. A great adventurer's kayak, the DEUS Aero 11′ is a recreational craft that's essentially the smaller sibling to the LONO Aero. It's an inflatable kayak with the soul of a stand up paddle board. Extremely lightweight and portable, the DEUS is a great option for traveling. High walls provide protection from getting wet as well as added security for children or pets.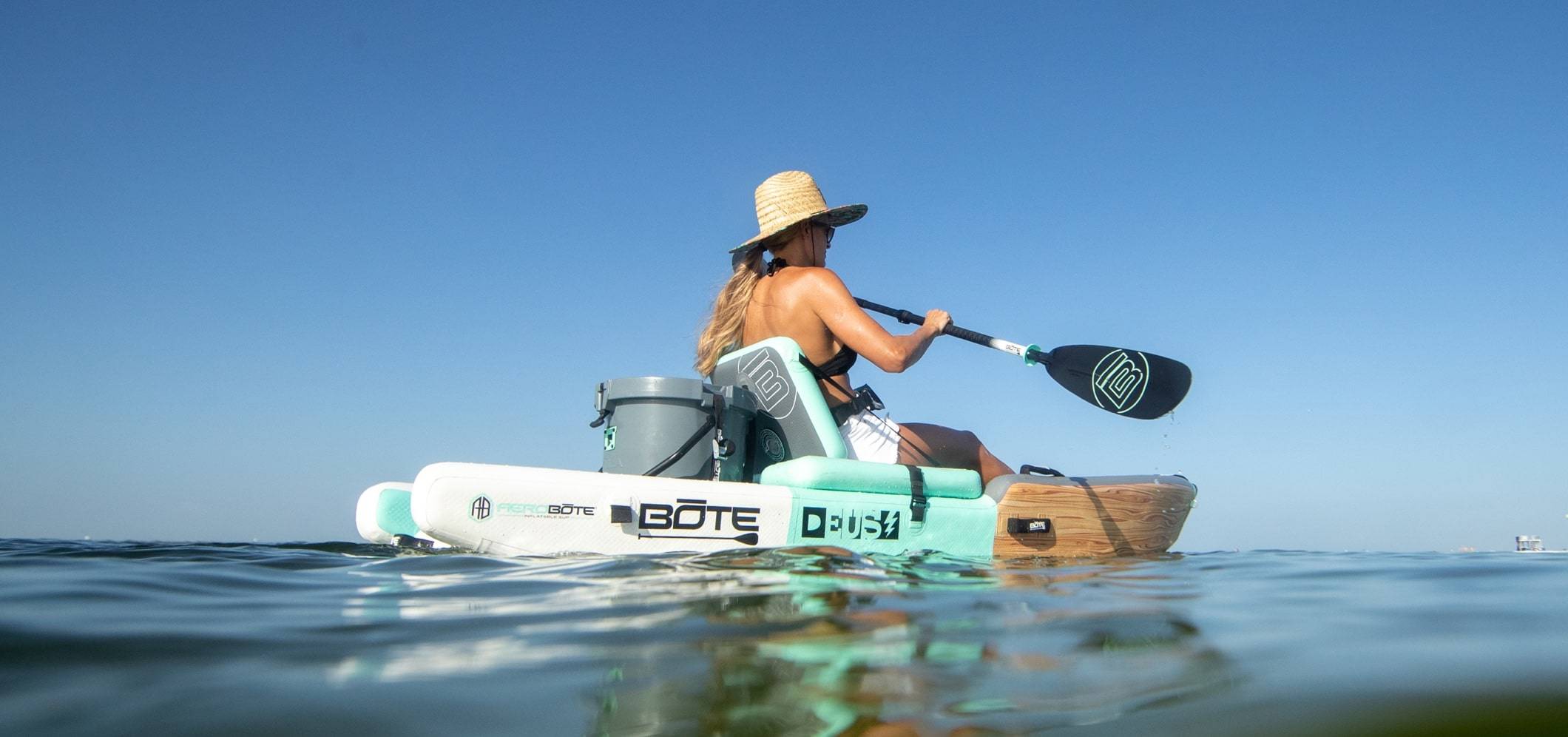 Utilizing industry-sharing design and engineering, the DEUS (day-us) is a highly versatile recreational kayak built with lightweight AeroULTRA™ Technology and military-grade PVC construction. It's a sit-on-top kayak and a stand up paddle board in one, thanks to the innovative removable top chamber, doubling as an extra floating platform. From travel bag to 11′ kayak in a matter of minutes, the DEUS Aero Inflatable Kayak is the perfect recreational inflatable kayak.
zeppelin Aero 10′
Our smallest, most lightweight inflatable kayak option, the Zeppelin Aero 10′ is a great entry-level everyday kayak, built with extreme stability in mind. Designed for first-timers, smaller kayakers, recreationalists, and experts alike, the Zeppelin Aero 10′ fills the need for a vessel that's fundamentally stable and easy to use, and that has the versatility to be scaled up and decked out.
Small in size but big on features, the Zeppelin Aero 10′ comes with all the essentials to get out on the water from day one. The only question you have to ask yourself is: Zeppelin Aero 10′ vs. the Zeppelin Aero 12′6″? The good news is there's no wrong answer.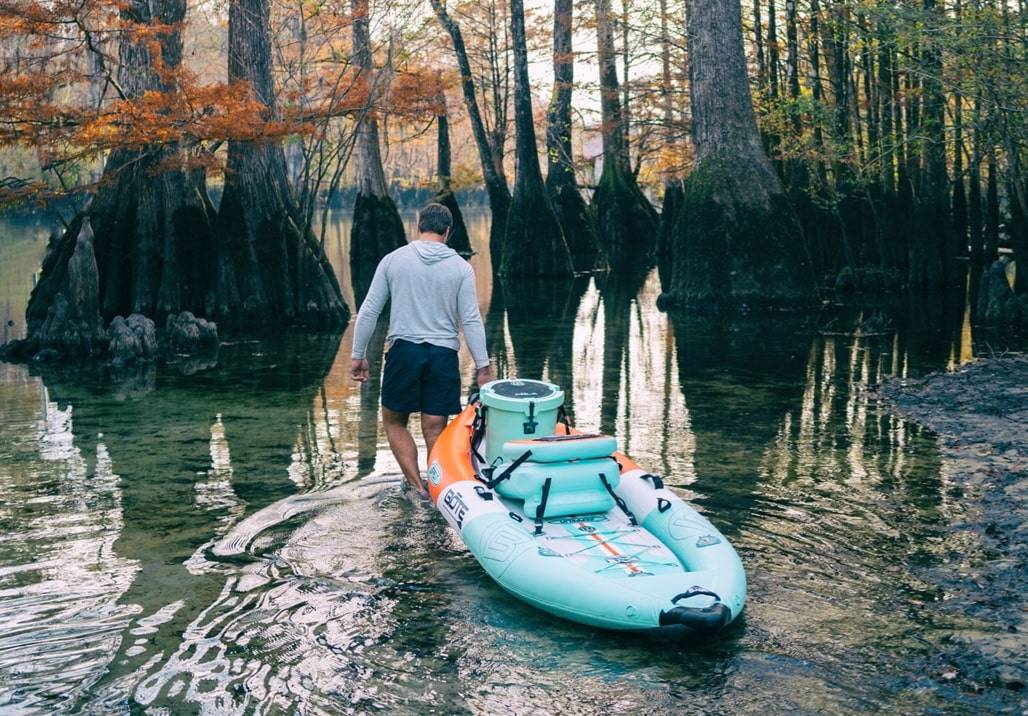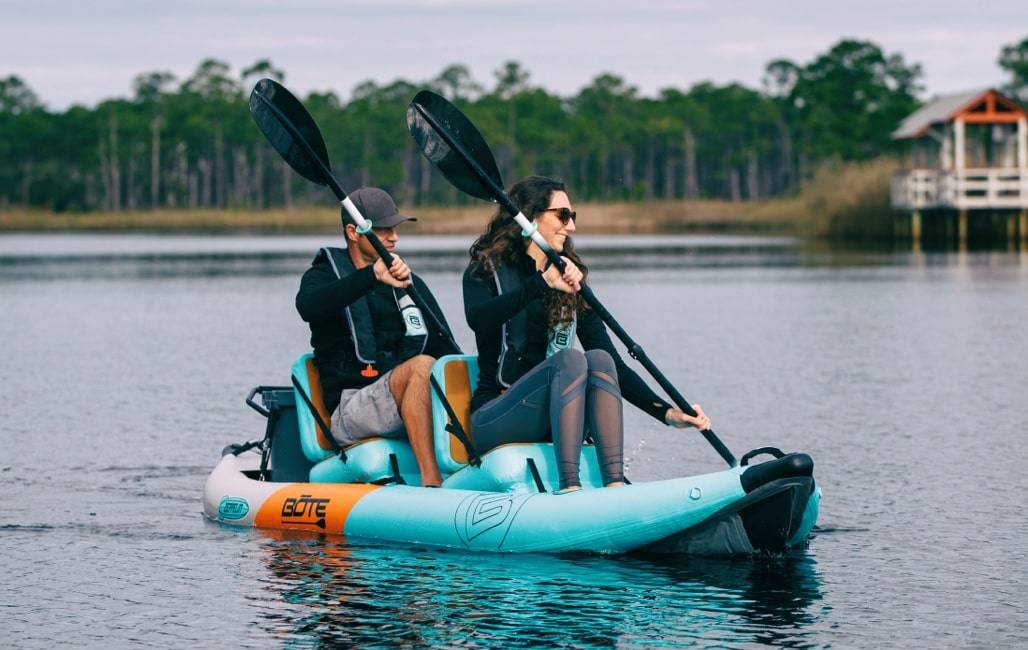 zeppelin Aero 12′6″
Constructed with our Aero Technology™ to ensure peak rigidity and performance, the Zeppelin Aero 12′6″ is a large kayak built to operate as both a solo vessel and as a tandem option for you and a partner without sacrificing the portability of an inflatable kayak.
The Zeppelin Aero 12′6″ is what tandem kayaking dreams are made of. With a high capacity and standard tandem style that can be transformed into a single-seat, the Zeppelin 12′6″ is an excellent option for the whole family to spend time on the water together.
LONO Aero 12′6″
The original LONO Aero Inflatable Kayak was BOTE's initial venture into the inflatable kayak seascape. It revolutionized the kayak market in many ways, outperforming traditional solid kayaks and offering a solution for rack-less sedan-driving paddle anglers everywhere.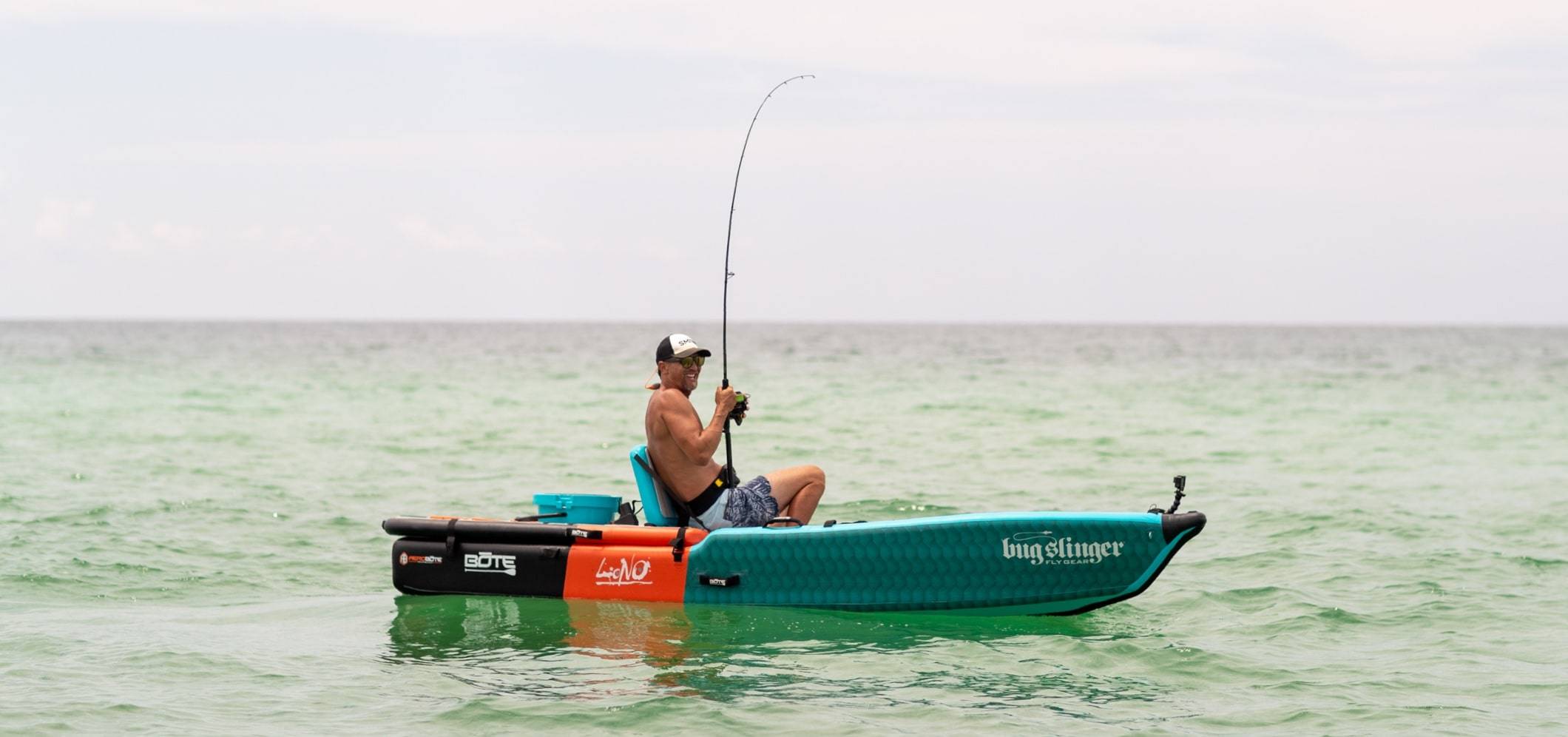 The reimagined LONO Aero 12′6″, with APEX Pedal Drive compatibility, is our most feature-rich and versatile kayak to date. The ultimate option for the avid fisherman or recreational paddler alike, and with the addition of the APEX•PD, the LONO allows for multiple ways to get you where you want to go. Want to paddle hands-free? The separately sold APEX Pedal Drive offers no-touch transition between forward and reverse, ambidextrous and intuitive steering control, a spring-loaded kick-up rudder, super-tight turning radius, and a 10:1 propeller-to-pedal rotation ratio. In other words, it's fast and incredibly efficient. Whether you're hitting your favorite fishing spots on the weekend, gearing up for a water-borne expedition, or just hitting the local launch with your family, it's time to say goodbye to compromise and hello to the LONO.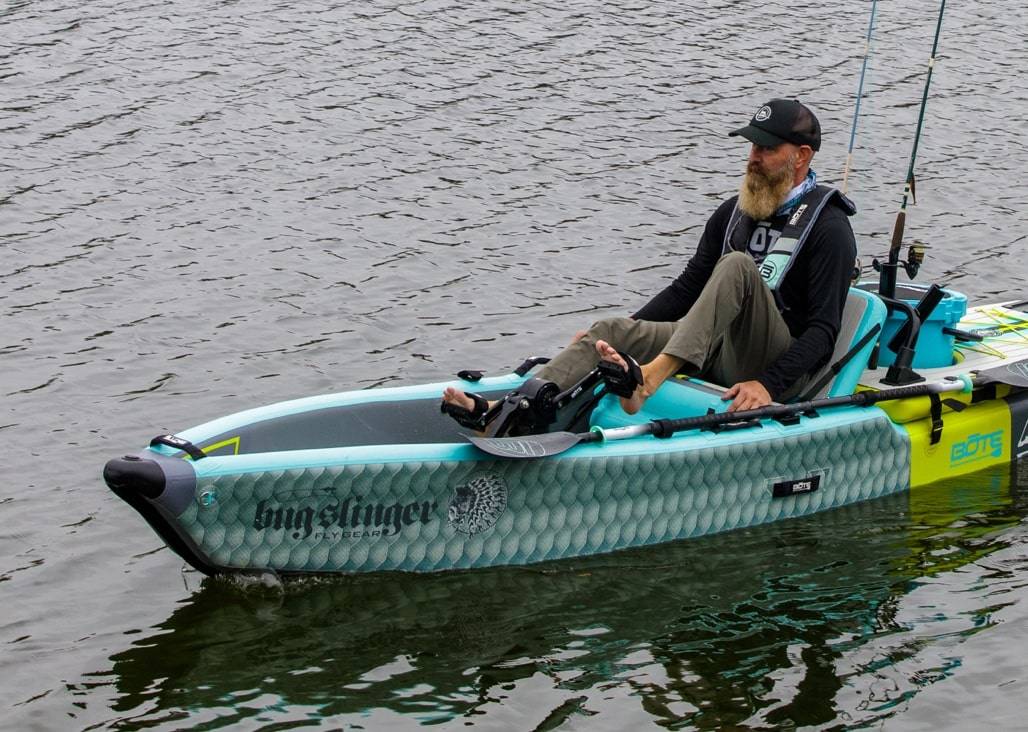 Which inflatable kayak is right for you
So, which inflatable kayak is right for you? The good news is that there are only right answers. All you need to determine is the size, capability, and desired activity of choice, and BOTE's incredible array of the best inflatable kayaks will do the rest.
Happy paddling - we'll see you out there!