Solid Paddle Boards
Incredibly Strong & Stunningly Beautiful
Solid Paddle Boards
Incredibly Strong & Stunningly Beautiful
The BOTE Solid Paddle Board Lineup
When it comes to superior construction, peak performance, and down-right sleek design, look no further than the BOTE Solid Paddle Board. Reimagining the solid paddle board for over 10 years, BOTE has curated a lineup of SUP's for the tall, the small, the adventure-enthusiasts, the kick-backers, and everyone in between.
Every BOTE solid paddle board begins its journey in the DarkRoom—our multi-layered rapid prototyping and production program—and enters the market as a best-in-class paddle platform. BOTE solid paddle boards stand apart through distinctive designs, unparalleled compatibility features, and industry-shaping Gatorshell Technology construction. Our proprietary advanced plastics give BOTE solid paddle boards all the rigidity you can dream of while keeping them lightweight with a seamless finish. We even tested its strength and durability against traditional epoxy boards, proving our Gatorshell boards to be six times tougher. That's six times the better at handling bangs, bumps, and bruises with your BOTE solid paddle board.
While our solid paddle boards are built for maneuvering nearly every waterway, each board is also shaped for ultimate performance in its category. From planing hulls (a flat and wide base perfect for recreational paddling) to displacement hulls (a pointed nose with a concave bottom built for extended paddling), our solid paddle boards have all the right curves for your style of SUP'ing.
Learn more about our hull designs in our Journal, Choose Your Hull, a Guide to Hull Design.
When selecting your water companion with a BOTE solid paddle board, your only conundrum is deciding which one is right for you. Because one thing is a given—our solid paddle boards come packed with versatility, durability, and compatibility options that cannot be replicated.
Now let's get to the good part: exploring our solid paddle boards.
Breeze Gatorshell Solid Paddle Board
Designed for beginner paddlers looking to grow into the SUP lifestyle, the Breeze Gatorshell Solid Paddle Board is coined 'The Flagship of Fun,' and for good reason. Offered in two sizes, 10′6″ and 11′6″, this board is designed with a wide base and a planing hull, keeping you stable and secure as you perfect your paddle stroke. A wallet-friendly option for those who want all the essentials, the Breeze has everything you need to get on the water, including a Travelink Sling connection point for ease in transportation, tie-down points for your cooler and are MAGNEPOD accessory compatible. And when you're ready to get off your feet, the Breeze is compatible with our Aero SUP Paddle Seat (sold separately), taking this solid paddle board from SUP to sit-on-top kayak in no time.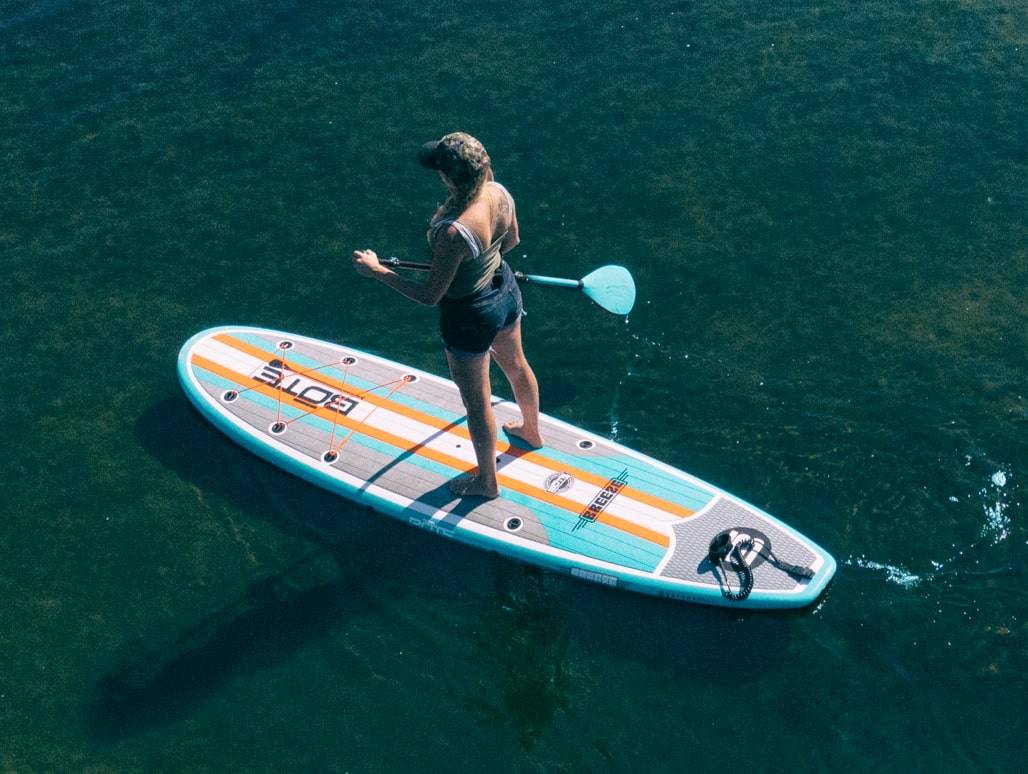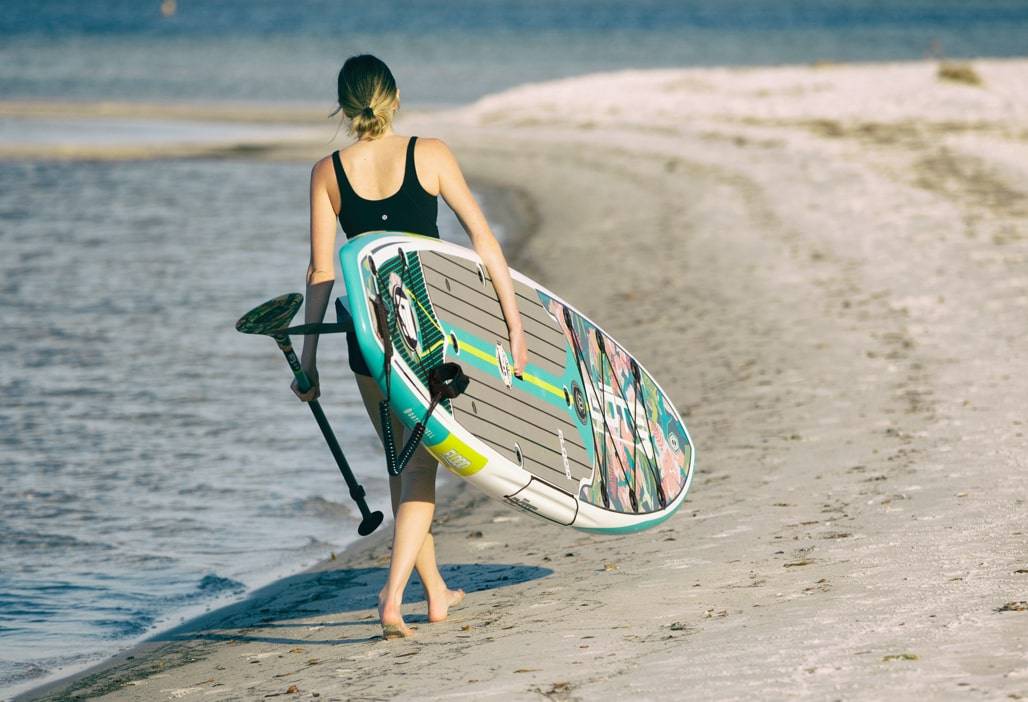 Flood Gatorshell Solid Paddle Board
This is what we call the ultimate all-around SUP, because whether your jam is SUP yoga, surfing, or just chilling, the Flood Gatorshell Solid Paddle Board has your back. Depending on your size, you can select from our 10′6″ or 12′ length options, both featuring a longboard shape with a planing hull for stability regardless of the activity. The Flood is compatible with our Rac Systems, making it a viable companion for recreational paddlers, experienced anglers, and fitness freaks. Dress it up or enjoy it in its simplest form, which is pretty epic thanks to its bungee straps, tie-down points, and Trax flooring for a secure stance.
HD Gatorshell Solid Paddle Board
Available in two sizes, 10′6″ and 12′, the HD Gatorshell Solid Paddle Board is the pinnacle in innovation and versatility. Designed with a hybrid displacement hull (hence, HD), this solid paddle board features a traditional surf style base with a double concave bottom and moves into a bulbous nose at the bow. Simply put, this SUP can cut through the water like silk while keeping you stabilized and in position. It's also compatible with just about every BOTE accessory, so this board is your oyster to get out on the water and into your happy place.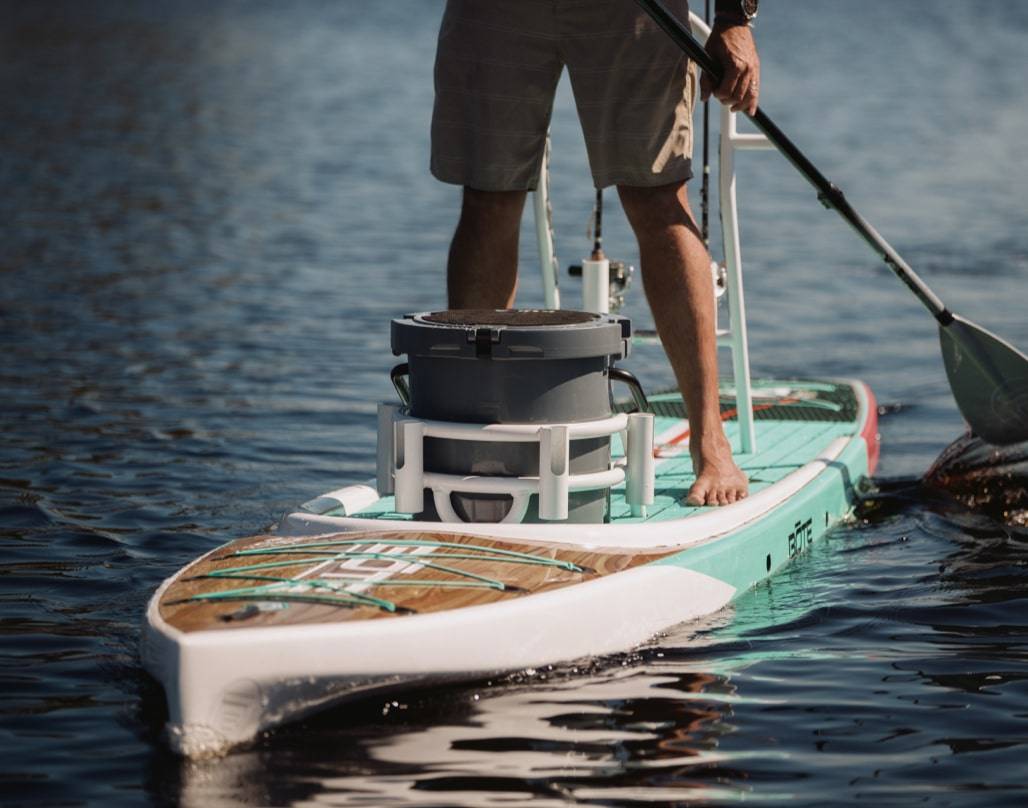 Rackham Gatorshell Solid Paddle Board
Our most feature-rich, jam-packed, versatile board out there is the Rackham Gatorshell Solid Paddle Board. It's the true 'Waterman's (or Waterwoman's) SUP,' designed with a displacement hull for efficient and stealthy paddling and a recessed deck for added stability. This board keeps you and your gear high and dry through even the harshest paddling conditions and is our biggest supporter of paddlers bringing loads of heavy gear. With two sizes available, 12′ with a 350 lb weight capacity and 14′ with a 400 lb weight capacity, this durable and sizeable solid paddle board is ready to be decked out with Rac Systems, KULA coolers, and all your fishing gear.
Traveller Solid Paddle Board
She's going the distance. And she's going for speed. The Traveller Solid Paddle Board is not your average touring SUP because it's built for both stability and speed. With a double concave hull, low profile bow, and narrow shape, this solid paddle board allows you to maintain control while you gain speed. Offered in two sizes, 12′6″ and 14′, the Traveller can be used in its purest form for racing and high-speed paddling yet still boasts compatibility points for some sweet BOTE accessories, like Rac Systems, KULA coolers, and more.