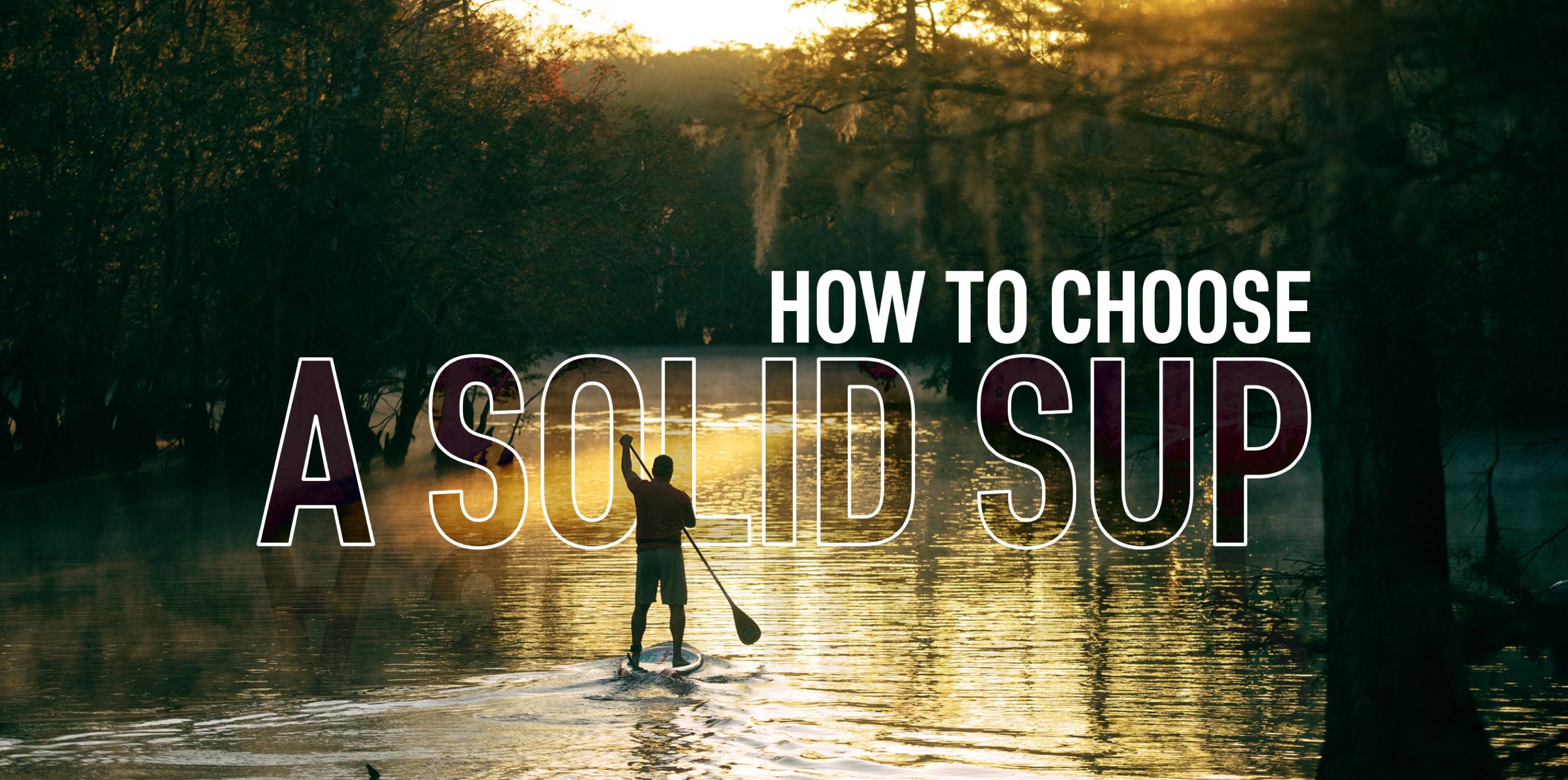 HOW TO CHOOSE A STAND UP PADDLE BOARD: SOLID SUPS
Choosing a stand up paddle board is kind of like choosing a significant other. Just as you need your potential partner to meet some basic baseline physical preferences, your board-to-be needs some similar cosmetic compatibility in terms of board size and body weight. That might seem shallow, but you know—just like with paddle boarding, you've sort of got to set off through the shallows before you can reach the deep stuff, if you know what we mean. From there, it's all about interest alignment—does your board like the things you like? Does it like stand up paddle board yoga? Or is more of a paddle board fishing type? Does it like long walks on the beach followed by some paddle board surfing? Or is more into an easy float and candlelit paddle board picnic?
In this guide, we'll unveil some helpful ways for you to choose a solid stand up paddle board that's right for you, based on your interests and what you'll actually use the thing for. So, without further ado, let's get your paddle board love story started.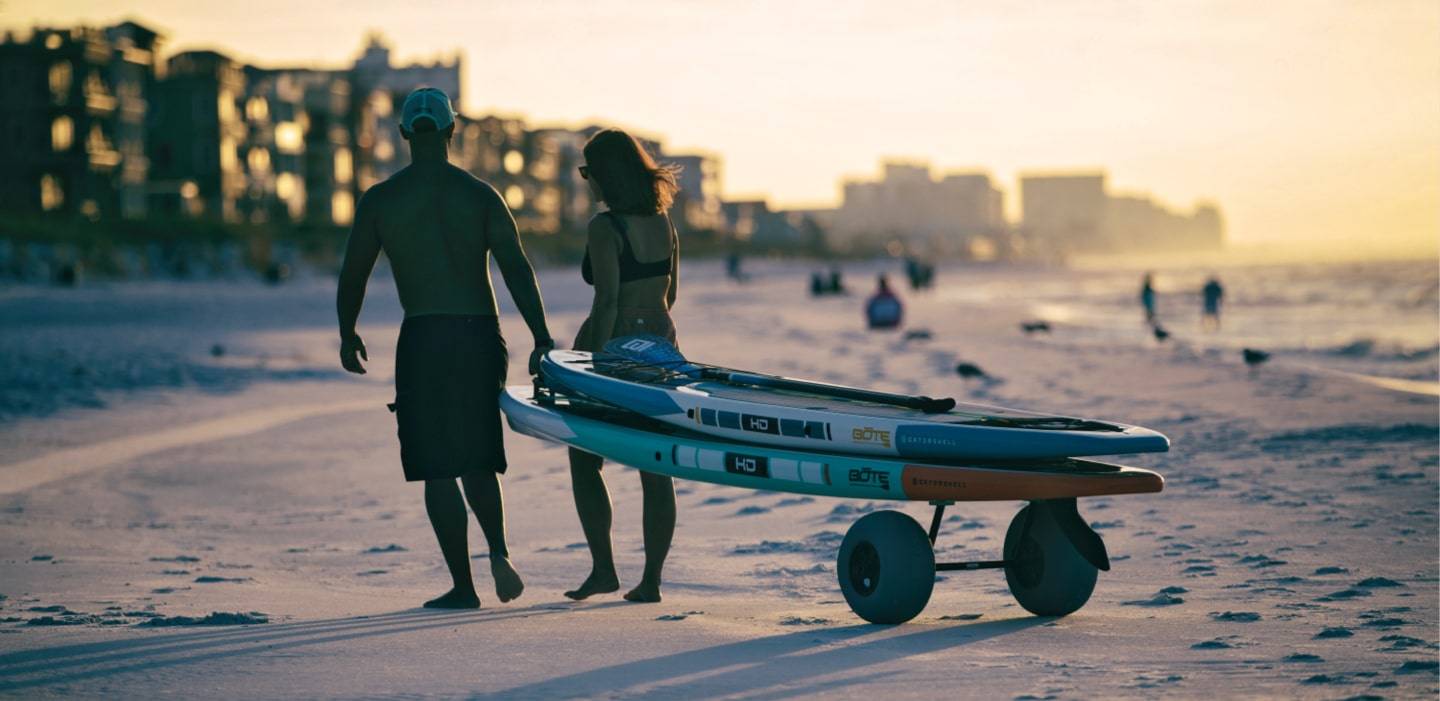 For Those Just Testing the Waters
If you're anything like most Millennials these days, chances are you've got commitment issues. At restaurants, you like the sampler platter. At ice cream parlors, you try all 31 flavors before landing on one. If this sounds like you, the board that'll match your quest for a little-uh-this and a little-uh-that is the HD Stand Up Paddle Board. This jack-of-all-trades board is the perfect option for people who want to try out paddle boarding but might not know exactly what they want to use it for yet. In the meantime, while they figure it out, this board will go anywhere and do it all.
As a verified product reviewer says, "The superior combination of stability, speed, and standard features appropriately dubs the HD the most versatile board we've ever made." Use it for paddle board yoga or use it for fishing—it's stable enough for both. Use it for leisure paddling or even catching small waves—it's dextrous enough for both. Or simply use it for all of the above. The HD is one of those boards you initially think might just be a good way to get into the game and test the waters, but then it becomes a lifelong lifestyle love affair.

"The superior combination of stability, speed, and standard features appropriately dubs the HD the most versatile board we've ever made."
- Verified Product Reviewer / HD Paddle Board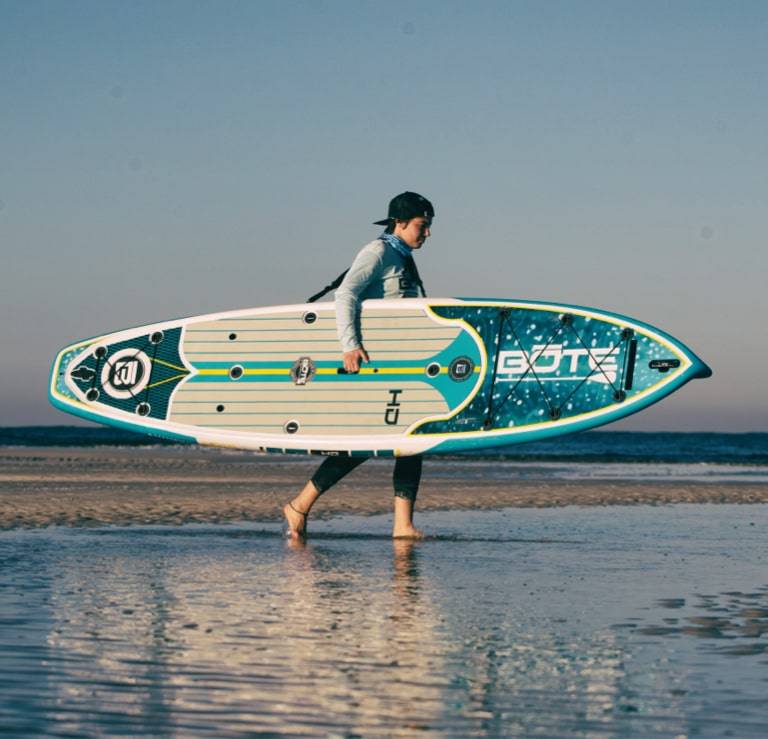 For People Keeping It Casual
So, you're not looking for something serious when it comes to paddling adventures? The Flood Stand Up Paddle Board is seriously the most excellent board for non-serious paddle excursions there is. By which we mean, if leisure is your M.O. and chillin' your greatest talent, it's high-time you check out the Flood. Which isn't to say this board isn't durable or versatile. On the contrary, it's extremely tough, patented with Gatorshell construction. And due to its volume, length, and 'surf style' shape it can also handle waves and even choppy waters. But at the end of the day, what this board is really about is fun. Pure, unadulterated, casual fun. It's incredibly maneuverable and makes for a great way to get out on the water with family and friends.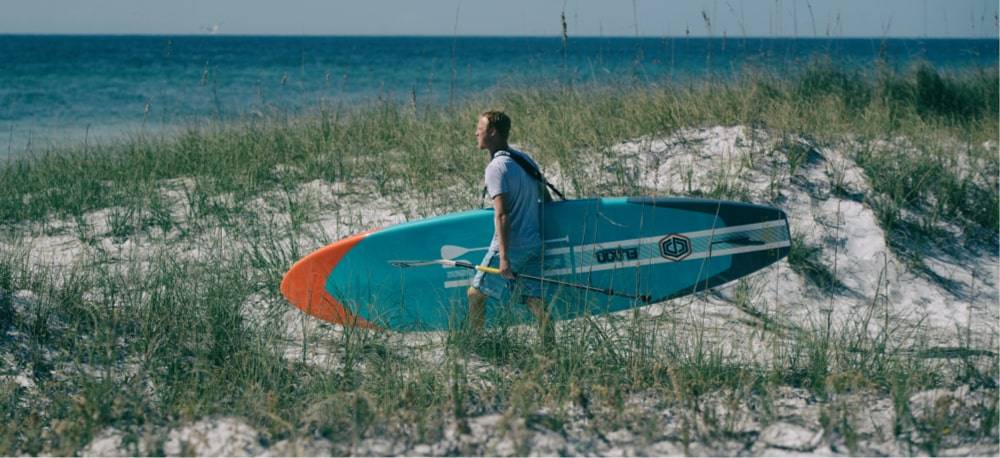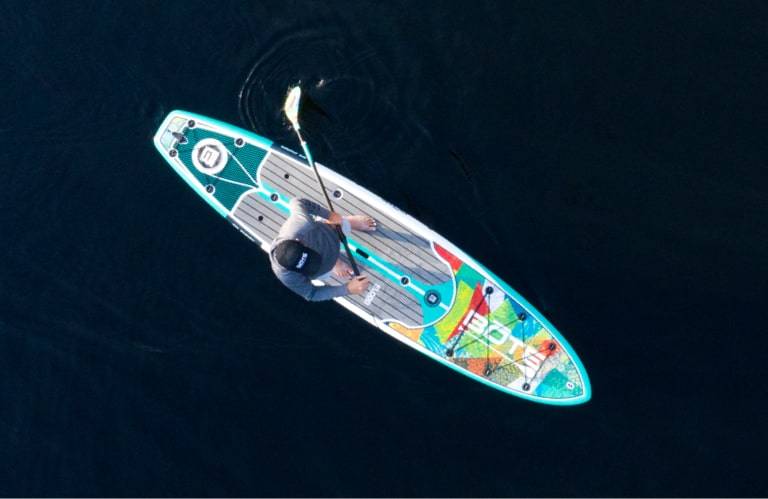 For Folks In It For the Long Haul
Want a board that'll be deeply committed to going the distance? The Traveller Stand Up Paddle Board is the one for you. This board is the fastest board BOTE makes. It cuts through water like a samurai sword through pumpkin pie. And for journey trips or overnight SUP camping trips, it offers that perfect marriage of stability and speed. By which we mean, it can carry all of your essentials and still track better than a fur trapper. Long distances are its xbread and butter, but the last thing this board wants is a long distance relationship. To get the most out of the Traveller, you've gotta get up close and personal, beat it up a bit, explore both its limits and yours. One thing to keep in mind is that this board is initially one your S.O. might be a little nervous about because of its desire to constantly take you to all sorts of far-flung, ends-of-the-earth destinations. But as soon as they see how safety-first the Traveller is, they'll come around in no time.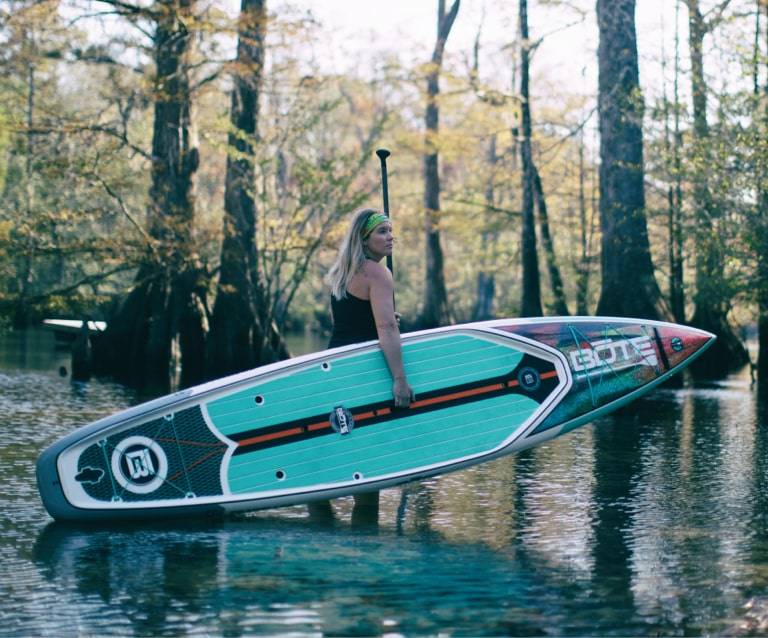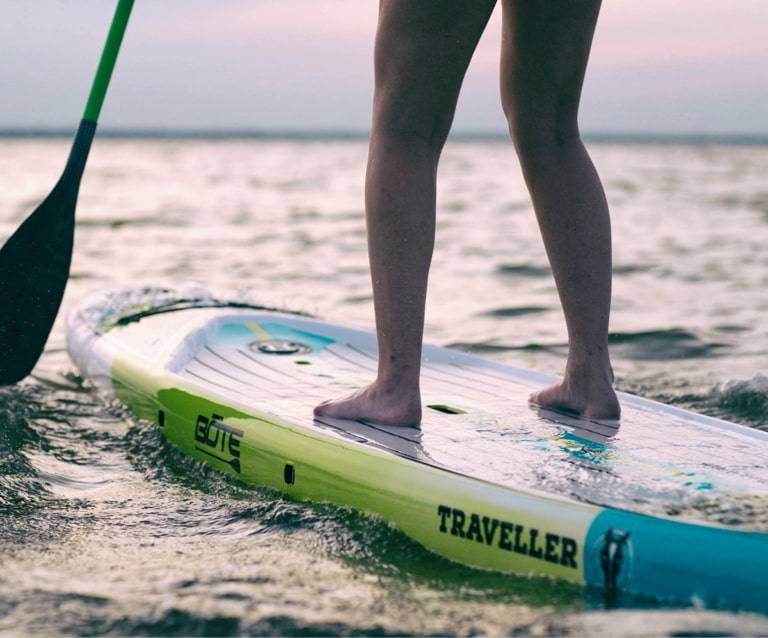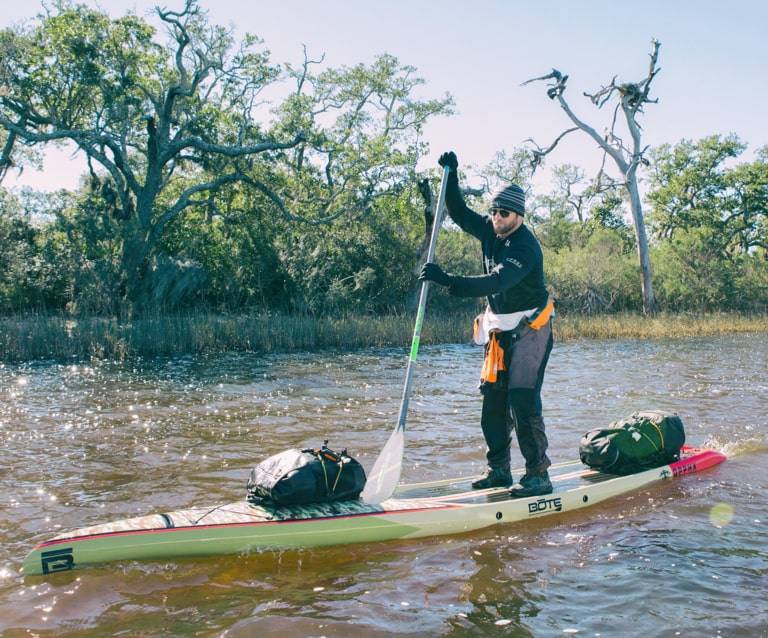 For A Steady Relationship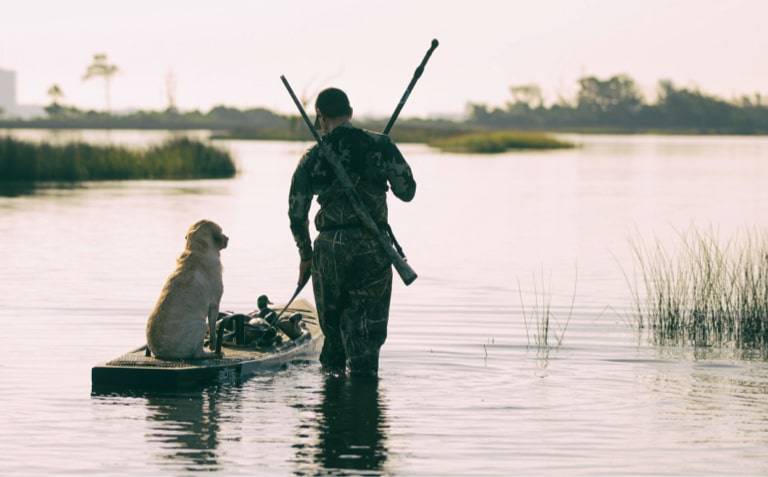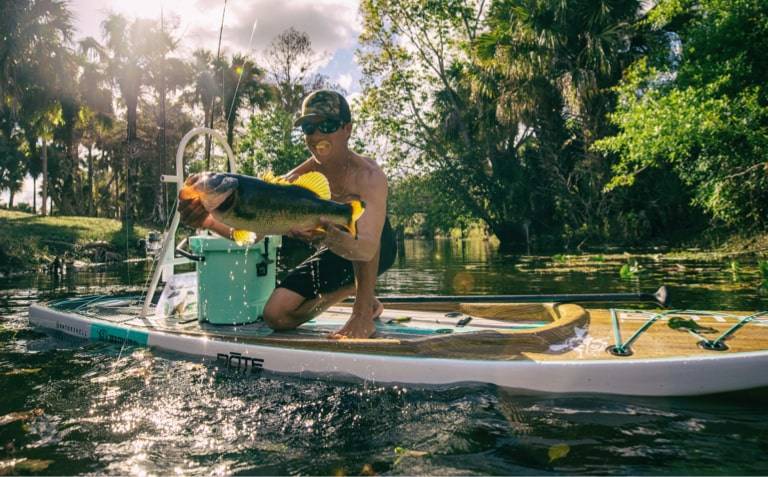 If you're looking for something steady, you'll want the Rackham Stand Up Paddle Board. This board doesn't even understand the concept of a rocky relationship. All it knows is stability. In the words of BOTE Director of Photography Sean Murphy, "It's like a dock. It's that stable." Because of this, the Rackham is particularly great for a few reasons. First, it supports up to 400 pounds of capacity, which means it's great for larger paddlers or you can load it down with all sorts of expedition gear or fishing equipment. Next, it's got ample surface area, which again makes it great for larger paddlers but also means Fido can tag along if you want to take your dog on your paddle excursions. Finally, it's just a big hunk of a board. So if you're looking for a heavy-duty SUP that can support a ton of weight and remain super stable while doing so, which can also safely take you deep into unexplored backwaters, then the Rackham is the board for you.

"This thing is so solid and versatile! I live on a tidal marsh and usually wade out for fish. Not any more. The set up is great. My son casts from the cooler while I push along. Couldn't be happier."
- William S. / 12′ Rackham Paddle Board
For Speed Daters
Sometimes the need for speed needs a motor. For that, there's the Rover Micro Skiff. With a sunken cockpit and a lifted nose when under power, this bad boy is the fastest vessel BOTE makes. It can reach speeds of up to 19mph, which means you can go faster and farther than ever before. If you're looking to ramp up your paddle board fishing game, this is the board for you. You can even take a load off by opting for a seated position with a KULA 5 Cooler. Between the seat and the motor, some might wonder if the traditional paddle board experience has been lost. But while they're worrying about that, you can be out there plowing through choppy waters with the wind in your air and a boatload of bass in your cooler. In short, if you want a boat with maximum stability and topspeed that'll turn on a dime and take you deep into unexplored waters, the Rover is fit for the voyage.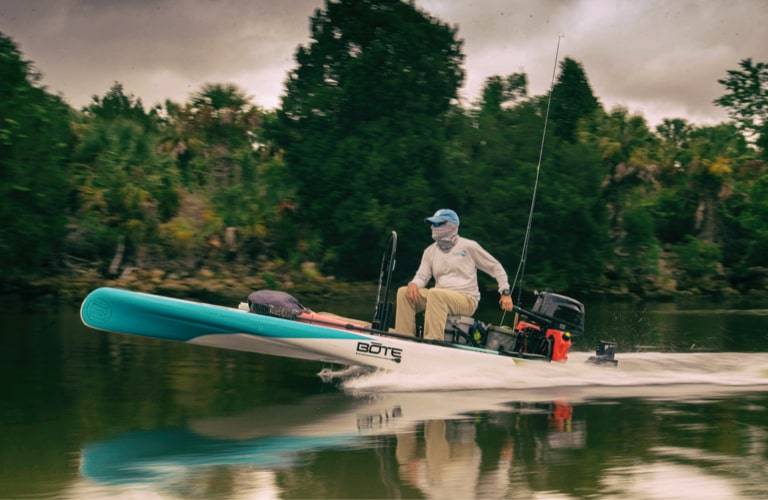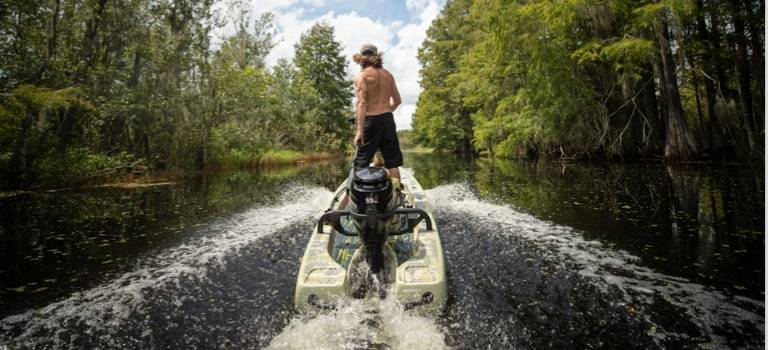 FOR PEOPLE LOOKING FOR THE FRESH NEW THING
Introducing the Breeze 10'6" Solid Paddle Board—the newest board in BOTE's fleet. This is the ultimate entry level SUP. Not only is it the best bang for your buck in terms of price point, but it's also one of the lightest boards we make. At 30lbs, it's easy to carry and even easier to maneuver. It's stripped down to just the essentials, so new paddlers don't need to worry about extra bells and whistles weighing them down; they can just focus on the paddling. As BOTE Creative Director Rob McAbee says, "The Breeze 10'6" is a great paddle board for anybody that wants a high quality paddle board that gets them on the water without breaking the bank." Sometimes a fresh new thing can be an old school thing reimagined, and the Breeze is a great example of getting back to basics and being heavily rewarded for it.
BREEZE 10′6″ SOLID PADDLE BOARD
"The Breeze 10'6" is a great paddle board for anybody that wants a high quality paddle board that gets them on the water without breaking the bank."
- Rob McAbee / BOTE Creative Director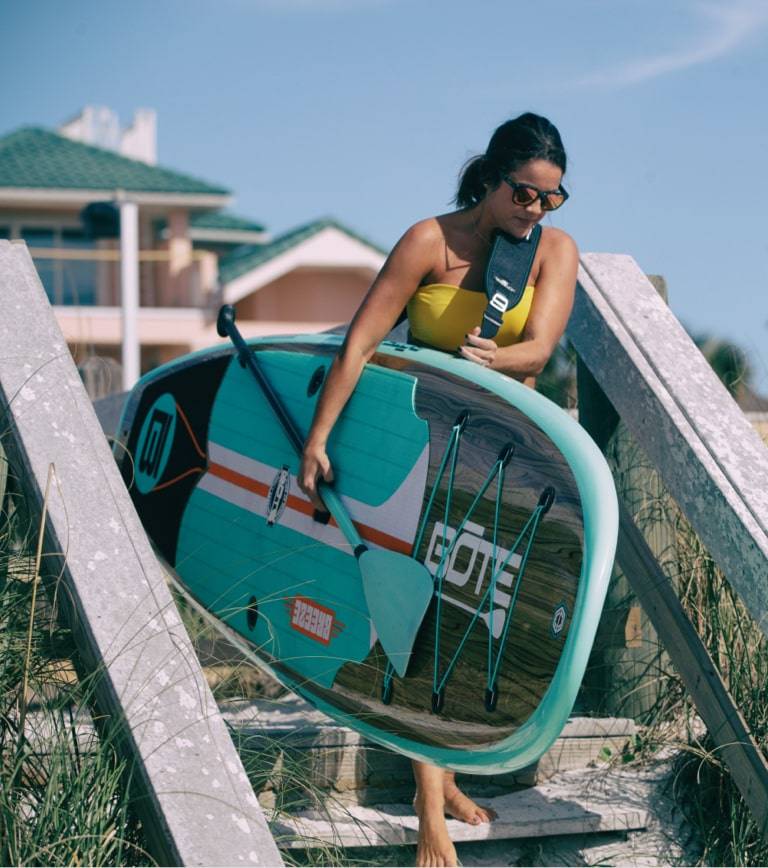 Find Your Board
If you're still feeling in need of even more personalized matchmaking, we recently created an online quiz that can pair you with a board based on your interests, ability, and size. At the end of the day, when it comes to choosing a solid SUP, you'll want something that suits your interests and your body type. As BOTE CEO and Co-Founder Corey Cooper says, "Our boards are insanely stable when matched properly to your size." So, take the quiz, find your board, and we'll see you out there!