tandem kayaks
twice the fun, half the work
tandem kayaks
twice the fun, half the work
Tandem Kayaks Collection
So, you're looking for a tandem kayak? You've come to the right place. Here at BOTE, we've made it our mission to constantly create the best in class when it comes to all kinds of watercrafts. From solid stand up paddle boards to inflatable paddle boards, skiffs to SUPs, solo kayaks to two-person kayaks, we're always innovating and always paddling.
When it comes to kayaking in tandem, look no further than the Zeppelin Aero 12′6″ for durability, portability, and versatility. Easily the best tandem kayak on the market, it's ideal for a variety of waterways and can be customized to suit nearly every type of kayaking enthusiast.
Are you ready for a two-person kayak? If you landed here, you're probably more than ready. To help you get started, we've put together this handy guide: A Beginner's Guide to Tandem Kayaking.
Read on for an in-depth overview of why the Zeppelin Aero 12′6″ is the best two-person kayak on the market, plus some perks of why tandem kayaking is a great activity and some tips on how to get started.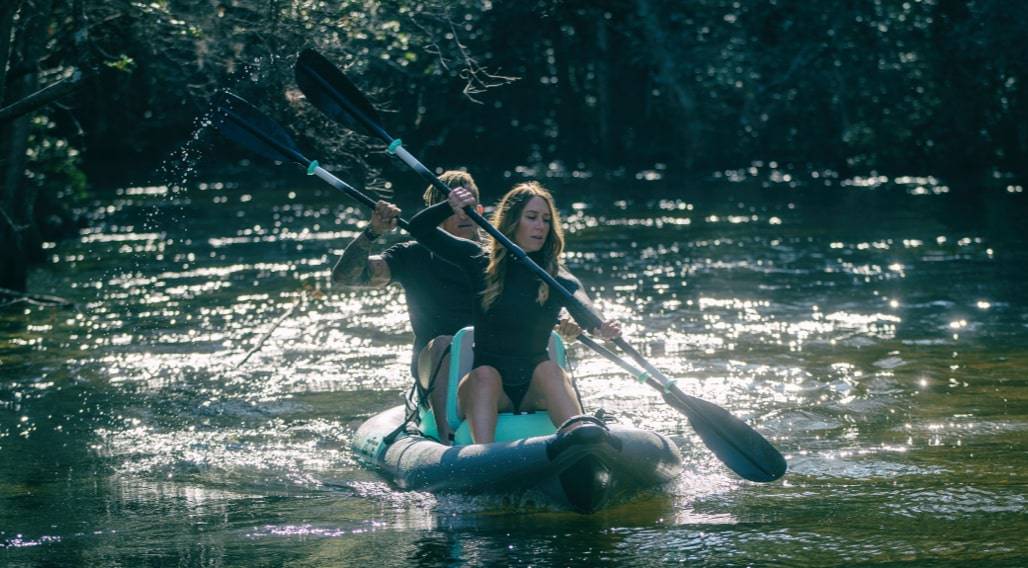 The Zeppelin Aero 12′6″ Inflatable Kayak
The Zeppelin Aero 12′6″ is not only the most versatile kayak in the BOTE waters (with supreme ease of transformation between solo and tandem), but it's also a perennial frontrunner in terms of design and quality.
The first question you need to answer is: Zeppelin Aero 10′ or Zeppelin Aero 12′6″? If you're looking for a tandem kayak, the Zeppelin Aero 12′6″ is the perfect choice for a two traveler capacity.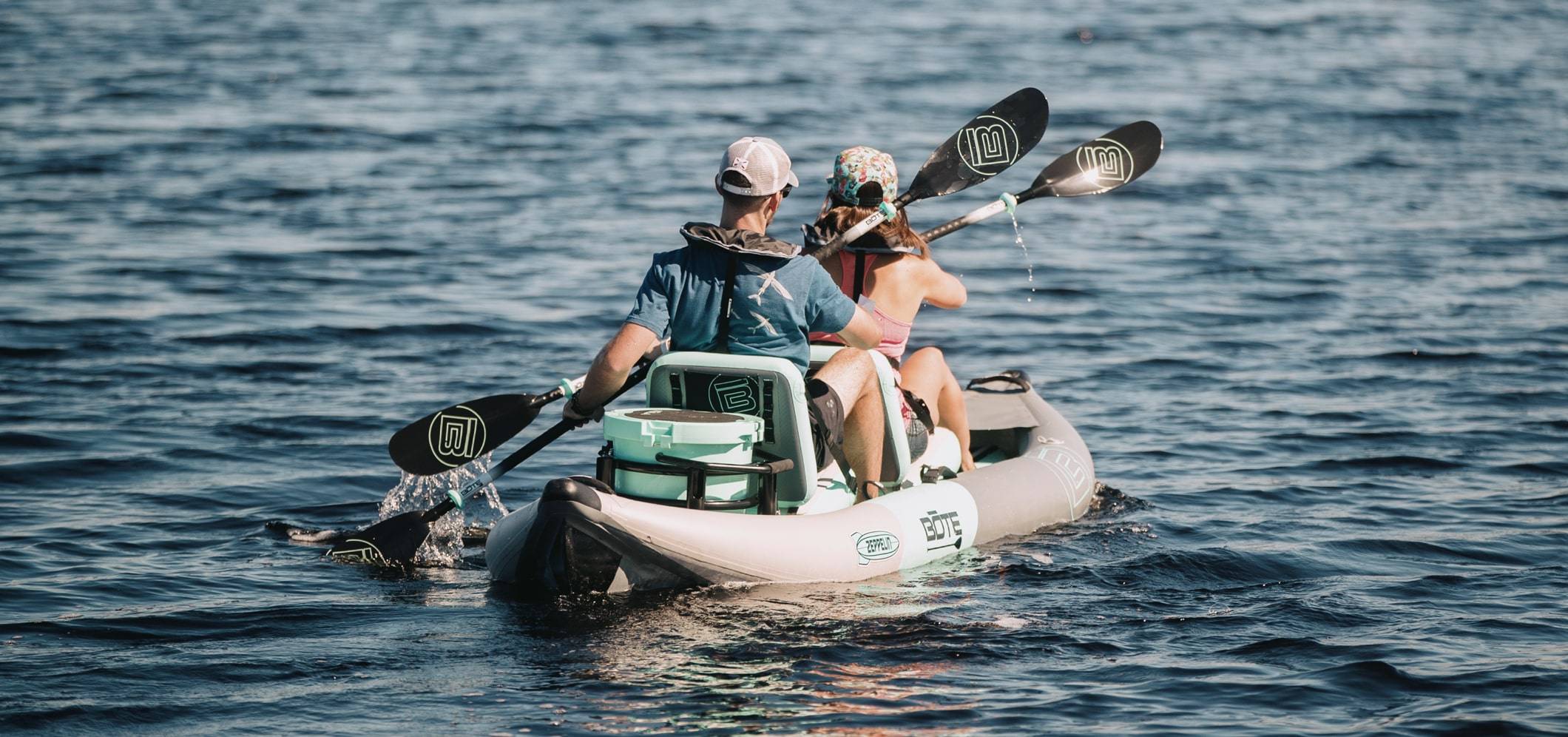 The Zeppelin 12′6″ comes equipped as a tandem kayak with the option to simply remove an Aero seat for single-seat functionality. With a weight capacity of 600 lbs and connection loops designed into the kayak, there's no question it can handle tandem paddlers plus gear, and it's also super easy to switch up the seating if you want to ride solo.
Where the Zeppelin Aero 12′6″ Inflatable Kayak really wins in terms of being a great tandem kayak is on four main fronts:
ultimate durability
Aero Technology™ makes BOTE tandem kayaks the best in the business when it comes to durability. AeroBOTE Technology ensures peak rigidity and performance across essentially every spectrum of paddle pursuits. In other words, the Zeppelin Aero 12′6″ is no pool toy. On the contrary, it's a bona fide beast of a kayak, capable of handling almost any body of water and durable enough to go the distance.
Extreme Portability
The Zeppelin 12′6″ Inflatable Tandem Kayak goes where you go… wherever you go. Because it can transform from folded up travel bag into fully functional kayak in minutes, this tandem kayak offers the ultimate in superior ease of transportation and portability. Pack it in a car, carry it on an airplane, or carry it on a backcountry backpacking-paddle trip—the choice is always yours with the Zeppelin 12′6″ Inflatable Kayak.
Easy storage
Storing inflatable kayaks used to be difficult. They were big, clunky, and took up a lot of space. With the Zeppelin Aero 12′6″ Inflatable Kayak, however, this tandem kayak is incredibly easy to store. Simply deflate the kayak, fold it up into its compact travel bag, and store it anywhere—garage, gear closet, the choice is yours!
total versatility - choose solo or tandem
The Zeppelin 12′6″ gives kayakers a decision to make: to go solo or tandem. With the Zeppelin 12′6″, both are more than possible. Want an extra rider to tag along? Simply add an extra Aero Paddle Seat to the Zeppelin to take it from solo kayak to two-person kayak in seconds.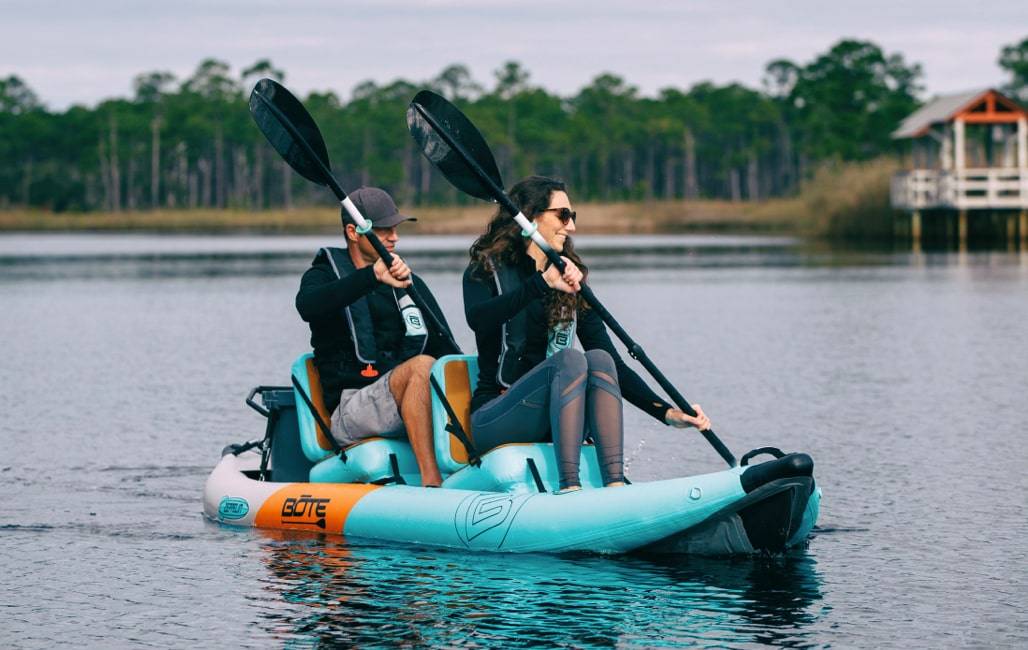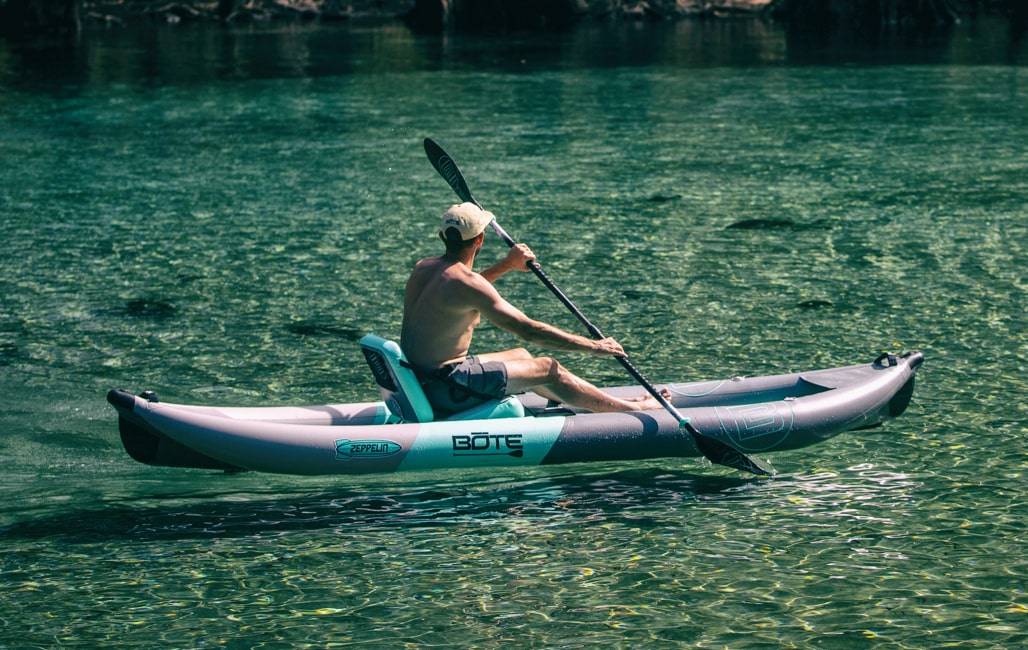 It's one of the unspoken (and undeniable) truths of outdoor pursuits. Experiences are better when shared. And for that, we're super thankful for tandem kayaks—because kayaking is better together. A tandem kayak is the ultimate two-person adventure experience. It's a great activity for friends, spouses, fathers, mothers, dog-lovers, you name it.
So, whether you and your adventure buddy are searching for a new way to explore together or you're looking to become the ultimate giver of adventure to all those in your immediate circle of friends and family, here's why tandem kayaking is a must-try water excursion.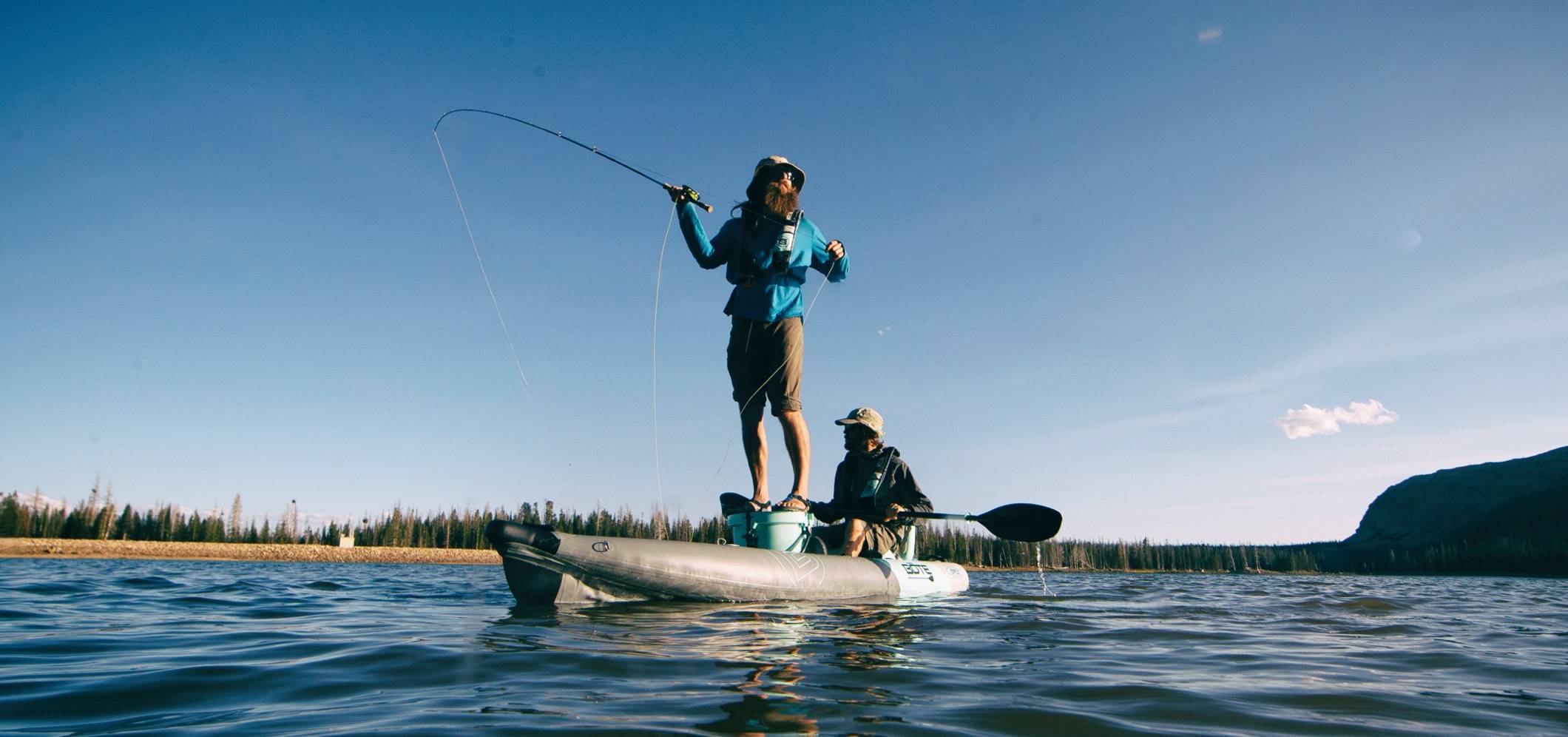 Why Tandem Kayaking Is a Great Hobby
Tandem kayaking is the best, most streamlined way to share a water-based adventure with someone. Solo adventures of course have their merits. But shared outdoor pursuits? You can't beat it.
In terms of what the actual experience is like: it's the perfect cocktail of adventure, exercise, social experience, and natural space. AKA, it's the best of all worlds. As far as shared outdoor adventures go, there's not much better than two-person kayaking. Double the paddles, double the speed, double the fun.
how to get started with tandem kayaking
When it comes to actually paddling a tandem kayak, here are a few tips to get started.
The first thing you'll want to do is paddle in unison. This not only helps to avoid paddlers hitting each other—which can happen when you get out of sync—but it will also help to keep the weight of the watercraft moving in a uniform direction for even greater stability.
Second, the stronger of the two paddlers should sit in the rearmost position. The rear paddler should be the one to match the stroke of the front paddler, since they can watch the stroke of the front paddler.
To steer, it's best to work as a team where one paddler strokes forward while the rear paddler reverse strokes on the opposite side. This will execute a quick turn. To steer more gradually or correct your course, the rear paddler should act as navigator by performing a more powerful stroke or by utilizing the paddle as a rudder.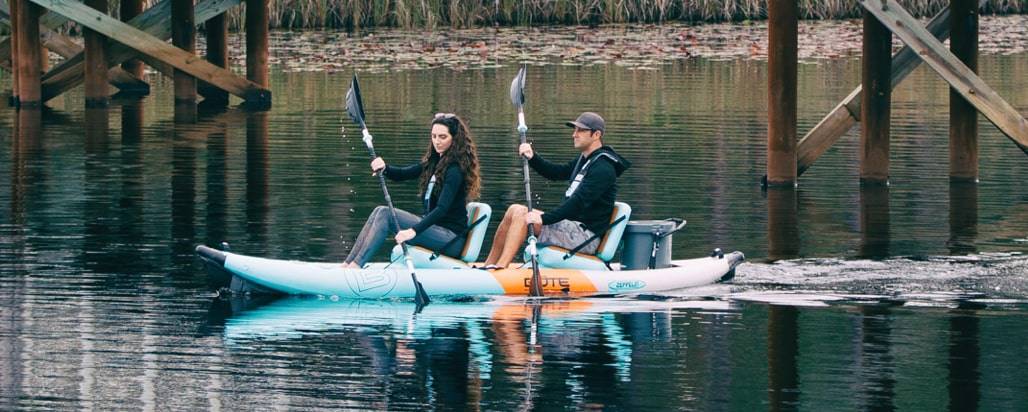 Get the Best Tandem Kayak on the Market Today
All in all, the Zeppelin Aero 12′6″ is what tandem kayaking dreams are made of. With a high capacity and standard tandem style that can be transformed into a single-seat, the Zeppelin 12′6″ is an excellent option for the whole family to spend time on the water together.
As BOTE CEO & Co-Founder, Corey Cooper says:
---
"I think it's the Zeppelin

12′6″

is the most versatile kayak we make. Its form, function, ability, and the fact that it's inflatable and packable, is what gets me f@$&ing fired up."
---
Welcome to #BOTENation, my friend, now let's start this adventure!