all paddle boards
bring the water to life
Inflatable Stand Up Paddle Boards
Anything but Soft
The BOTE Paddle Board Lineup
The stand up paddle board has been around for centuries, but it wasn't until the 1950's that it started gaining mainstream traction as a suitable water companion. It's easy to see why it did; there's just something about standing on a paddle board that strikes the fire for adventure deep in your core. Maybe it's because paddle boarding is super easy to catch onto. Or that it's not nearly as intimidating as surfing. Perhaps the appeal is that you can ride it solo or add a companion (fur babies and toddlers love to sit on the bow), deck it out with gear and accessories to extend your time on the water, or pop it into just about any body of water.
The truth is: it's likely all of these things, which is why BOTE has been shaping and designing paddle boards since 2009 with a mission to make them highly versatile, extraordinarily durable, and experts in performance.
When we opened our doors, we opened with the reimagined solid paddle board. Soon thereafter we folded in the inflatable paddle board for ease in transportation. Then we made sure our inflatable paddle boards could perform just as well as our solid boards. Once we did that, we enhanced our entire paddle board lineup with innovative perks you won't find anywhere else (we're talking magnetized drink systems, SUP/kayak hybrids, Rac System compatibility…the list goes on). When starting your paddle board journey, the first thing you need to know is all of our paddle boards for sale have been meticulously curated for a good time.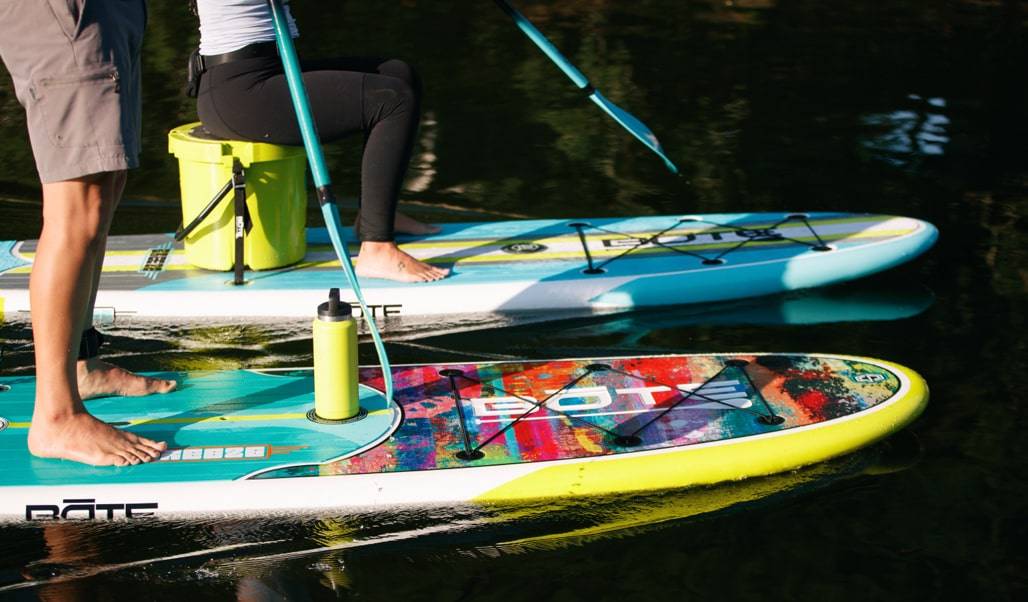 Are you ready for a paddle board? If you landed here, you're probably more than ready. To help you get started, we've put together this nifty guide: Five Questions to Consider Before Buying a Paddle Board.
Whether you go the inflatable paddle board route or the solid paddle board route, rest assured that each is built to perform for you, no matter how you use it. Each of our inflatable paddle boards has a solid paddle board equivalent, so the first question you need to answer is: inflatable or solid?
BOTE Aero Inflatable Paddle Boards
Our BOTE Aero Inflatable Paddle Boards are not your average inflatable pool toy. Yes, they are inflatable, but they're also virtually indestructible, designed for myriad water adventures, and sleek as hell.
Let's start with how we craft our Aero inflatable paddle boards to be tough as nails. Thanks to a couple of mad scientists who have a passion for paddle boards and a DarkRoom offering limitless possibilities, BOTE invented Aero Technology—a unique construction technology using composite drop stitch fibers connecting the military-grade PVC material that makes up our inflatable paddle boards. The end result is a rigid, firm to the touch, equally displaced inflatable paddle board, with seamless groves and curves that give our solid paddle boards a run for their money.
Depending on the inflatable paddle board, you can expect either AeroBOTE (double-layer PVC) or AeroULTRA (single-layer PVC for reduced weight) Technology to be applied in the construction of your inflatable.
Still not convinced? Check out our Journal, Buy "Aero" Not "Inflatable": Why AeroTech is Better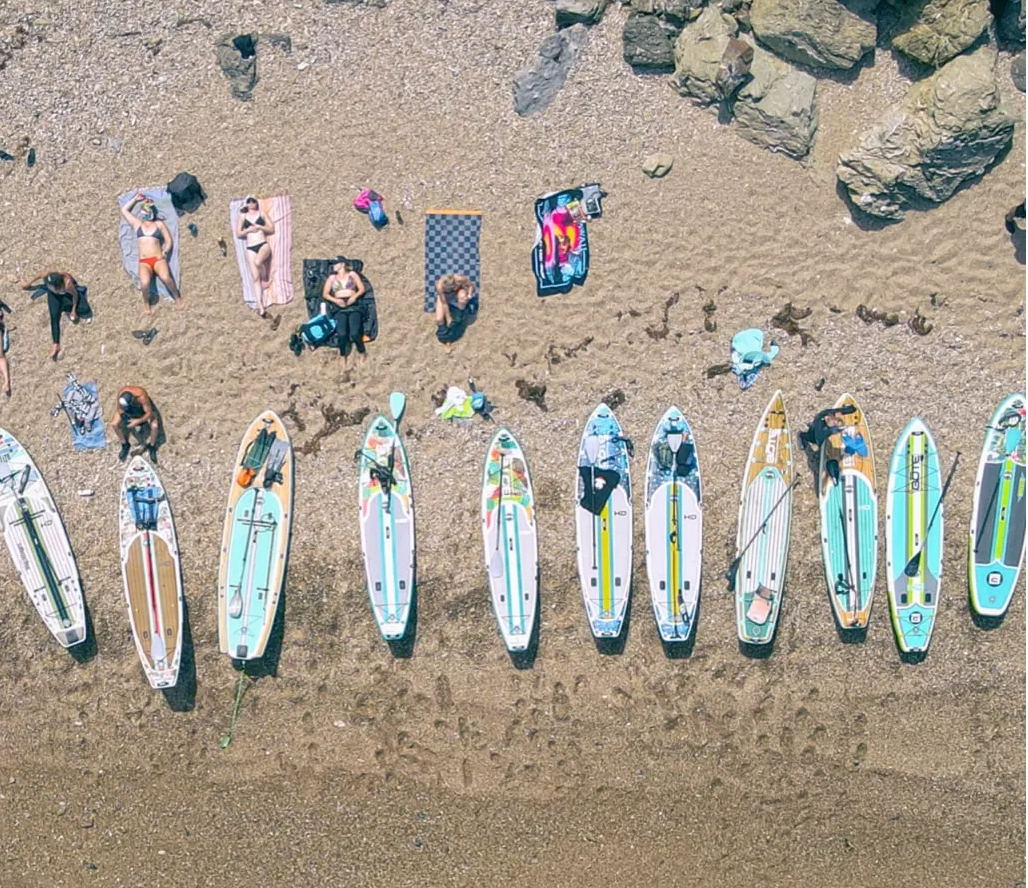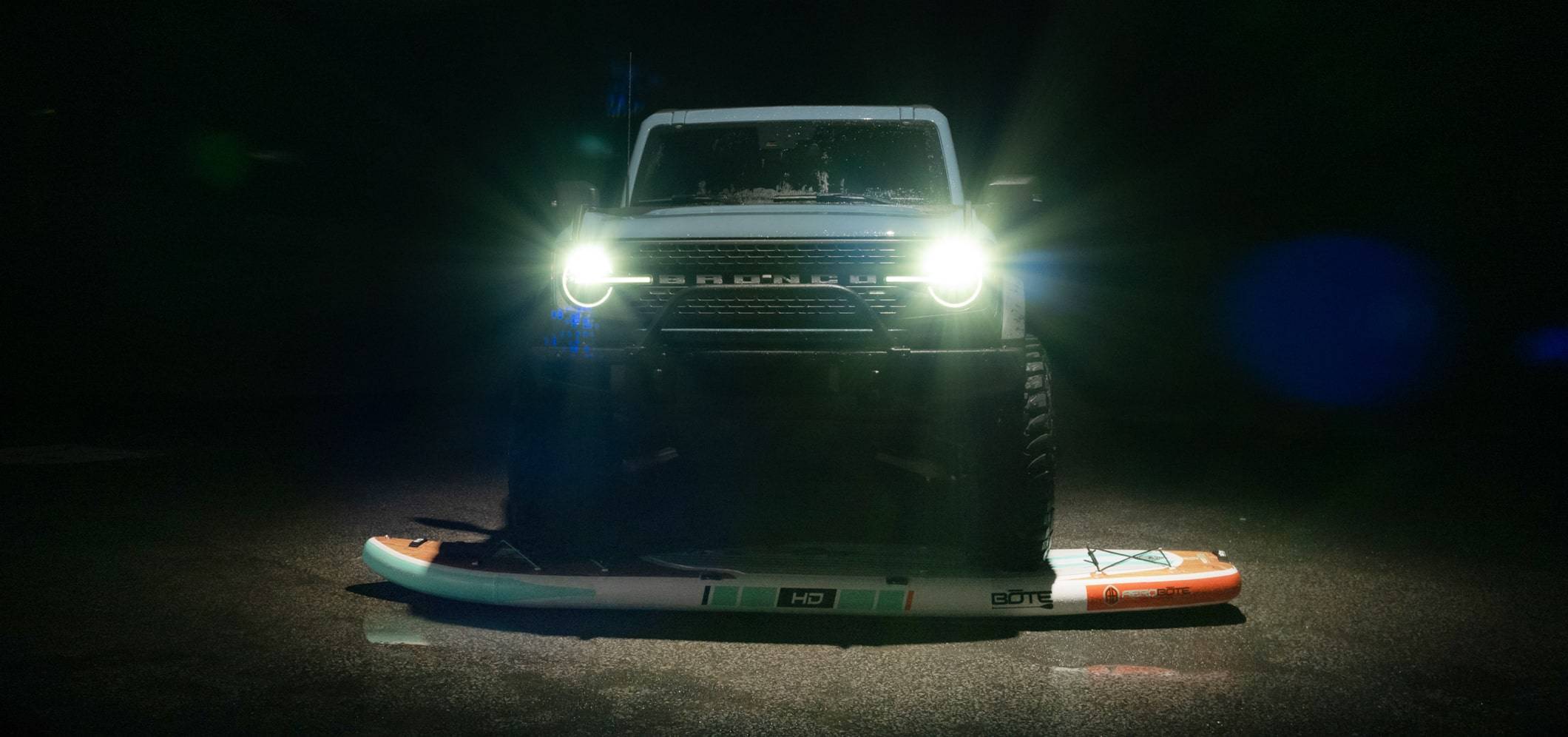 Our lineup of inflatable paddle boards for sale opens up pandora's box (in a good way) for adventure. Going from dedicated travel bag to full-on paddle-ready in a matter of minutes, our inflatables are built to go, go, then go some more. Store your inflatable in the smallest of spaces until ready for use, then toss it in your trunk, sling it on your back, or slide it under your airplane seat; our inflatables are packable and transportable pretty much anywhere a bag fits.
If you're thinking an inflatable paddle board may not have all the advantages of a solid paddle board, think again. Thanks to its dynamic construction, our inflatable paddle boards can accommodate a multitude of accessories like Rac Systems, KULA coolers, dry bags, and more—because inflatables should be able to be tricked out, too. When viewing our lineup, you'll see no shortage of bungees, tie-down points, handles, and more, so the only thing you need to think about is what goodies you want to add.
Each inflatable paddle board serves a different purpose. Weekend warriors, recreational paddlers, avid anglers, fitness junkies. You name it, we have a board for it. And for a birds-eye view to help get you started, we put together this handy-dandy snapshot: Choosing the Best Inflatable SUP for You.
One thing is for sure, our inflatables are not your average inflatable. They're your travel buddy, built to last and ready to take any body of water by the horns.
bote gatorshell paddle boards
For the traditionalists and those who love the nostalgia of the sport, our BOTE Gatorshell Paddle Board collection marries peak performance with down-right sexy design. While most solid paddle boards for sale are your standard epoxy boards, our solid paddle boards are built using Gatorshell Technology. The advanced plastics used to construct our Gatorshell paddle boards give them unparalleled strength and rigidity while keeping them lightweight and easy to handle. Unlike your traditional epoxy board, Gatorshell paddle boards can handle a lot more bumps and bangs, six times the amount, to be exact.
Gatorshell paddle boards come in various sizes and hull designs, so finding your fit is as simple as asking yourself a couple of questions about your own height, weight, and paddle preferences. Our planing hulls are perfect for recreational paddling and those just starting out, where our displacement hulls are designed to cut through chop, gain speed, and venture way out.
Learn more about hull designs in our Journal, Choose Your Hull: A Guide to Hull Design.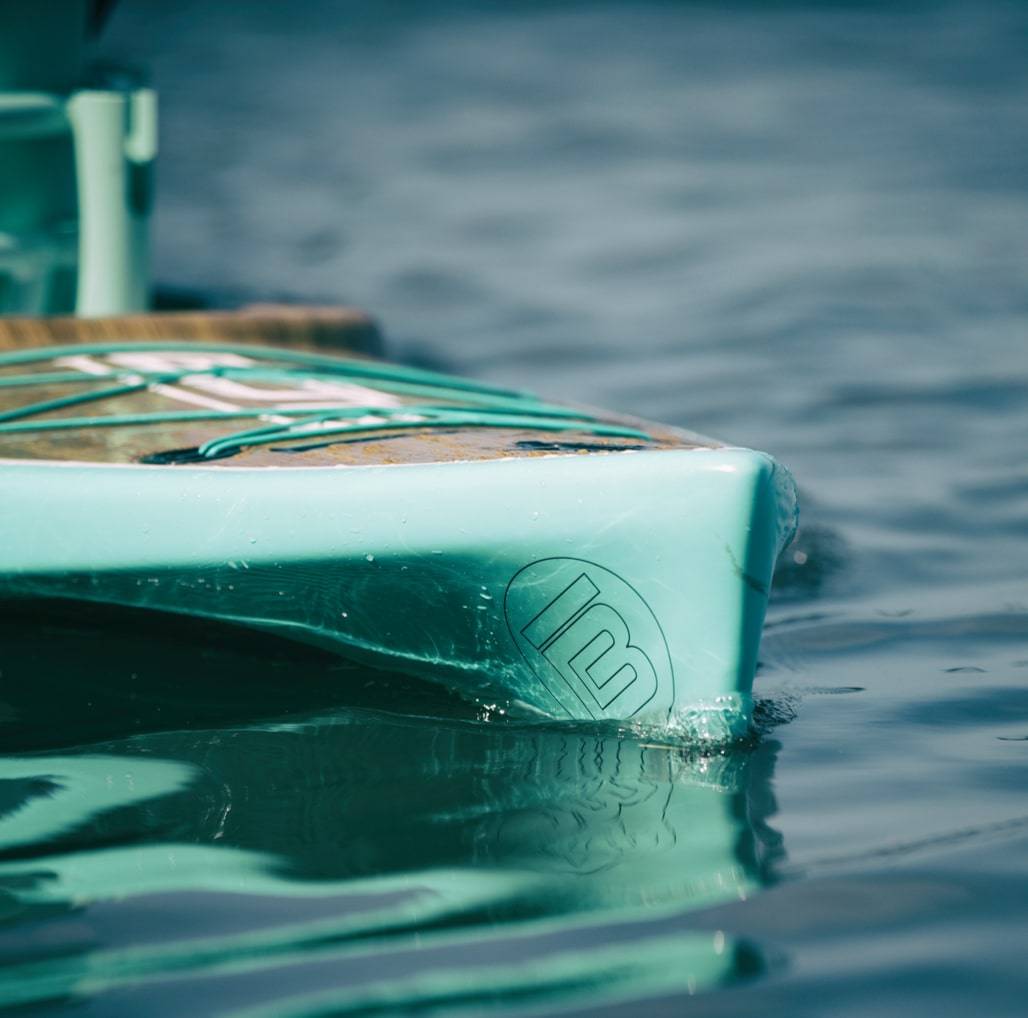 Packed down with accessory points, our Gatorshell paddle boards can be enjoyed in their simplest form if you're looking to get out for a couple of hours or decked out to partake in a weekend-long paddle trip, hunker down by your favorite watering hole, or just relax on a sandbar with your friends and a KULA cooler full of frosty beverages. Insert any of our Rac Systems, snap on one of our MAGNETumblers, lash together a couple of boards for a floating island of fun—put simply, a Gatorshell paddle board can handle it all.
When it comes to Gatorshell paddle boards, the choice is yours, but that choice should be based off what you want to do on the water and how you plan to use your paddle board. Our guide to How to Choose a Stand Up Paddle Board: Solid SUPs sheds some light on considerations to make when looking at our lineup. Looking for the best place to begin your paddling career - the Breeze will likely be your starting line. Need high capacity thresholds for all your gear - the Rackham is looking like a pretty good option. So ask yourself, how do you want to BOTE?
Choosing Your Paddle Board
We can't make the decision for you, but we can offer all of our expert advice to help steer you in the right direction. When comparing Aero Inflatable Paddle Boards and Gatorshell Paddle Boards, consider the following:
PERFORMANCE
This can mean many things, but if you're on the hunt for the highest-performing board on there, we mean efficient speed, ability to handle the choppiest of waters, and maneuverability, Gatorshell paddle boards are going to meet your needs. Our Aero inflatable paddle boards still perform great, don't get us wrong, but they sit higher on the water, giving you a more stable platform, but also requiring a little more power on your end to move it along.
PORTABILITY
If you live near your favorite water source, Gatorshell paddle boards are a great option, but if you plan to travel near and far with your paddle board by your side, Aero inflatable paddle boards take the cake here. Each inflatable paddle board comes with a dedicated travel bag, making it easy to tag along with you on all your adventures.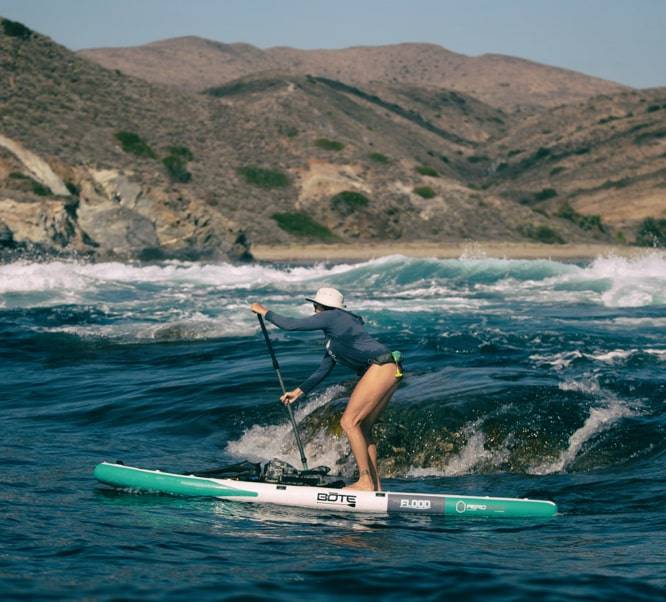 DURABILITY
While our Gatorshell paddle boards are six times tougher than your standard epoxy board, our Aero inflatable paddle boards are designed to take a beating. They have to because we fully anticipate you taking them to the furthest points of the earth for some epic paddling. Or you may just have a bunch of kids jumping all over it. Either way, our inflatables are ready for it.
Still undecided? Our Gatorshell vs. Aero Comparison Guide may help tip the scale. Or make it easy on yourself and Find Your BOTE, a quick and easy questionnaire to match you up with the board of your dreams.
Welcome to #BOTENation, my friend, now let's start this adventure!