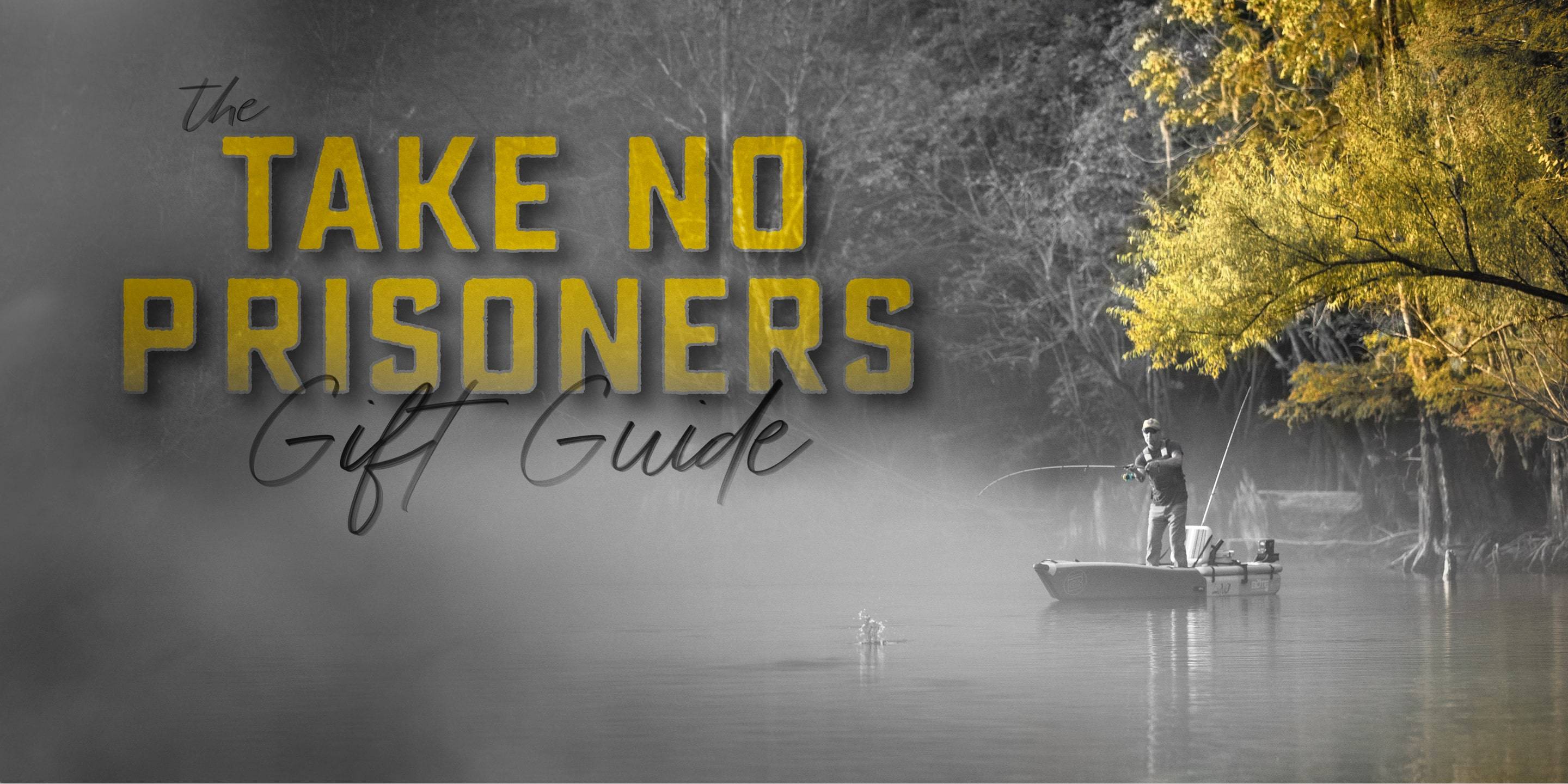 The Take No Prisoners BOTE Gift Guide
There are hundreds, maybe thousands, of holiday gift guides circulating this time of year; so we'll save you some time and cut to the chase. This gift guide is for the gift giver who wants to go big this holiday season. They want to knock the giftee's socks off, and they're ruthless in their pursuit of the perfect gift. You take no prisoners, you give no quarter, and you crush the gifting game relentlessly. We respect that.
Here at BOTE, we're uncompromising in our commitment to developing innovative products that help people get out and enjoy all aspects of life on and around the water. So this holiday season, we've created a gift guide that helps you find the perfect gear for every person on your list--from the ultimate angler to the one who excels at all things leisure and all other pursuits in between. Plus, we have a very special present in mind for that one person who seems to have it all. We guarantee they don't have this.
Without further ado, we give you the BOTE Take-No-Prisoners, all-in, ultimate gift guide.
Our #1 Holiday Gift for 2021
For the person who has literally everything, we can guarantee they don't have this.
Introducing the NO QUARTER Rackham 11'. The Rackham 11' is an all-new, just-released board that takes the feature richness and stability of the original Rackham and shrinks it down to an 11' length, making it easier to manage and transport.
To celebrate the introduction of this new product, we went full-BOTE and made a limited edition version: The NO QUARTER. Drawing inspiration from the legend of Calico Jack, otherwise known as Jack Rackham (see where the board got its name?), this board has a "Burn the Ships", weathered plank motif along with our iconic pirate flag Rackham logo and even a red wax stamp graphic to seal the deal.
Pair it with a matching limited edition Rackham Red KULA (with a MAGNEPOD™ on the lid for the very first time), a Rackham Red MAGNEKoozie, and some Rackham Red Ale, and you'll have a gift set that will please even the most picky of seafarers.
Take a deeper dive into one man's lifelong journey… BOTE Presents // No Quarter.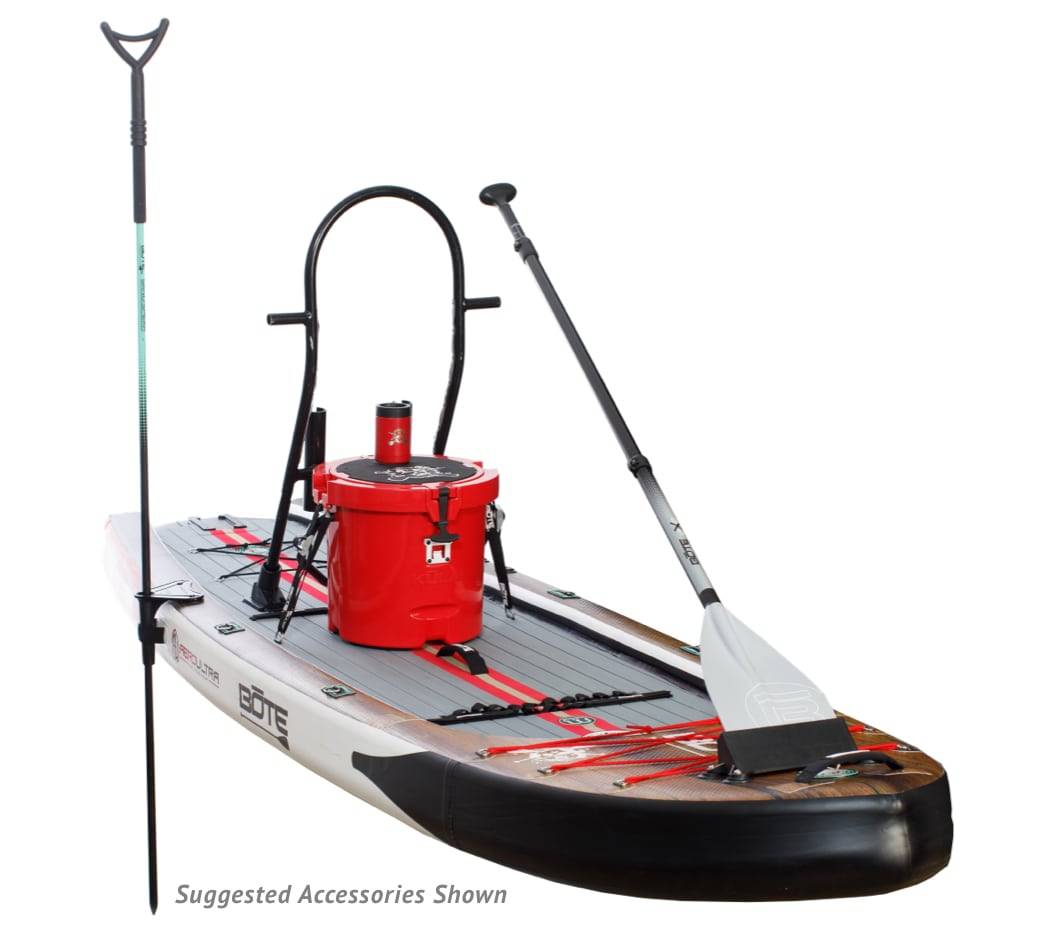 Our fleet of SUPs, kayaks, and inflatable docks may seem highly technical on the surface (spoiler alert: they are), but many of the products in our fleet are incredibly family-friendly, perfect for recreationalists, and ideal for those in search of versatile gift options. Just ask BOTE co-founder and mom of three, Magda Cooper.
---
"We try not to go overboard with

holiday gifts that the family or one of our kids will quickly outgrow. Instead, we invest in gifts one kid can pass on to the next, or we can all use as a family. For example, our oldest is now 12. He's passed on his Flow Aero to his younger sister and loves to use his Flood Aero on his own or with friends. Plus, inflatable products offer peace of mind to parents of even the wildest kids. They're nearly impossible to break and in the worst cases can usually be patched up before they're passed on."
- MAGDA COOPER, BOTE CO-FOUNDER
---
Top 3 Family-Friendly Gifts
If there's an angler in your life who lives for the solitude and satisfaction that comes along with casting in the nearest body of water, you can't go wrong with one of our top 3 fishing gifts. Because fishing from the shore or in waders pales in comparison to SUP or kayak fishing.
---
"Paddle board fishing is for anybody who has the initiative to do something new and exciting – it's a different sort of adventure,"

- Rob McAbee, BOTE Creative Director

"For anyone

whose

angling experience has gone stale, this is a new and exciting approach."
---
We all know the best gifts are the ones you wouldn't buy for yourself, but we're here to put an end to this ridiculous adage. If you're all about a life of leisure--we're talking day drinking, lounging in the pool, or staying high and dry while kids splash around in the nearest body of water--why wouldn't you invest in the things that level up your leisure time? Whether you're buying for yourself or your nearest and dearest, enjoy some R&R with these truly excellent inflatable gifts.
---
"We bought this dock early summer for our cottage on a lake in Camden, Maine. It was easy to inflate and tie down. We all love it. It was just what we were looking for. We now want a couple of chairs for it!"
- Kerrilynn T., Verified Buyer, Dock 10 Classic
---
Adventure and Expedition Gifts
For the long distance paddler, the expeditionist, and the multi-day adventurer, the best gifts are the ones that stand the test of time. Gifts that are durable, reliable, and take their experience to the next level.
---
"Super stable and features lots of options for holding my gear. Paddles efficiently with displacement bow. . . Best board I have owned!"
- Parke M., Verified Buyer, Rackham Gatorshell Paddle Board
---
Gifts for the Jack of All Trades
Look no further than our best-selling products when it comes to the person who's a jack of all trades. They're best sellers for a reason--because they're awesome. But also, because they're highly versatile and expandable. Build 'em up with accessories to become fishing platforms, dial them down for leisurely paddling, or lock in a KULA for long days of chilling on the water.
---
"I purchased 2 HD's; one 10'6" and one 12' for my wife and I. We've enjoyed them in both very windy environments and calm back water in the Keys. Glad we made these purchases and looking forward to years of fun!"
- Charles E., Verified Buyer, HD Gatorshell Paddle Boards
---
Feed the addiction of the fitness junkie in your life by gifting them a water-based workout on a SUP or inflatable dock. Plus, each of our top 3 fitness gifts are built with Aero Technology - so they can roll them up and take them on the go, working up a good sweat wherever life takes them.
Pro Tip: "Full Trax" styles offer a full length deckpad for extra grip under the feet.
---
"I bought this board to do some SUP touring and it is great. This thing rips through the water with ease. It can hold a ton of weight. Easy to balance. The paddle holder is awesome for longer trips. I did 50 miles on the green river and it held 40# of water, food for 4 days and all my camping gear and then some no problem."
- Michael B., Verified Buyer, Traveller Paddle Board
---