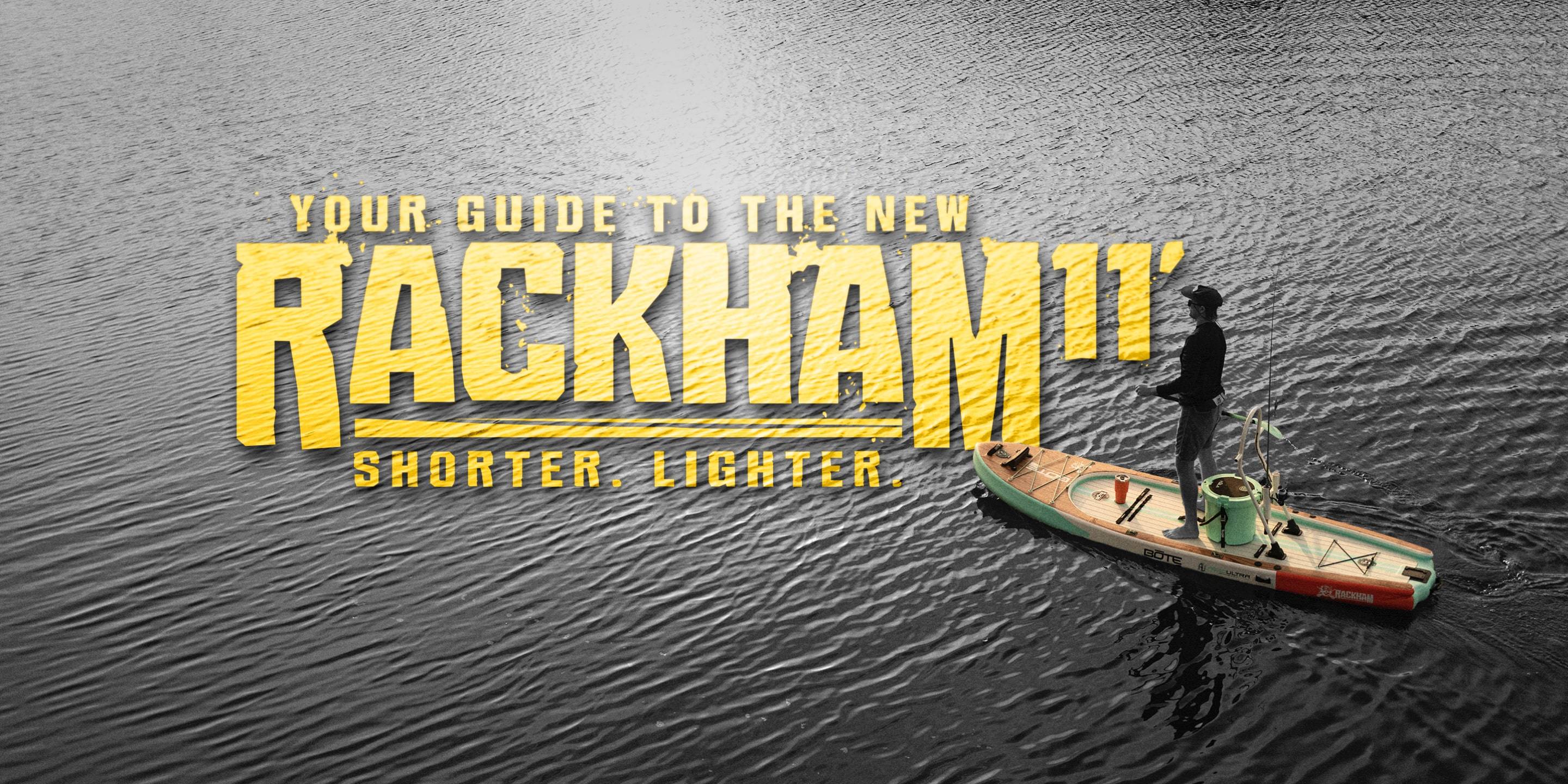 Your Guide to the New Rackham Aero 11′
In the beginning, BOTE just wanted to challenge the SUP industry with a more stable, more durable, and all-around more badass stand up paddle board. Then we wanted to enhance it with features that keep you on the water longer with accessories like bungees, D-rings, stash pods, and more.
But that just wasn't enough. It wasn't quenching our need for innovation. Why? Because no paddler is the same. In just over a decade, we've introduced SUP boards that cover pretty much everything you'd do on a SUP board, and some you've probably never thought of doing. We have boards built for the fitness junky, the radical surfer, and the everyday recreational player.
For years, our go-to SUP board for the avid angler has been the Rackham Aero 12′4″. A beast of a stand up paddle board, the Rackham 12′4″ has been a game-changer in the fishing and expedition adventure arena. Our most feature-rich board, it can be weighed down with 400 lbs of gear, goodies, and grizzly muscle across its 12 feet and 4 inches of bow to stern length.
But what if you don't need or simply can't maneuver all that board yet still crave all the bells and whistles that come with it? We had that same thought, so we created the Rackham Aero 11′. Smaller and lighter, yet built to bring you the same stability, durability, and versatility as the 12′4″, the Rackham Aero 11′ is your answer to getting an outdoor fix without having to settle for less just because you want a smaller board.
This is your guide to the new Rackham Aero 11′.
11′ vs. 12′4″: The Main Differences
How does the Rackham Aero 11′ stack up to its 12′4″ companion? We're bringing you the main differences between these two SUP boards, but the most critical thing to understand here is this: the purpose of the Rackham 11′ is to offer our most adventure-driven board to those with a smaller stature or those who simply want a smaller, lighter board.
When inflated, the Rackham Aero 11′ weighs 36 lbs, which is 9 lbs less than the 12′4″. That may not seem like a lot, but it's the equivalent of a mid-range bowling ball, and if you're on the smaller side and looking to carry your board from car to water, unloading a bowling ball's worth of weight makes a big difference.
Being that it's lighter, it does hold a lighter weight capacity at 300 lbs. But let's be honest, that is still a BOTE-load of weight. That's gonna get you, your rods, and your jam-packed KULA cooler on the water with weight to spare.
When packed down into its travel bag, you're hauling an easy 49 lbs, compared to a packed down 12′4″ weight of 70 lbs. The reduced weight in its travel bag makes the 11′ that much easier to travel with, wherever you wanna go.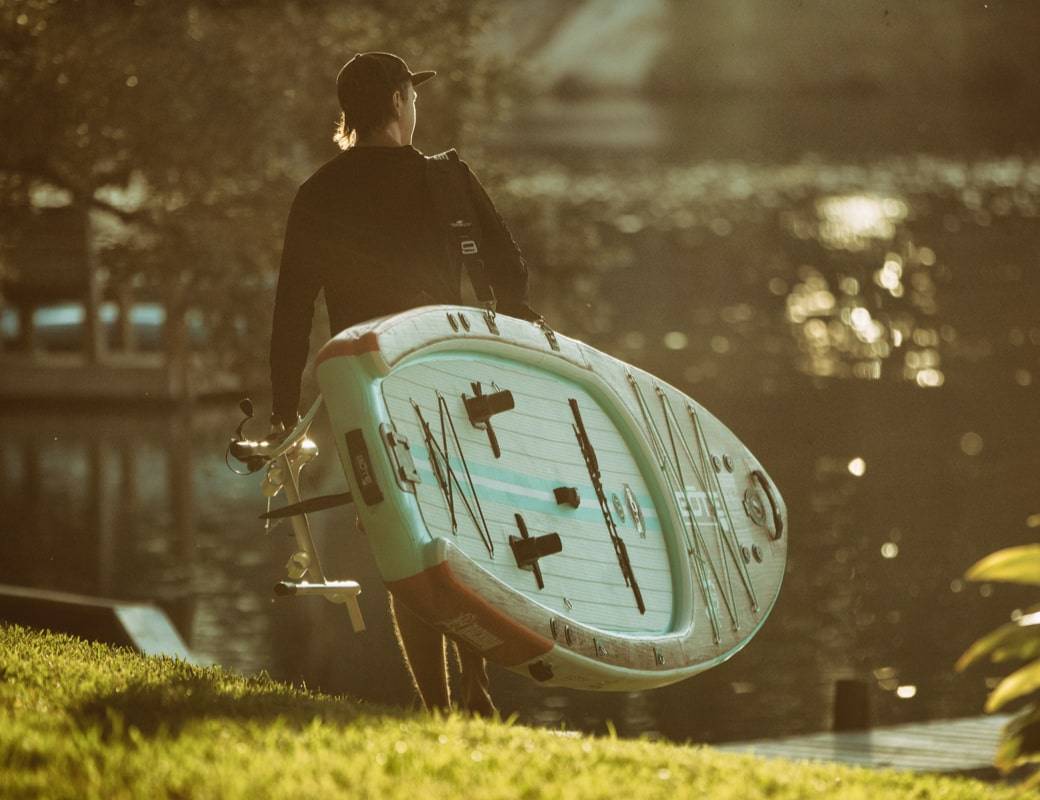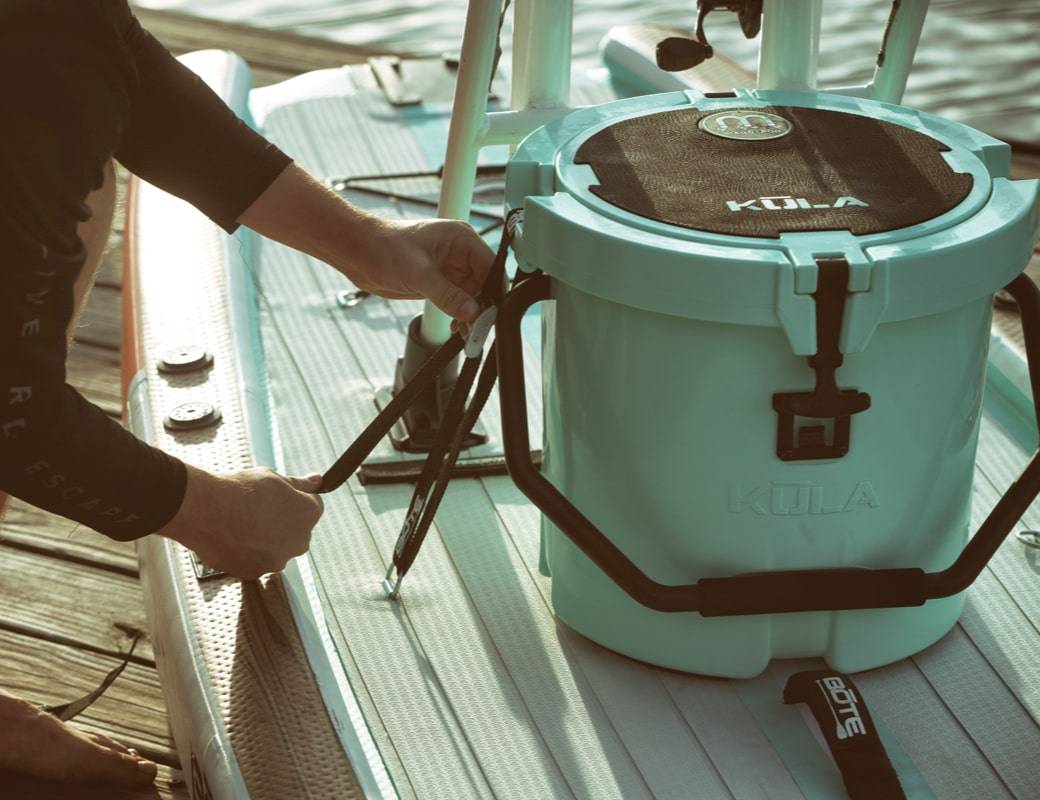 Inherent in its name, the Rackham Aero 11′ is 1′4″ shorter than the 12′4″. But don't be swayed; this shorter version of the Rackham does not skimp on the accessories. It just makes it easier to carry for those of us who didn't make the high school basketball tryouts.
Think of this board as a condensed version of stability and precision. Condensed in size and weight but not forfeited in swag and performance. Our muse? The people we were building it for; those who have more adventure in their pinky finger than most other people out there.
It's Made with AeroULTRA™ Technology
While the Rackham Aero 12′4″ is made with AeroBOTE Technology, a virtually indestructible military-grade PVC skin merged tightly together with proprietary drop stitch technology, the Rackham Aero 11′ is made with AeroULTRA™ Technology. The names sound similar, and that's because they are. Using the same military-grade PVC and drop stitch production, AeroULTRA™ Technology is lighter in weight, which means less weight for you to manage.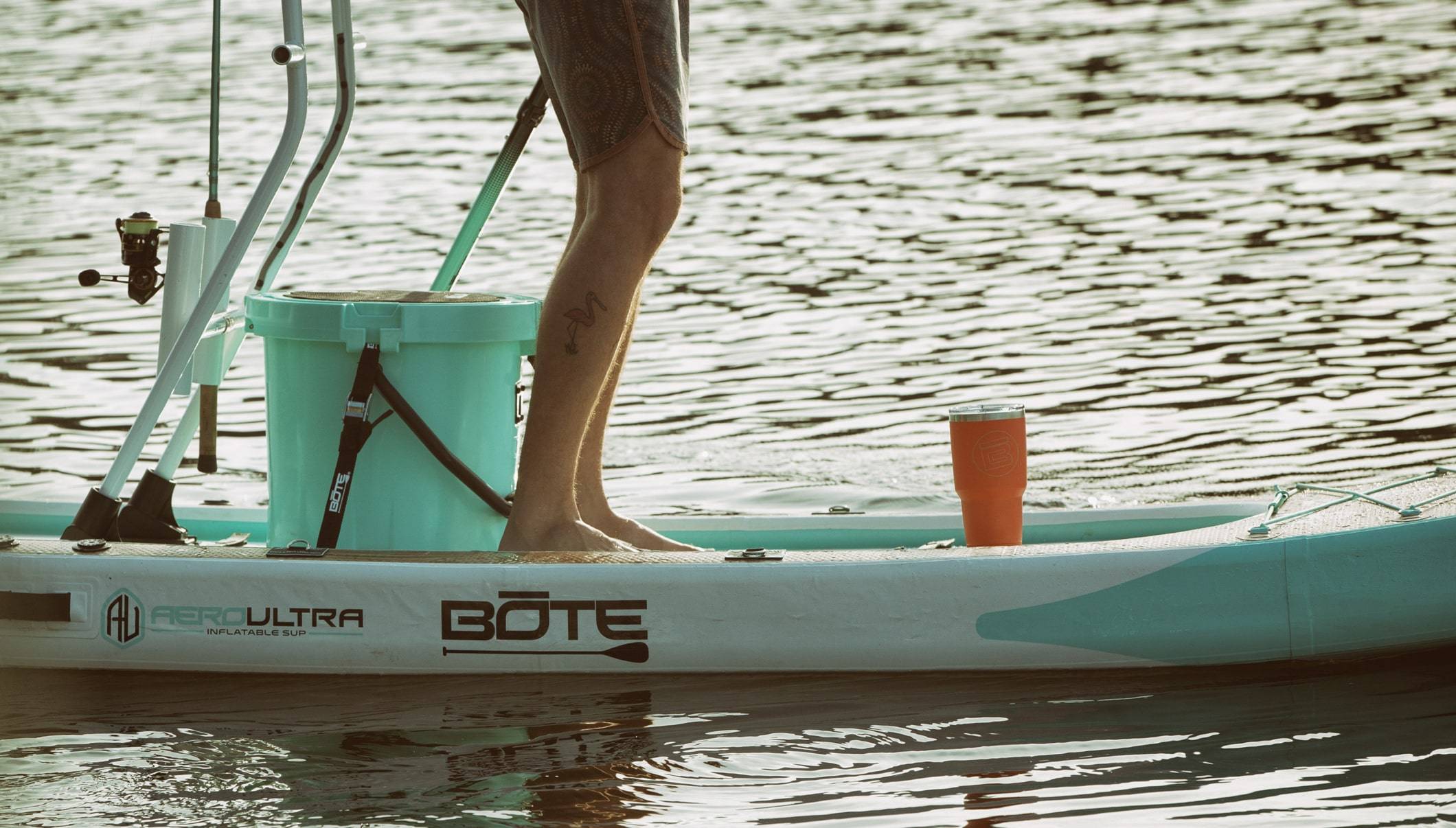 Similarities Where It Counts
We took the best parts of the Rackham 12′4″ and squeezed it into a smaller frame to bridge the gap on who can use this feature-rich stand up paddle board.
Feature-Rich, Just Like Its Big Brother
Out of all of our SUP boards, the Rackham Aero 12′4″ provides the most opportunity to dress it up or down to your exact expedition needs, so obviously, we built the Rackham Aero 11′ to do the same.  With one set of Rac Receivers, the Rackham Aero 11′ is Rac compatible, as well as MAGNEPOD™ compatible, one of our newest features to the BOTE lineup.  
With multiple bungee points, D-rings, paddle and Sandspear sheath, grab handles, and Velcro gear straps, you won't see much difference between the 11′ and 12′4″ other than your unique take on how your want to outfit it.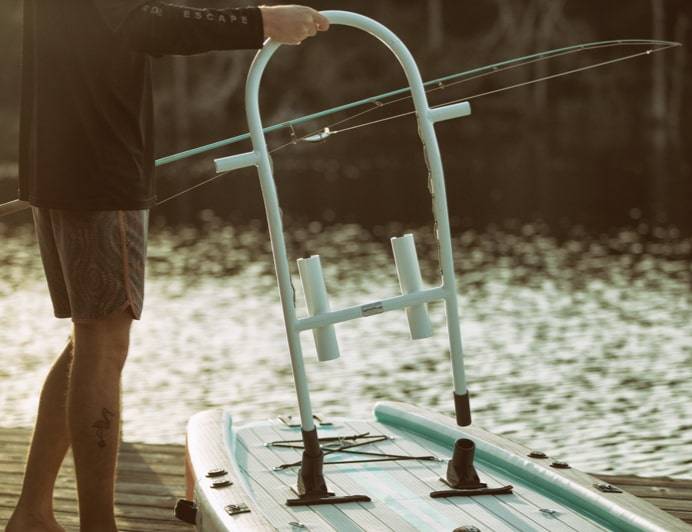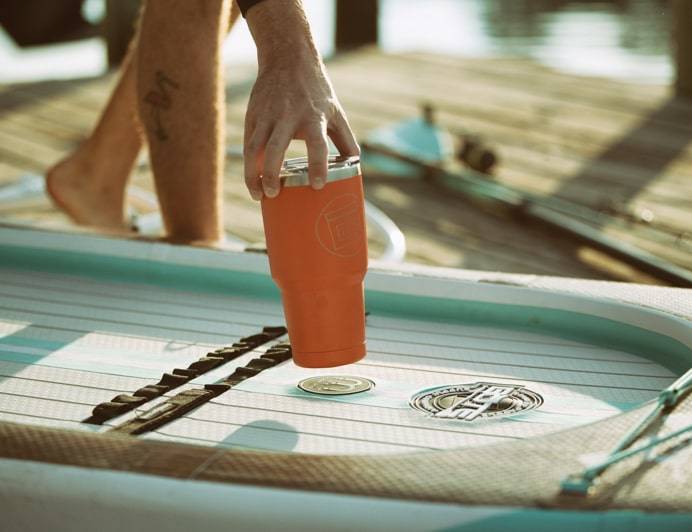 Stable, Versatile, and Transportable
Featuring the same two-chamber design with a recessed deck of the 12′4″, the Rackham Aero 11′ keeps you stabilized while standing, sitting, or shooting the breeze. And when traveling far and wide, stability is vital.
It's also highly versatile, able to adapt wherever your next adventure takes you. Keep it simple for day trips with a Highwater Pack and MAGNETumbler filled with cold water, or deck it out with everything you need to camp along the riverbed for days. Just like the 12′4″, it's easy to deflate and roll up into its dedicated travel bag until next time, wherever that may be.
Rackham Aero 11′ - Condensed But Not Skimped
With the Rackham Aero 11′, adventure possibilities are endless, regardless of who you are. Now it's time to show those 12′4″ SUP'ers what you're made of because we just leveled the playing field.