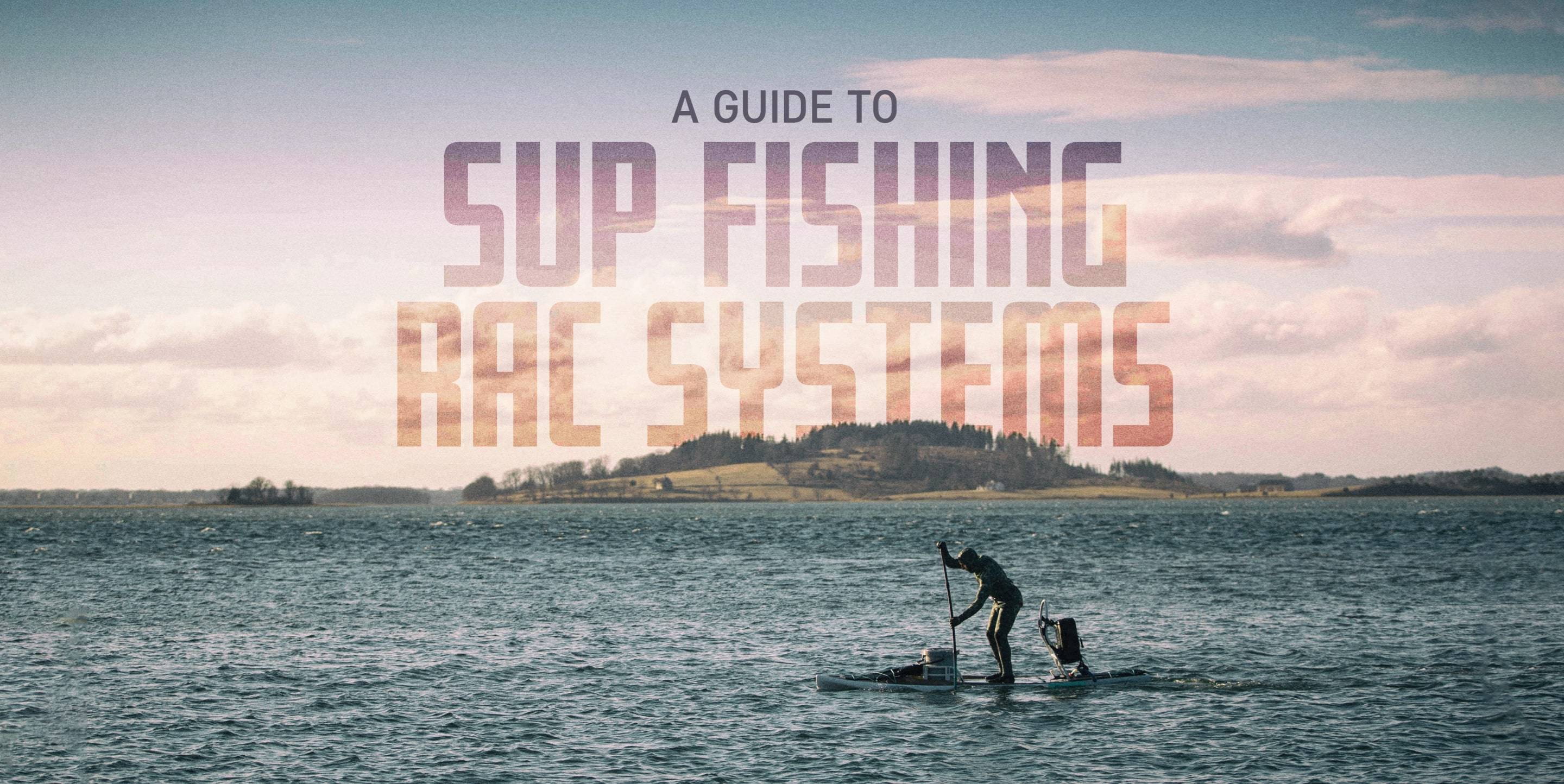 A Guide to SUP Fishing Rac Systems
So you have your stand up paddle board, your fishing gear, and your honey hole mapped out, now you just need a way to store all of your precious cargo on your next SUP fishing adventure. We designed our Rac systems specifically with stand up paddle board fishing and kayak fishing in mind, so you can secure all of your fishing gear in the best possible location without compromising your mobility.
We're here to break down our suite of Rac systems to help you find the perfect Rac system for your stand up paddle board or inflatable kayak. Without further ado, let's dive in.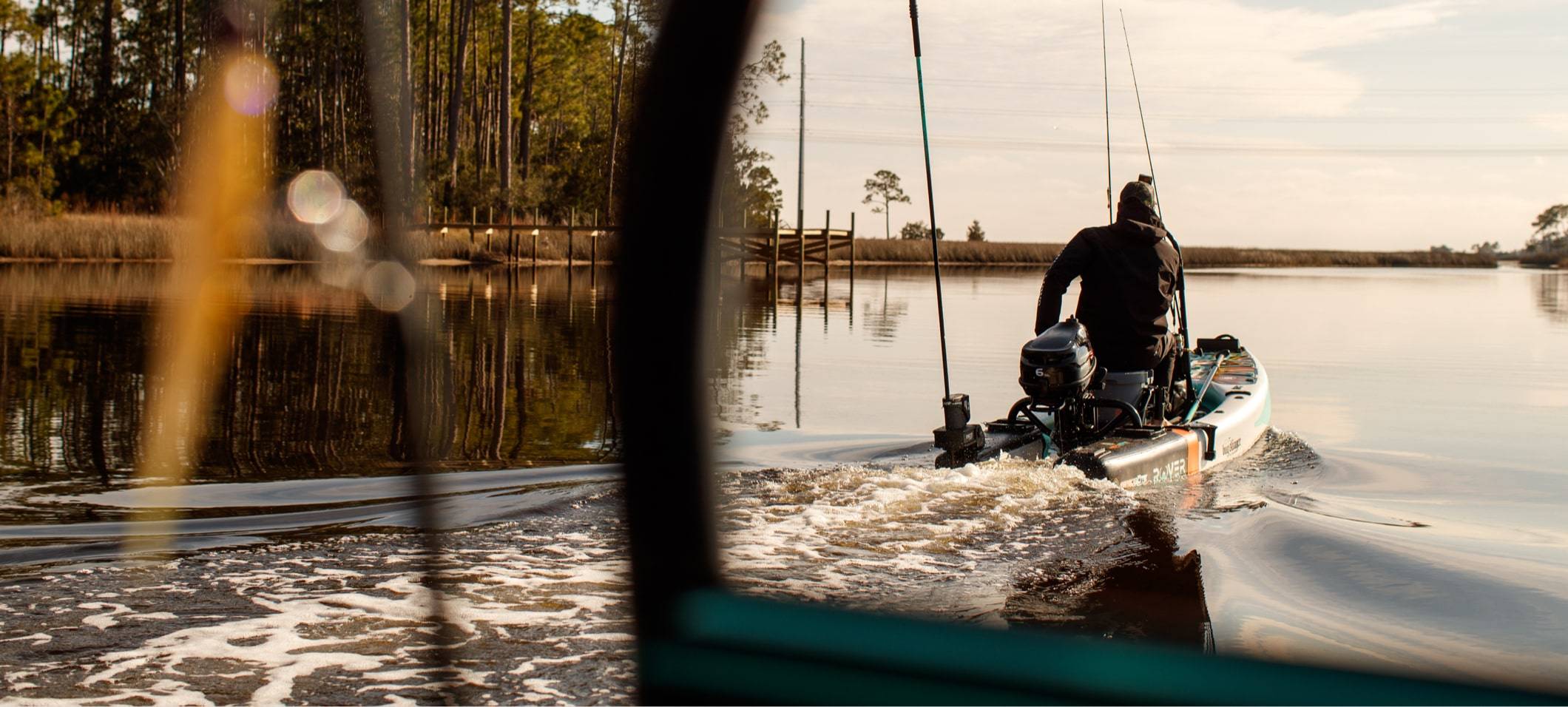 Every rac system in the BOTE line up offers unique features that can help take your kayak or SUP fishing experience to the next level. Many of our Rac systems are compatible with a variety of boards in our fleet, but they each offer different features that best appeal to your SUP fishing style and needs.
Compatible with Rackham, Rackham Aero, Rover, and Rover Aero
The Power Rac is our newest Rac option that started as paddle board lights for night fishing and paddling and turned into a small but might power system for every paddle board adventure. If you've ever paddle boarded at night it's pretty epic, but it can be challenging to see and terrifying if a larger vessel can't see you. Built specifically for the Rackham and Rover series, essentially boards that have Rac Receivers in front of the paddler, the Power Rac consolidates electric power in a super simple control puck, so you can control your LED light, navigation lights, accessory ports, and GPS fishfinder all from the same place.
"So the idea, the goal, was 1.) we wanted to get lights on the deck of a board so people can see what's on the deck at night without having to use flashlights and headlamps and stuff. 2.) We wanted nav lights so you can paddle the Rover at night. 3.) We wanted to have accessory power. So whether it's powering a speaker or a phone or a bubbler like a livewell, or GPS, a power port that can power, so you have all these options."

- Corey Cooper, BOTE CEO and Co-Founder
Compatible with Flood, Flood Aero, HD, HD Aero, Traveller, Traveller Aero, Rackham, Rackham Aero, Rover, and Rover Aero
The Tackle Rac, our OG Rac system, has been around for nearly a decade, and for good reason--it's so damn versatile. Weighing in at just four pounds, the Tackle Rac slides seamlessly into place on nearly every board in our fleet, instantly providing secure storage for two rods along with whatever else you need to throw on the Gear Pegs (like a backpack or Tackle Web) to keep your odds and ends high and dry, and out of the way.
"I'm an avid fly fisherman and love the freedom my BOTE board gives me with this tackle rack. It is universal and can be used in a ton of ways. Securely holds fly rods and spinning rods, with tons of other attachments being utilized on its interior ribbon. I can spend all day fishing and cruising any body of water. Inshore, in the bay, back marshes, rivers and lakes… Love it!"

- Chris M., Verified Buyer
Compatible with Flood, Flood Aero, HD, HD Aero, Traveller, Traveller Aero, Rackham, Rackham Aero, Rover, Rover Aero, and Zeppelin Aero
Developed alongside the KULA, the Bucket Rac integrates perfectly with a 5 gallon bucket or a KULA 5 to maximize your storage. Use your KULA as a seat and pack it full of beer or adopt it as a baitwell, and store up to four rods on the Bucket Rac wrapped around the backside of the KULA. You like options? We got options. This uniquely shaped accessory works seamlessly with both front and rear Tackle Rac Receivers.
"I equipped my new HD with a Bucket Rac & Kula for use on the local waters in the northeast. It provides a strong and secure foundation for me & my gear while paddling or casting. It's lightweight, good looking, easy to use and multi-functional. Paired with the Kula -- it is so choice. If you have the means, I highly recommend picking one up."

- Peter B., Verified Buyer
Compatible with the LONO Aero
The Rocket Rac, designed exclusively for the LONO Aero kayak fishing experience, integrates out of the way behind the seat of the LONO and features two upright holders for storage and two tilted rod holders for trolling. So small you'll hardly notice its there, but completely essential at the same time, the Rocket Rac is the must-have Rac system for your LONO Aero.
Watch the LONO Bug Slinger™ Product Video for a look at how the Rocket Rac integrates with the LONO.
"When I go fishing, I aim to catch. Which means I bring a whole bunch of fishing gear. The LONO offers a ton of room to store my gear out of the way, which is important to me, but all in arms length when needed. My lures and tackle fit snug in the mesh pockets, pretty rad. Rock Rac holds four rods, and there is a place for a KULA full of snacks and drinks."

- Harry Madison, BOTE Ambassador
Compatible with Rover, and Rover Aero
A newly engineered receiver with the Rover micro skiff series in mind, the Grab Rac locks into place in the front receivers to provide stability at the perfect height for sitting or standing. The ultra-sleek Grab Rac design packs a punch with riveted loops to allow for multiple gear attachment points, a BVA foam hook caddy to keep your go-to flies and lures accessible, two rod holders, and a lure caddy.
Watch the Rover Product Video for a look at the Grab Rac in action.
"Totally love this Grab Rac from BOTE. I am able to carry two rods, has a place for lures I am using and even has a webbing loop system for attaching a bag or something. You can't go wrong with Bote products as they are solidly made and integrate into all of their boards; keep on racking."

- Christopher C., Verified Buyer
Other Rac Compatible Accessories
First comes the Rac system, then come the bells and whistles. Once you've selected the ideal Rac system for your board and SUP fishing endeavors, you'll probably want to add in a Tackle Web to keep your personal accessories high and accessible. If you've opted for a larger board style that feels a little too heavy to easily maneuver at the end of a long day, flip the board over and connect it to the Wheel Rac. Or, if you're on the inflatable train, check your board style (or the product's page on boteboard.com) to see if you need to purchase a set or two of Aero Rac Receivers to complete your set up.
So you've got your board (or kayak), your gear, your Rac system, and your honey hole. What's next? It's high time you get out there and rip some lips.