Touring Paddle Boards
Going the Distance
Inflatable Stand Up Paddle Boards
Anything but Soft
Touring Paddle Boards Collection
If long-distance paddling or training is your ideal workout, look no further than the BOTE touring paddle board collection. While all-around boards offer paddlers the flexibility to perform a wide range of hobbies, touring paddle boards are uniquely designed to help you glide across the water effortlessly to go farther and faster with every stroke.
Whether you're into paddling long distances in open water or fitness training for core strength and superior balance, a BOTE touring paddle board offers both the speed and stability required for the ultimate experience.
What makes touring paddle boards different?
Touring paddle boards stand apart from all-around SUPs thanks to their distinctive size, shape, and several not-so-noticeable details that make a huge difference when it comes to performance. When combined, these essential touring features allow you to maintain control while gaining speed and cutting through chop.
Touring paddle boards are known for their sleek and slim design. In our touring SUP fleet, you'll find a long, narrow platform no more than 30" wide at the widest point and 12'6" - 14' in length. We pair the slim shape with a lightweight yet durable construction that's both highly buoyant and takes on speed beautifully. With every stroke, paddling becomes light work and going farther, faster is always within reach.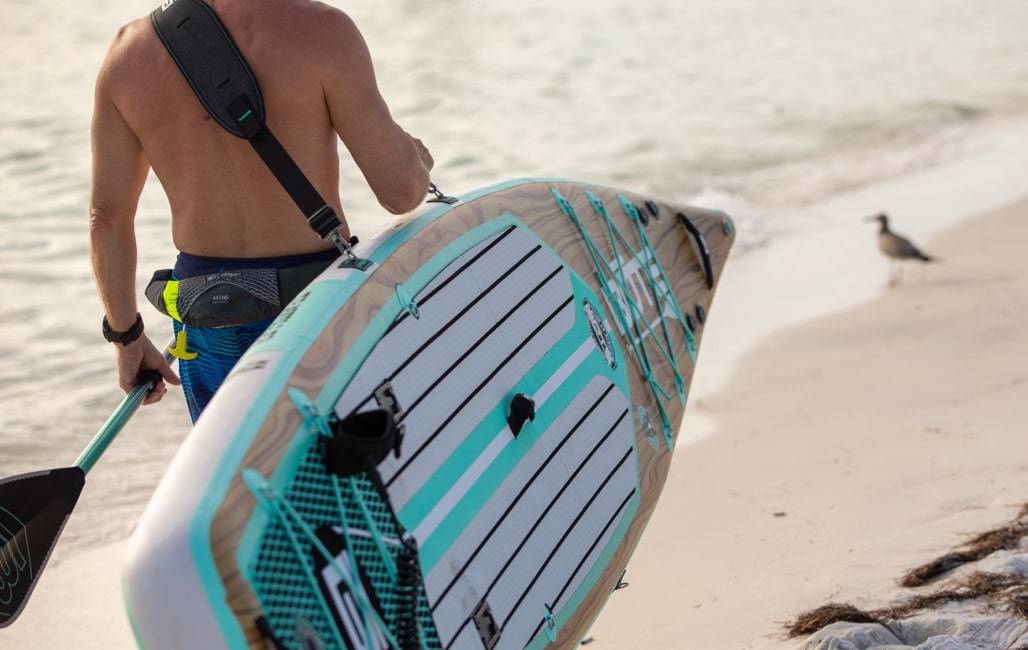 How to choose the best touring paddle BOARD
Our fleet of touring paddle boards offers two distinct constructions: solid and inflatable. Each construction type has its perks, and it ultimately boils down to which type of construction is best suited for your lifestyle.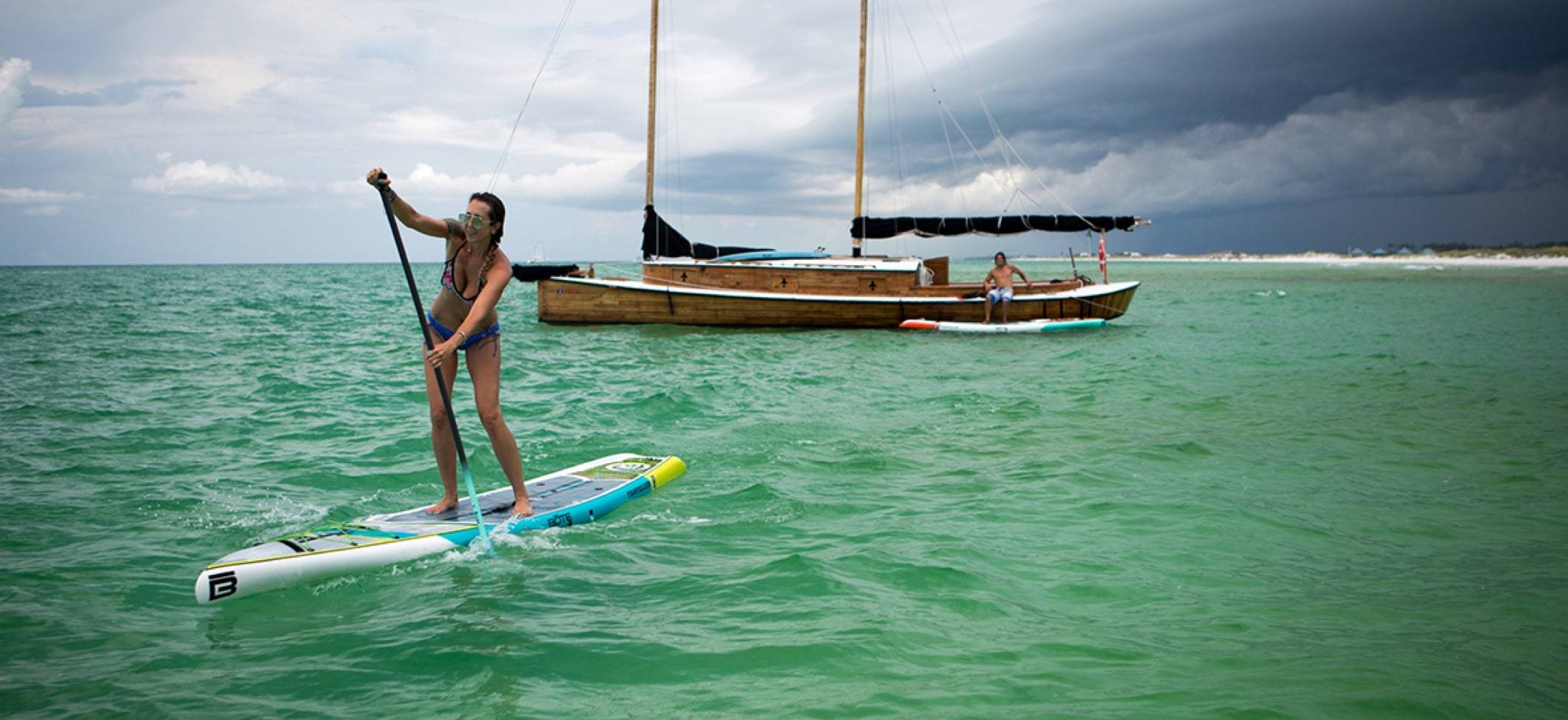 TRAVELLER EPOXY SOLID PADDLE BOARD
The first board ever born in the DarkRoom, the Traveller Epoxy Solid Paddle Board was designed to revolutionize distance paddling. We pair the narrow, sleek shape with a lightweight epoxy construction, recessed deck, and double concave hull that enables the board to glide across the water efficiently—gaining incredible speed and stability with every stroke. Topped off with a BVA multi-textured foam deck pad, the Traveller sheds water and cushions your feet to prevent fatigue while supplying awesome traction.
Offered in two sizes, 12'6" and 14", long-distance paddlers tall and small can go the distance on the Traveller Epoxy Solid Paddle Board.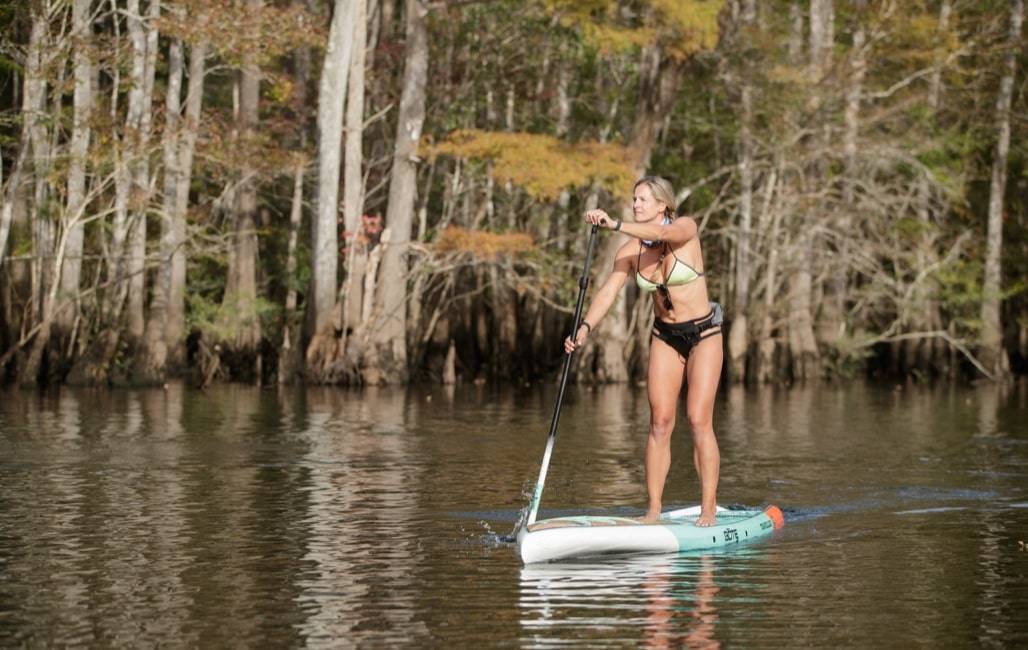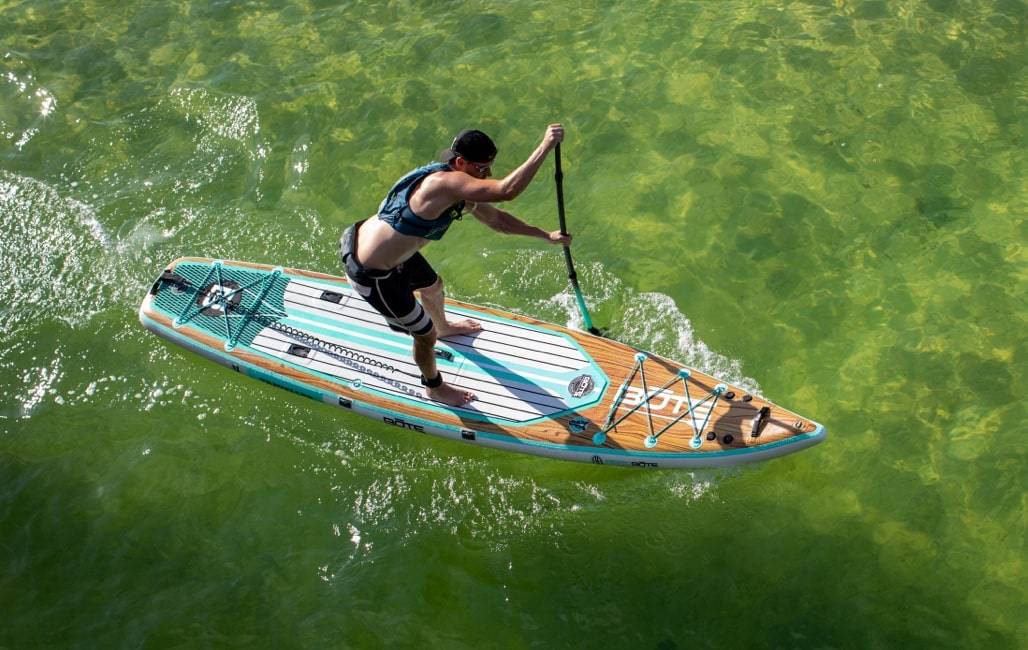 TRAVELLER AERO INFLATABLE PADDLE BOARD
Like its solid SUP counterpart, the Traveller Aero Inflatable Paddle Board is optimized for distance paddling but has the added bonus of being portable. With 12'6" of tough-as-nails AeroBOTE construction, tens of thousands of composite fibers compose the inner core, connecting the top and bottom halves of the board to create a highly rigid surface under pressure.
This inflatable touring SUP is efficient-yet smooth, stable-yet agile, and sexy-yet tough. All that, and it's made to go wherever you go. Simply roll it up into the provided travel bag and take it with you wherever your travels may take you.
touring paddle BOARD FEATURES
Whether you choose a solid or inflatable touring SUP, rest assured you won't need to compromise on features and compatibility options. In terms of features, each style is equipped with what we consider BOTE essentials like Rac receivers, cooler tie down points, a paddle sheath, bungees, and a stashpod. Plus, with a weight capacity between 275 and 315 lbs, these standard features allow the paddler to soup up their rig by adding a KULA, MAGNEPOD™ tumbler, Travelink™ SUP Carry System, Aero SUP Paddle Seat, and more.
The Traveller touring paddle board is a high-performance SUP platform designed with a unique combination of features that make it perfect for distance paddling, with or without gear. Don't take our word for it; check out this story to see how Josh Collins journeyed 3,500 miles on his Traveller: BOTE Presents // Operation Phoenix.