Customer Reviews
Write a Review
Ask a Question
10/13/2021
Alan K.

United States
Shallow water necessitates a switch!
I replaced my 10" center fin with Bote's 3" fin on my Aero HD's "maiden voyage" to shallow mud flats. The 3/4 mile paddle was fine although the short center fin resulted in quite a bit of deviation from a straight trac with each stroke. However, it allowed me to sight cast to redfish in super skinny water. I would not have been able to access these areas without replacing the 10" fin with the 3" option. I will see how the 6" replacement works on my next outing.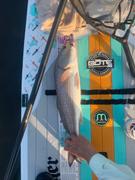 09/25/2021
Jennifer D.

United States
Good for our lower river levels
Part of the reason I went w the Bote was bc of the fin options. A shorter fins allows me to enjoy water that currently have less water due to the drought
09/18/2021
joseph p.

United States
Shorty fins
Don't let them tell you there's not enough water flowing in the summertime, the 3 inch and 6 inch Shorty fins are perfect for Missouri streams and creeks!
09/04/2021
jason m.

United States
Quick shipping and great Quality
Everything I have received from Bote has been top notch. Will continue to but Bote products!
09/01/2021
Lesley S.

United States
Epic Customer Service
Shortly after buying my Bote Board, i would have trouble getting my large fin attached to the board. It floated off in deep water one day and was never recovered. I called customer service, spoke with a very nice, understanding Rep. He said it sounded like there had been a problem with the fin, and he replaced it without any further discussion. I had my replacement fin within 2 weeks! Customer service was right on it, and took care of the issue no questions asked. The new fin works great and I"m back on the water!