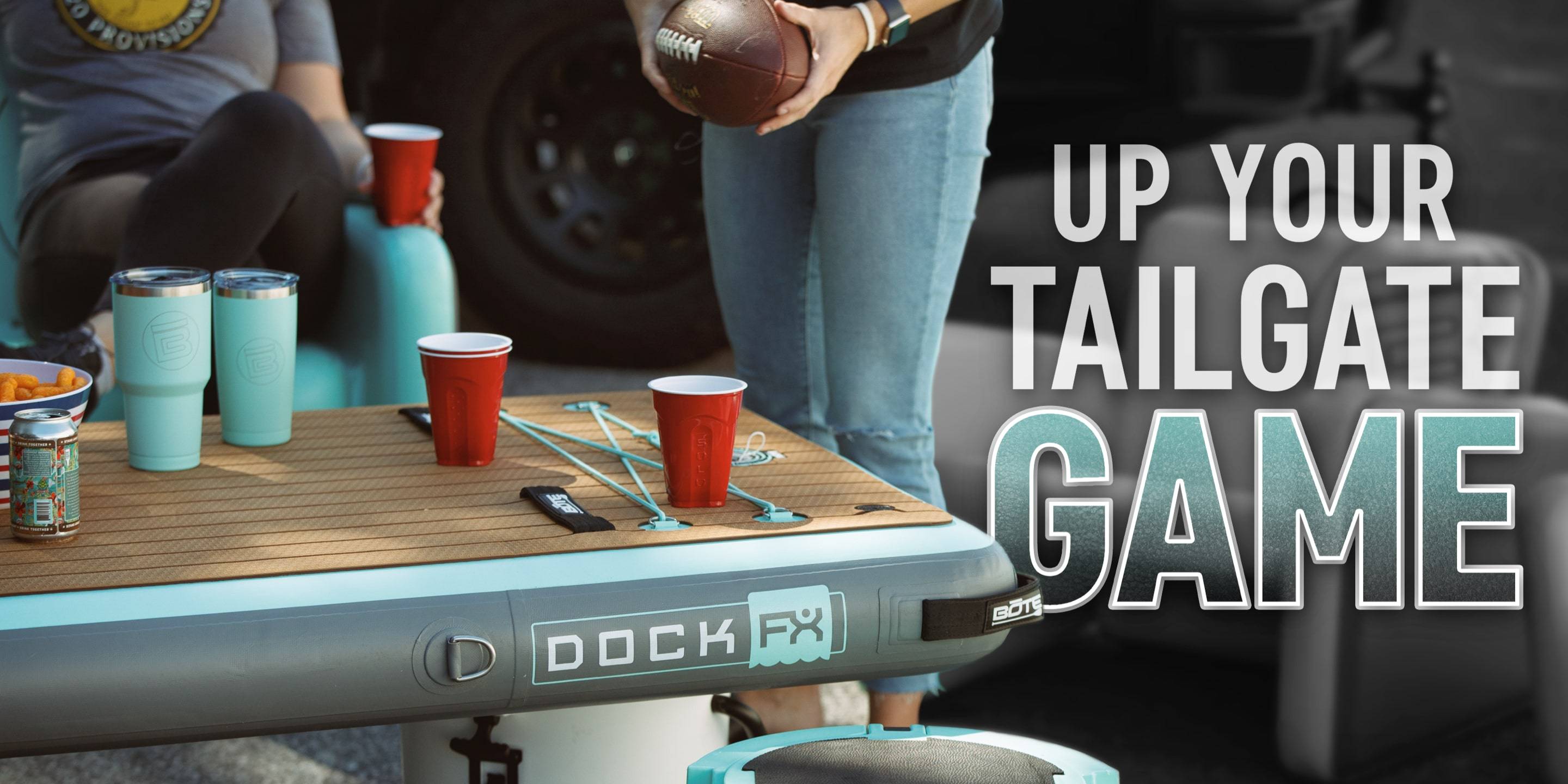 Up Your Tailgate Game
Forget fall foliage and pumpkin-spiced everything. When autumn arrives, we all know that means one thing and one thing only: it's tailgating time!
The bad news? Not every tailgate can be a Crab Island sandbar party in Caribbean-blue shallows. But the good news? BOTE products aren't only made for days on the water. They're great for leisure activities too.
When it comes to mastering the art and science of a tailgate party, here are a few tips and tailgating ideas for taking your tailgate to the next level by decking it out with BOTE.
If you really want to ramp up your tailgating seat game, BOTE's suite of Aero seating is as good as it gets. From the Inflatable Aero Chair to the Aero Chair XL all the way up to the Aero Couch, these bad boys are the best seats in the house—yep, even better than front-row on the 50-yard line. Not only are Aero seating sizes built for everyone, but they're super easy to deflate and roll up when you're ready to hit the road, as well as super easy to wipe down so you won't have to worry about spilled food or beverages. Plus, who else can say they brought a WHOLE COUCH to a tailgate?
Looking for the ultimate DIY tailgating table? The Dock FX does way more than just float on the water. Grab a couple of KULA 5's and position the Dock FX on top, and voila!—you're looking at an instant table for food. And speaking of games, the Dock FX's shape makes it an instant hit as a beer pong table. Simply grab a couple of folding sawhorses from the garage, place the Dock on top, and you're in beer pong business.
The easiest thing you can do to instantly improve your tailgate setup is to elevate your cooler game. Gone are the days of one-and-done gas station coolers. Nothing says "tailgate rookie" like a dinky plastic cooler. So, say so long to styrofoam and hello to the future of coolers — BOTE's line of KULA coolers, that is.
From keeping your food cool and your drinks ice-cold to serving as extra seating, here's how to up your cooler game with a KULA this tailgate season.
KULA 2.5
The best thing about the KULA 2.5 isn't the lightweight, easy-to-carry size or even the thick layer of insulation that keeps your food and bevvies arctic cold. (Though these features are pretty great.) The best part about the KULA 2.5 is that it has a tap—a motherf*#king tap! So, not only can you store your typical cooler staples (like beer and snacks), but you can turn the entire KULA itself into its very own batch-cocktail keg. That's right: this baby might be half the size of the KULA 5, but it packs a whole lotta punch...hunch punch, that is. (Stay tuned below for a killer tailgate hunch-punch recipe.)
KULA 5
Want to store more and seat more? The KULA 5 is the ultimate do-it-all, cool-it-all cooler. As any paddle angler will tell you: Not only does the KULA 5 pack a ton of supplies and keep things cold until the cows come home (usually about 3-5 days), but it effectively functions as a bona fide seat as well. With its round shape and a cushioned lid pad, heck—you may never bring another flimsy fold-up canvas chair to your tailgate again.
KULA Softy
Still round, still insulated, still stylish as hell, yet lighter-weight and soft, the KULA Softy is a killer option for tailgaters of all stripes. These bad boys may look supple and svelte, but they're anything but pushovers. With 840 Denier, Double TPU coated ripstop fabric, they're tougher than a gator-skin and lighter than goose feather. Plus, with the handy-dandy shoulder strap, you'll be able to carry it with ease (even if your friends yet again got a tailgate spot in the nosebleeds section of the parking lot).
Get Your Snacks Down to a Science
Now that you've got your cooler game down pat, it's time to fill 'em with the goods. Sure, you could be the typical tailgater who brings pre-packaged chips and salsa. But since you've already upgraded your cooler conditions, maybe it's time to give your tailgating menu a little makeover too.
Here are a few crowd-pleasers that you can easily pre-prep and pack in your KULA.
Highfalutin Hunch Punch
If your Everclear days are long since over, fear not—there's a high-class hunch punch for everyone. This take on a "Naked & Famous" combines equal parts mezcal, Aperol, yellow chartreuse, and lime juice. AKA, almost as boozy but with way less of a sugar headache.
(Oh, and since you've upgraded your punch, you might as well elevate your drinking vessel too. Say so long to the solo cup and hello to the MAGNETumbler—a 20oz stainless steel insulated tumbler with a lid that'll keep your drinks hot or cold all tailgate long.)
Homemade 7-Layer Dip
Discover your inner Rachel Ray with one of tailgating's most iconic dishes: Bean dip, baby! On the base layer, spread refried beans in a shallow serving dish. From here, the next layer will be a blended and whipped mix of sour cream and taco seasoning. On top of that are a multi-layer pile of cheese, guac, tomatoes, onions, and olives. Serve cold right out of the KULA with tortilla chips.
Beer
No recipe required (unless you're a homebrewer). But what tailgate is complete without beer? Answer: not-a-one. And if you find yourself tailgating in the Florida panhandle, pick yourself up a couple sixers of BOTE Beer.
Last but not least, no tailgate is complete without a hefty lineup of parking lot games. Whether you and your group are the Spike Ball types or the cornholers, the Frisbee fanatics or the old-school pigskin tossers, if you forget the games at the tailgate, you might as well forget the tailgate altogether.
However you tailgate this season, be sure to bring BOTE along for the party and give us a shout on social media!