Tips for Fishing at Night
(And the Perfect SUPs, Skiffs, and Kayaks to Help You Do It)
Night fishing: a tried and true activity for adventure anglers and diehard fishing enthusiasts. It's a challenge most are unwilling to take on; after all, fishing at night is like eliminating one of your five senses, and an important one at that - your sight. But the payoff and thrill of hooking a night-dwelling fish are totally worth it, especially when you're night fishing on a SUP, skiff, or kayak.

Night fishing from SUPs, skiffs, and kayaks is growing in popularity, and it's understandable as to why. It combines a love for casting a lure with an obsession to be on the water and takes you to places a standard boat can't. When you head out on a stand up paddle board, skiff, or kayak at night, well, you just can't get much closer to nature. Plus, you've got the added edge of stealth and silence. The fish will never see you coming.

Whether trying out night fishing for the first time or looking to brush up on your night fishing game, we're bringing you tips and tricks straight from the angler's mouth on how to fish at night from a SUP, kayak, or skiff.
Depending on where you plan to night fish, you'll want to check the rules and regulations of the area. Often, state parks have specific requirements you need to follow to ensure your safety and the safety of others. And in addition to abiding by the rules, you want to have ample light so you can find the right rod and bait with ease. While motorboats typically have the necessary lighting to go night fishing, SUPs and skiffs can leave you wondering how to light 'em up. Meet your new best friend - the Power Rac.
A self-contained, electric-powered command center, the Power Rac takes the guesswork out of lighting your SUP or skiff while providing plenty of storage for rods, lures, and even compatible GPS systems. With a 12V water-resistant battery, the Power Rac delivers six hours of juice to its built-in nav lights, and board-illuminating LED panel. Simply put, with the Power Rac, you can skip the headlamp and duck taped flashlights and focus on the task at hand.

The Power Rac is compatible with our Rackham Aero and Rackham Gatorshell SUPs and our Rover Micro Skiffs, all admirable choices for night fishing. And if SUPs aren't your night fishing jam and you prefer to go the route of a kayak, the LONO Aero has a ¼"-20 accessory mounting point at the nose for your lighting accessory of choice.

Pro Tip: If you're planning to pull a long one on the water, it's always wise to pack a spare light or backup battery, so you're not up shit creek without a light source.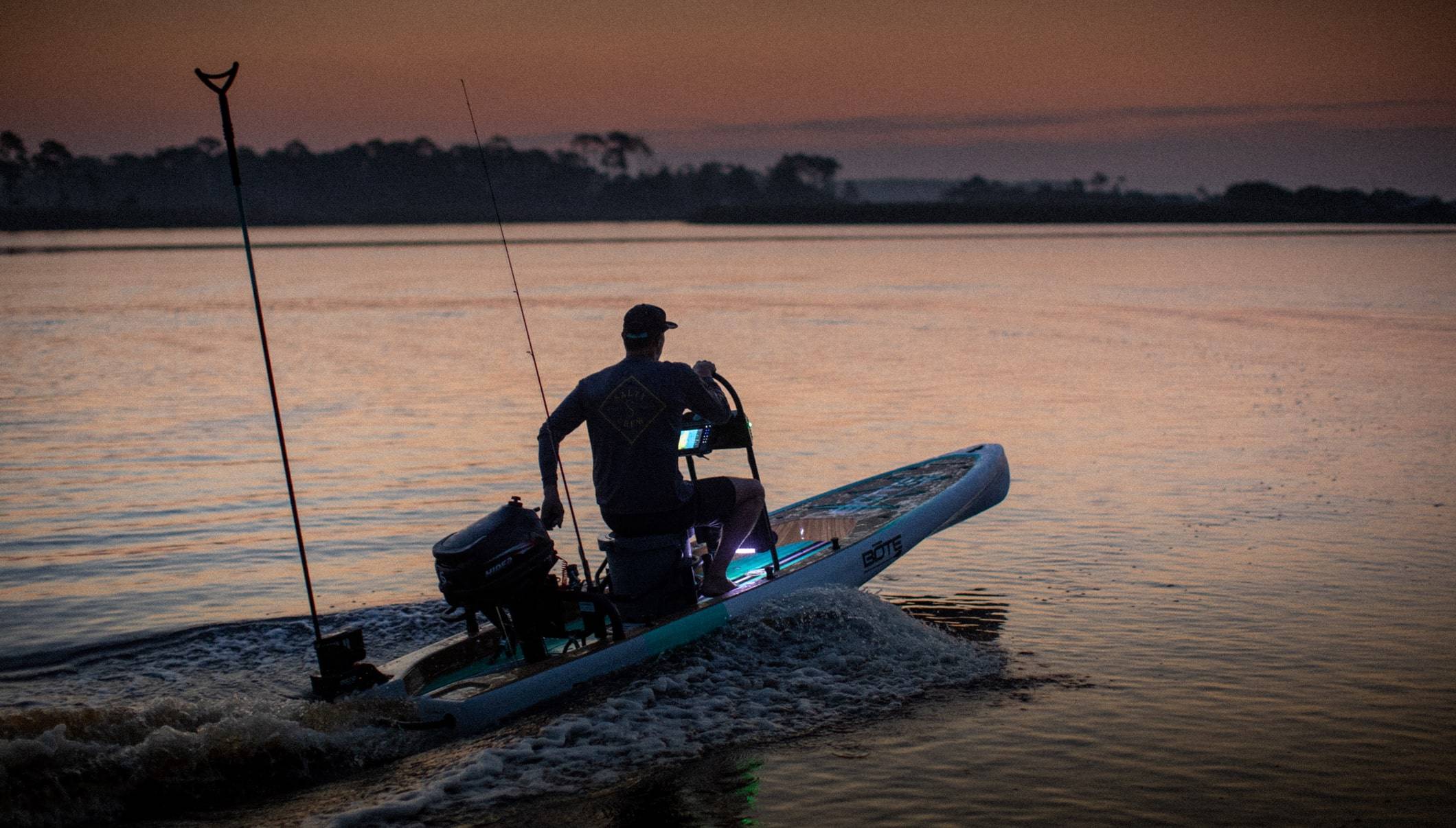 Imagine sliding in your Bucket Rac into the Rac Receiver or clipping on your Highwater Bag to the bungees in the dark. Not a good start to SUP night fishing when you aren't sure if everything you need even made it onboard before launching out to your favorite nighttime watering holes.

And while you're setting up your SUP board, kayak, or skiff, keep your eyes peeled for movement in the water because once nightfall hits, you're going in blind… literally. Hitting the water before you need your nav lights will provide you with a good lay of the land (er, water) so you're aware of fish activity and larger vessels in the vicinity.
Falling off your SUP, skiff, or kayak with all your fishing gear on is one thing, but doing it when it's pitch black is something that'll have you swearing to high heavens. Stability is critical when it comes to SUP night fishing, so going with a wider board or a vessel that helps with your center of gravity will help you stay firmly planted, even when you bump up against an unexpected log or shallow. Our favorite boards for this? We thought you'd never ask.
Built to be decked out with all the fishy goodness, the Rackham Aero sports a wide base with a two-chamber design and a recessed deck, so you stay low to the waterline. It's also virtually indestructible, constructed of AeroBOTE Technology, so it can handle the bumps and bangs that come with night fishing. Oh, and it's Power Rac compatible.
Simply put, you won't feel more secure in a kayak than in the LONO Aero. Cast a line while standing or sitting; you'll feel firmly planted either way. And if you plan to night fish in the shallows, the keel guard and mounted side bite fins protect the underbelly while doing so. The best part? It's APEX Pedal Drive compatible, so you're entirely hands-free and focused on your surroundings.
SUP it, or toss a motor on and power your way to your favorite fishing spots. The Rover Aero Micro Skiff gives you incredible versatility, stealth, and (when you need it) speed. With two spots for Rac Receivers, you can deck the Rover out to any configuration you desire, and the compatibility with the Micro Power Pole attachment means you can stake out with a Sandspear once you find the perfect spot.
Night fishing on a SUP, skiff, or kayak gets its reputation for being a sport for the passionate because it's the closest you're gonna get to thinking like a fish. We mean that because of your lack of visibility, you need to focus all your attention on your surroundings and think, 'where would the fish be?' Then you have to get there unnoticed.

Don't practice new paddle stroke techniques when you're night fishing; stick to smooth, long strokes to minimize impact to the waterline. You're already at an advantage since you're traveling without a motor, locking in extreme silence and stealth as you cut through the water, and with slow and steady movements to an active honey hole, they won't even see you coming.

Happy casting, #BOTENation