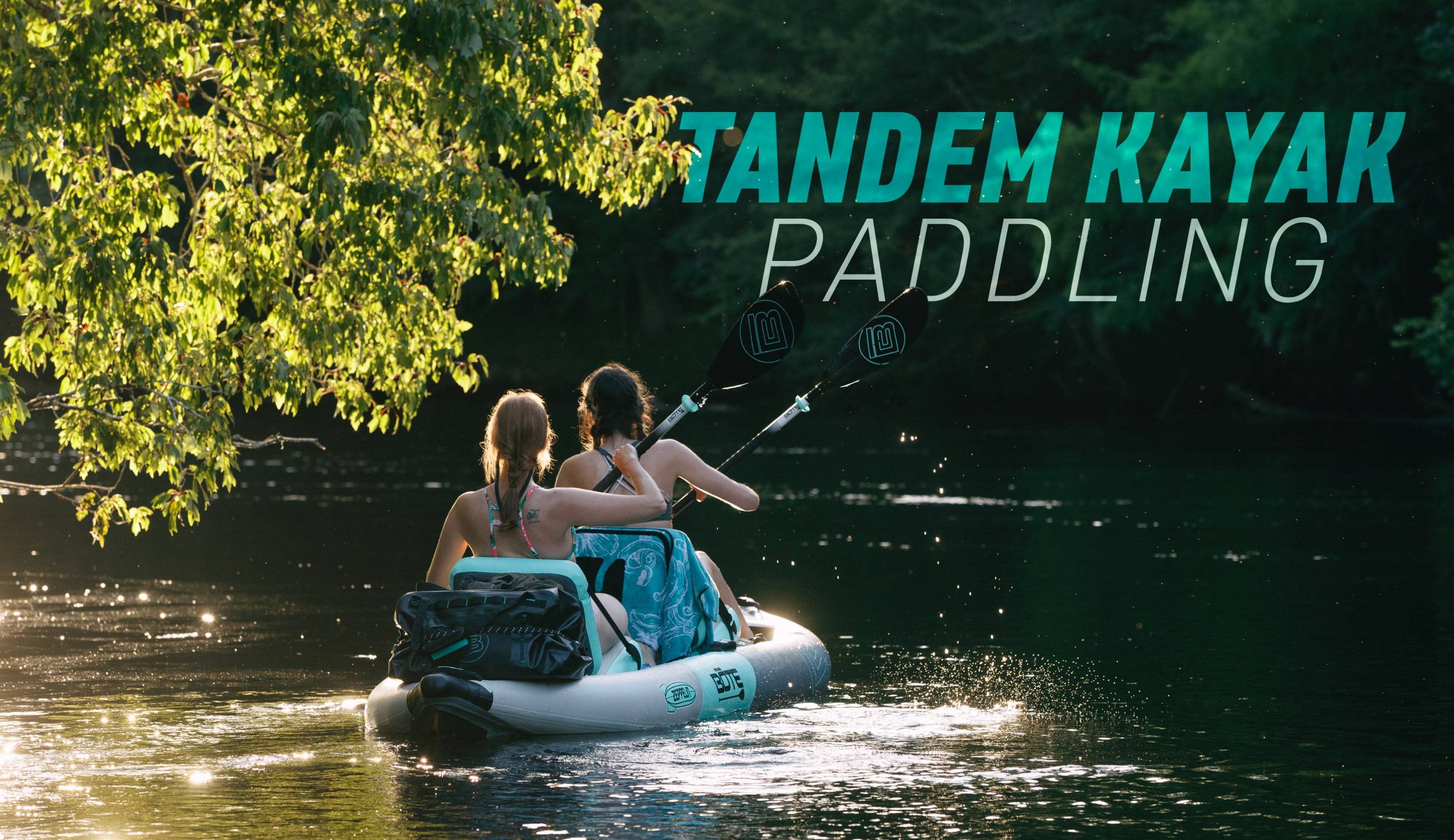 TANDEM KAYAK PADDLING: IT'S BETTER TOGETHER
Picture this: you've discovered a super rad, 15-mile paddle trip down a winding river lined with crystal clear springs and peppered with shallow rapids. It's going to take 2 days to complete, so you've decided to bring a friend and camp out along the trail. Your friend asks you if they will need to rent a kayak, but because you're a good friend, you already have the perfect watercraft in your arsenal, the Zeppelin Aero tandem kayak, that will allow you both to rip through the water in style.
If you know anything about the Zeppelin Aero, then you already know it's basically our version of a Swiss Army Knife. Every square-inch of the kayak has been designed to be highly adaptable and multi-functional to fit whatever adventure you have it signed up for—even if that adventure is a full-on tandem-paddle expedition.
Let's start with setting it up.
How to set up your tandem kayak
Using either the provided hand pump or one of our AeroPumps, inflate both side chambers to 2-3 PSI and the floor of the Zeppelin to 10-15 PSI. PRO TIP: Inflate the side chambers first and then inflate the floor.
Inflate your seat(s) to 7-10 PSI, then attach them to the floor at the conveniently-labeled TANDEM or SOLO tie-down points, depending on your setup.
Adjust the straps on your seat to suit your desired leg and recline angles, and you're ready to hit the water.
Want to know more? Check out this helpful video.
Now that we're ready to load this baby up, let's go through our packing list.
The KULA 5 fits almost too perfectly behind the rear seat—in a way where it is oddly satisfying. Strap it down first using the Cooler Tie-Down Kit so you can be sure that your BOTE Beer supply doesn't go overboard (oh, and the food). Between the KULA and the aft, strap down a Highwater Duffel containing your camping gear and on top of the KULA, strap down a Highwater Backpack graced with holding your personal belongings.
That's all the essentials. You're probably thinking by now that your tandem kayak is closely resembling the very last row of an airplane—where your seat-back is stuck in the most uncomfortable, upright position due to the lack of recline room and there is no room to stretch your legs because you were forced to stuff your carry-on backpack under the seat in front of you after all the overhead space was taken. Lucky for you, BOTE Nation flies first-class when paddling in the Zeppelin Aero. The utilitarian design of the Zeppelin Aero ensures that when in the tandem configuration, the Aero Paddle Seats are perfectly distanced, leaving you with more legroom than you know what to do with. So, let's throw on a bit more gear just for fun.
The nature of the elevated Aero Paddle Seats creates a nook where the front of our Aero Paddle Seat meets the floor. This is a great place to store smaller gear, like the Highwater Slingpack, that holds your easily-accessible items. But in case the under-the-leg nook isn't your thing, there's plenty of space beyond outstretched legs to fit a pack.
You're now fully-equipped and ready to launch. Grab two 5-Piece Adjustable Kayak Paddles, push off, and jump in. No need to worry about tipping over, the Zeppelin Aero is crazy stable. Seriously, we dare you to try. Once you get going, maybe you decide that you want to take it low and slow, so try reclining your seat-back using the adjustable straps on the Aero Paddle Seat.
Tips for Paddling a Tandem Kayak
Paddle in unison. This helps to avoid paddlers hitting each other, which can happen when you get out of sync. This will also help to keep the weight of the watercraft moving in a uniform direction for even greater stability.
The stronger of the two paddlers should sit in the rearmost position. The rear paddler should be the one to match the stroke of the front paddler, since they can watch the stroke of the front paddler.
To steer, it's best to work as a team where one paddler strokes forward while the rear paddler reverse strokes on the opposite side. This will execute a quick turn.
To steer more gradually or correct your course, the rear paddler should act as navigator by performing a more powerful stroke or utilizing the paddle as a rudder.
If you're paddling with kids or a dog, you should always make sure everyone on board has an appropriate PFD -- or Personal Floatation Device.
Kids and dogs should sit in the front of the watercraft so that the paddler is always aware of their movements.
So, what is it like to paddle in a tandem kayak? It's having a constant tailwind that helps you slice through the water. Or trading your single-engine outboard for a twin-engine outboard. The key is getting synchronized in your strokes. When you are ready to paddle, pick a side to start on and boom, that's it. After the initial synchronized stroke, just alternate sides and you'll start ripping.
Happy paddling.