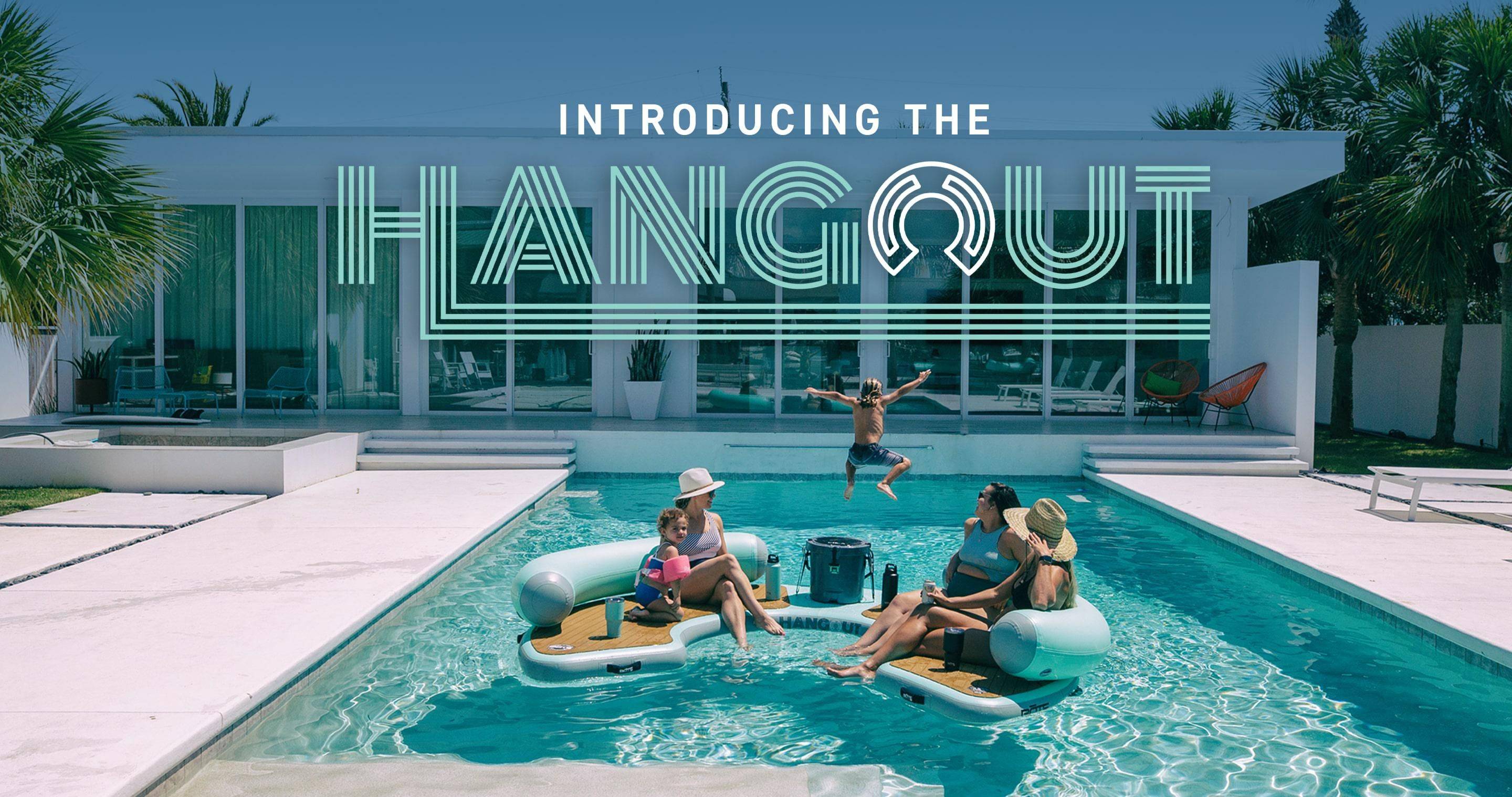 Introducing the Dock Hangout
At BOTE, we're no strangers to the life of leisure. Sure, a lotta folks know us for our award-winning lineup of standup paddle boards and fully customizable inflatable kayaks. But at the end of the day, deep down, we're really good at hanging out and having fun. And as you may have heard, we like to make stuff for us.
The all-new Dock Hangout is floating proof. Shaped like a crescent moon—or a doughnut with a bite taken out of it depending on how hungry you are—the Hangout is specifically designed for one thing and one thing only: total relaxation.
So, forget flimsy pool noodles. It's time to say hello to a new, badass, revolutionary way of floating. It's time to hangout on the Hangout.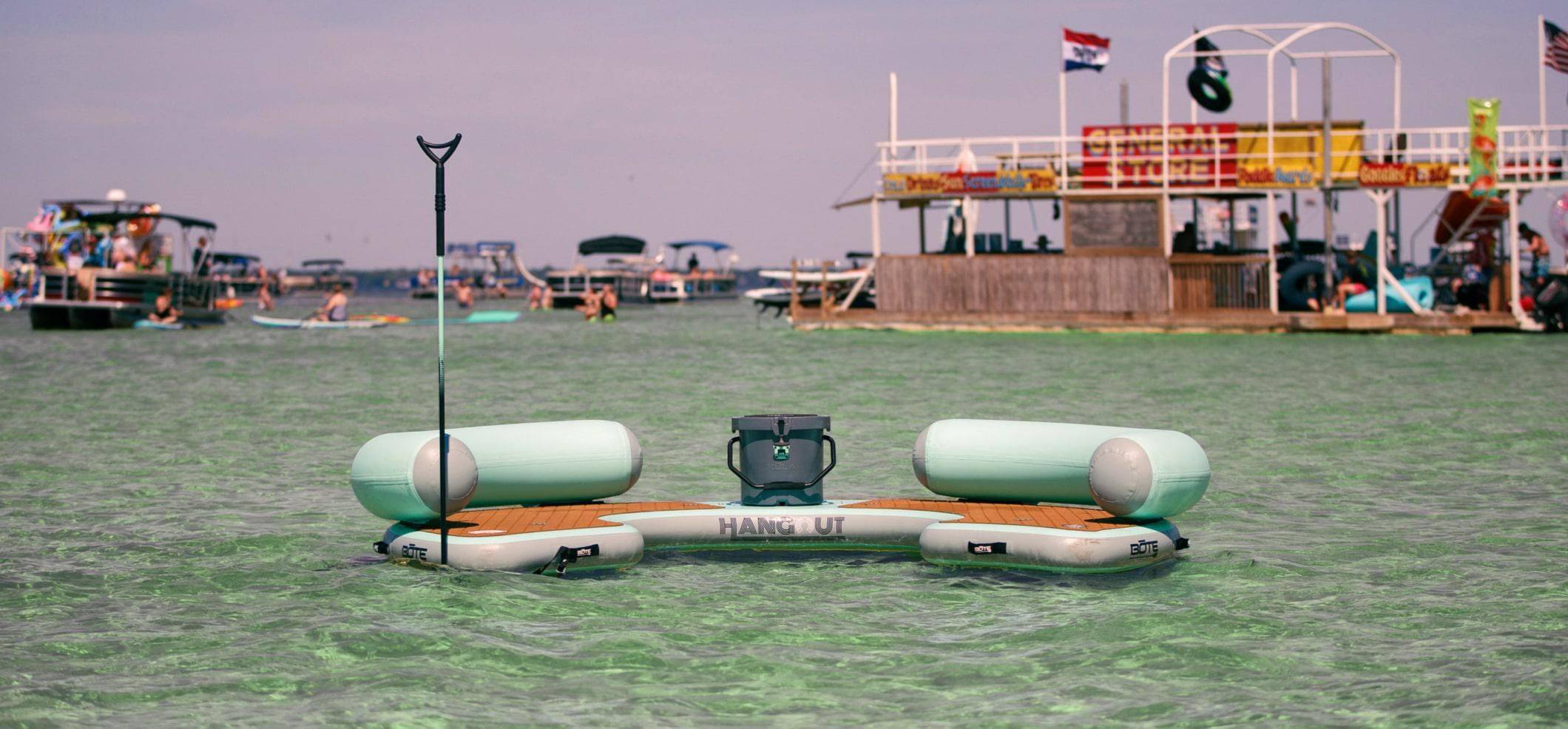 Minimal Design, Maximum Fun
We'll admit we couldn't help but laugh at ourselves when we launched giant floating squares and rectangles in 2020 (you know, the Dock 10' and Dock 7'). How could something so simple yet to exist? At the end of the day, all you really need to have a hell of a lot of fun is a body of water, some friends, some brews, and a floating platform. That's precisely what our suite of floating docks delivers.
The Hangout is a stylish spin on our Inflatable Docks. It's simple, stable, durable, and versatile. Once inflated, the Hangout is as firm and floatacious as a regular dock. And the military-grade PVC skin with a slip-resistant surface means you'll never have one of those slippery wrestling matches trying to get on the damn thing like you do with those cheap plastic alternatives. Once you're on it, you'll never need to leave. Sprawl out on the spacious lounge-pad, attach your KULA to the designated zone, and get your vitamin D on.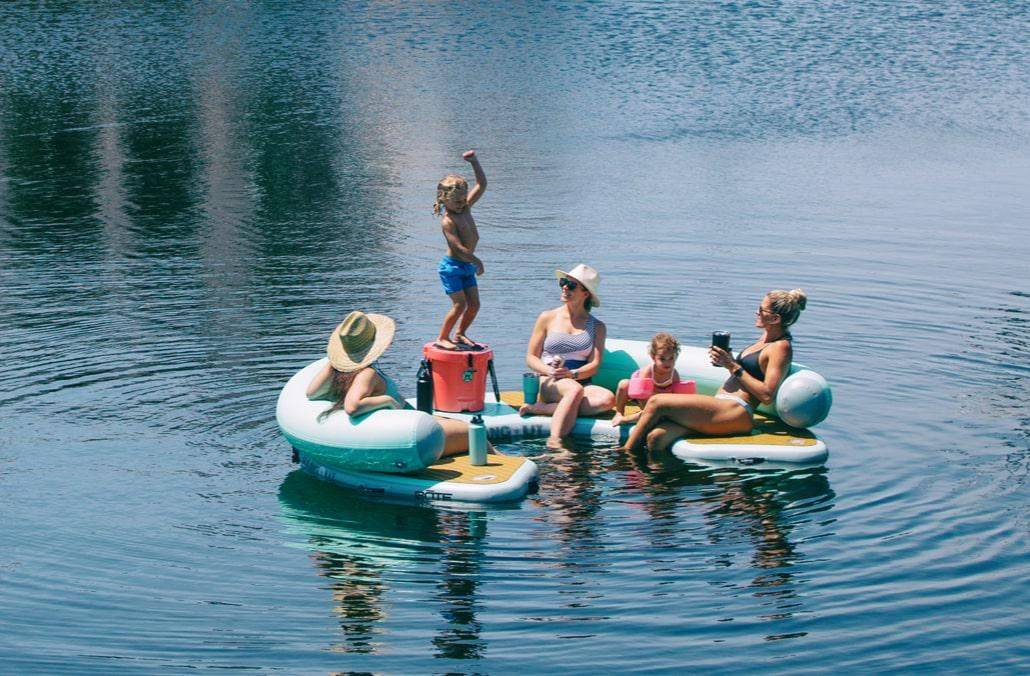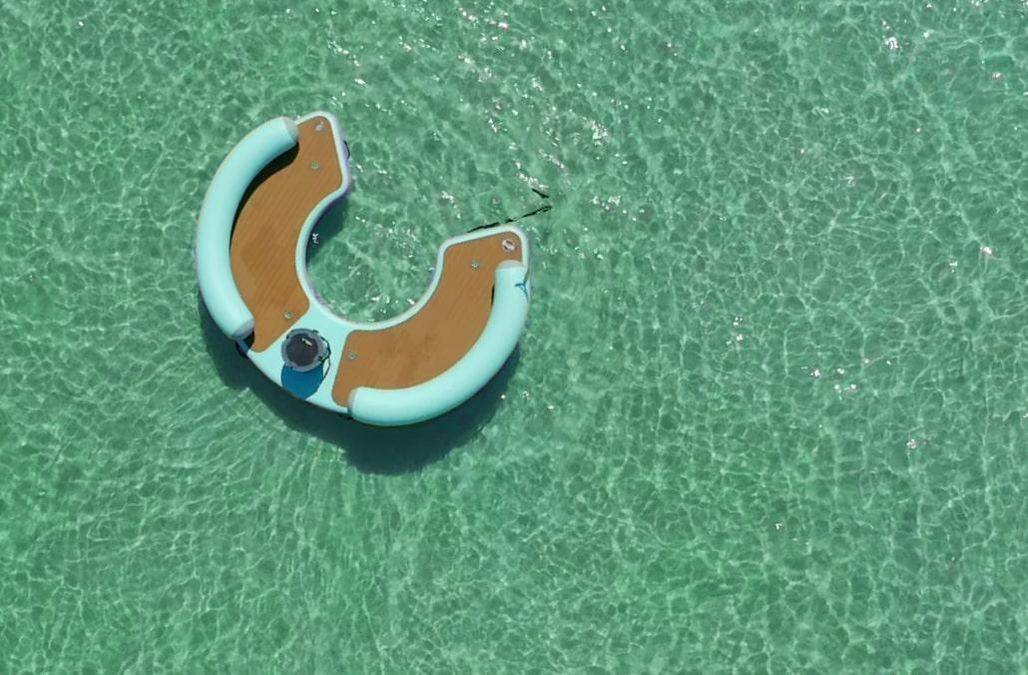 MAGNEPOD™ MAGNIFICENCE
Speaking of hanging out and having fun, if you're all about keeping your beverage of choice ice cold and out of the body of water below, you'll certainly appreciate one of the Hangout's game-changing design features: MAGNEPOD™ compatibility.
Gone are the days of knocking over your beverage. The MAGNEPOD™ is a magnetic base that, when paired with BOTE's MAGNETumbler, creates a drink retention system unlike any other. Each MAGNETumbler has a 2-inch neo-magnet permanently mounted at the bottom. When attached to one of the four—that's right, four!—MAGNEPOD™ mounts on the Hangout, these double-walled, vacuum insulated tumblers are like Art History majors: they're going nowhere. So, whether you're the constantly clumsy type who's always spilling your drink or the adventurous type who wants to dive from the Hangout without worrying about the aftershock knocking your drink over, the Hangout and its MAGNEPOD™ compatibility is right for you.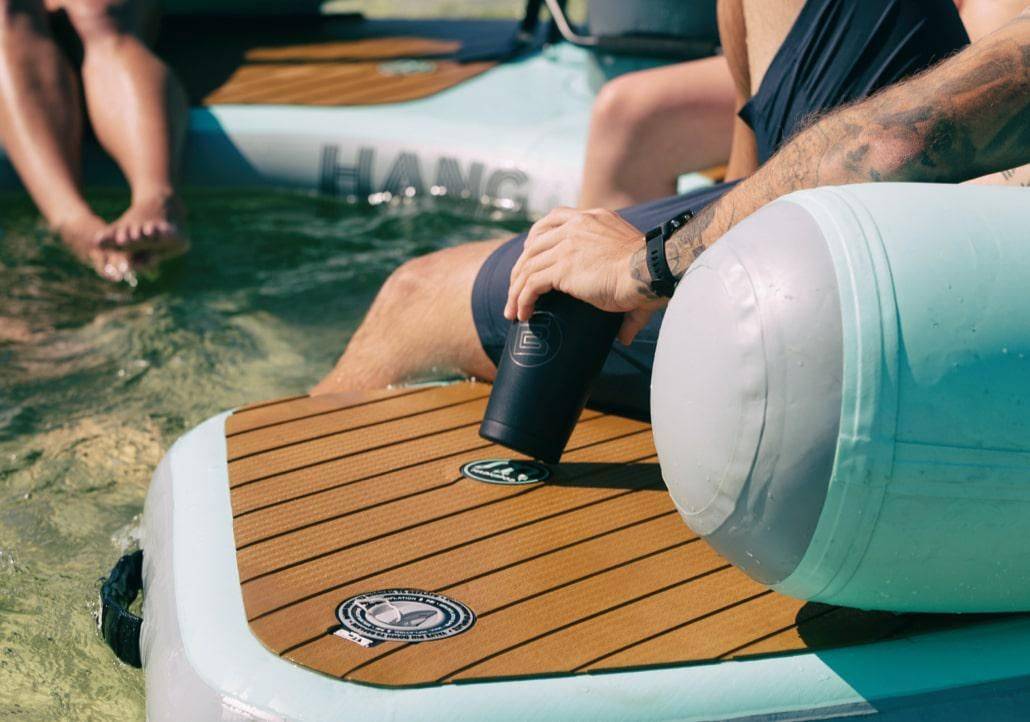 A PLACE FOR YOUR KULA
Can you even call it hanging out if every few minutes you've got to get out of the water and go grab a beer from the fridge? With the Hangout, the fridge floats with you. Well, the KULA floats with you to be more exact.
As a refresher, the KULA is our multi-use, multi-functional take on an insulated hard cooler. It's lightweight, easy to carry, tough as hell, and designed to keep ice till the cows come home. Situated smack dab in the middle of the Hangout is a place for you to tie down your KULA—which means less time making beer-runs and more time having fun.
A STAPLE OF SUMMER
The Hangout is designed for pure, simple leisure. It's that straightforward. We wanted to make a product that takes all the best aspects of summer and bottles it up into an uncomplicated setup designed for maximum fun. Whether it's for you and your S.O. or you and the whole family, the Hangout is basically just a floatacious embodiment of good old fashioned summer fun.
WHERE TO USE THE HANGOUT
Inflate it. Put it in the water. Float the day away. It's as simple as that. Hanging out doesn't need to be complicated. And in the Hangout, it never is.
HOW TO USE THE HANGOUT
Whether you want to hang in a pool or hang in a lake, the Hangout hangs where you do. Show up to a pool party with this bad boy and it'll be the life of the party. Bring it to your next lake day loungefest. Heck, you could even replace that flimsy old innertube tire and take it on your next all-day river-float on the Hiwassee or Crystal River. The choice of water is limitless; the choice of floating device, meanwhile, is singularly clear.
GET YOUR HANGOUT TODAY
At the end of the day, if you're looking for a simple yet seriously cool way to have fun this summer, you'd be hard-pressed to find a better option than the Hangout. On paper, it's a floating platform. But on water, it's so much more; it's the total embodiment of relaxation and fun.
In short, we think the Hangout hung the moon when it comes to hanging out. Get yours today.