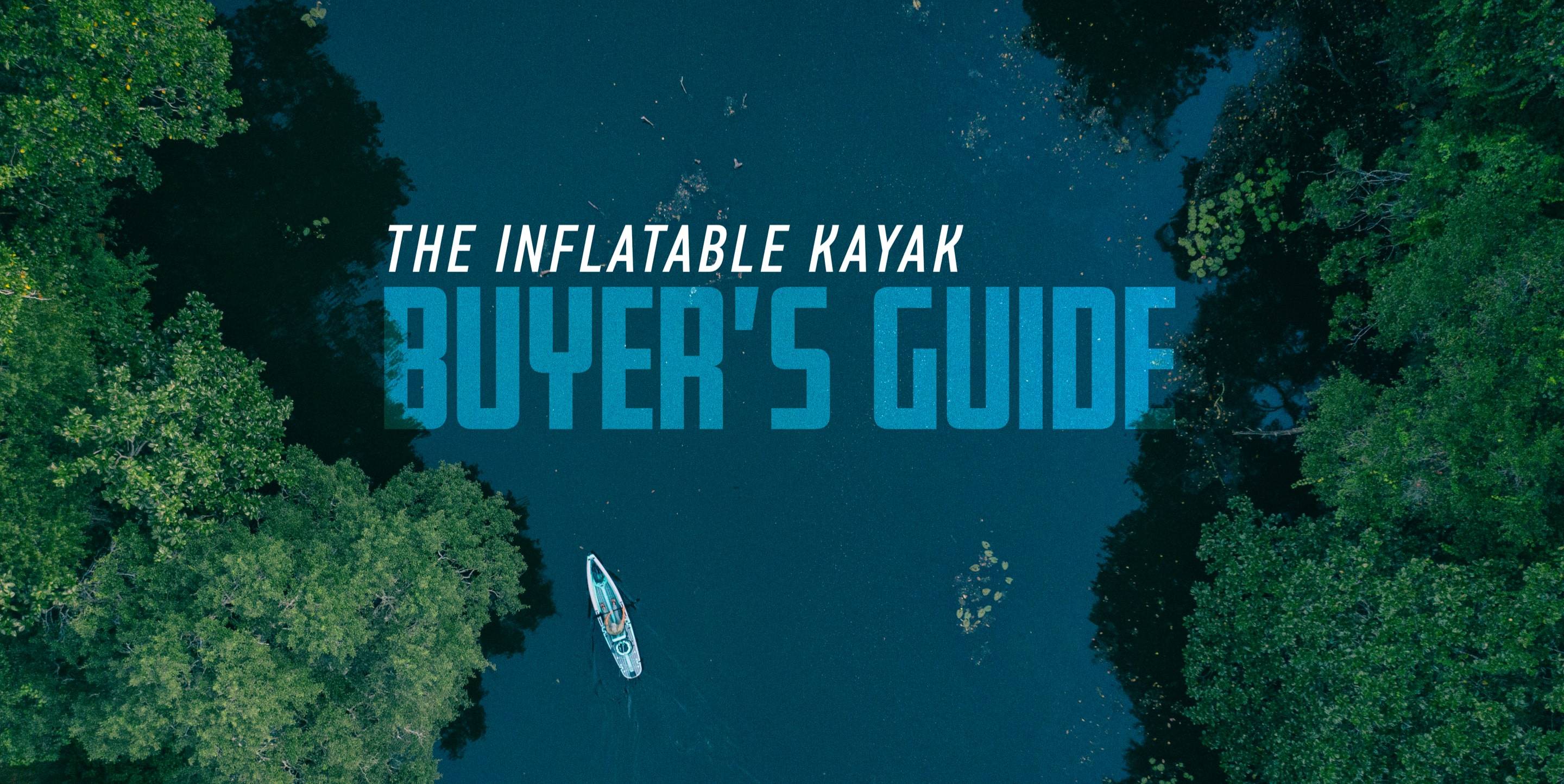 The Inflatable Kayak Buyer's Guide
So you've been toying around with the idea of buying a kayak and after researching traditional kayaks, you may be thinking it's a bigger commitment than you want. Storage alone is enough to make us say, 'thanks but no thanks', which is why we created a line of inflatable kayaks that perform just like a solid kayak, and in some areas, a lot better.
Every BOTE inflatable kayak performs with the durability and stability required for days on the water, but what makes them unique is their packability. Our inflatable kayaks come equipped with a custom travel bag so they can pack down into even the smallest spaces. But which one is the right choice for your level of adventure? Our inflatable kayaks offer options for the beginner all the way to the ultimate fisherman, and their endless versatility allows you to grow into new kayaking and SUP skills.
It sounds too good to be true, but it's not. This deep dive into our three inflatable kayaks, the Zeppelin, the DEUS, and the LONO, will give you the guidance you need to properly compare and select the best inflatable kayak for your lifestyle.
Zeppelin Aero Inflatable Kayak
The Zeppelin Aero Inflatable Kayak is the newest addition to our inflatable kayak line up and our answer for those in the market for a recreational kayak that can withstand choppy conditions while keeping you high and dry. Clocking in at 12'6" long, this kayak is incredibly versatile when it comes to your preferred waterways. It's well thought out and highly durable design is not over complicated, so you can take it on the bay, ocean, river, creek, or lake.
If you aren't looking to get pigeon held into a specific hobby, the Zeppelin is a great choice for dipping your toes in many different waters doing many different things. Then just roll it up into its travel bag and toss it in your closet until your next voyage.
"This is a recreational paddling kayak. It's great in all bodies of water and designed to be used from coast to river. Extremely stable thanks to its wide frame, the paddler stays centered for an easy to paddle experience." - Corey Cooper, BOTE CEO and Co-Founder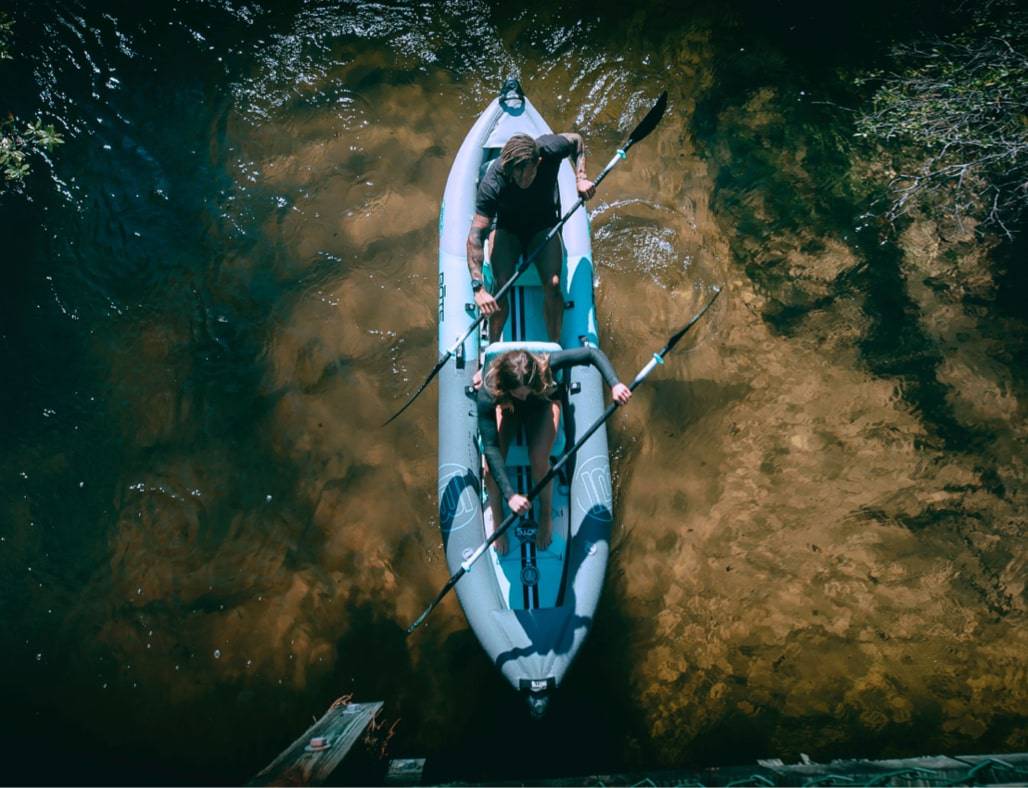 Primary Features
Durable Material and Structure - Durable throughout, the Zeppelin is designed with drop stitch technology where it matters most, in the floor of the kayak and the seats, holding it firmly together as you paddle along. The structure is built to withstand a weight of up to 600 lbs while remaining incredibly lightweight itself.
Multi-Paddler - Our only multi-paddler inflatable kayak, the Zeppelin comes equipped as a solo paddler, but can be transformed into a tandem kayak with a quick relocation of the dring loops on the kayak. Additional inflatable kayak chairs are sold separately.
Stability - The Zeppelin's wide platform with running full-length traction and elevated inflatable chair keep you lifted from the water, firmly planted and stabilized, so you look like you've been kayaking for years. It's nose and tail displacement cone cuts through the water for a smoother ride, too. We might argue the Zeppelin to be our most stable and easiest to paddle inflatable kayak, just don't tell the DEUS or LONO.
Ability to Accessorize - Don't be fooled by its simplicity, it still has lots of space for cool add ons. Add a KULA cooler or Bucket Rac by sliding it into the Rac Receivers behind the solo seat. Strap your paddle into the velcro paddle straps while you kick back or cast a lore. Toss additional dry bags, flip flops, or sunscreen under the bungee holds. Basically, accessorize it to your needs. It even has our brand-new MAGNEPOD system to keep your compatible drinkware (such as the MagneTumbler) from tipping over while you paddle.
Best For...
The Zeppelin was dreamed up for the recreational kayaker. If you're looking for the versatility to swap from a solo to a tandem, from river to ocean, from completely decked out to sweet and simple, the Zeppelin Aero Inflatable Kayak delivers.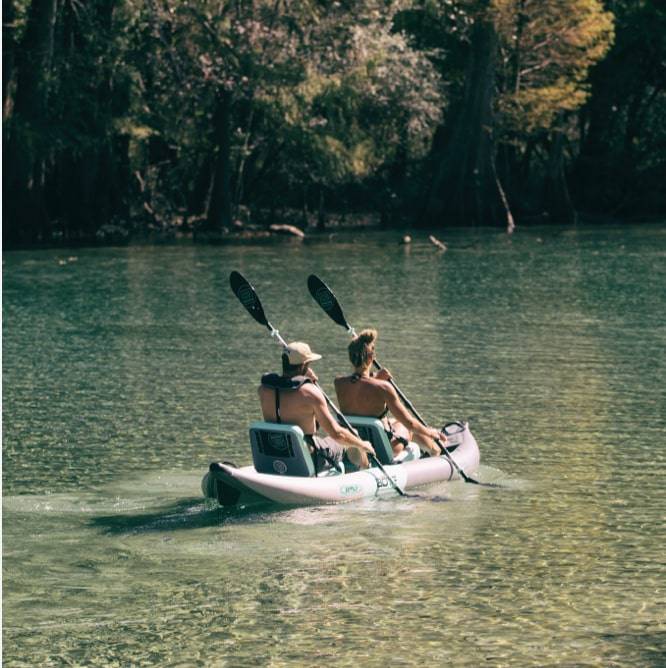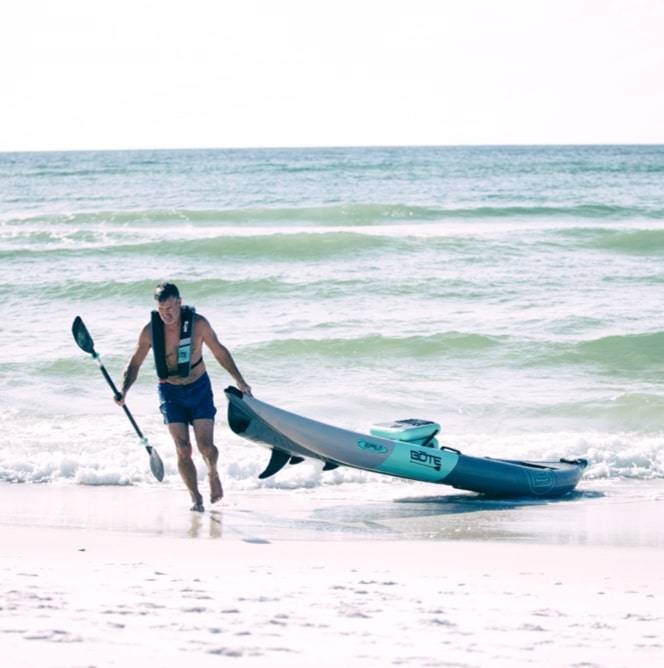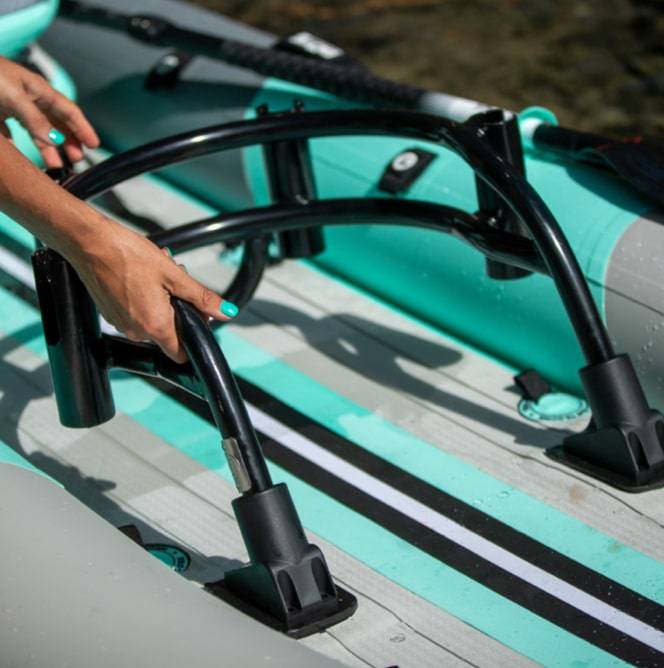 DEUS Aero Inflatable Kayak
Portability, performance, and versatility - the badass trifecta that is the foundation of the DEUS Aero Inflatable Kayak. Aptly named from the Latin word for 'God', the DEUS gives you everything you need to reign over the water. Slightly shorter than the LONO, the DEUS is 11' of military-grade PVC construction that goes from travel bag to water-ready in no time. Incredibly lightweight, the DEUS is dual performance, acting as an inflatable kayak and stand up paddle board with the toss of the top chamber.
That's right, it's a convertible kayak, but don't freak out, it performs in both categories at the top of its class. For those truly looking to live the lifestyle, the DEUS is here to maximize your time on the water.
Primary Features
Convertibility - Instead of messing around with solid kayaks that only serve one purpose, the DEUS converts from a kayak to a stand up paddle board with a simple change of the chamber. The top platform easily pops off and there you have it, a SUP board that performs like a SUP board. Oh, and the platform you just pulled off? Use it as an additional float for your cooler. We call that kickass convertibility.
Sit-On-Top Kayak - A sit-on-top kayak provides more stability and better sight lines, giving you a more ergonomic paddling position. We've also equipped the DUES with a self-bailing cockpit, so you're sitting high and dry above the water as it exits easily off the platform.
Unparalleled Performance - The DEUS is a four chamber design, providing stability to your platform. The military-grade PVC construction and drop-stitch technology make it durable in even the choppiest of waters. It was built to perform as both a kayak and a stand up paddle board, with easy and quick transitions between the two.
Best For...
For the person who's looking to enjoy the outdoor lifestyle to its fullest, the DEUS Aero Inflatable Kayak is the way to go. Acting as an inflatable kayak and a SUP board in one, you get the best of both worlds along with an extra floatation platform when it's a SUP board, and ample room to accessorize the shit out of it. Toss on a KULA cooler packed full of tasty beverages (and some food, I guess), and you're ready for a full day of outdoors with plenty of ways to experience it.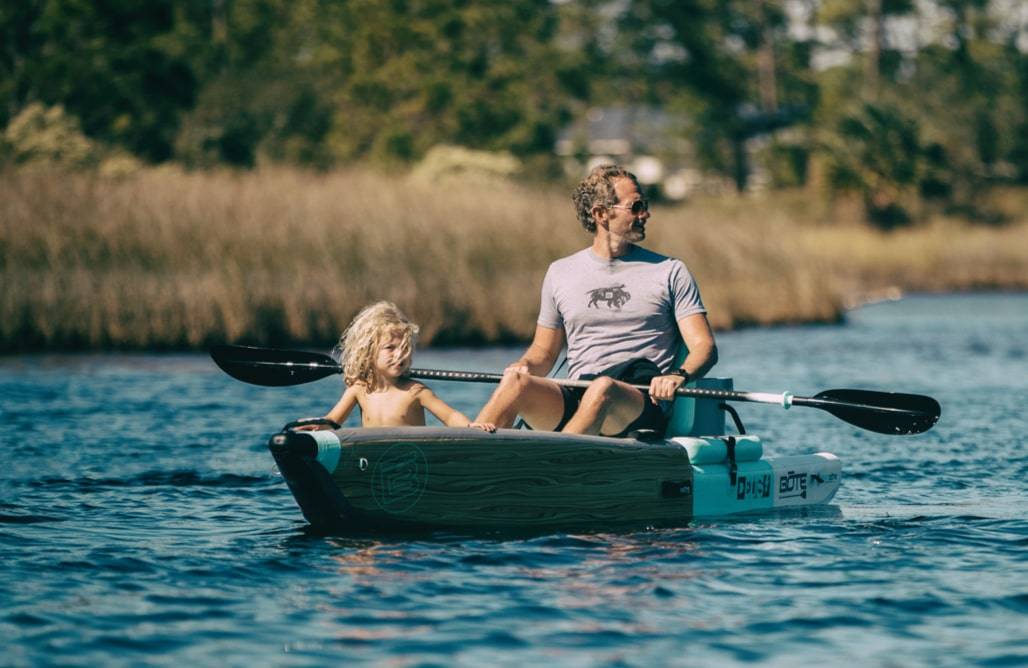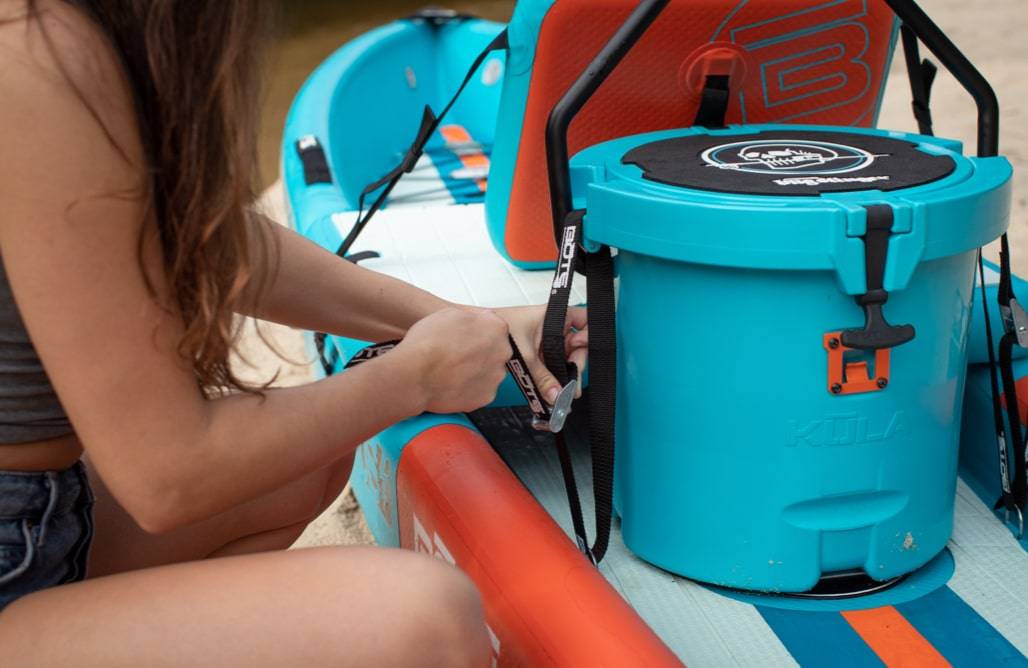 LONO Aero Inflatable Kayak
Named for the Hawaiian god of tenacity and vigor, the LONO Aero Inflatable Kayak is constructed with BOTE's Aero Technology, making it incredibly durable and stable. A foot and a half longer than the DEUS, this 12'6" kayak comes with additional space, features, and accessory points. Designed for someone who's all aboutkayak fishing, the portability of the LONO allows you to get to even the most obscure fishing holes.
Deck it out with all the accessories you need. Transform it from a kayak to a stand up paddle board. Store your fishing rods with the convenient Rocket Rac (sold separately). An inflatable kayak that does it all, the LONO.
Primary Features...
A Fishing Machine - The LONO is a kayak fishing machine. Its length provides great space to store tackle boxes, rods, and other fishing accessories critical to get a bite, while you sit on top of the kayak, high and dry from the water below. Plus, the four-chamber design gives you a stable platform for casting, and the drop-stitch construction paired with Aero Technology mean its built to handle some pretty rough terrain. Pack it into its travel bag and go virtually anywhere, but hopefully you're headed to the nearest honey hole.
Kayak to SUP Board - Much like its smaller counterpart, the DEUS, the LONO is a convertible kayak. The top chamber pops off with ease and can act as an additional floatation platform. With the top chamber removed it acts as an inflatable paddle board with an extremely solid and stable platform with a keel guard that acts much like a displacement hull. It tracks exceptionally well thanks to the removable 10" center fin, so you get more efficient movement along the water.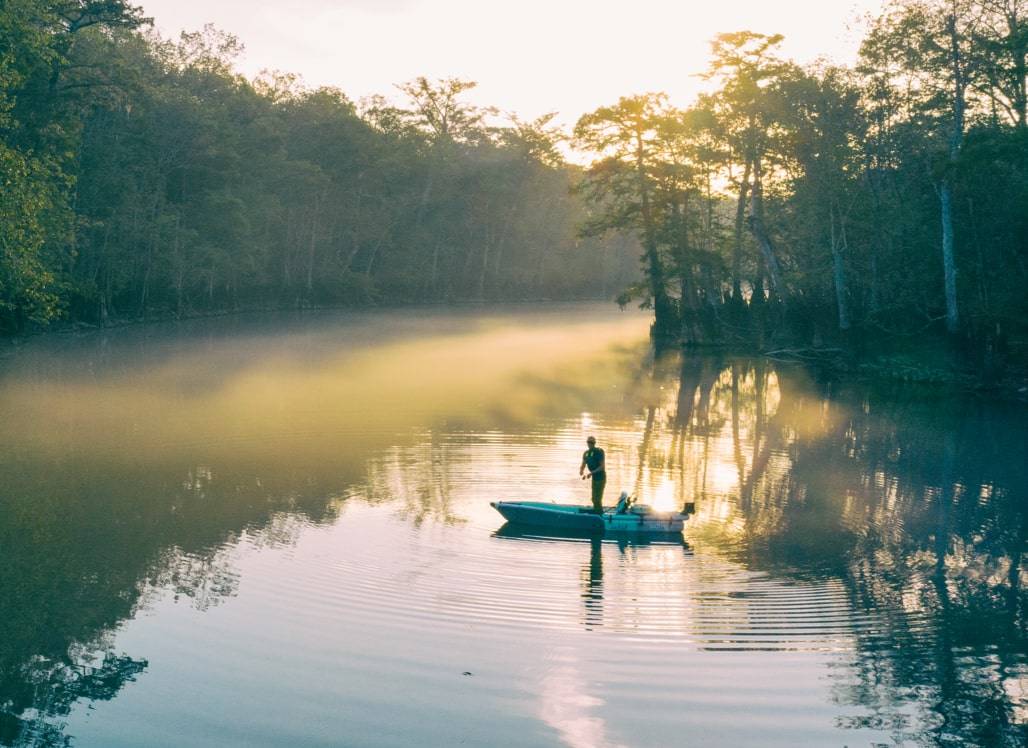 Large Top Chamber - An added bonus is the top chamber of the LONO is larger compared to the DEUS, allowing you to fit your KULA cooler and give your kids a place to sit.
Accessorize, Accessorize, Accessorize - The LONO was made to accessorize, taking on many of BOTE's paddle board features so you can configure it to be your own. Whether it's a Bucket Rac to store your rods, a KULA cooler filled with live bait, or a Tackle Rac for additional storage for rods and lures, the LONO has space and compatibility options to truly make it yours.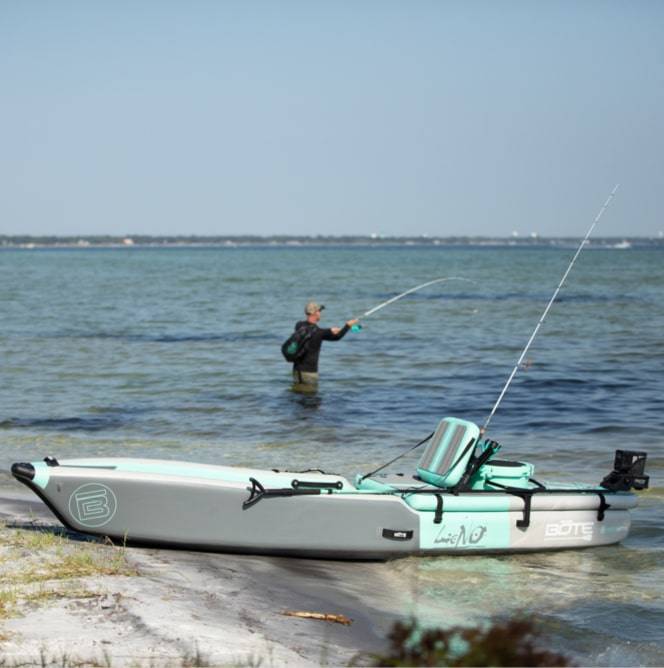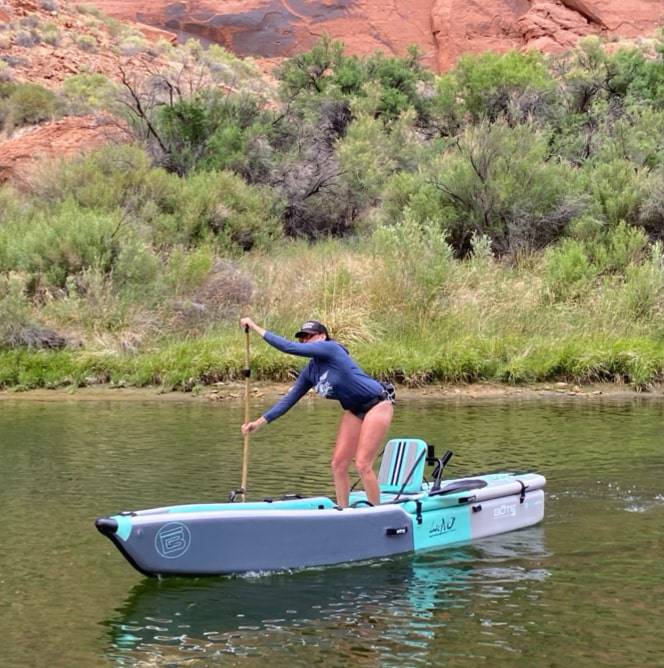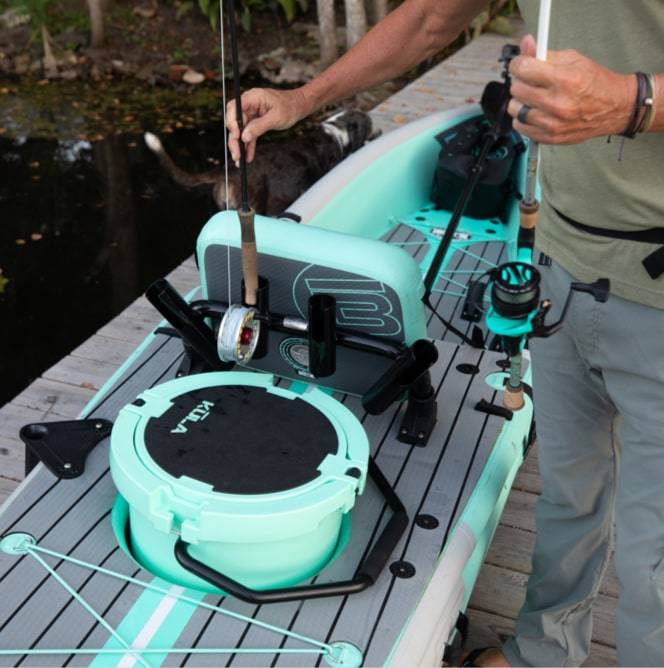 Best For...
For a true fisherman, the LONO Aero Inflatable Kayak has everything you need to stay out as long as you need. It stores all the necessities, provides you the stability and durability to go far and stay firmly planted, and converts to a stand up paddle board for added adventure. Use it recreationally for an afternoon paddle or pack it down for long haul excursions, the LONO is equipped with it all to transport you wherever you want to go.
Whether you're looking for easy recreational use with a solo paddling kayak that transforms tandem, like the Zeppelin, an easy-to-convert kayak to stand up paddle board, like the DEUS, or a super versatile accessory machine such as the LONO, BOTE's line of inflatable kayaks all give you the durability and portability that most solid kayaks lack. It's never been easier to live the outdoor lifestyle with an inflatable kayak by your side.