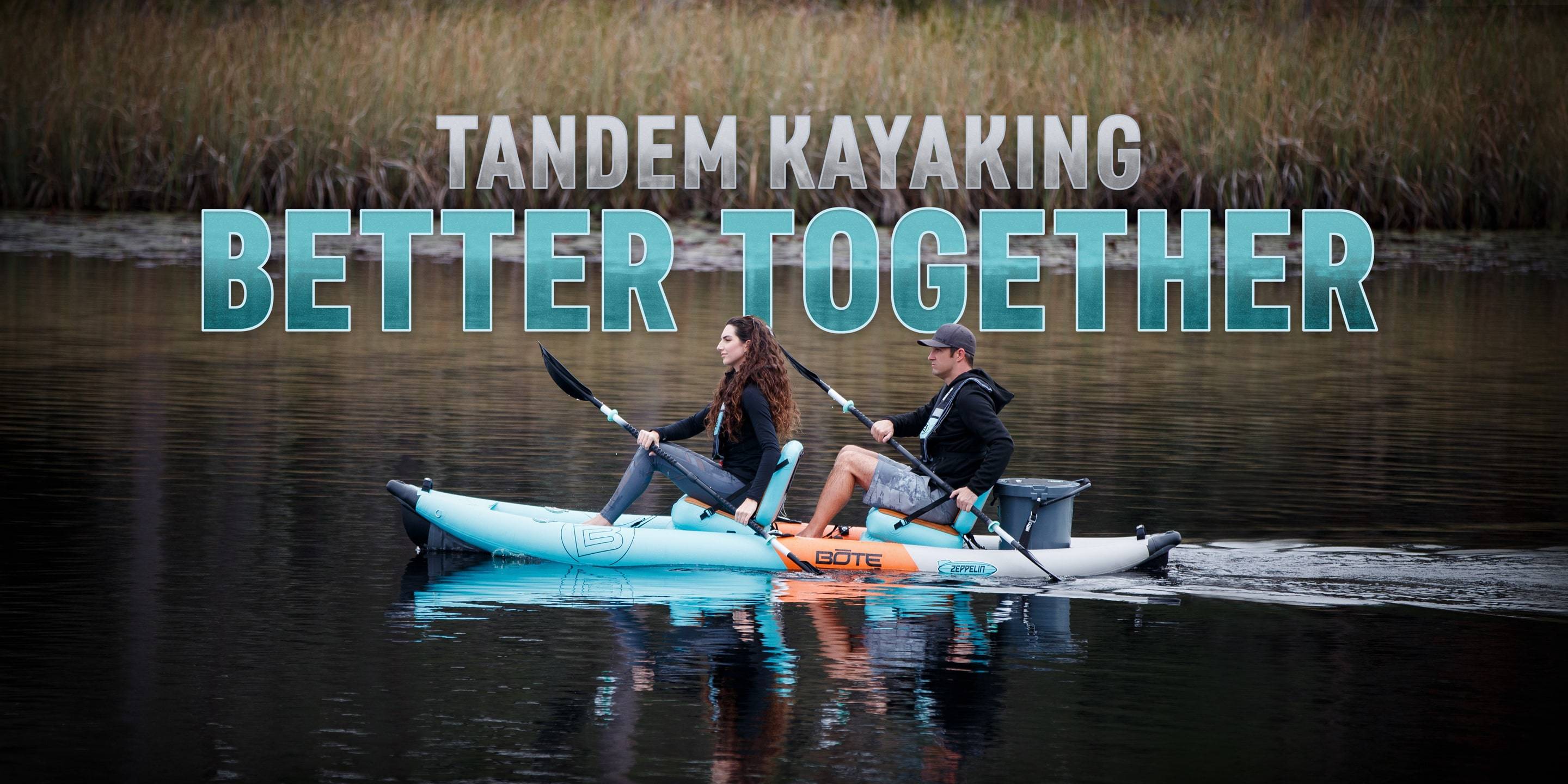 Better Together: Tandem Kayaking
It's one of the unspoken (and undeniable) truths of outdoor pursuits. Experiences are better when shared. Sure, you'll always have anomalies (looking at you, Alex Honnold free soloing El Capitan or Chris Bertish, stand up paddle boarding across the entire Atlantic). But for the rest of us normies and non-lunatics, there's nothin' better than sharing a profound experience on the open water with a loved one.
And for that, we're super thankful for tandem kayaks. A tandem kayak is the ultimate two-person adventure experience. It's a great activity for friends, spouses, fathers, mothers, dog-lovers, you name it.
So, whether you and your adventure buddy are searching for a new way to explore together or you're looking to become the ultimate giver of adventure to all those in your immediate circle of friends and family, here's why tandem kayaking is a must-try water excursion. Plus, why the Zeppelin Aero 12′6″ Inflatable Kayak is the ultimate tandem vessel.
Adventures Are Better Together
It's true: some folks have rather incorrectly (even if hilariously) referred to tandem kayaks as "Divorce Boats." But the reality is much more hopeful. Adventures are better together. Whether it's you and your spouse, you and your kid, or even you and your pup, the best adventures come in pairs.
Two Paddlers Are Faster Than One
If you've got the need for speed, you've probably got the need for a paddle partner. Sure, you could try battling headwinds and choppy surf by your lonesome. But where's the camaraderie and cruisability in that? Just as two heads are better than one, so too are four biceps better than two. Paddling in sync is more efficient, more effortless, and more fun. And if one person needs a breather, the other can continue on. So for a fast and easy ride, definitely consider going tandem.
Less Expensive: 2 for the Price of 1
Ready for a little middle school math problem? Here it goes: Florida Man and Florida Gal are in the market for a watercraft solution that'll cater to their newfound hobby of exploring the 'Glades. They know this is a hobby they'll frequently want to do together. And they're also on a bit of a budget because Florida Man has a BOTE beer fund to maintain. Question: should Florida Man and Florida Gal buy two separate kayaks for double the price or one tandem kayak for, well… half that? Answer: Without even showing our work, it's pretty clear the latter is the most economically efficient option. In other words, a tandem kayak is basically the best BOGO deal the high seas have ever seen.
Bigger the boat, better the chances of staying upright. At least, that's part of why tandem kayaking is a great activity for paddlers of all stripes, but especially beginners. The fact of the matter is, a tandem kayak is more stable than its shorter counterparts. Sure, there's a trust component involved. And you probably don't want a paddle partner whose idea of a good time is playing "Rock the Boat." But if you trust your paddling companion, you can most certainly trust your tandem kayak. The Zeppelin Aero, in particular, is made with Aero Technology to ensure peak rigidity and performance. And the elevated design of the Aero Paddle Seat plus the self-bailing floor means you'll stay high, dry, and comfortable during your time on the water.
Tandem Kayaks Are Great for Everyone
Whether you're a momma bear taking your kid out for a day on the water or a single bachelor/bachelorette hoping to up your dating game, having a tandem kayak in your toy shed is never not a good idea. It's family-friendly, dog-friendly, and friend-friendly. In other words, everyone loves a tandem. They're the ultimate vessels for shared water-adventure pursuits. And even if you've got that fiercely independent Honnold or Bertish bone in your body, a lot of tandem kayaks—including the Zeppelin Aero 12′6″— can toggle between tandem and solo accordingly.
Zeppelin Aero: The World's Best Tandem Kayak
With the Zeppelin Aero 12′6″ Inflatable Kayak, tandem kayaking never had it so good. The result of a timely tryst between a highly utilitarian father and a swiss army-like mother, the Zeppelin is the most versatile kayak in the BOTE waters. With a high capacity and tandem capabilities, the Zeppelin Aero 12'6" is a great option for the whole family to spend time on the water together. Not to mention the Zeppelin's self-draining hull, removable floor chamber, and optional second seat set the Zeppelin apart from its stablemates. What's more, the Zeppelin Aero 12′6″ conveniently works great as a tandem or solo kayak—convert at your convenience. 
BOTTOM LINE: The Zeppelin Aero 12′6″ Inflatable Kayak, with its maximum utility and second-to-none versatility, is the perfect vessel for you to get out on the water and have some fun with your adventure partner.