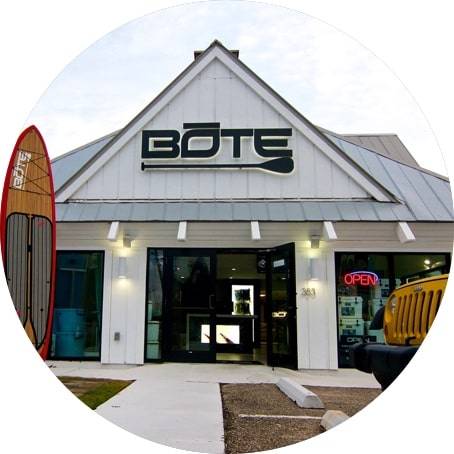 Business Hours
Open Mon - Sat 10am - 6pm
Open Sun 9am - 3pm

BOTE Destin is the original BOTE Retail Store, located in the Florida panhandle, just minutes from BOTE headquarters. Born from good ol' sweat and tears, the building used to be a run-down liquor store before BOTE owner Corey Cooper, with help from friends and family, remodeled the building from the ground up. Now it is proudly our flagship retail location, selling over one-thousand BOTEs per year.
Surrounded by the emerald green waters of the Gulf of Mexico and rich inshore waters of the Choctawhatchee Bay, Destin is a sleepy fishing village turned tourist mecca. Pure white sand beaches and world class fishing draw millions to the area each year. And BOTE Destin is right in heart of it all. Featuring the full line-up of BOTE products, come by the store and take in the original BOTE experience the way it was intended to be.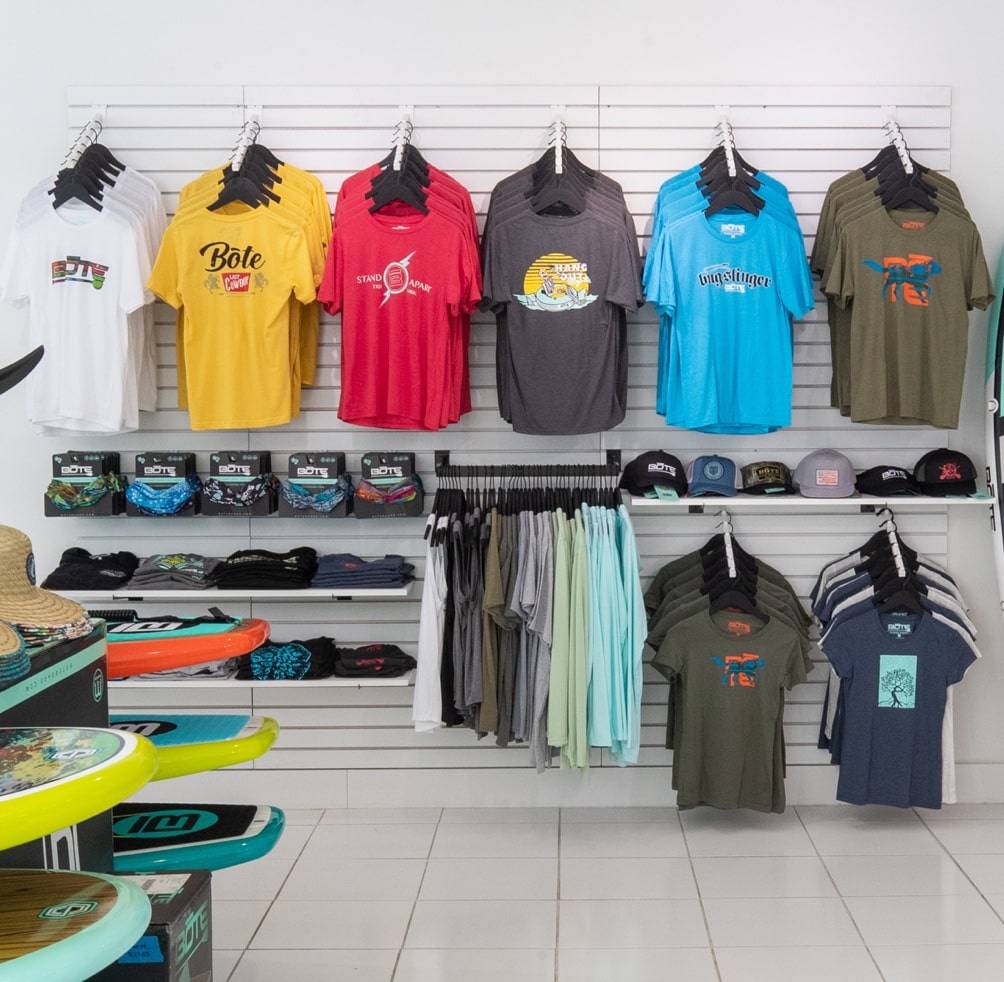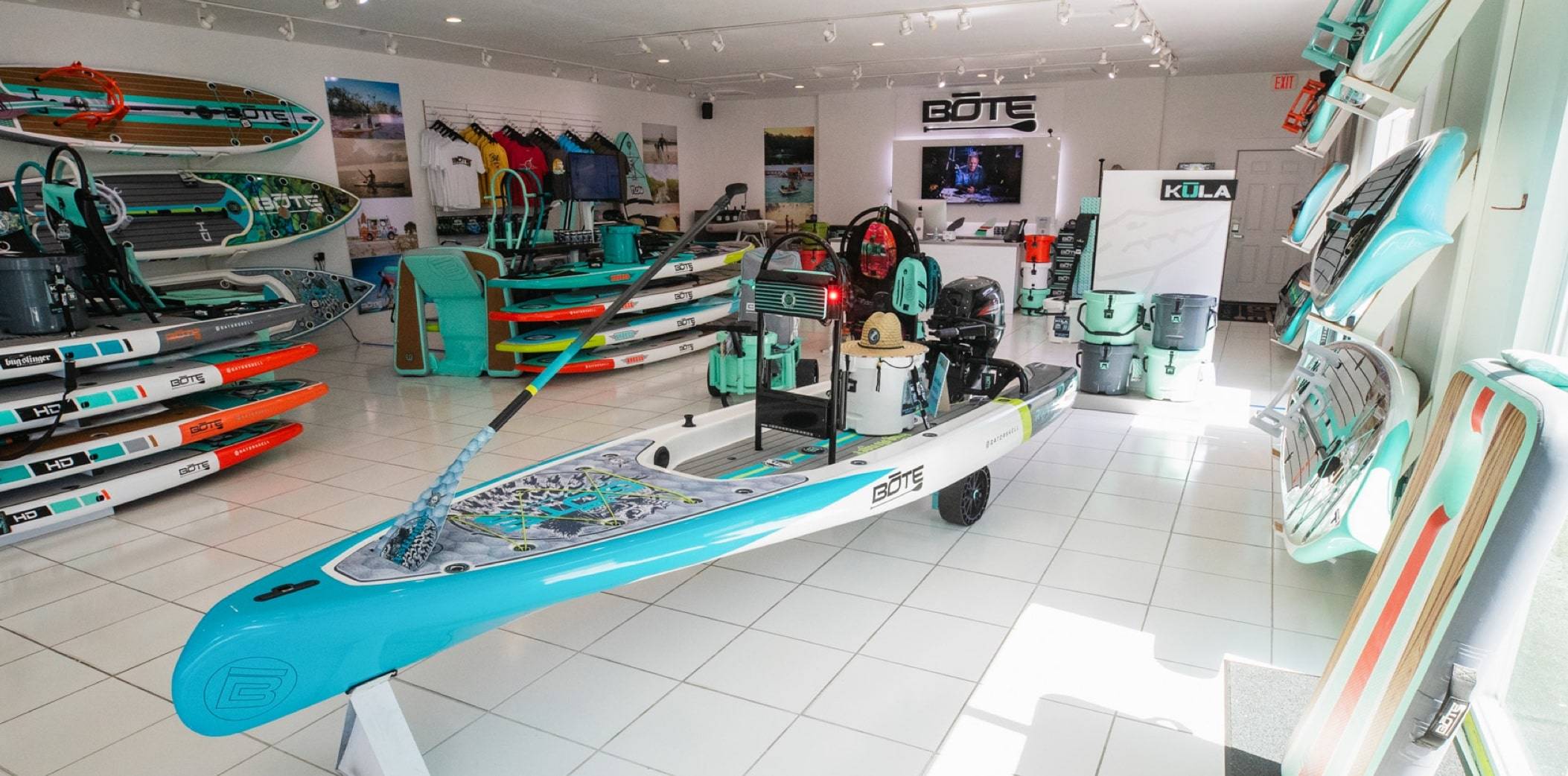 Explore Top Places to Paddle in Destin, FL
A sprawling estuary, Choctawhatchee Bay boasts a rich blend of brackish waters, arising from the mingling of river water and the saline Gulf. Its vast expanse holds secret coves, inlets, and abundant marine life.
Highlights: Glide through serene waters while admiring the surrounding forests and dunes. If fortune favors, you might even see playful dolphins.

Ideal For: Paddlers seeking calm waters and a refreshing SUP session. Suitable for kayaking too, especially if you prefer winding waterways.
The heartbeat of Destin, the harbor is a bustling waterfront area with anchored boats, lively restaurants, and a view of the Gulf's emerald waters.
Highlights: Navigate the bustling harbor and soak in views of anchored boats and yachts. Also, excellent fishing and birdwatching opportunities abound. For the more adventurous, Crab Island is a short paddle away.

Ideal For: Those looking for an active water environment, suitable for both paddleboarding and kayaking.
3. Gulf Islands National Seashore
A protected stretch of coastline, this national seashore is a sanctuary of untouched beaches, grassy sand dunes, and the pristine waters of the Gulf.
Highlights: Bask in the solitude of this less-trodden path. Experience panoramic vistas of pristine sandy beaches and translucent waters.

Ideal For: Nature enthusiasts and those aiming to steer clear of the crowded areas. Perfect for both SUP and kayaking.
4. Henderson Beach State Park
A coastal haven, Henderson Beach State Park is marked by its powdery white sand dunes, vibrant coastal vegetation, and the rhythmic waves of the Gulf of Mexico.
Highlights: Ride the waves while drinking in the magnificent views of the Gulf. A thrilling spot for wave enthusiasts.

Ideal For: Experienced paddlers ready to tackle some waves. This spot is more suitable for kayakers due to the stronger currents and potential rip tides.
A tranquil piece of land, Jolee Island offers a serene setting characterized by lush greenery, gentle streams, and an ambiance that speaks of nature's untouched beauty.
Highlights: Traverse through verdant forests and appreciate the captivating sights of streams and creeks. Wildlife sightings are a delightful bonus here.

Ideal For: Those aiming to explore the natural beauty of Destin in depth. Suitable for both kayaking and paddleboarding.