Customer Reviews
Write a Review
Ask a Question
12/30/2021
Teresa B.

United States
Bote 'multiple-purpose' roof rack pads
I bought 3 sets of the Bote rack pads. I use 2 pair on my 4 roof rack crossbars. (I have a 2020 Jeep Gladiator with a custom truck topper, so I have adequate length up top to carry my 10'6" Bote HD. I'm full time RV'er, so my Bote Board Bag on my roof rack is my permanent storage for my board. I use the third set of pads as protectors from my tie-down straps over the top of the board. I have steel belted, locking straps to secure my board. They were starting to leave wear marks on my board bag. Problem solved!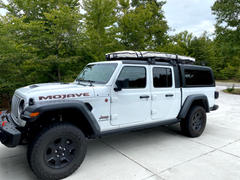 10/28/2021
Jeffrey C.

United States
Roof Rack Pads
Love the look of my Bote roof rack pads. They fit my rack perfectly and are easy to put on. Great quality product!
09/15/2021
Piotr K.

United States
bote roof rack pads
I have an older car (Mazda MPV) with flat bars. Bote pads are designed for modern round bars which are smaller. However i made it work stretching them a little bit. They dont look as good on my roof but they work. Having Bote Traveller solid board i had to have them.
09/15/2021
Colton M.

United States
BOTE roof rack pads
I have a rather specialized bed rack on my truck and have had difficulty fining pads that fit on it but these work and they work well! I am very pleased with these pads and most all of the BOTE products I own.
09/07/2021
Diane W.

United States
Almost perfect!
Easy to install and does the job. Would give 5 stars if they also had straps to hold the board on as well.