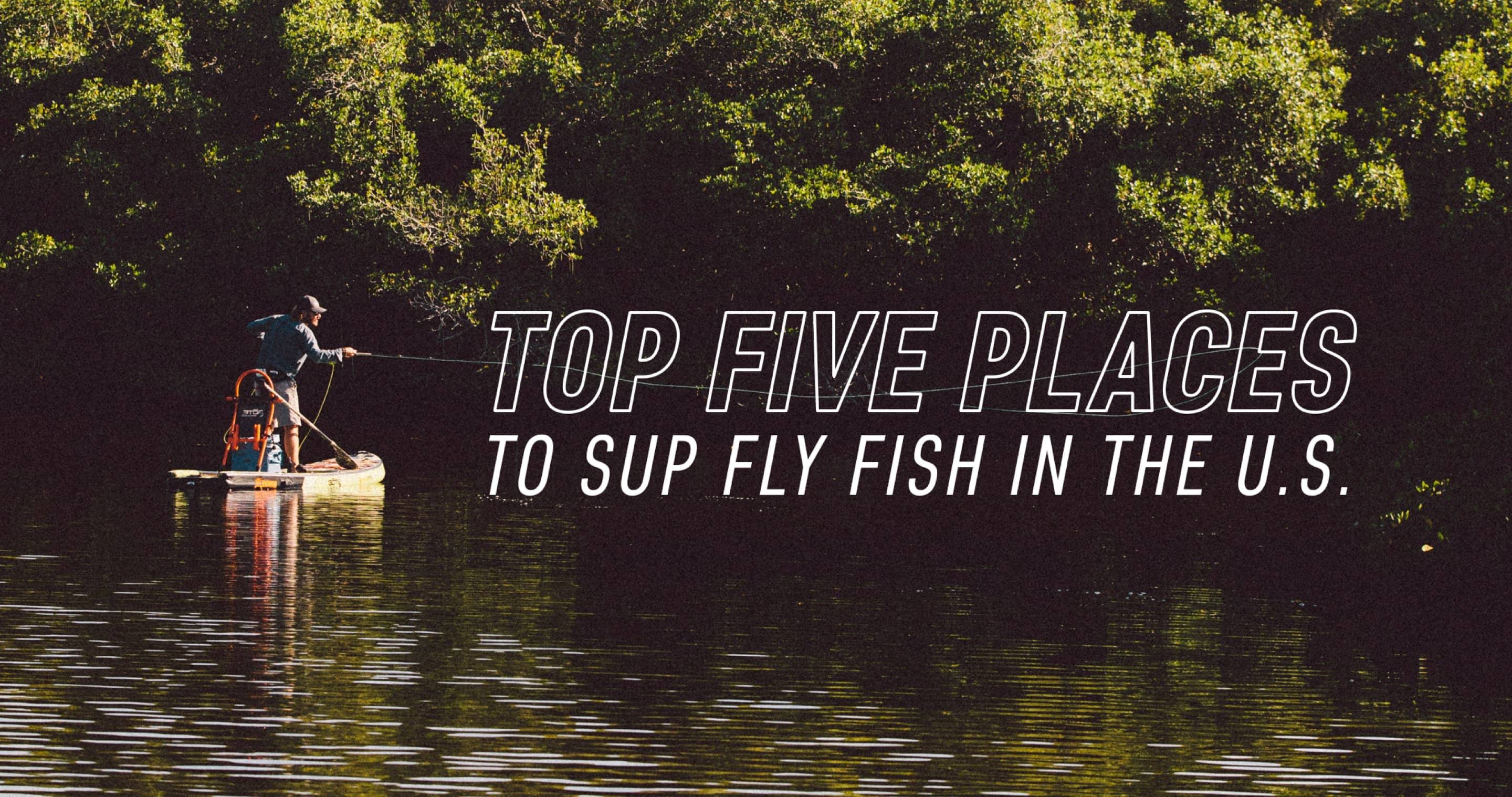 TOP FIVE PLACES TO SUP FLY FISH IN THE U.S.
If you're a fly fishing angler, chances are you're on the lookout for your next great adventure. Luckily, we've got a team of fly fishermen and fisherwomen in our ranks (and in our BOTE ambassador lineup) who have done all the legwork to pinpoint our top five places to SUP fly fish in the United States. SUP fly fishing brings a whole new angle to the world of fly fishing, one that allows us to travel out to more scenic, untouched honey holes and dream destinations around the country. But where should you go? As a group of avid outdoorsmen, it was hard to narrow down our top five SUP fly fishing destinations. Take a look and let us know if we missed any killer spots by tagging us on social with #BOTENation.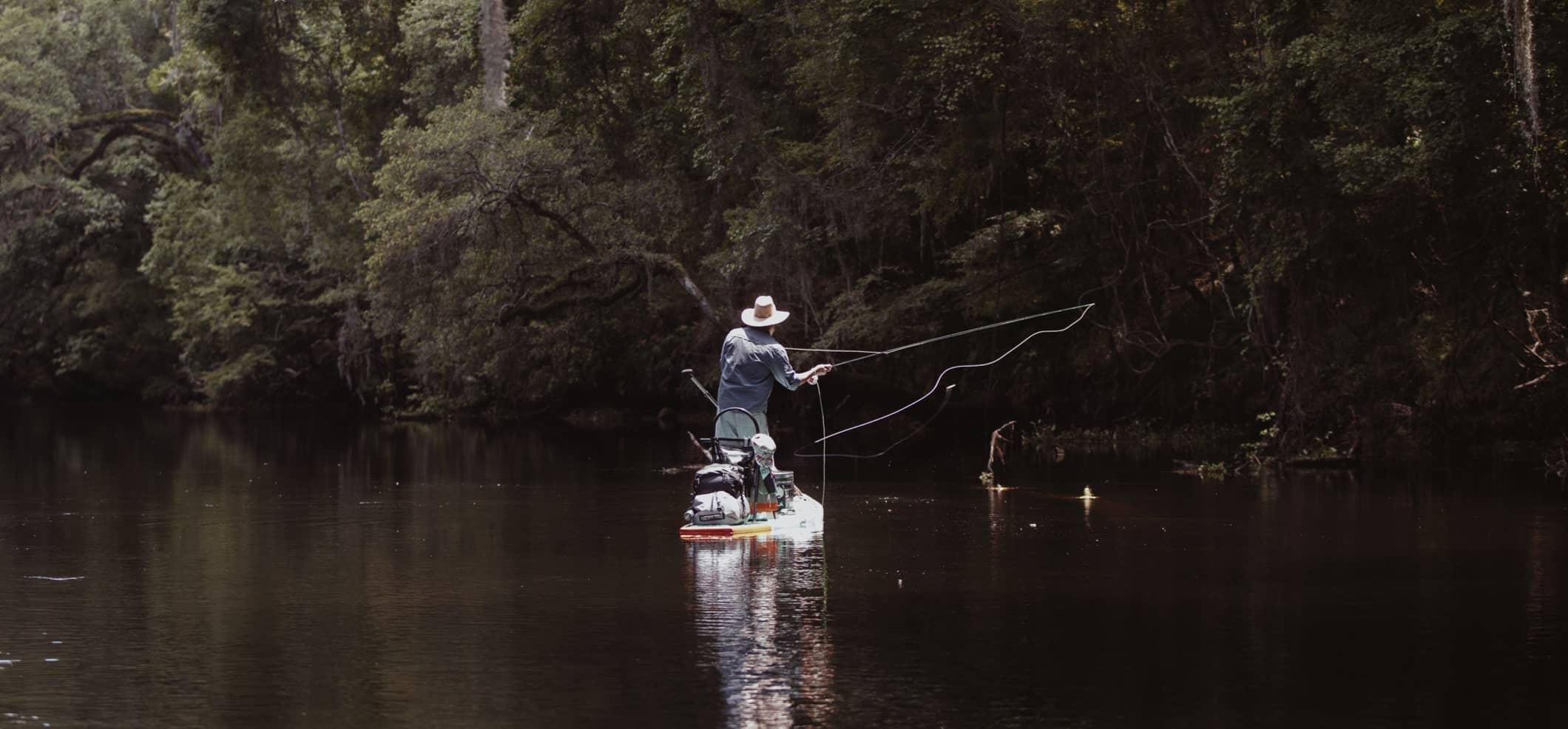 It's essential to ensure you have the right SUP board for fly fishing before we get started. At BOTE, we designed the Rackham Gatorshell and Rackham Aero Inflatable paddle boards to withstand the adventures of all fishing extravaganzas.
It's meant to be packed down with all your fishing gear with room for fish to come on board and has compatibility points for pretty much every accessory, including accessories like the Power Rac. Its wide base and recessed deck provide a low center of gravity, giving you more stability while you stand and seek fishing spots from afar. Basically, it's a lean, mean fishing machine.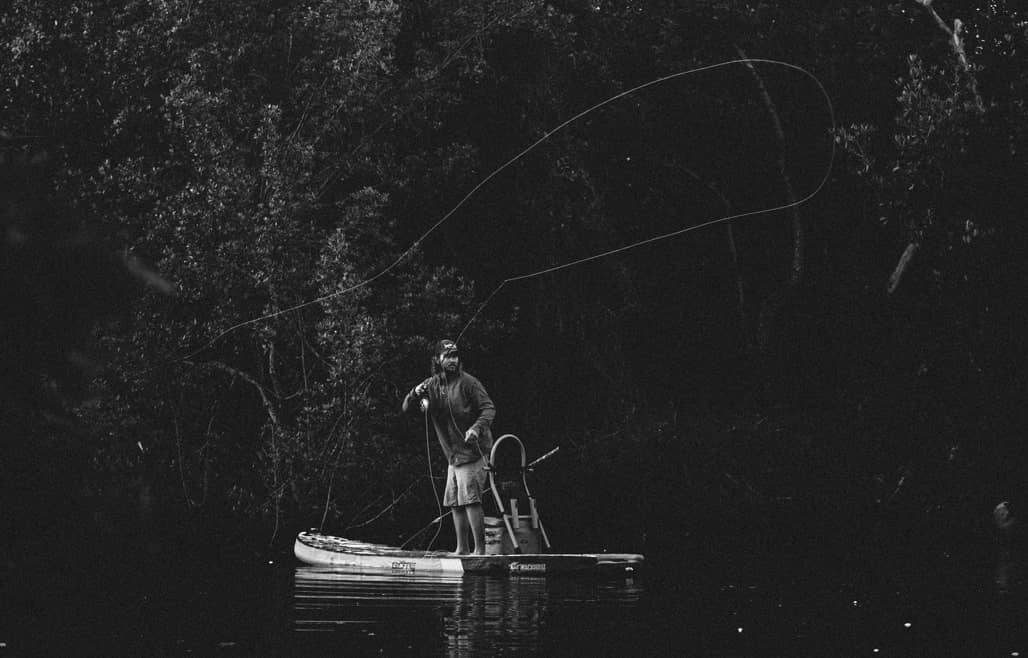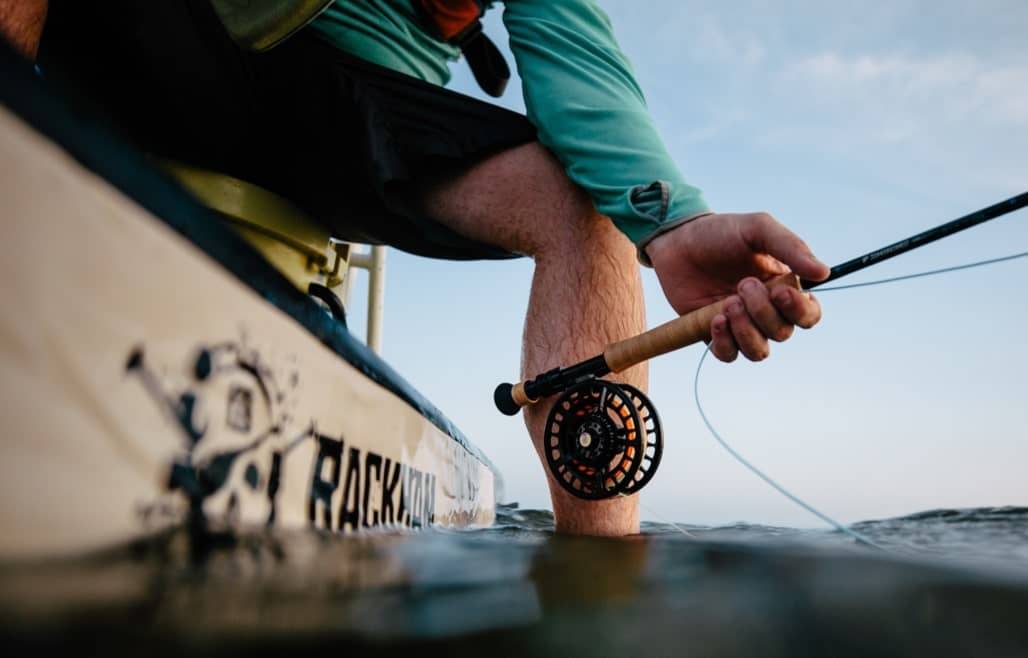 Just short of a 90-minute drive north of Tampa, Crystal River, FL, is like a sanctuary of marine life tucked and weaved into a green landscape. These waterways are fed by natural springs that flow out into the Gulf of Mexico. SUP fly fishing in Crystal River is like being one with the fish--high grass and a stealthy stand up paddle board will have you seamlessly cruising the landscape without disrupting what's going on beneath the surface.
Crystal River provides some of the clearest grass flats in the state and is home to tarpon, snook, and redfish. Known as backcountry fishing, Crystal River is a web of small streams and riverways that feel like they were designed with SUP fly fishing in mind. So much so that many boats with a motor can't even get to the most untouched places along the river. That's where your SUP board comes in. Perfect for creeping, your stand up paddle board will have you reeling in the fish from even the most hidden of honey holes.
You really can't go wrong with SUP fishing anywhere in the state of Tennessee. There are lakes and rivers, rivers that run into lakes, lakes that… you get it, there are many waterways in the state, but Lake Ocoee is where fly fishers go when they mean business.
About an hour's drive from Chattanooga, Lake Ocoee consists of calm, fish-filled waters and the Ocoee River offers Class I up to class IV rapids (remember the 1996 Olympics? Yep, those rapids.) But for the purpose of fly fishing safety, we recommend sticking to the lake.
Lake Ocoee is known for its rotating plethora of fish. Early morning and sunset are your best bet if you're trying to pull in hybrids and stripers. Stick near the shallows since that's where they go to feed on the spawning shad, particularly in late April. Crappie are typically bedding, so casting your line out and slowly jiggling it until you land yourself in a bed of crappie is the best way to go when SUP'ing in Lake Ocoee.
The challenge with this lake (and we love a challenge) is its constant change of fish in abundance and where you'll find them. With other lakes, like Lake Sinclair, pumping water into the Ocoee and varying temperatures throughout the year, each trip to Lake Ocoee is different. That's what makes it so awesome. That, and its pure beauty.
Located at the mouth of the Mississippi River, Venice, LA, is about a 90-minute drive from the nightlife of New Orleans and where you'll find yourself SUP fishing from the mighty Mississippi into the Gulf of Mexico. It's an industrial area, but don't be fooled by it; this town is filled with hardworking people who love their fishing community and welcome those looking to partake in the sport of huntin' fish.
Venice is part of the Louisiana Marsh, one of the last wild fisheries in the world, and is packed with redfish and speckled trout pretty much year-round. Sure, Venice self-proclaims as the fishing capital of the world, but we BOTE-proclaim it, too.
What makes this such a great SUP fishing destination? Well, for starters, the marsh lends to calmer waters, making it easy to maneuver your SUP about and creep up on unsuspecting fish. The isolated backwaters also yield smaller reds and specks - easy storage on your SUP board. But don't feel like you need to shy away from the bigger fish just because you're on a SUP, the Rackham can undoubtedly hold some hunks, and the colder waters of the Gulf will bring you just that with 20+ lb fish.

Launching your SUP in Venice is simple; there are plenty of launch points along the marshes and bayous, but if you're new to the area, there are also friendly fishing charters that will take you out via SUP or kayak, or even on a scooter boat (just make sure you pack your inflatable SUP so you can experience the most hidden of watering holes). Redfish Lodge of Louisiana is a popular spot if you're looking for a guided tour with a place to stay.
With the Green River being 730 miles long, we need to narrow down where, exactly, to fly fish along this scenic waterway. The stretch of the Green River located below Flaming Gorge Dam is a world-renowned and highly sought-after fly fishing stream. When planning your SUP fly fishing trip here, know that this is a full-day excursion as you comb through the seven-mile stretch of fishing palooza.
Home to a plethora of brown and rainbow trout, this stretch of the Green River is crystal clear, with canyons on either side of you as you meander your way through. It's no surprise that it holds the reputation of being among the most beautiful rivers in the US. We loved this place so much that we floated down it for three days and documented it all in A Western Flow.
When SUP fly fishing the Green River, it's best to launch from Flaming Gorge Dam at Little Hole, a popular kayak and SUP area with ample space to get on the river and get going to the fish. It's what anglers call the 'A Section,' and thanks to the crystal clear water, you can spot fish up to 10 feet below and well out in front of you for the most precise fly fishing casting out there. Epic scenery, easy access, and fish seen by the naked eye - this was an easy one to put on our list.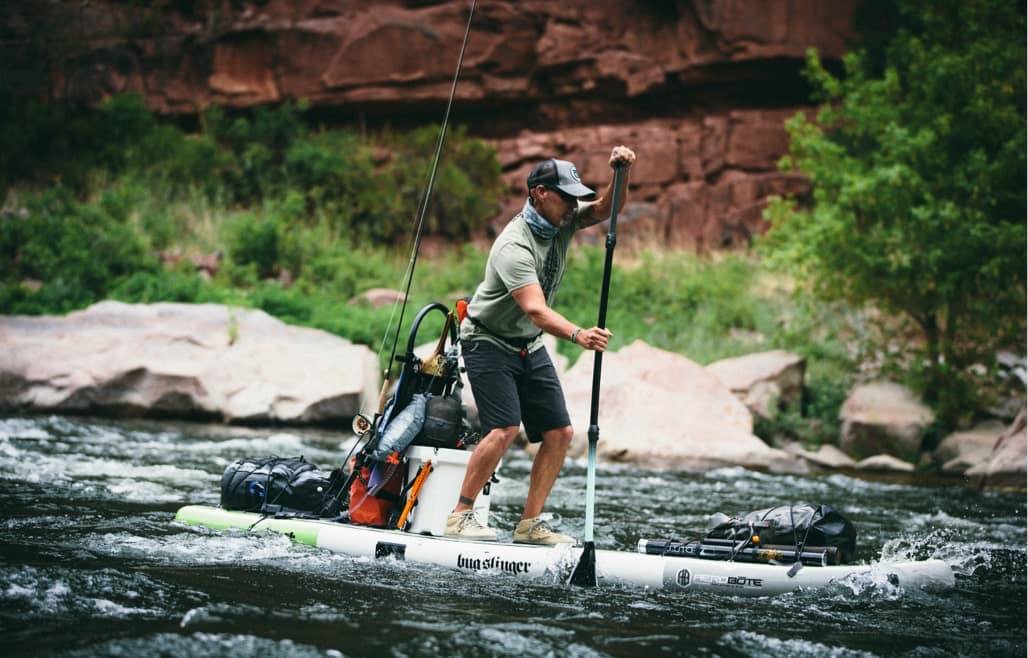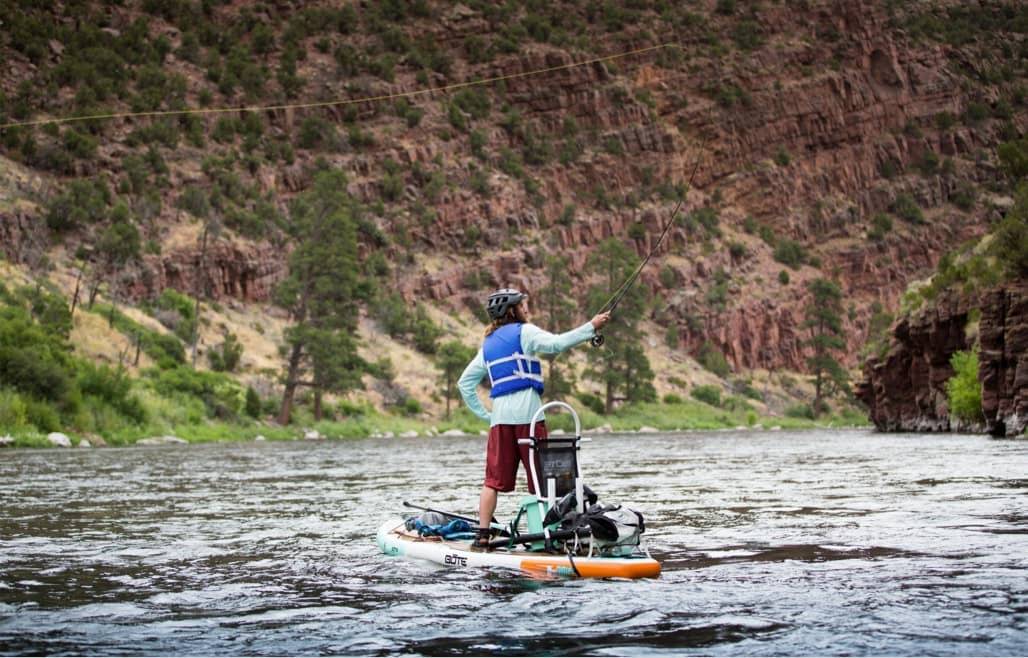 Last up on our list (however, these are in no particular order, sorry Crystal River) is Sanibel Island, FL. An island located near the tip of Florida, near Cape Coral, it looks like it belongs in a Disney movie. Crystal clear waters near the shore, emerald green and blues as far as the eye can see, and fish below, in mass quantities.
What we love about SUP fly fishing here is the ease of taking off from the coastline. Gear up your Rackham or SUP board of choice and push off to sea, easy as that. There are many access points throughout the island to SUP fly fish from, but we are particularly fond of two - Blind Pass and Ding Darling.
Blind Pass is by far the most popular fishing spot due to its position. Wedged between Sanibel and Captiva Islands, this is where bay water meets Gulf water, which also means where big fish meet little fish and where you meet pick of the litter. Ding Darling is a national wildlife refuge home to sheepshead, snook, redfish, and spotted sea trout. While there are some restrictions on boating here, it's mainly for No Motor Zones, which works out perfectly for a SUP fly fisherman. You and your board can cast out in an area with minimal disturbance. That's a combination for catching some fish.
What's your favorite SUP fly fishing spot, #BOTENation? Give us a shout on social media -- we're always looking for more great places to explore.