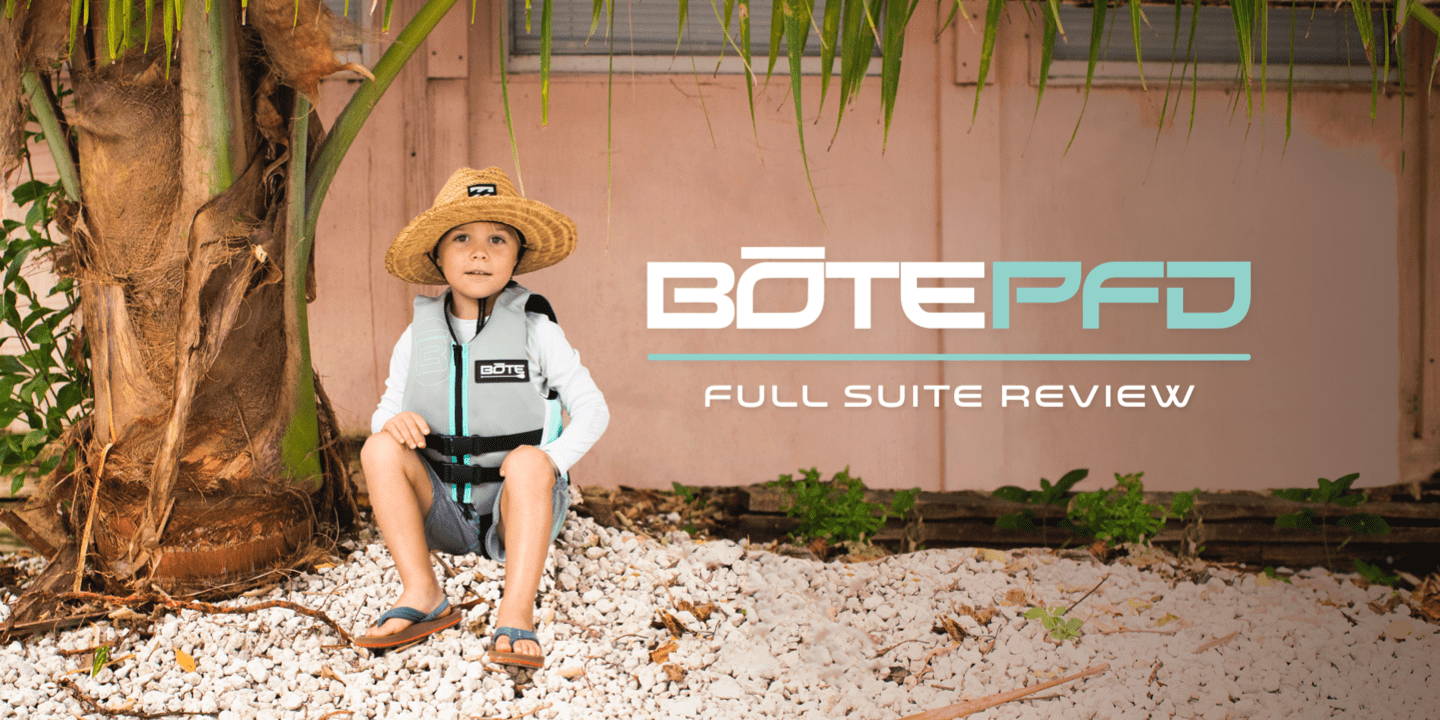 PFD Full Suite Review
When it comes to safety on the water, there are three letters that every paddler should be familiar with: P, F, and D.
A PFD is a Personal Flotation Device. In most waterways, they're not only super helpful to have, they're actually required by law.
For instance, the US Coast Guard regulations state that any paddler over 12 must have a "USCG-approved" life jacket. Paddlers under the age of 12 must wear them at all times. Paddlers over 12 can choose to simply have a PFD stowed on their water vessel. Of course, this regulation depends on the body of water you're paddling in as well as your activity of choice (the USCG doesn't require you to wear a life jacket on SUPs operating in surfing, swimming, or bathing areas).
But even setting aside the legalese stipulations, this much is clear: paddling with a PFD is never not a good idea. And the good thing about BOTE PFDs is that safety always comes first. But style and comfort come in a very close second.
Inflatable PFDs for Safety, Style, and Comfort
Forget the giant orange bulky life vests of yesteryear; PFDs have come a long way since the days of the Titanic. These days, there are various innovative options—especially here at BOTE.
One particularly great solution for combatting the cumbersome nature of old-school PFDs is inflatable technology. We'll get into the specifics of how exactly our inflatable PFDs work shortly, but for starters, let's see why they're great.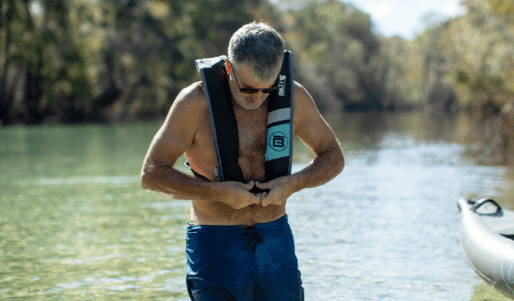 When you're not using your inflatable PFD, there's no need to worry about carrying a bulky torso-sized vest around or trying to stowing its unwieldy foam blocks somewhere on your board, where space is at a premium. Instead, you simply leave the PFD in its default deflated state (strapped around either your waist or chest) until it comes time to use it. (What a novel idea, huh? Only needing to think about something when it comes time to use it.)
Not only is an inflatable PFD sleek and secure, it's downright practical. And comfortable. The unique design of the BOTE Inflatable Vest PFD and BOTE Inflatable Belt PFD keeps kayakers, anglers, boaters, and other paddlers safe without compromising movement!
Of course, the most important thing a PFD should offer is safety. It can be the sleekest, James Bond-iest flotation device the world has ever seen, but if it doesn't keep you safe, what's the point? The good news is that each BOTE Inflatable PFD automatically inflates upon immersion and can also be inflated by pulling the manual activation cord.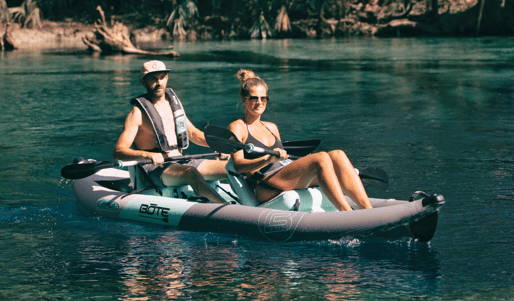 This PFD is more geared towards kayakers and boaters, the BOTE Inflatable Vest PFD is a sleek and stylish spin on your traditional life-vest. But whereas traditional life-vests are big and bulky, the BOTE Inflatable Vest is sleek and lightweight. In its default deflated mode, it simply hangs around the back of your neck totally out of the way. This allows for easy and free paddle movements, leaving you safe yet completely unencumbered. And with your choice of CO2-powered automatic inflation upon immersion into the water or manual inflation with the activation cord, you'll have an inflated PFD in a matter of seconds should you need it. Check out this helpful video to learn the nitty-gritty of how it works.
---
"Lightweight, compact, and easy to wear. I hope to never have to use it, but I have peace of mind wearing this vest in whitewater situations." - Chris C., Verified Buyer
---
You know you've got a good PFD when you hardly know it's on. For this weightless feeling, the BOTE Inflatable Belt PFD is a clear winner. Geared towards SUP paddlers, this PFD is as easy to forget about as it is easy to use. Simply strap it around your waist and go. It's lightweight, super comfortable with soft-touch neoprene, and totally out of the way. Until it comes time when you need it, of course! Like with the Inflatable Vest, the Inflatable Belt PFD can be automatically or manually inflated. When it inflates, simply pull the strap over your head and around your neck, and you've got 16.5lbs of buoyancy. There's also a secondary oral-inflation tube that'll get you up to 29.5lbs of buoyancy if you need more.
---
"Love this PFD. It's lightweight, stylish, and provides peace of mind while I'm out paddling. Safety first." - Claudine M., Verified Buyer
---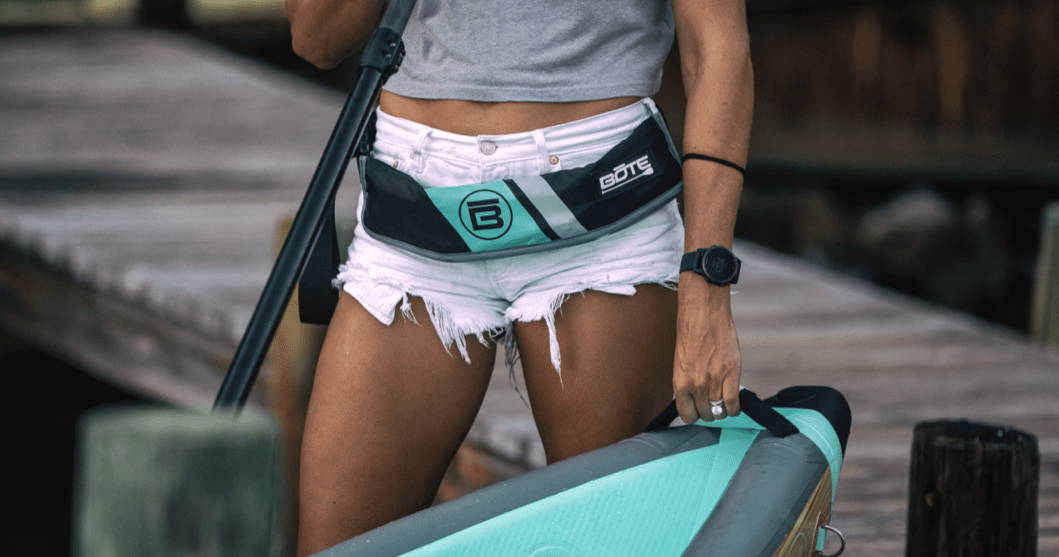 Universal PFDs for All Ages & Activities
Just when you thought PFDs couldn't get any better, BOTE now offers two new models of PFDs for all ages, sizes, and activities: the Universal PFD Vest and the Kayak PFD Vest. These two models put modern spins on vintage designs to ultimately create a full suite of fully reimagined PFDs.
Universal PFD Vests
Got a toddler wanting to tag along on your paddle excursion? Or even a parent or grandparent? Or how about Big Uncle Joe? Our Universal PFD Vests come in five distinct and complete sizes: Infant, Child, Youth, and Adult. So now everyone in the family can feel safe and stylish on the water. The Universal PFD Vest is a no-nonsense, no-doubt-about-it high performer for all manner of paddle excursions. With eight points of adjustments, it's never been easier to create a completely tailored wraparound fit for ultimate snugness and safety.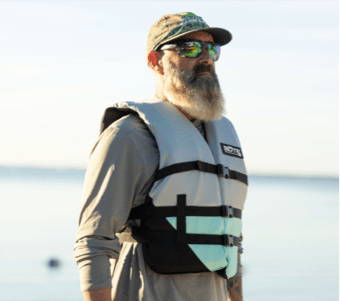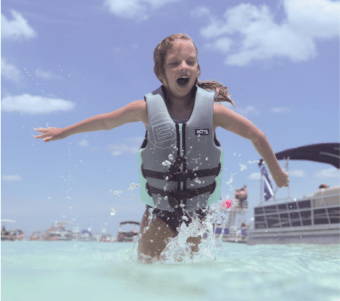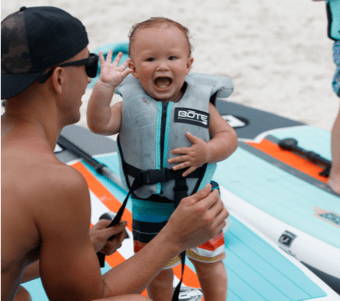 ---
"What's cool about these is that they're super comfortable, wrapped in eco-neoprene over an ultra-buoyant PVC foam. These are badass. We're sure you're going to love them."
- Corey Cooper, BOTE CEO & Co-Founder
---
In short, with the introduction of our all-new PFD models, in addition to our Inflatable PFDs, now we've got you covered across all your paddling pursuits. If you want to stay safe doing all the paddle activities you love, without sacrificing mobility or comfort, shop our PFDs today.