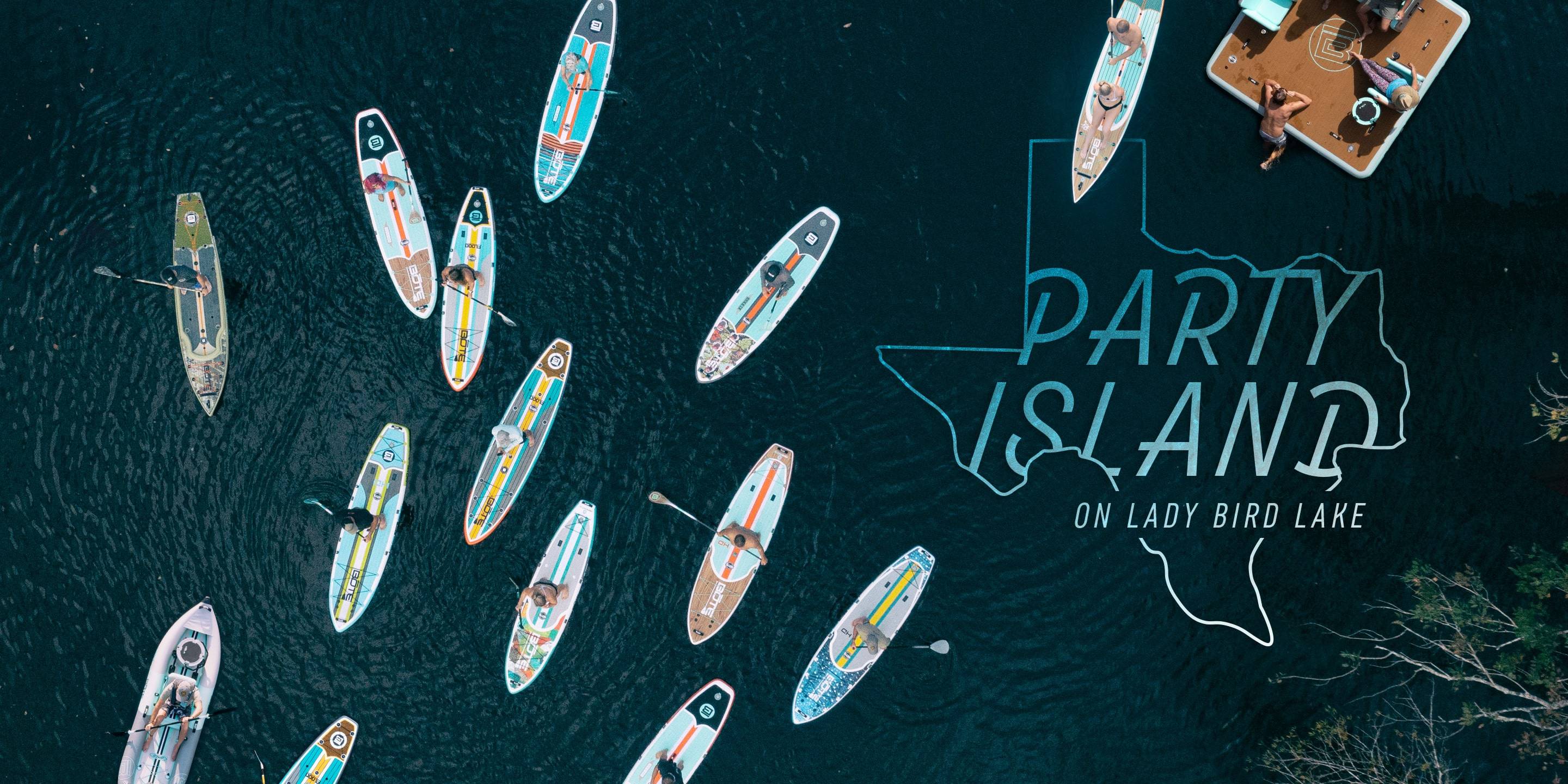 Party Island on Lady Bird Lake
Even if it weren't a weekend-long stand up paddle boarding party on a lake, this event would have us hooked from the getgo. The name is epic: Party Island on Lady Bird Lake. Sign us up. The cherry on top is that it is, in fact, a collection of SUP-lovers looking to have a good time with fellow water mongers like themselves.  
Do you have to be a paddle board pro to enjoy Party Island? Hell no. The point of Party Island on Lady Bird Lake is not to perfect your paddle stroke. And it's certainly not to gear up your board with your favorite rods and bait for a fishing excursion. The point of Party Island is all in the name.
With our first non-Florida flagship store opening in Austin, TX, next year, you can bet your bottom dollar this SUP extravaganza will be a BOTE must-do. Here's what you gotta know to party alongside us next May.
While the silver linings of the pandemic are slim and far between, it did bring us Zoom happy hours, friend 'pods,' and Party Island. With the uptick in outdoor activities over the last couple of years, the concept of Party Island was born, and local Austinites and travelers to the area have been setting up SUP shop at the shallow sandbar near Lou Neff Point on Lady Bird Lake.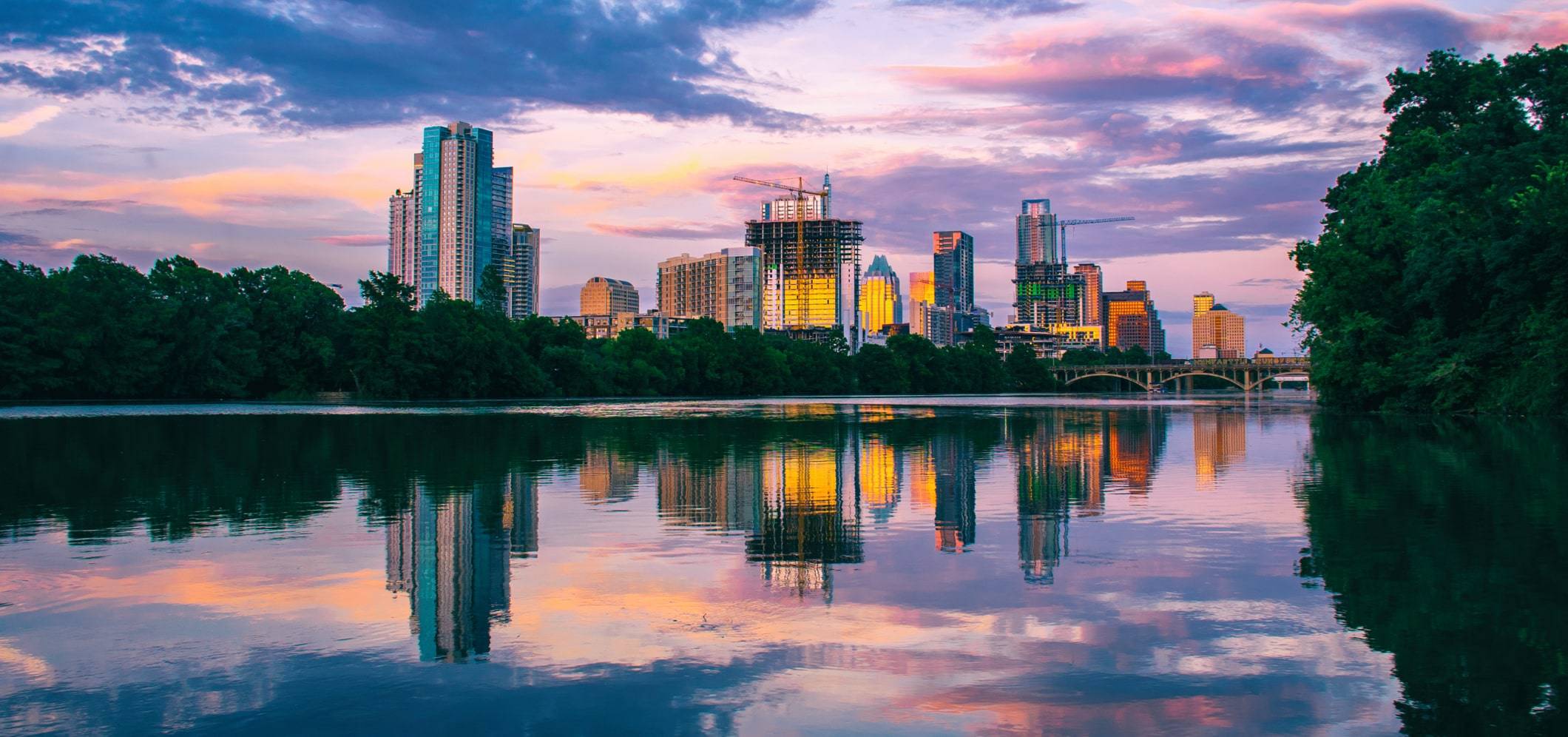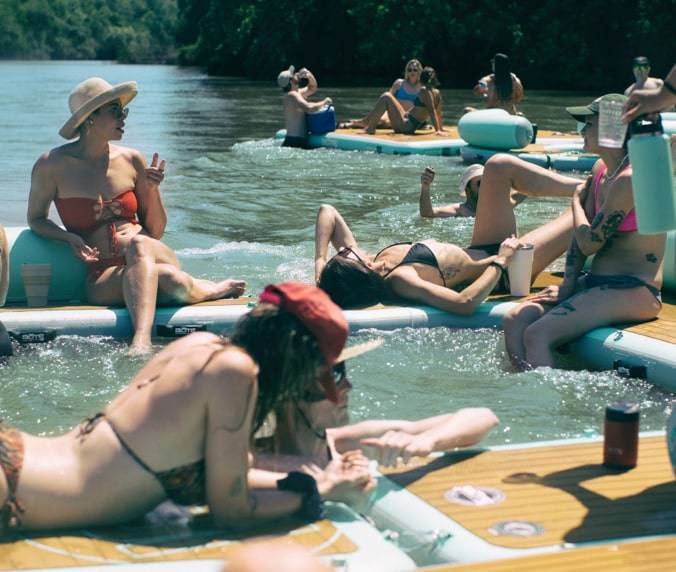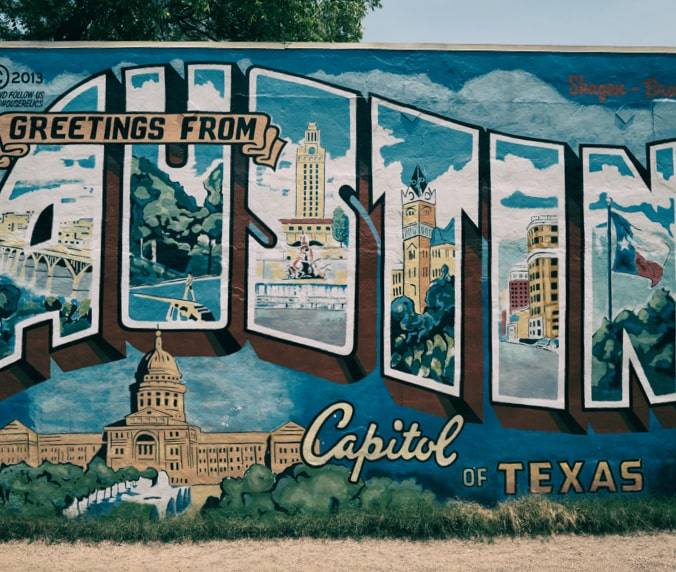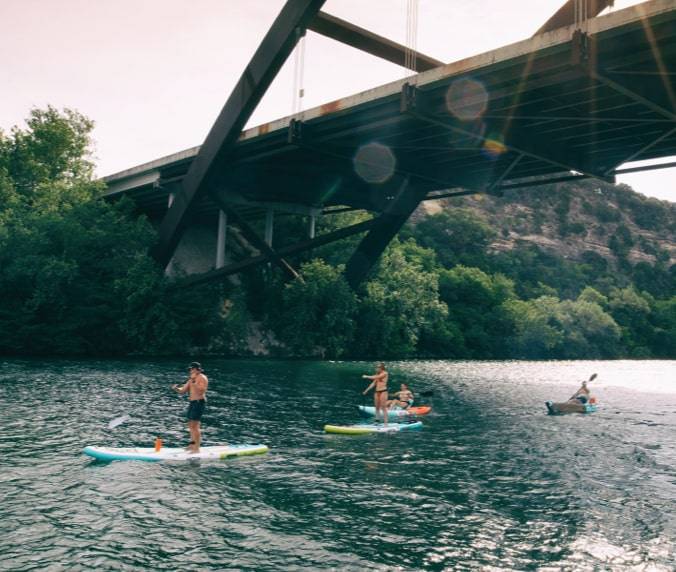 Each May, hundreds of paddle boarders and kayakers seek reprieve from the hot Austin summer with coolers, grills, and pups in tow. You can expect to be greeted by friendly paddlers, floating DJs, and creative ways to bring party games, like beer pong, to the water. While there's not an official website or Facebook page to get the details on next year's event (let's be honest, this weekend looks awesome, but we're not getting 'official' vibes here), chatter about the upcoming event starts happening months in advance, and our Austin, TX team will be sure to have the scoop.
Short on beer? Not a problem; plenty of people are offering up frosty beverages for a fellow Party Island pal. Need a float? There's no shortage of elaborate floatation devices filled with soon-to-be new friends. But if you really want to make a splash at Party Island, swing by our store and stock up on your preferred floating vessel because we got something for you, no matter how you float.
Like we said, this is more than a stand up paddle board event; kayakers and people who love floating gather around to frolic in the cool waters of Lady Bird Lake. And we just happen to have a personal floating oasis for everyone.
FLOOD AERO INFLATABLE PADDLE BOARD
For Party Island on Lady Bird Lake, we recommend going inflatable with the Flood Aero Inflatable Paddle Board. Virtually indestructible, this SUP can handle all the bumps it will encounter being saddled up among an island of boards. Its military-grade PVC construction and proprietary drop-stitch fiber design give it the rigidity of a solid board with the convenience of an inflatable. Travel to Lady Bird Lake with this bad boy nestled snug in its designated travel bag, inflate on site, fan away the admirers, and head to Party Island.  
ZEPPELIN AERO 12′6″ AERO INFLATABLE KAYAK

Born to party with others, the Zeppelin Aero 12′6″ Inflatable Kayak comes equipped as a tandem kayak with two super comfortable Aero Paddle Seats. Convert to a single-seat kayak, or travel out tandem and offer up rides to fellow Party Islanders. This kayak will be a hit. Trust us, when you snap on your MAGNETumbler to your Zeppelin or secure your paddle in the Velcro paddle strap, people's jaws are gonna drop.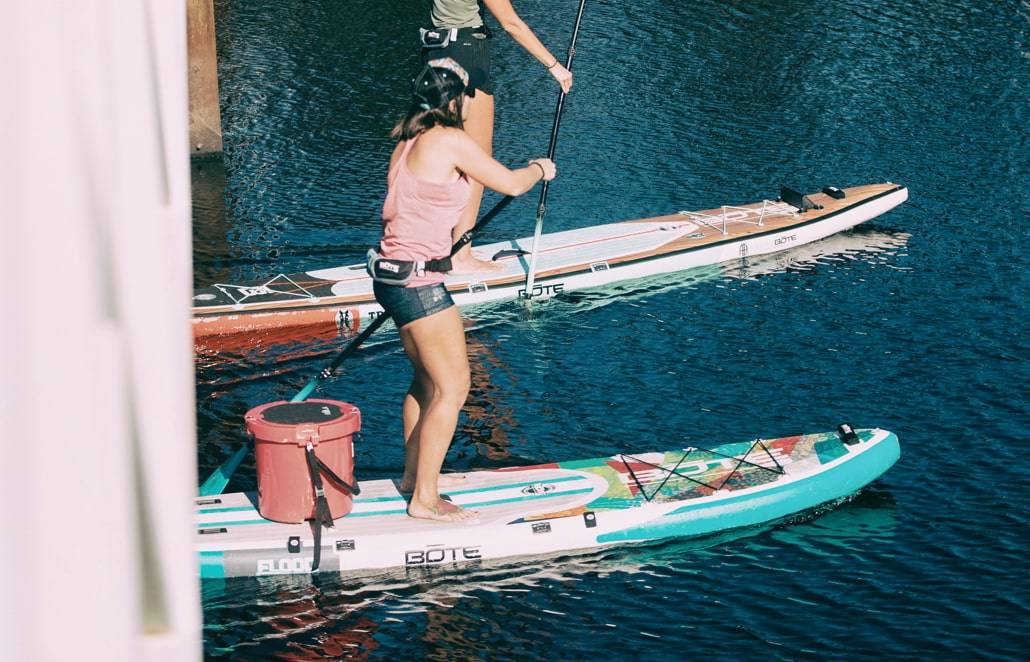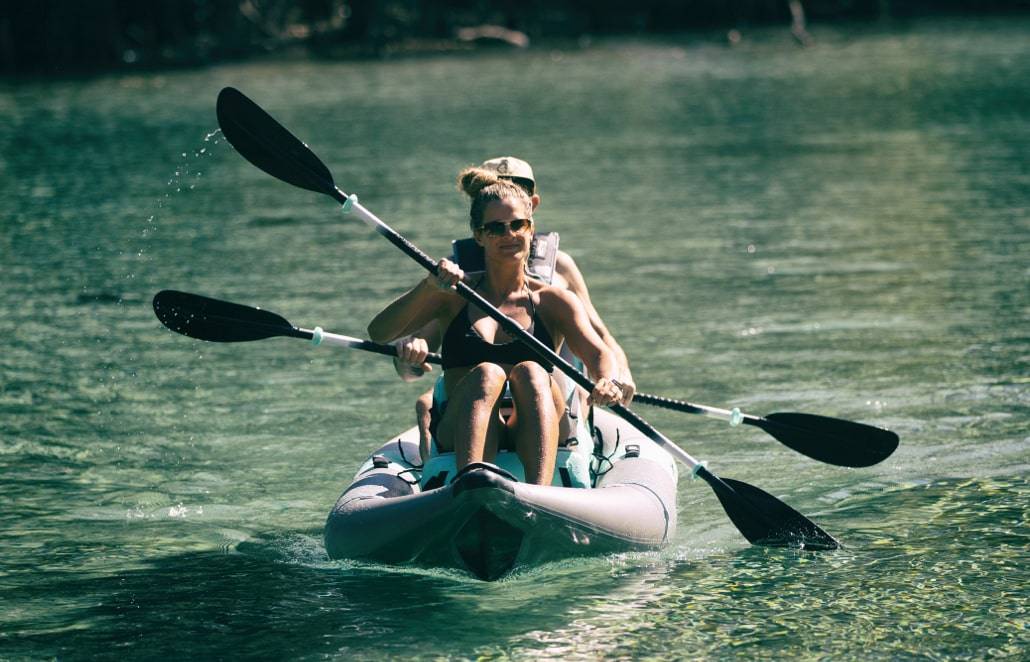 HANGOUT SUITE
We know this party is mainly SUPs, but if you're looking to Stand Apart, BOTE's lineup of Hangout floats is sure to put you in the center of the action. With floating couches, bars, tubes, and more, it's impossible to pick just one thing to take. It's all about personal preference, but we thought we'd make these recommendations to help get you started.
Pairing these two docks creates a full circle lounging platform with a center to dangle feet, take a dip, or enclose with our Inflatable Hangout Bar. Lash it together with its Docklink connection points, or keep them as separate floating islands, the choice is yours, and no choice is wrong.
For individuals looking to lounge their way to the party, the Hangout Lounge comes equipped with an adjustable and reclinable backrest that can be removed for the ultimate beer pong table. And its grooved shape at the foot is designed to snap in a Hangout Bar if you're looking to become the most popular person at the party.
If you're looking to maximize your footprint on Lady Bird Lake, combining a couple of Hangout Couch Ports and Starboards will create a space everyone's gonna want to get in on. It has multiple MAGNEPOD™ compatibility spots, a KULA Cooler tie-down point, and removable pontoon back support for comfort and style. Simply put, you'll be the talk of the island with this configuration.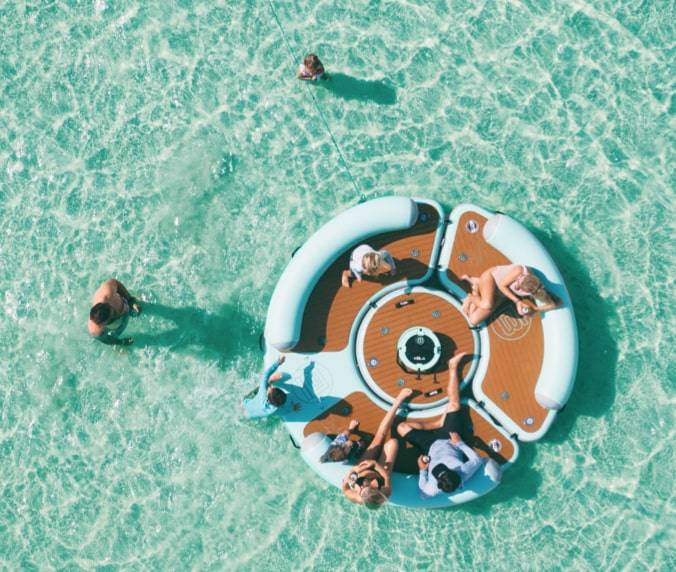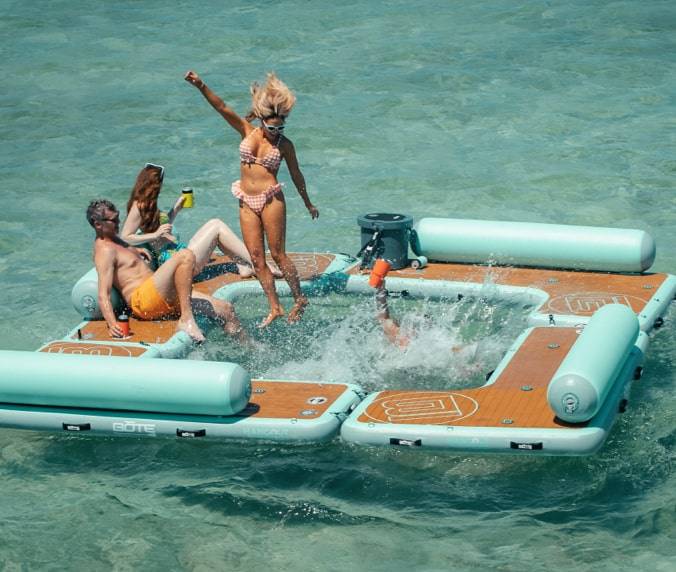 gear up for party island on lady bird lake
Paddle there. Kayak there. Float there. However you do it, get to Party Island on Lady Bird Lake next year, but make sure to swing by our Austin store to up your float game and look for us on the water. See you there, #BOTENation!