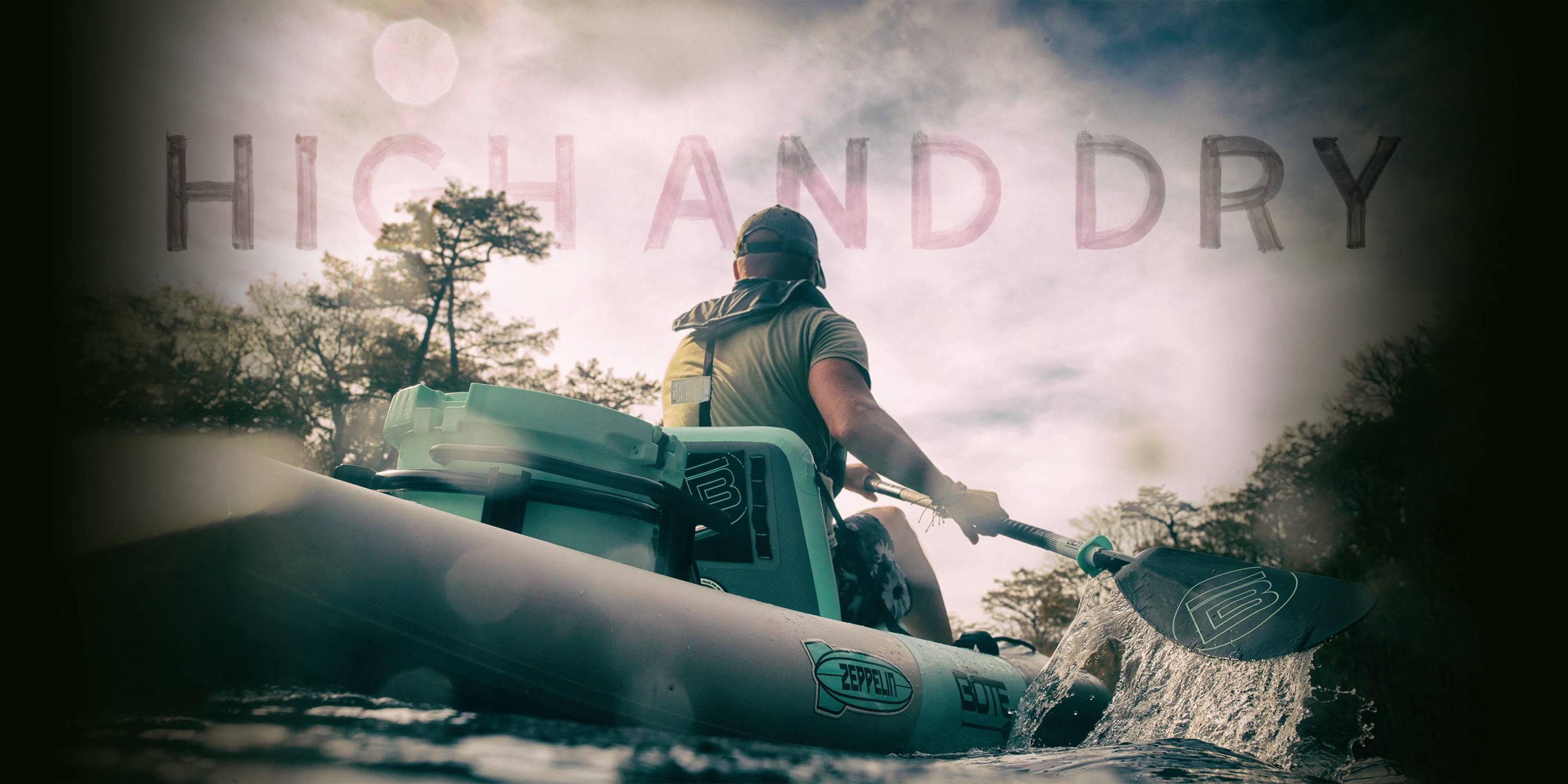 Inflatable Kayak Innovation: High and Dry
If you ever paddled a kayak as a kid, you may remember it as a neon orange hunk of plastic or a metal banana boat that defied the concepts of physics. Heavy, difficult to maneuver, and probably not that fun. Thankfully, kayaks have come a long way since your rock-skipping days, most notably because of the advent of inflatable kayaks.  
Today, BOTE's lineup of inflatable kayaks offers everything from an angler's personal dreamBOTE to an everyday, easy-to-use, recreational water vessel. Because no two paddlers are the same, why should their kayaks be? This brings us to our newest innovation, the redefined and recently expanded Zeppelin Aero family of kayaks. Initially launched in early 2021 with the Zeppelin Aero 12′6″, this single-to-tandem transformative inflatable kayak eliminated the need to choose between the two seating options simply by accommodating both. Even better, it now comes standard as a tandem kayak, with the option to go single with just a few shifts and clips of your Aero seat. Prefer a smaller, solo-only setup? New as of January 2022, the Zeppelin Aero 10′ single-seater is now a crucial element in BOTE's kayak lineup.
So what makes the Zeppelin a paddler's go-to inflatable kayak? We're here to give you the lowdown.
stand apart with the zeppelin aero inflatable kayaks
"This is a recreational paddling kayak. It's great in all bodies of water and designed to be used from coast to river. Extremely stable thanks to its wide frame, the paddler stays centered for an easy to paddle experience." - Corey Cooper, BOTE CEO and Co-Founder
When it comes to the Zeppelin, know that its beauty is in its adaptable nature. It's able to boil down what you love most about a kayak and pack it into an easy to set up inflatable form, taking you from roller bag to buoyant in no time.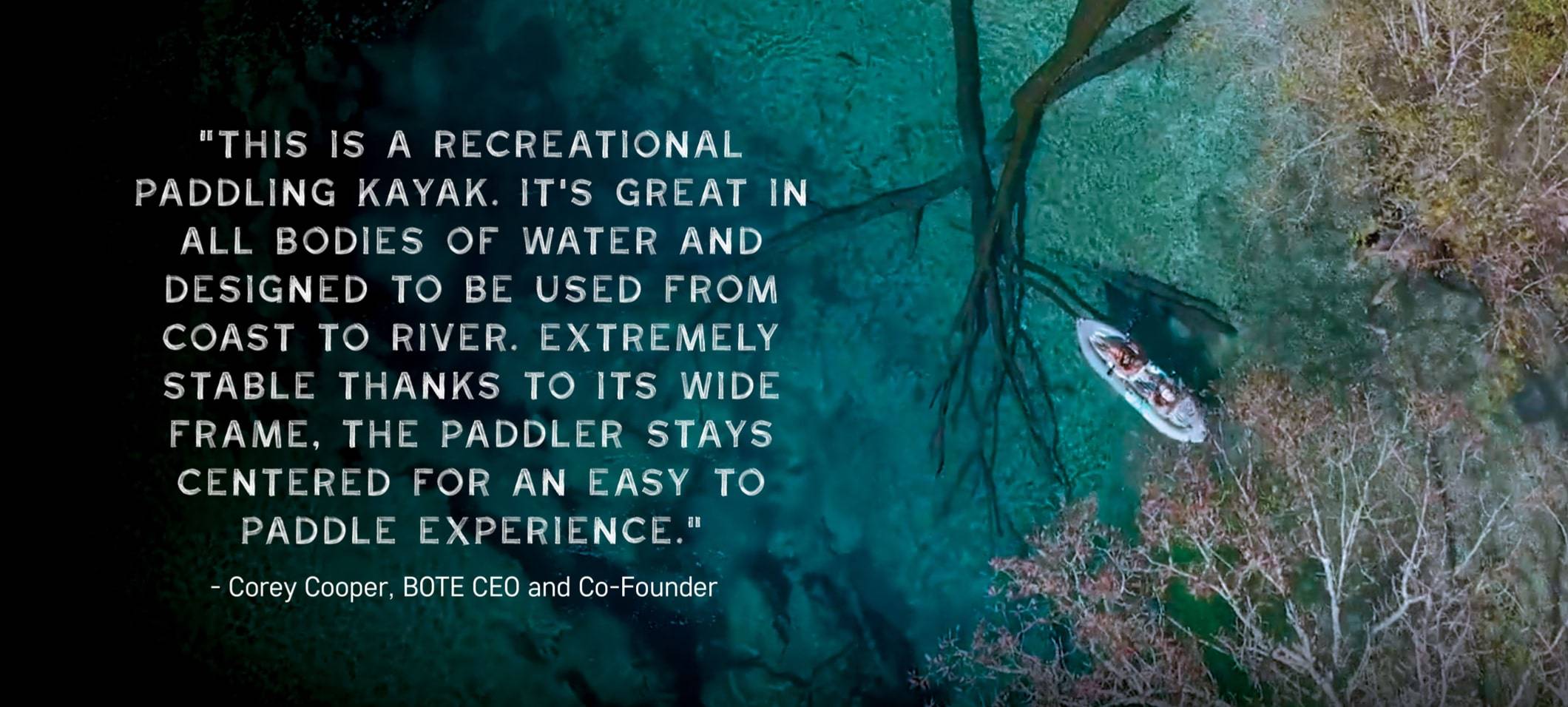 TANDEM READY
Launched initially as a single kayak with the option to add a second Zeppelin Aero Kayak Seat, the Zeppelin 12′6″ now comes standard as a tandem kayak with the option to simply remove an Aero seat for single-seat functionality. With a weight capacity of 600 lbs and connection loops designed into the kayak, there's no question if it can handle tandem paddlers plus gear, and it's super easy to switch up the seating if you want to ride solo.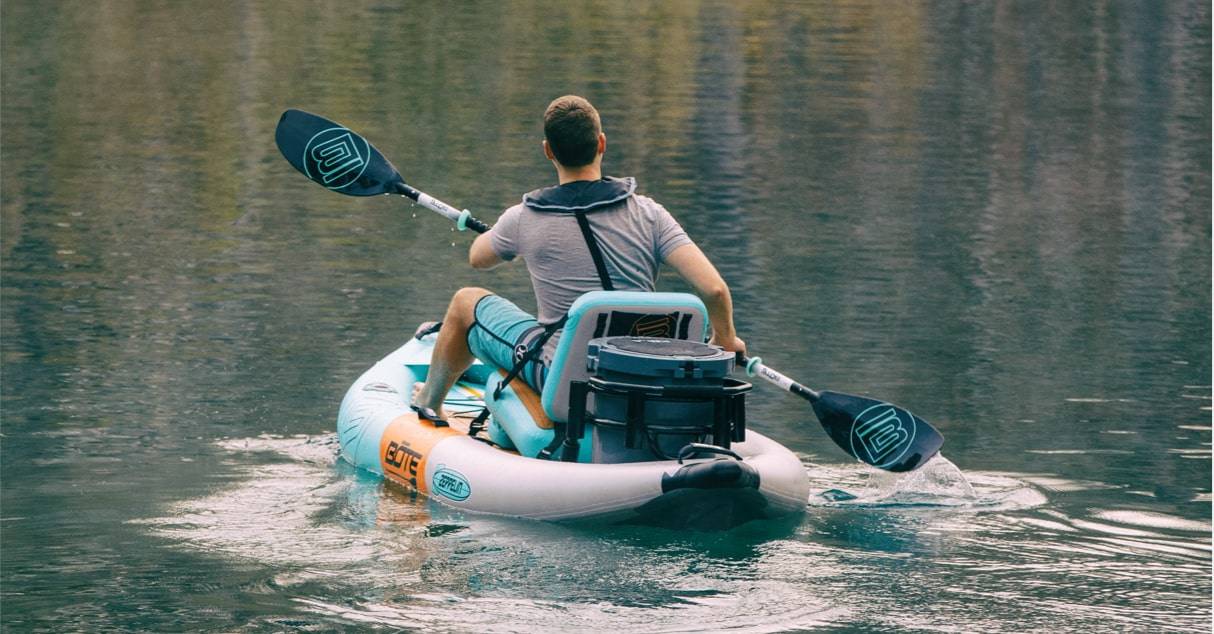 SMALL AND MIGHTY
If you're looking for an inflatable kayak that won't break the bank, is easy to maneuver, looks badass, has all the bells and whistles, and packs down into an almost unbelievably easy to carry backpack, then you've come to the right place.
The Zeppelin 10′ features the same selling points as its big brother, but comes in at a lower price, lighter weight, and 2.5″ less length. For the paddler who wants a solo kayaking experience and truly unlimited possibilities in terms of getting your vessel wherever the adventure calls you to, then you've found your new mothership in the Zeppelin 10′.
A RECREATIONAL RIDE
Built for beginner to intermediate kayakers, both the Zeppelin 12′6″ and 10′ feature elevated design and a self-bailing floor to keep you high and dry above the water. They're stable, easy to use, and durable, so as you run across the bumps that come with the learning curve of kayaking, the Zeppelin keeps its posture and stays strong.
When it comes to form, the nose cuts through the water for a smoother ride. With full-length BVA foam traction across the kayak, you stay firmly planted should you decide to move about the Zeppelin. The seat is also adjustable, so whether you prefer a reclined angle or a perfectly vertical stance, it's your choice.
EASY TO MANEUVER ON (AND OFF) THE WATER
Lightweight and portable, the Zeppelins both fit into a dedicated and provided travel bag so that you can take them virtually anywhere. Throw them in the trunk of your car, sit them next to you on the subway, or pack them on a plane. Then just walk them out to your favorite launch point, inflate, and use either of the front and back grab handles to lift them into the water.
When you're ready to store your Zeppelin away, the small deflated size makes it easy to toss it in your closet or other small space until next time. Supreme packability takes the hardship out of owning a kayak, and its transportability goes the distance with you.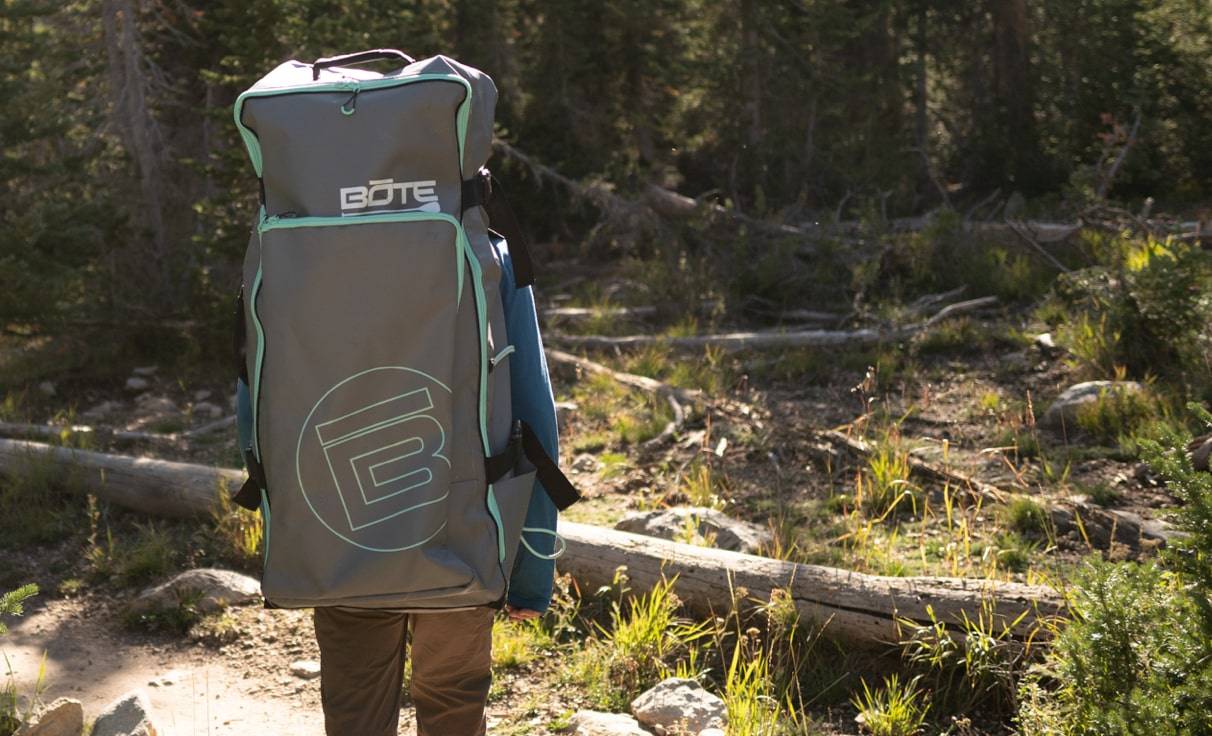 READY FOR YOUR ACCESSORIES
Keep it simple. Deck it out. It's all preference, but know the Zeppelin comes with ample attachment points to accommodate all your accessories and then some.
MAGNEPOD Compatible - Our tool-less drink retention system secures compatible tumblers, koozies, and bottles utilizing magnets for an easy snap-on and snap-off of your favorite beverage.
Slide-In Rac Receivers - The Zeppelin comes equipped with slide-in Rac Receivers so you can quickly add on any of our Rac compatible accessories, like a Bucket Rac, ensuring it's securely placed while you get your paddle on. The Rac Receivers are meant for single-seat use but fear not; we have a way to store your cooler when operating tandem.
Cooler Tie-Down Points - When the Zeppelin 12′6″ is in tandem form, its tie-down points are conveniently located on the kayak for easy-to-access placement regardless of whether you are riding single or tandem. Tie down your KULA cooler and know it's not going anywhere.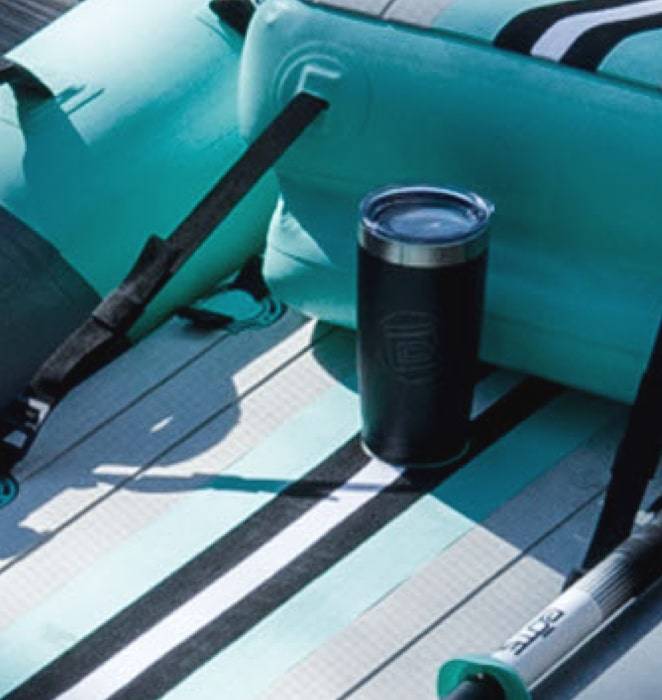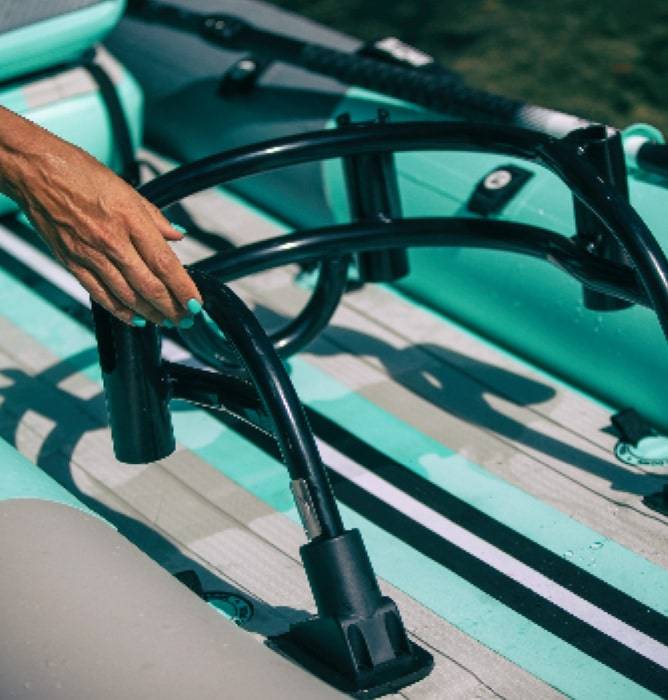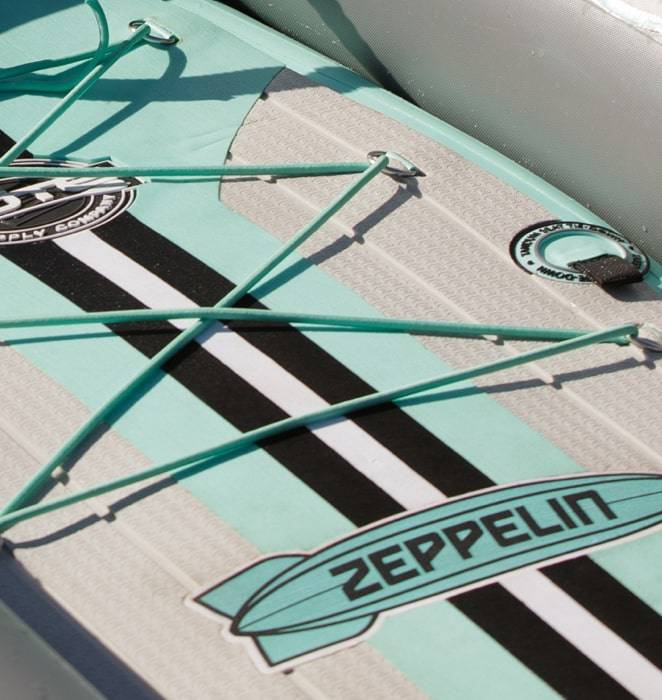 Bungees - If you have some loose cargo you need to secure, the front area is equipped with bungee holds. Just lift the bungee, shove your sandals in, and watch it snap back in place.
BVA Deck Pad - Spanning the entire length of the Zeppelin, this multi-textured anti-slip deck pad provides enhanced cushioning, keeping you planted on your kayak and comfortable all day.
Velcro Paddle Strap - Need a place to put your paddle while you grab a cold one? Just strap it into the velcro paddle straps on either side of your kayak.
Attachment Points - Located atop the Zeppelin, you'll find attachment points for any 1/4:20 accessories you may want to take with you when venturing out.
our most versatile inflatable kayak...yet
What more is there to say? When it comes to the Zeppelin Aero family of kayaks, versatility goes beyond just accessories. Their design keeps you elevated, stable, and dry as you paddle along rivers, lakes, and oceans. You can opt for tandem or solo adventuring depending on if you choose the 12′6″ or the 10′ version. They pack down and fit in your trunk or closet. And they don't skimp on any of the goodies.