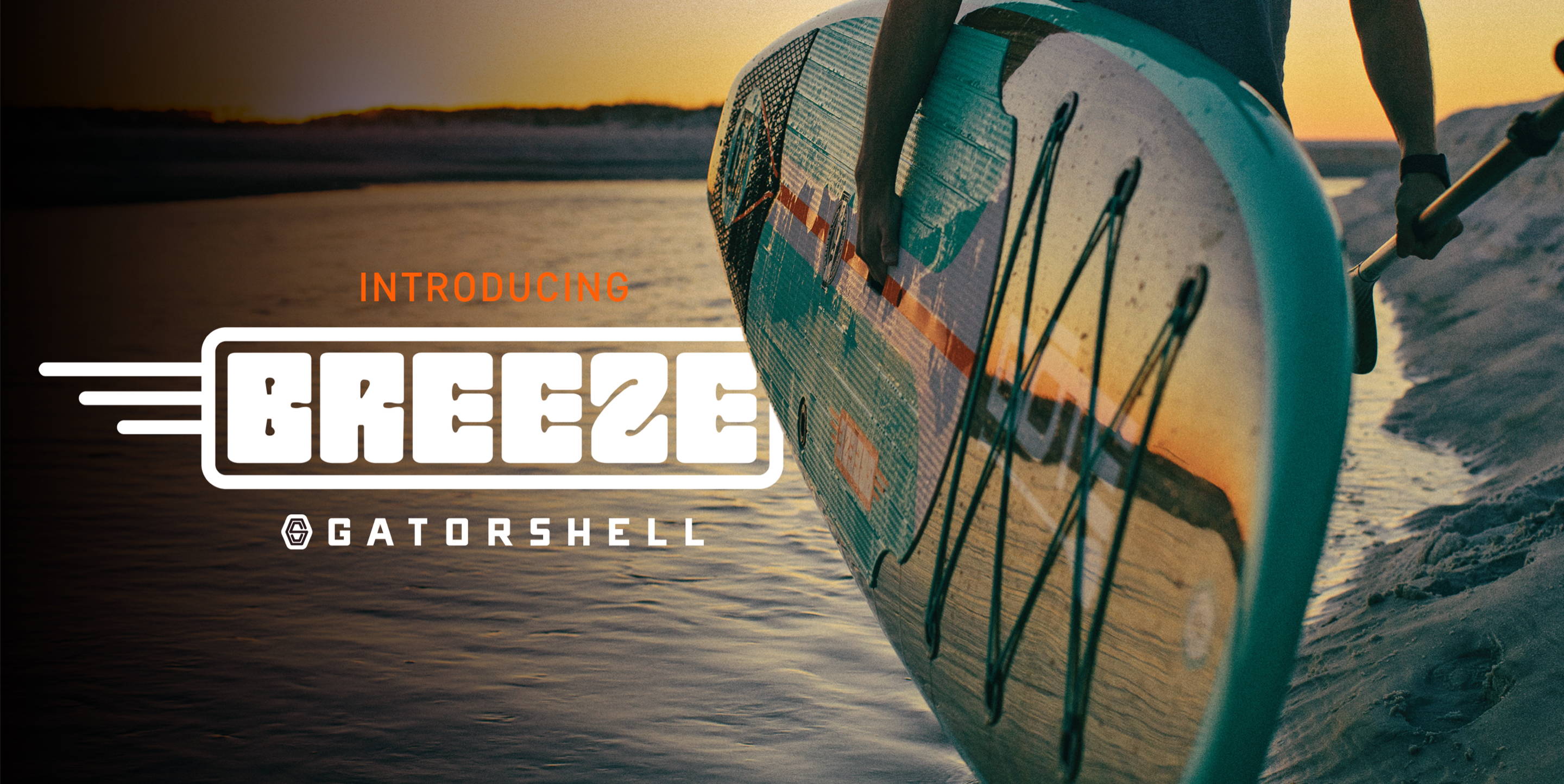 Introducing the Breeze Gatorshell Edition
If you're familiar with the BOTE brand, you probably know our fleet has evolved pretty dramatically over the years. We've expanded into new categories in the outdoor space, including everything from kayaks and micro skiffs to inflatable docks and seating. But at our core, we're still a stand-up paddle board company.
As we took a step back to evaluate our solid paddle board lineup, we realized something was missing. We offer multiple options for everyone, from paddle fishing enthusiasts to SUP yoga and fitness fanatics, to expeditionists and long-distance paddlers. And while we offer several solid paddle boards and inflatable options for recreationists (like the Flood and HD), we were missing something for the part-timers and first-timers who just want to get out on the water sometimes. But also for the minimalist, who doesn't require a suite of compatibility options, and smaller paddlers, who don't need excess material weighing them down.
Introducing the Breeze Paddle Board in sizes: 10'6" and 11'6", Gatorshell edition. Our lightest weight solid paddle board at our most approachable price point.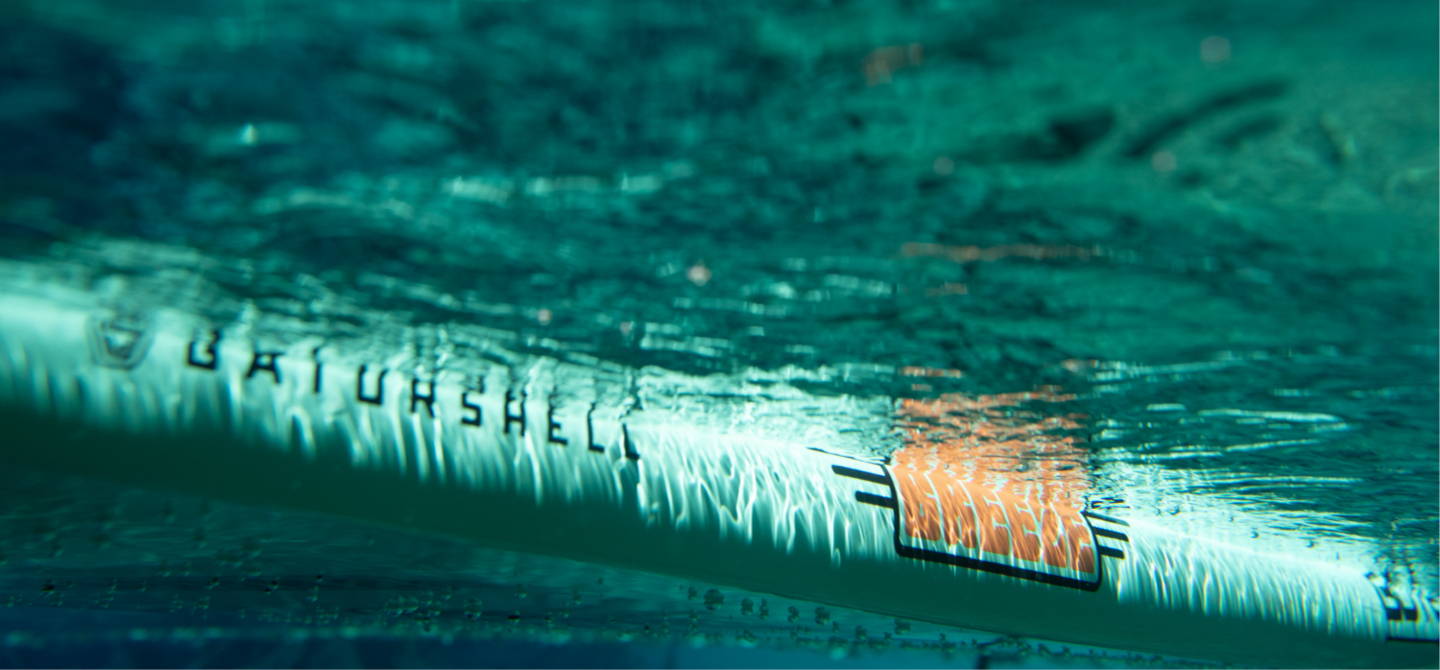 Underwater view of a Breeze Gatorshell Paddle Board
Why We made It
The Flood and HD are staples in our solid paddle board fleet and for good reason. They're the quintessential do-it-all SUPs that can be decked out to suit nearly every SUP activity. But as we analyzed the solid paddle board line up, we quickly recognized that while the Flood is a particularly great choice for beginner paddling, a true beginner or part timer may be paying for features they don't intend to use. Further, a slightly wider surface would offer more stability for those who need to establish their sea legs.
At our most accessible price point for a solid paddle board, the Breeze is lightweight, stable, and durable, but also paired with our signature eye-catching designs and essential compatibility features. Needless to say, the Breeze Paddle Board does more than just get the job done.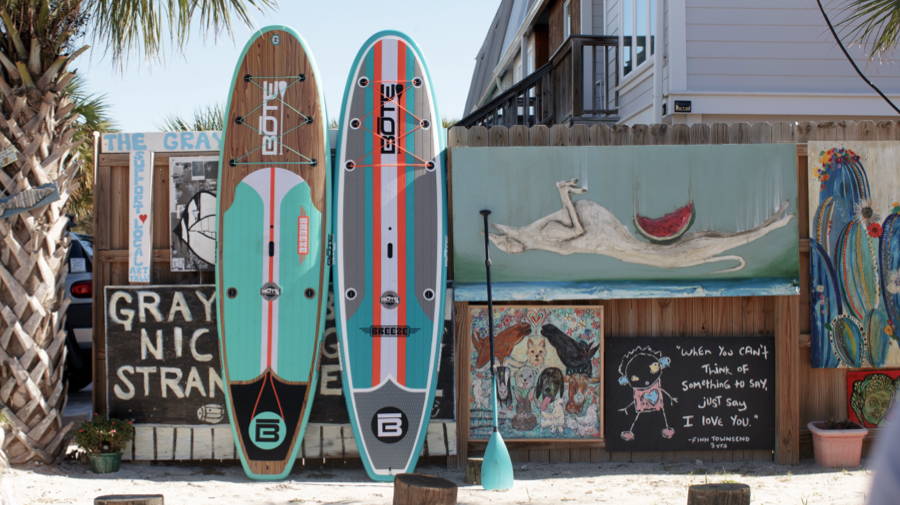 Left to right: Breeze Gatorshell Classic, Breeze Gatorshell Full Trax
Who's Going to Love it
Just like its Breeze Aero counterpart, our new Breeze solid paddle board is made for first timers, part timers, smaller paddlers, and growing paddlers.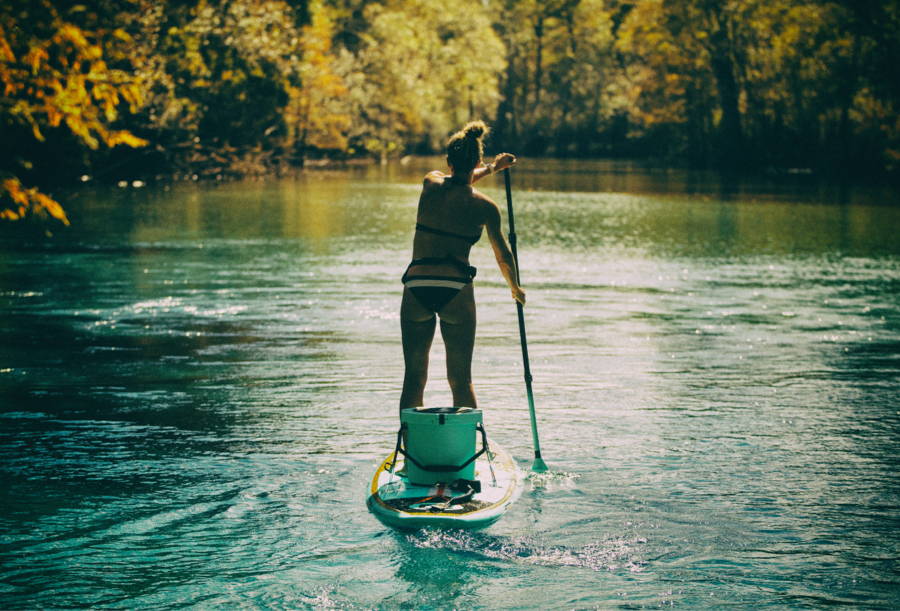 Woman paddling a Breeze Gatorshell paddle board.
The Breeze is a great paddle board for anybody that just doesn't want to invest in secondary features--they want a high quality paddle board that gets them on the water without breaking the bank. Someone who's not ready to say they're committed to a specific activity because they want to dabble in everything. Plus, it's super high end for the price point.
---
Rob McAbee, BOTE Creative Director
First-Time SUP Buyers
Buying your first paddle board? It can be an overwhelming process. There are a lot of brands out there either focusing on price or features, and it's hard to pinpoint where the two intersect to provide the best value. Look no further than the Breeze Paddle Board. It offers the stability you need to grow comfortable on the water along with durability to get through those first few carries when you accidentally hit the tail on the sidewalk or run into corner of a wall making a tight turn. Equipped with Gatorshell Technology and wrapped in signature BOTE designs, this SUP was built to make you look good even through the awkward stages.
P.S. Before you hit the water, check out our SUP Basics for Beginners journal.
Smaller Paddlers
Ever been referred to as "small but mighty" or "strong for your size"? These terms of endearment parlay into a key factor when choosing the right board: your size. Good news, your compact size means you don't need a lot of board to move efficiently across the water on the Breeze. In fact, too much board is going to weigh you down and exhaust your energy before you can even get to the fun part--like drinking on the sandbar or diving into hidden springs.
Part-Time Recreationalists
Are you an advanced beginner in all your hobbies? Maybe because you have so many, it's hard to pick one and settle in for the long haul. Trust us, we get it. The Breeze Paddle Board is the perfect SUP board to use throughout the year for when you want to dabble in a little SUP surfing here and recreational paddling there (maybe even give SUP yoga a try), but certainly can't be pinned down to one hobby. Because what's the fun in that?
Growing Paddlers
If your little one is on the verge of outgrowing the Flow (our inflatable paddle board for kids) and shows no signs of slowing down, the Breeze is a great next step they'll be able to use for many years to come. Another great option is the Breeze Aero, for when compact storage and portability come into play.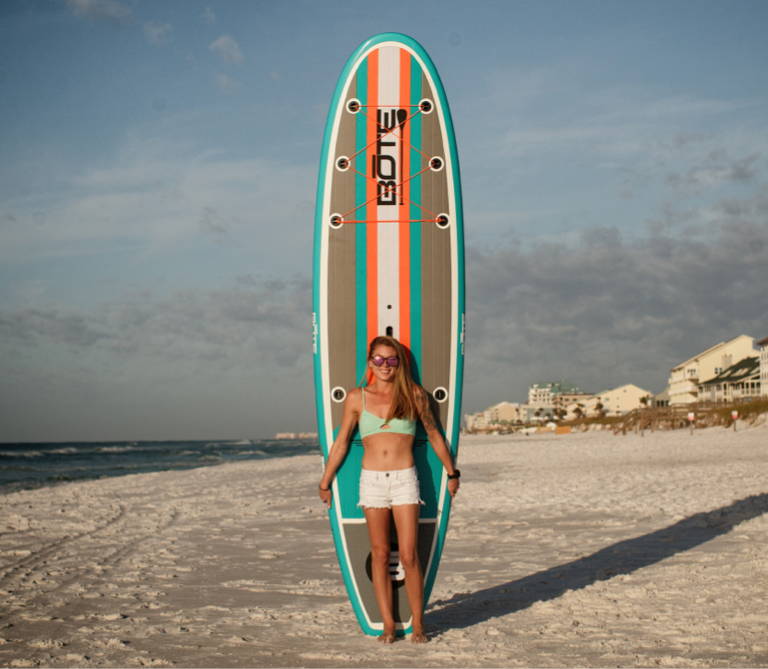 Woman standing in front of an upright Breeze Gatorshell Full Trax paddle board.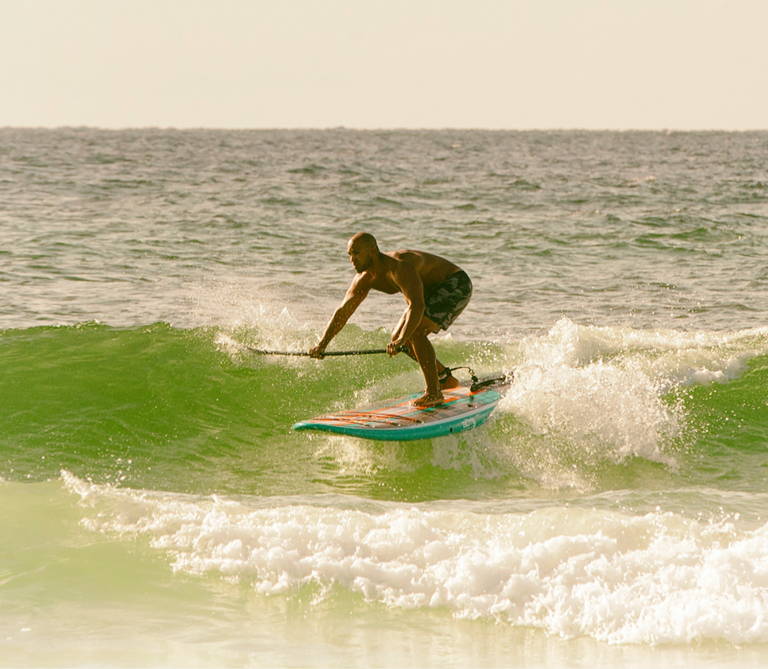 Man surfing on a Breeze Gatorshell Full Trax paddle board.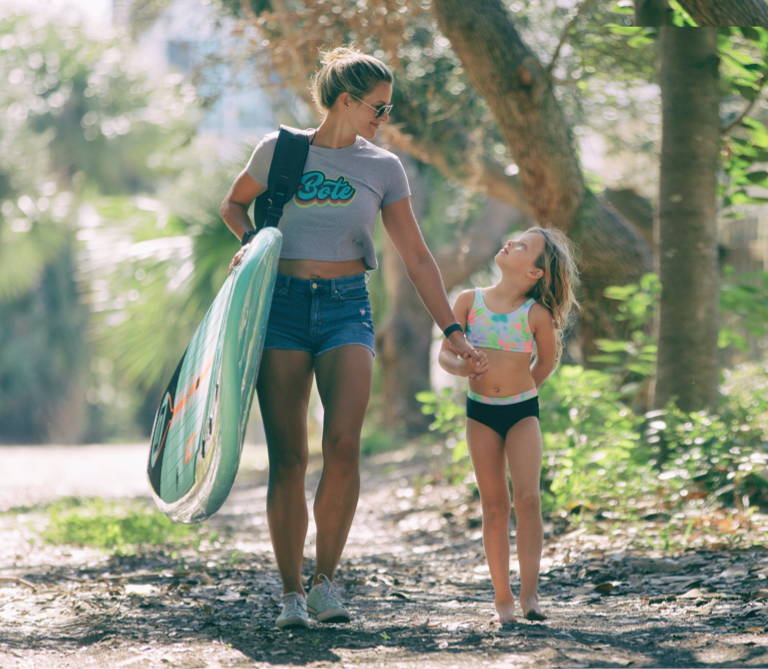 Woman carrying a Breeze Gatorshell paddle board using a Travelink Carry sling.
What Makes it Unique
Designed with our proprietary Gatorshell Technology, this solid paddle board is absurdly durable for its weight and ease of portability. The Breeze is easy to carry on its own but also compatible with our Travelink Sling so you can disperse the weight of the board across your shoulders and back.
Durability Meets Portability
The Breeze Paddle Board is made with our Gatorshell technology and is the definition of tough. We also made sure to include links on the board for the Travel Sling so that the board can be even more portable.
Stability and Stealth
We paired the planing style hull with a wide surface, giving paddlers added stability without compromising stealth and speed. At 32" and 34" wide, a width we'd usually apply to longer boards, finding your footing is easy--so you can concentrate on your stride and speed, not simply standing up.
With the Breeze Paddle Board it's as simple as this: do more with less. Just like every other product we offer, the Breeze is the best in its class. Period. Corey, our CEO, Co-Founder, and lead engineer, says it best: "We stand apart through industry-shaping innovation, fresh ideas and simplicity to create a product that defines a lifestyle."
Ready to dabble in the SUP lifestyle? Dive in with the most innovative, approachable, and damn good looking paddle board for the price: the Breeze Paddle Board.
We stand apart through industry-shaping innovation, fresh ideas and simplicity to create a product that defines a lifestyle.
---
Corey Cooper, BOTE CEO, Co-Founder, and Lead Engineer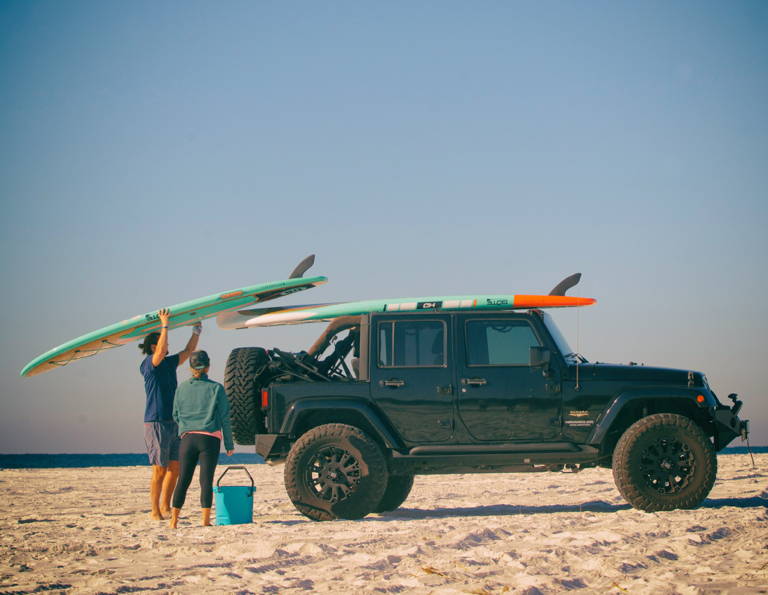 Couple loading their Breeze Gatorshell paddle boards on top of their Jeep.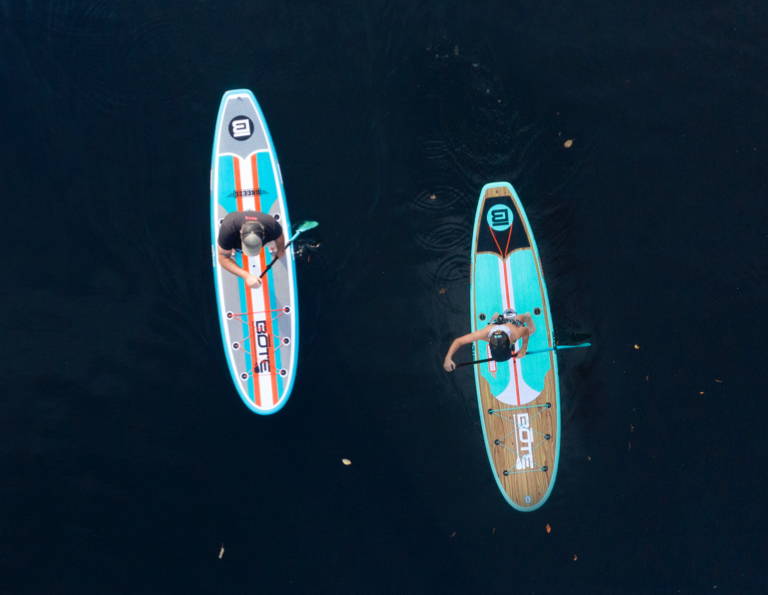 Overhead view of two people paddling Breeze Gatorshell paddle boards next to each other.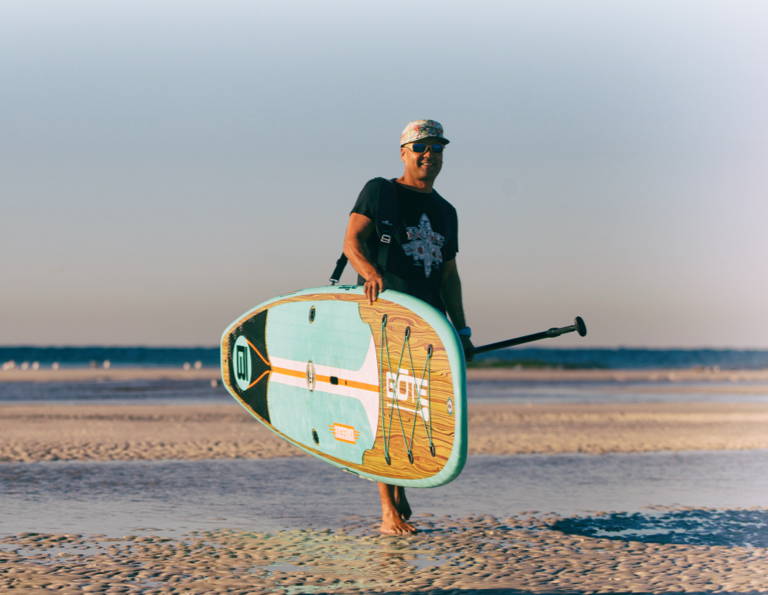 Man using a Travelink Carry Sling to carry his Breeze Gatorshell Classic paddle board.