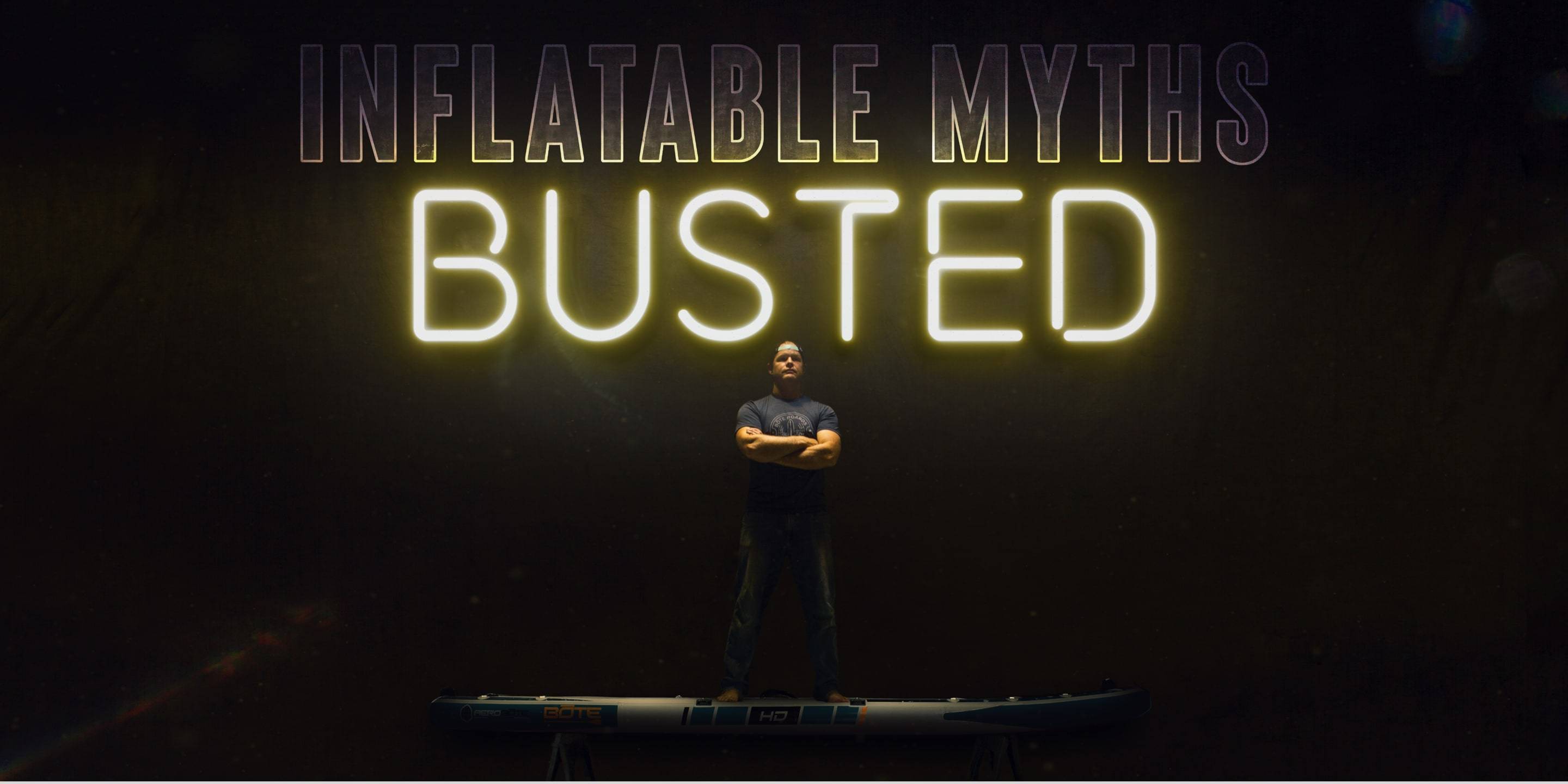 Inflatable Myths: BUSTED
When it comes to the SUP lifestyle, we know a thing or two about taking it to the next level. Sure, BOTE was founded on the solid stand up paddle board, revolutionizing its performance capabilities, but it wasn't long before we turned our mad scientist attention to inflatable SUPs.
Committed to applying the same elbow grease to inflatables, ensuring they were equally badass to their solid SUP brother, BOTE has not only debunked the common myths when it comes to inflatable stand up paddle boards, we crushed them.
Flimsy? Don't think so.
Dainty? Not a chance.
Basic? Hardly.
We're here to put this to rest once and for all: inflatable SUPs are lean, mean paddling machines.
Inflatable SUPs will pop under too much weight

: BUSTED
Inflatables are Tough as Nails
We're not talking about making a balloon animal here. BOTE's lineup of inflatable stand up paddle boards are built to withstand a hefty amount of weight. Depending on the board, weight capacities start at 250 lbs and go up from there. And while each inflatable SUP has a recommended weight limit, we've also tested extreme weight situations (like, you know, driving a truck over it) to ensure your inflatable SUP won't pop.
The magic is all in the construction. When inflated to the recommended PSI (between 12 to 15 PSI), the fibers within the board distribute the air pressure evenly across it, creating a stable and rigid board that will not pop when it maxes its weight limit. Don't worry; we're going to take a closer look at how our inflatables are constructed in a bit.
Inflatable SUPs are flimsy

: BUSTED
Inflatables are Rigid as Hell
Don't get us wrong, our inflatable SUPs have a nice smooth surface and are outfitted with comfortable foam deck pads (some with even a Full Trax deck pad for extra cushion from bow to stern), but there's nothing flimsy about 'em. Just inflate to the recommended PSI, and your inflatable SUP is as solid as, well, a solid stand up paddle board.
Even when balanced between two table horses with a burly man standing in the middle, it won't bend. We know that's probably a scenario you won't put your inflatable SUP in, but at BOTE, we're big on staying true to our word. While other inflatable SUPs may sag in the center and "banana" while paddling, ours are flat, and they stay flat, just like a solid stand up paddle board. It's the best of both worlds, the stability and rigidity of a solid SUP, with the portability and versatility of an inflatable.
Inflatable SUPs are delicate

: BUSTED
Inflatables have Superior Durability
When you hear the word 'inflatable,' you might immediately think of the many pool toys you buy throughout the summer because they pop under pressure or bake in the sun. But tacky, sun-faded pool toys are not what we're about. We're about sturdy, practically indestructible inflatable SUP boards.
While our solid boards are made with Gatorshell Technology, our inflatables are made with equivalently kickass AeroBOTE Technology. Thanks to proprietary methods for construction and high-quality, military-grade PVC, there's no need to sweat over inevitable bumps and bangs that will happen while you're out enjoying your board.. And if an accident does happen, each inflatable SUP comes with a glue-included Aero repair kit to handle the small stuff.
Inflatable SUPs can't be decked out with awesome accessories

: BUSTED
Inflatables are Extremely Customizable
Let's be honest, half the fun of a BOTE stand up paddle board is customizing it to your lifestyle and then showing off all your awesome gadgets to your friends. And if you think you can't rock out our inflatables with all the goodies while still having it look sleek as hell, think again.
Inflatable SUPs allow for just as many accessories as our solid SUPs. Bungee straps to secure one of our Highwater Packs: yep, the inflatable SUP has it. D-Rings to strap on a KULA cooler: turn to the inflatable. MAGNEPOD™ compatible so your MAGNETumbler snaps into place while you paddle: it's on our inflatables.
Practically all of our accessories can be incorporated into one of our inflatables, including our lineup of inflatable kayaks, with our most feature-rich inflatable SUP, the Rackham Aero, taking the cake with multiple Rac Receivers, Velcro gear straps, bungee straps on the front and back of the platform, and paddle sheath to store your paddle.
When selecting which inflatable SUP is best for you, make sure to read through the specs to ensure it can accommodate your must-have accessories. Then start decking it out.
Inflatable SUPs are cheaply made

: BUSTED
AeroTech is Premium Construction
Like we've said, our lineup of BOTE inflatable SUPs are tough as nails thanks to AeroBOTE Technology, but if you're still straddling the line on if this is a myth, let's dive into the details a little more.
You get what you pay for, and if you want a long-lasting SUP board that you can take virtually anywhere, you've come to the right place because we do not skimp out when it comes to construction. The internal chamber(s) of our inflatable stand up paddle boards are comprised of tens of thousands of composite fibers which connect the top and bottom of the board. This drop-stitch technology is what makes these boards rock solid. That, and the military-grade PVC exterior.
Simply put, there's a lot more than just air inside these boards.
Inflatable SUPs - A Solid Choice
Take those tall tales and kick 'em to the curb because inflatable stand up paddle boards are a force to be reckoned with. Whether you're a weekend adventurer, expert angler, or nature fanatic, our lineup of inflatable SUPs will maximize your good times on the water. Portable, versatile, and durable, they're giving solid SUPs a run for their money. So what are you waiting for?
Shop our lineup of Inflatable Stand Up Paddle Boards.