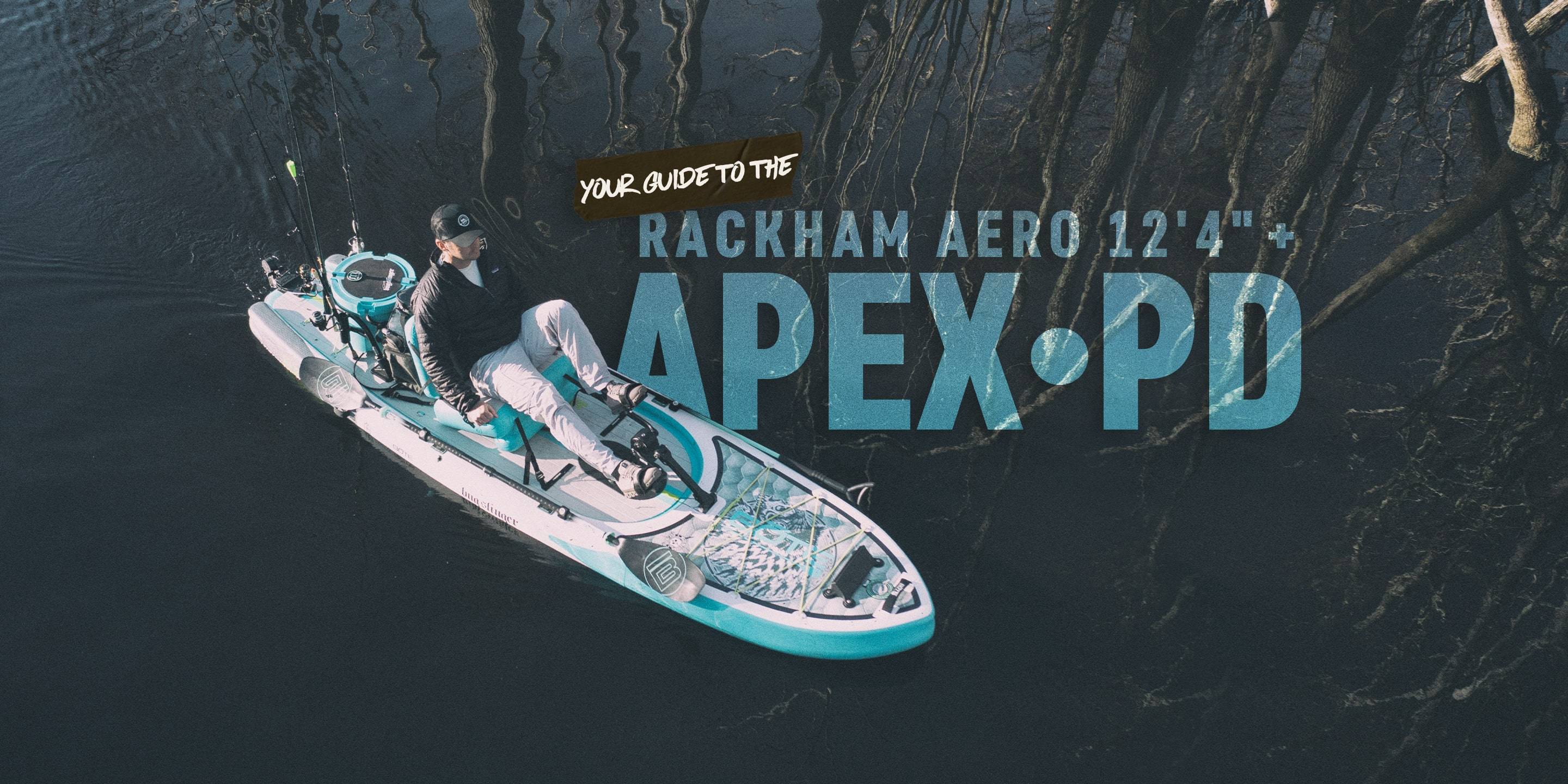 Guide to Rackham Aero 12'4" Pedal Drive
One of our most feature-rich inflatable platforms just got two big upgrades. The new and improved Rackham Aero 12'4" is back and better than ever—with simple yet substantial differences: the addition of APEX Pedal Drive compatibility and the ability to add a seat.
Because why wouldn't our most heavy-hitting, heavy-duty inflatable paddle board also be able to convert into a sit-down, hands-free, pedal-powered watercraft?
With supreme stability and unmatched capacity, this board comes fully loaded with all the things you've come to love about the Rackham: durability and dependability, all-around adventure readiness, and a blitzkrieg of badass features and functionality. And now? You can sit down and use it as a kayak, or add in the APEX Pedal Drive to turn it into a hands-free operation.
Put simply, "I think it's one of the coolest things we make," says BOTE CEO & Co-Founder, Corey Cooper.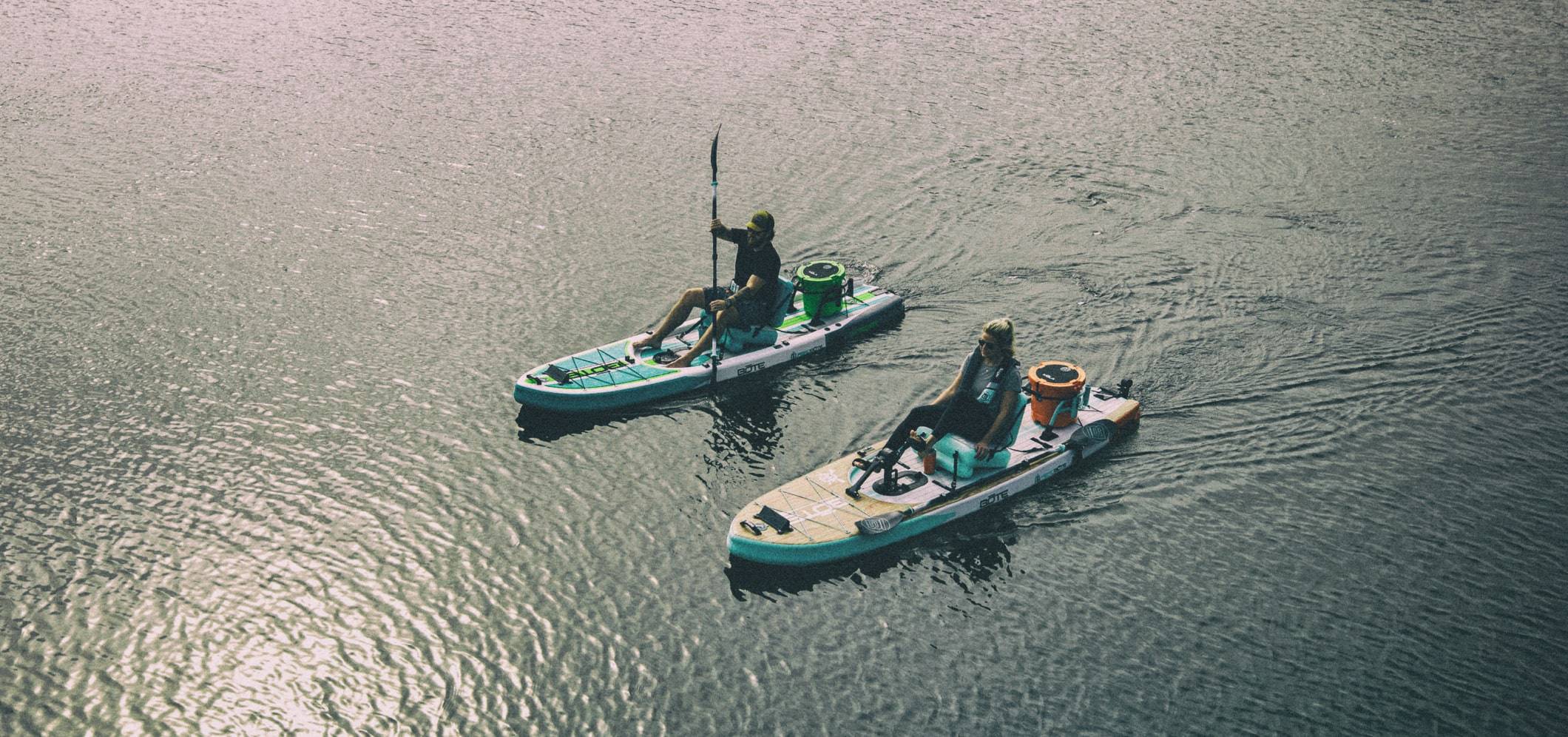 Rackham Aero 12'4" - The Waterman's SUP
The Rackham Aero Inflatable Paddle Board has always been BOTE's go-to board for big-time water excursions. Coined as The Waterman's SUP, this thing is far from an extra large pool toy. On the contrary, it's a super stable behemoth of a board with 400lb carrying capacity and formidable form plus function. For anglers, it's a true fishing machine—decked to the nines with add-on features and multiple accessory compatibilities. For all-around adventure paddlers, it's a high-volume vessel fit for any excursion.
According to Corey, "The Rackham Aero at its core DNA is an awesome adventure paddle board. This thing's got all the volume to load all the gear to be able to do whatever you want. Whether it's a larger person or just more weight (like more gear or even your faithful dog), the Rackham can hold it all, and more."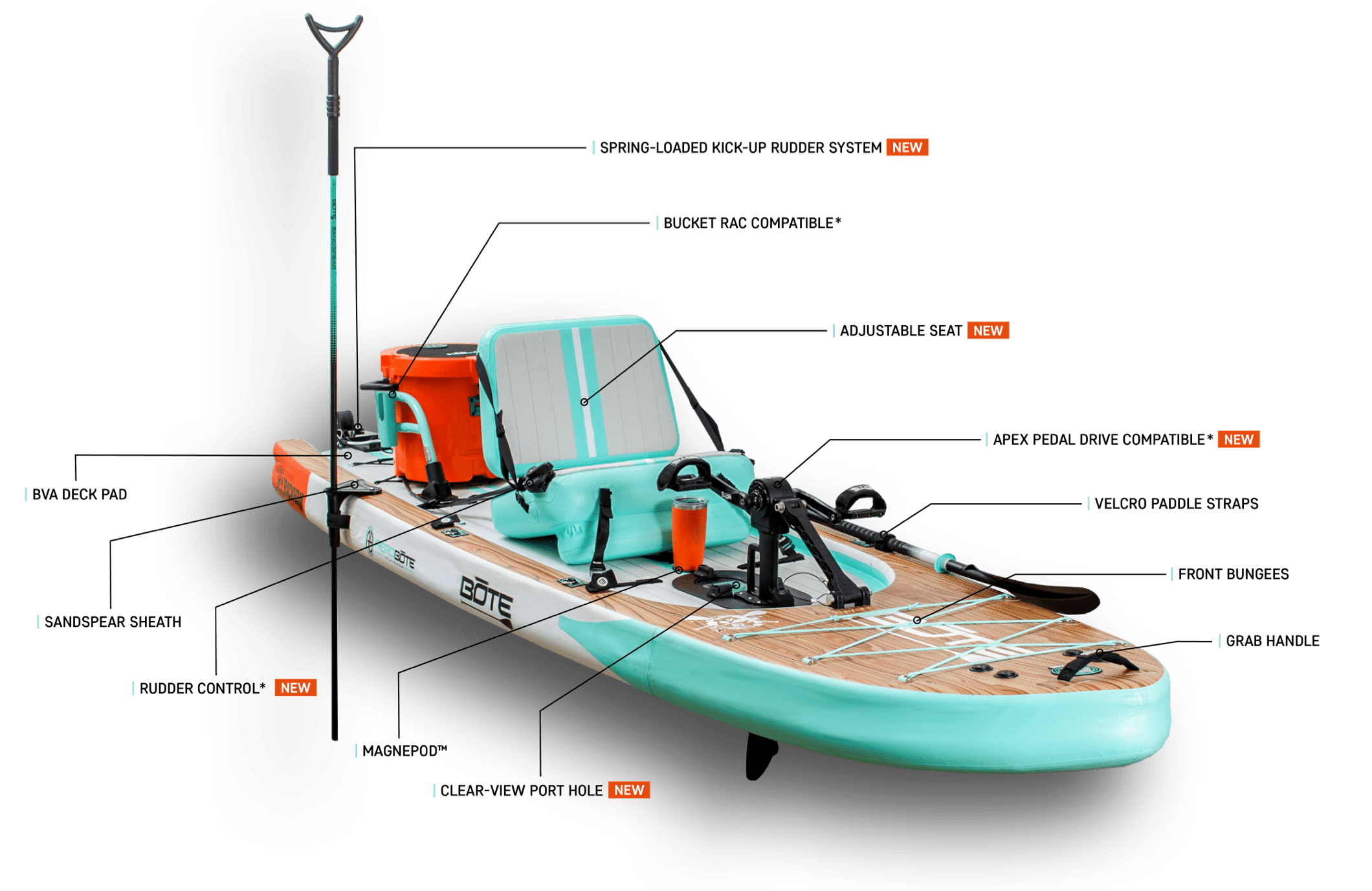 Unmatched Stability, Colossal Capacity
The Rackham Aero 12′4″ is arguably BOTE's most stable & steady paddle board.
Clocking in at 12'4" long, the Rackham Aero is made from highly durable AeroBOTE Technology, including two-chamber construction for added buoyancy, thick rails for stability, and center & side fins for mobility and increased tracking. The two-chamber design provides a wide base and recessed deck for a lower center of gravity, keeping both paddler and gear high and dry.
In other words, you can take this bad boy on intense fishing or hunting excursions, multi-day paddle camping trips, or simple afternoon paddle sessions, and it'll perform like a pro throughout.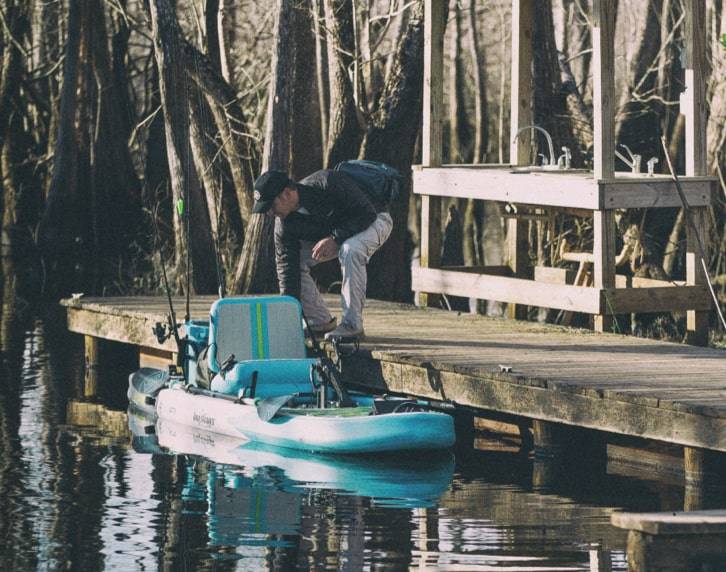 Feature-Rich Inflatable Platform
You want features? The Rackham's got 'em galore. Front and back bungees, grab handles and gear straps, accessory mounting points, MAGNEPOD™—you name it. Not to mention it comes fully equipped with a deliriously diverse variety of other attachment compatibilities, including: a removable Aero Sandspear Sheath, Sandspear straps, a Travelink™ SUP Carry System, and mounting points for a Power-Pole Micro™ anchor. The Rac receivers mean it's compatible with our Bucket Rac and Tackle Rac, so you can seamlessly store your rods and attach your KULA with the utmost ease.
All of which is to say, the Rackham Aero 12'4" knows a thing or two about features. So, why not add yet another?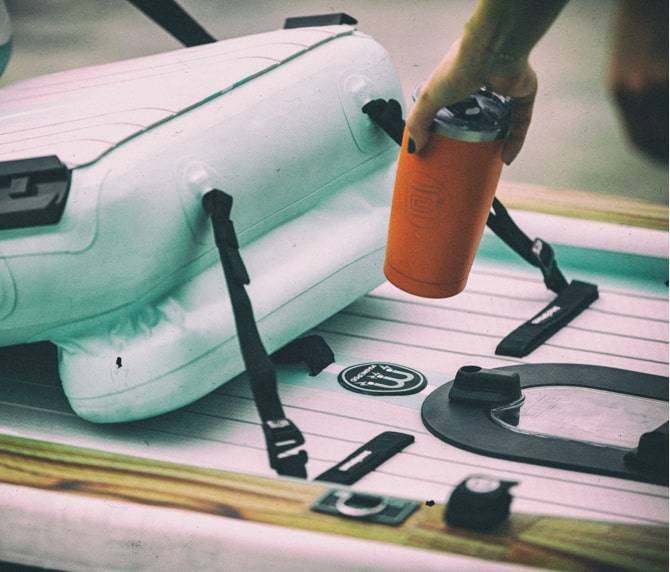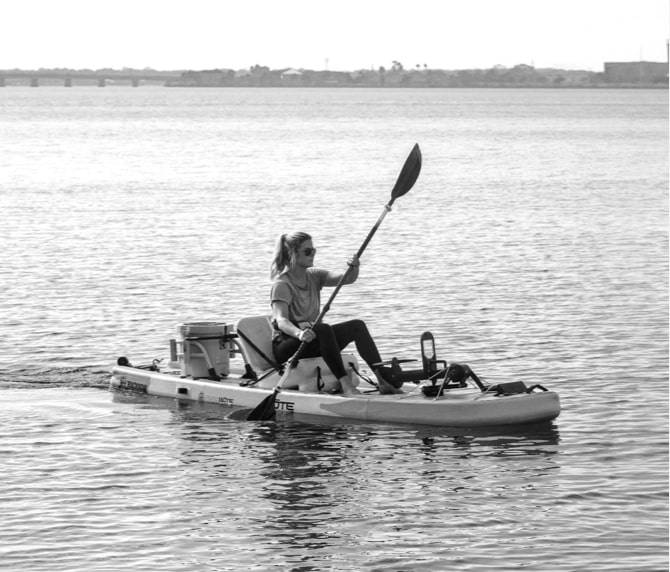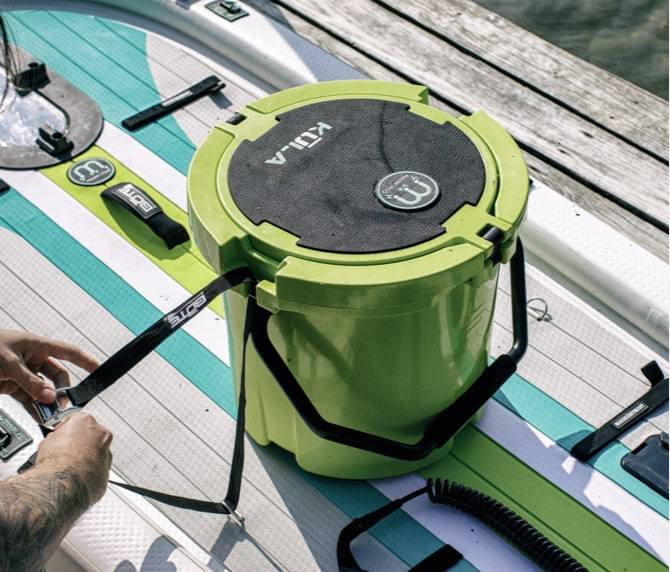 Introducing the Rackham Aero 12'4" Pedal Drive
The APEX Pedal Drive, sold separately, is a revolutionary hands-free, pedal-powered system. In technical terms, the APEX•PD has a 10:1 gear ratio for smooth, efficient pedaling, a wide pedal foot platform with comfortable straps, a clear view port-hole, and no-touch forward and reverse.
As is often the case with BOTE boards and kayaks, "versatility" is the name of the game. The APEX Pedal Drive is built to pivot in and out of our APEX pedal port with incredible efficiency, so that you can transition from pedal-driven paddling to kayak paddling to stand up paddling with ease.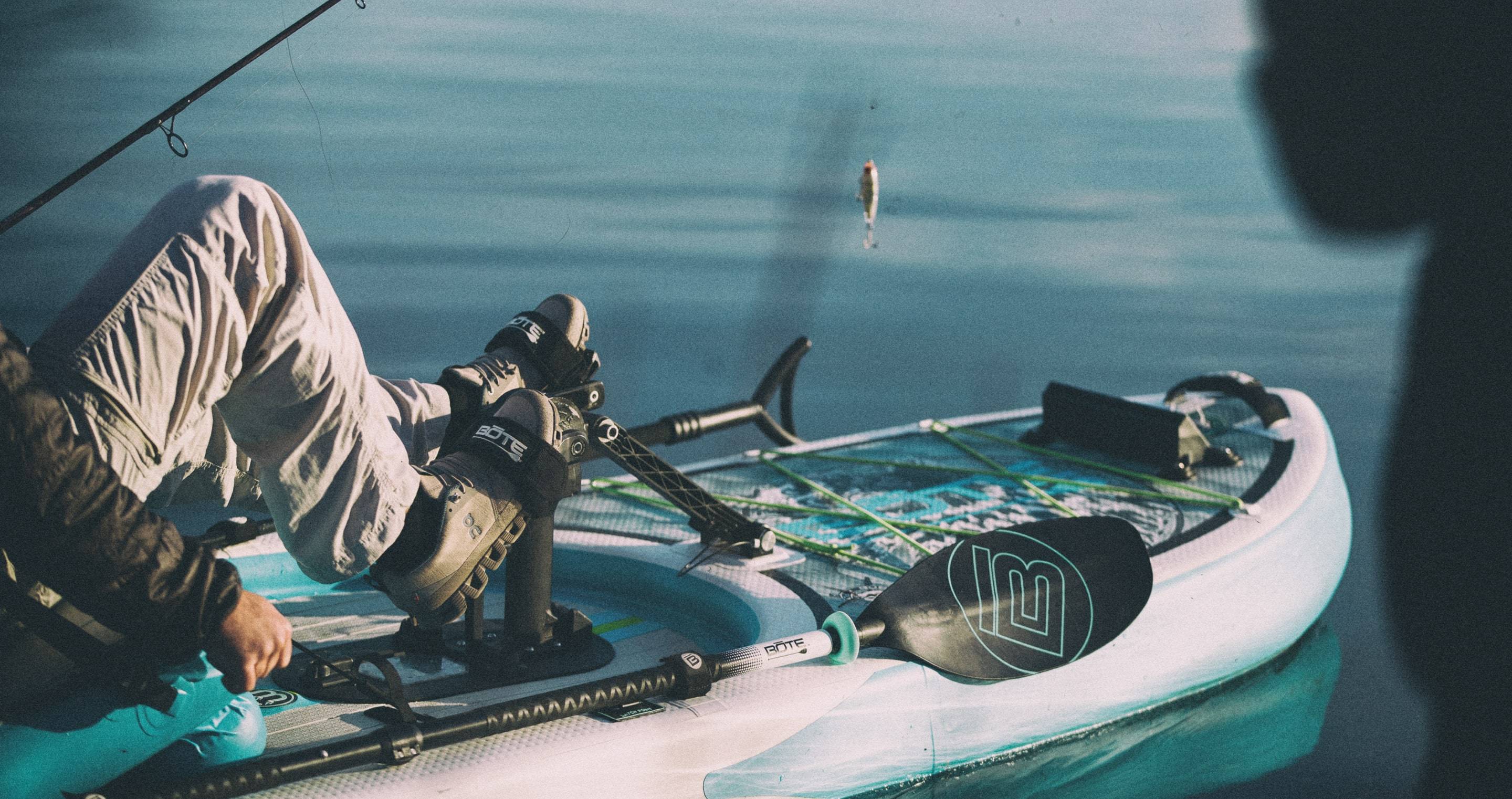 For kayak paddling and pedal-driven paddling, simply attach the included Aero SUP Paddle Seat via four G-clips (two in the front, two in the back), which you can adjust accordingly based on your height and preferences. On each side of your Aero SUP Paddle Seat, you'll find two paddle lash-downs, so that you can conveniently store both your kayak paddle and stand up paddle. Also on either side of the seat you'll find the rudder control system, which controls the APEX rudder on the rear of your board, allowing you to switch control from the right or left side depending on your preference.
When you're ready to transform your sit-down, pedal-driven kayak back into a SUP, simply pull out the APEX Pedal Drive, lift up the rudder control system, detach the Aero SUP Paddle Seat, and stand up.
As Corey says, "The APEX Pedal Drive gives you options. It's also easily removable. You simply pull the pin out and pull it up. That's all she wrote."
Who Will Love the Rackham Aero 12'4" + APEX Pedal Drive
The Rackham Aero 12'4" + APEX Pedal Drive is the optimal board for those looking to take their fishing and expedition adventures up a notch, or for anyone simply looking for a badass watercraft that'll withstand whatever you throw at it.
---
"Traditionally, the Rackham has been our adventure slash fisherman's board. But we decided to take the 12'4" version and update some features. What we've done is add the APEX Pedal Drive integration port and seat tie downs to our already feature-rich paddle board. So, very simple modifications made this an extremely badass crossover between a hybrid kayak pedal drive and a SUP." - Corey Cooper, BOTE Co-Founder and CEO
---
With the new APEX Pedal Drive compatibility, the Rackham is now open for business to an even wider range of uses. Take it fishing or hunting. Take it overnight or off the grid. Take it out as a SUP or a kayak. Wherever and however you use the Rackham Aero 12'4", one thing's for certain: you're gonna have a good time.