LONG LIVE PADDLE BOARDS: CARING FOR YOUR SOLID BOARD
You love your BOTE paddle board, right? We do, too. That's why spent years holed up in the Darkroom for countless hours developing, testing, and perfecting our proprietary Gatorshell technology.
Our Gatorshell encapsulated solid paddle boards are smooth, solid, and tough. Like, really tough. Designed to protect against impact and abrasion without compromising design and finish, Gatorshell boards live longer and look better longer than those designed by other manufacturers.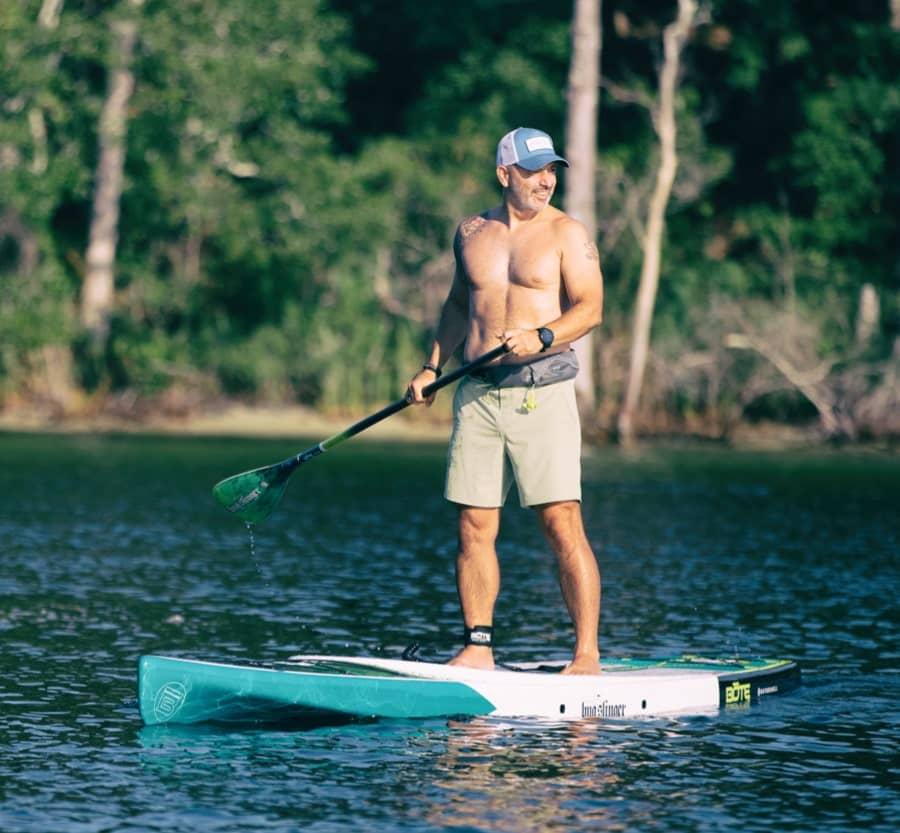 LIKE NEW, BUT BETTER.
Remember being a kid and your parents would say "this is why we can't have nice things"?
This comment usually followed the purchase of a new water toy, beating it up day after day, and never taking the time to care for it before realizing it's been rendered useless. If you find yourself in a position where you're buying a new, cheap paddle board every season because your current board is discolored, scuffed, and taking on water, make sure your next purchase is a Gatorshell paddle board.
And the next step? Take care of it.
Don't get us wrong, you can buy as many stand up paddle boards as you want, but you might want to get smart by investing in quality and keeping your Gatorshell paddle board in ideal working condition. Because while the initial purchase may feel like a victory, the real victory is riding your new paddle board until it turns into a legacy board years down the road.
HOW TO CLEAN, CARE FOR, AND STORE A STAND UP PADDLE BOARD
RINSING WITH FRESH WATER
Always rinse your paddle board with fresh, clean water after a day on the water. Wash the board with fresh water and wipe it dry or allow it to air dry for a couple of hours before storing it. As you clean the board, take note if you see dirt beginning to build or bubbles forming on the deck pad, or smudges along the Gatorshell epoxy hull.
CLEANING A STAND UP PADDLE BOARD HULL
To remove smudges and dirt, wipe with a damp cloth. If a cleaner is needed, use an environmentally safe cleaner with no harsh chemicals, like Simple Green, and a damp cloth or very soft bristle brush to avoid scratches. For darker scratches and smudges a Mr. Clean Magic Eraser will literally do magic and have your board looking good as new. Once all the spots are removed, make sure you remove all the cleaning solution by rinsing it with fresh water then allow the board to dry before storing.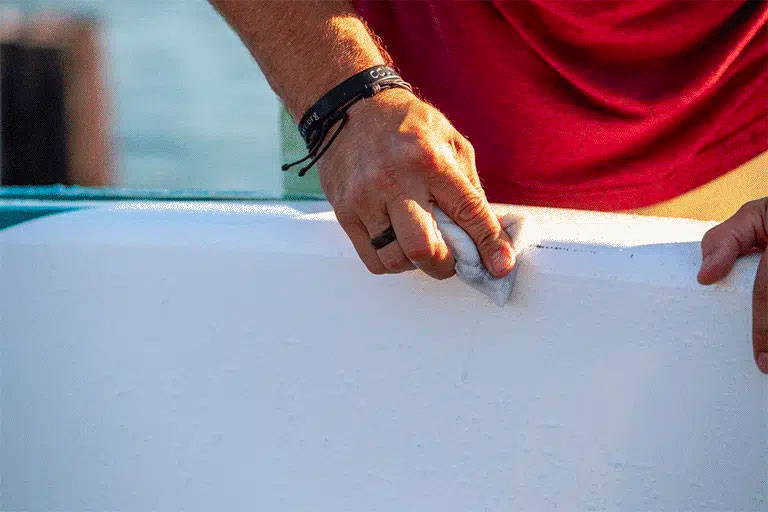 ---
PRO TIP: FOR DARKER SCRATCHES AND SMUDGES A MR. CLEAN MAGIC ERASER WILL LITERALLY DO MAGIC AND HAVE YOUR BOARD LOOKING GOOD AS NEW. ONCE ALL THE SPOTS ARE REMOVED, MAKE SURE YOU REMOVE ALL THE CLEANING SOLUTION BY RINSING IT WITH FRESH WATER THEN ALLOW THE BOARD TO DRY BEFORE STORING.
---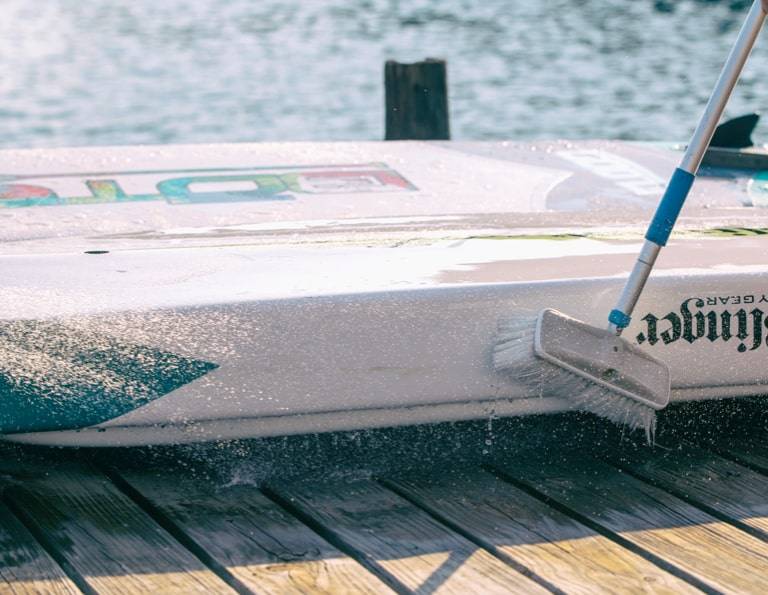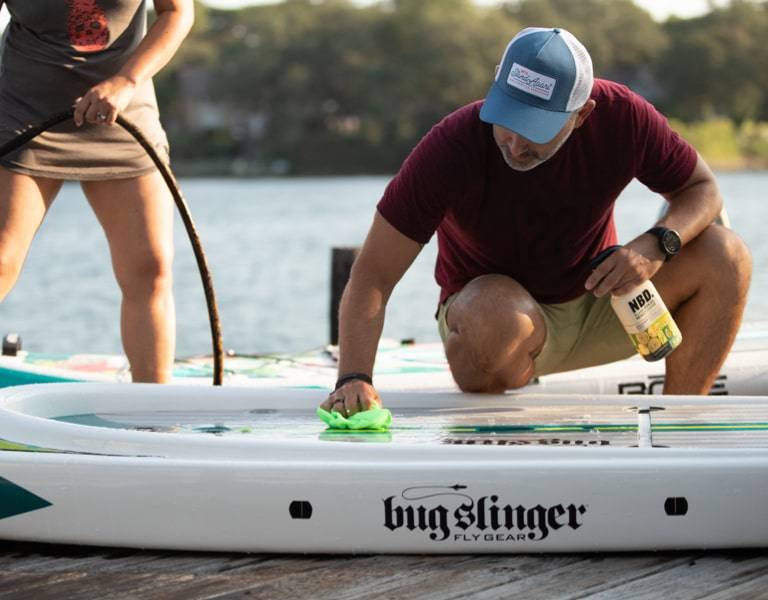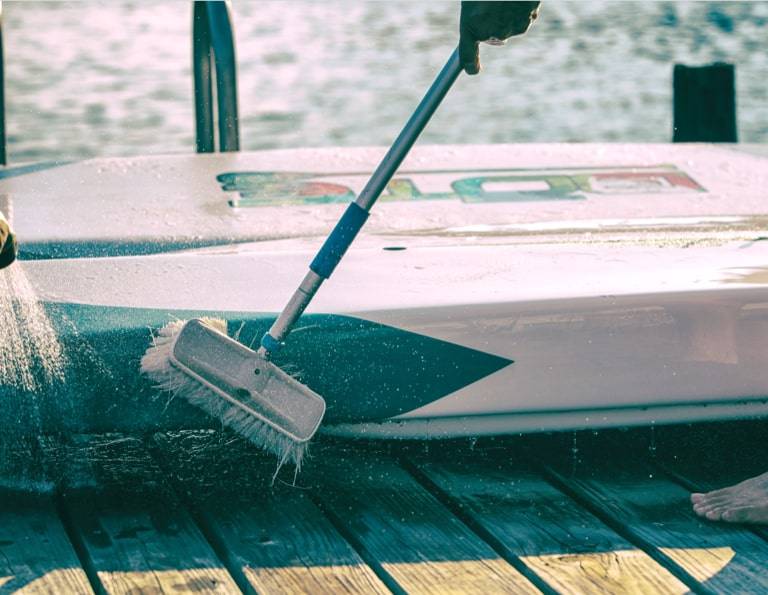 CLEANING THE DECK PAD
At its core, the Rover Aero is an incredibly stable paddle board. Made from a virtually indestructible military-grade PVC skin that's rock solid when fully inflated, the Rover Aero clocks in at 63 lbs andThe paddle board deck pad is textured and soft to help grip your feet when you're on the water, but the soft texture can allow for grit to build over time a discolor the surface. To clean a deck pad, use fresh water and a gentle bristle scrub brush to loosen the dirt, then wash it away. For soaked in dirt and stains, use an environmentally safe cleaner with no harsh chemicals like Simple Green. Just spray on, scrub (gently), and rinse. Make sure you remove all the cleaning solution, then allow the board to dry before storing.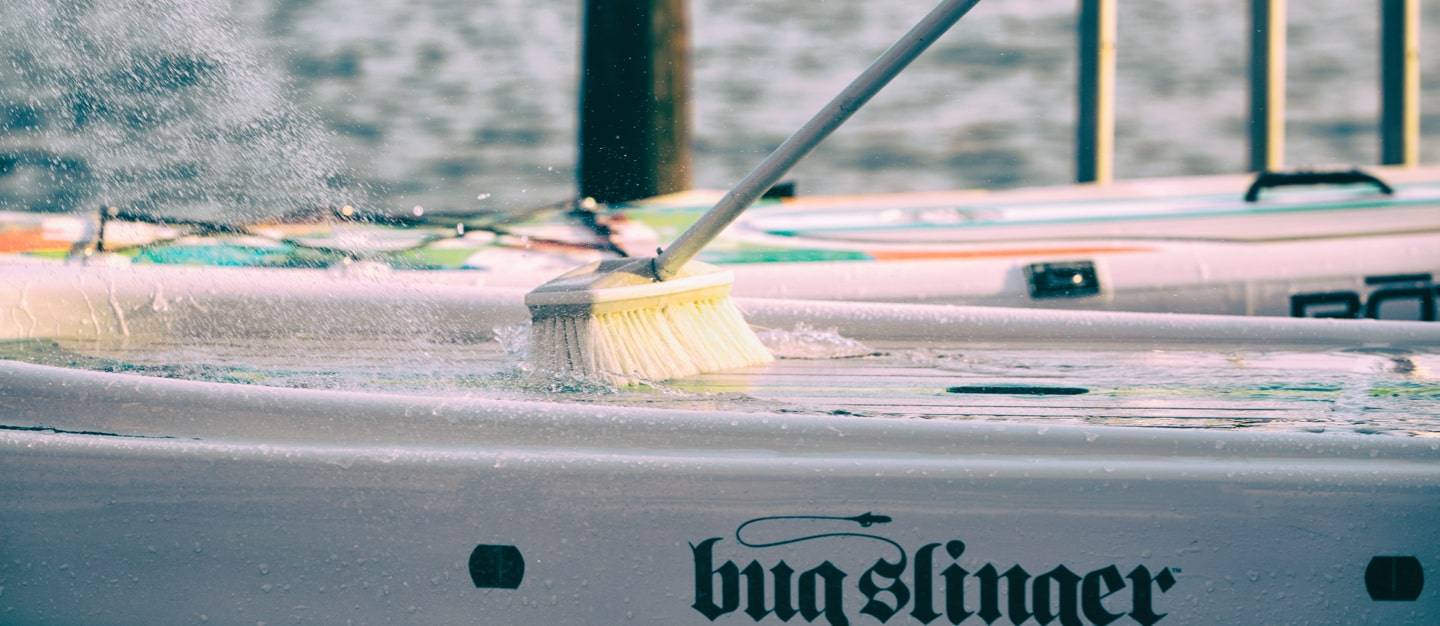 REMOVING BUBBLES FROM THE DECK PAD
Finding a small pocket of air, or bubble, underneath the deck pad of your board can happen over time. These are caused from extremely small pockets of air that expand with the heat of the sun. To remove air bubbles from underneath the deck pad, take a small needle, like a sewing needle or safety pin, and gently press it into the deck pad at the center of the air bubble to allow the air to escape. Then, push down on the area where the bubble was with your fingers to allow the deck pad to re-adhere to the deck.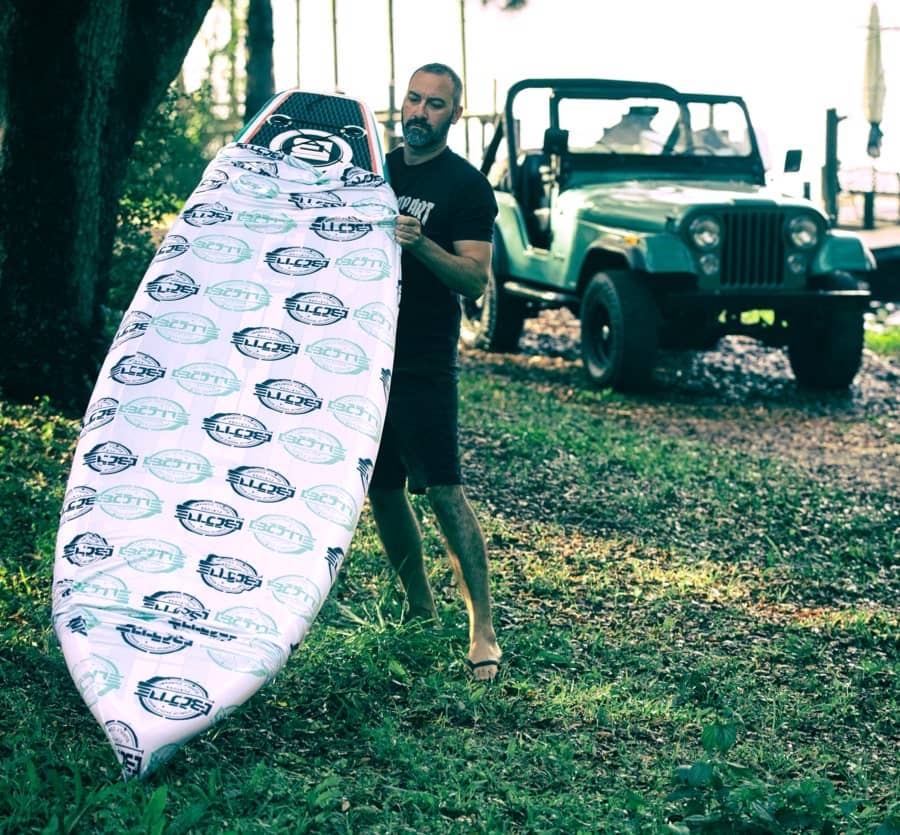 PROTECTING A STAND UP PADDLE BOARD
Our Gatorshell boards were designed to protect against all the elements, but the wrath of the sun and close proximity to sharp objects can do a number on even the toughest boards without creating a barrier to project the board.
Board Sox are the perfect accessory to slip onto a solid paddle board right when you get out of the water. Whether you plan to leave the board on the beach or riverbank for a couple hours or load it into a truck bed, Board Sox help to protect the SUP from UV rays and create a barrier to protect against abrasion.
We also developed Board Bags in a highly durable ripstop nylon fabric. Think of it like physical insurance for your board, by adding a layer of security around the board and doubling as a water-resistant carrying case with venting to help eliminate moisture. Board bags also come equipped with a bungee system to store all of your accessories in one place alongside the board.
---
"THE BOARD SOX FITS SNUNG AROUND THE BOARD AND PROTECTS IT FROM DIRT AND OTHER ELEMENTS WHILE IN STORAGE OR TRAVELING!" – CAROLINE H.
---
STORING A STAND UP PADDLE BOARD
We love sun and saltwater, but they can ruin anything when exposed for long periods of time. When storing your Gatorshell stand up paddle board, always avoid direct sunlight, choosing an indoor storage location when possible.
Also, keeping the board off the floor can provide an incredible amount of protection for your board. Consider building a wall rack or purchasing a prefabricated rack to store your board off the floor and out of the way in a dedicated space.
IT'S NOT ROCKET SCIENCE
Our Gatorshell solid paddle boards take care of you while you're out there ripping lips and racing micro skiffs in the harbor. And while we don't want to tell you how to live your life, we know a thing or two about prolonging the life of a paddle board. Many of us at the BOTE HQ are still rocking hand-made legacy boards from a decade ago.
SO YOU WANT TO PROLONG THE LIFE OF YOUR SOLID PADDLE BOARD? EASY. JUST LIKE EVERYTHING ELSE YOU LOVE DEARLY--YOUR KIDS, YOUR CAR, YOUR GRILL--THEY NEED YOUR LOVE, RESPECT, AND ATTENTION TO SURVIVE IN THIS WORLD. YOU'VE GOTTA RESPECT THE F*&%ING PADDLE BOARD BY CLEANING IT, CARING FOR IT, AND STORING IT PROPERLY.