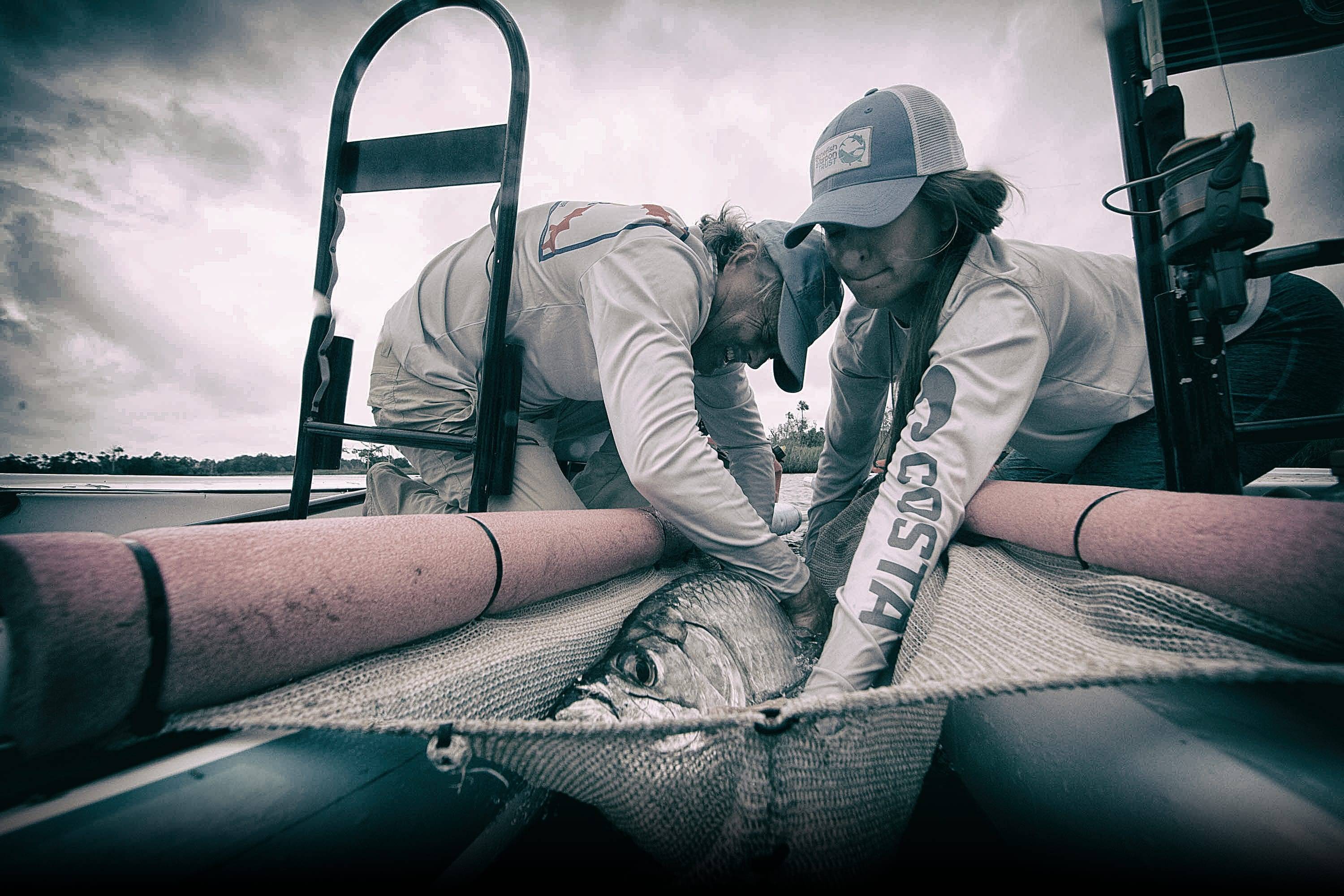 BOTE Presents //
signaling silver
Photography: Sean Murphy
Videography: vantage point media
STORY BY: CAPT. STEVEN DOUGHERTY
Few fish can match a tarpon's acrobatics, strength and stamina. With skills that have evolved over millions of years while surviving a range of drastic climate changes, the mighty silver king can stem the strongest tides, elude fearless predators and overtake hapless prey with ease. However, widespread changes in their populations and movements signal significant issues throughout the coastal landscape of Florida and beyond.
Although a catch-and-release fishery in many regions of the world, tarpon populations face many challenges and represent a significant adversary to marine biologists and anglers alike. Though careful preservation continues, the future of this ultimate sport fish is now uncertain in some of the most prominent and fabled fishing locations as a result of habitat degradation and declining water quality. However, there is an area of Florida in the northeast corner of the Gulf of Mexico that has remained relatively unchanged over the years thanks to the tireless efforts of willing landowners and private stakeholders who know conservation and preservation as a way of life.
With a focus on protecting essential and historical tarpon fisheries before it is too late, Bonefish & Tarpon Trust (btt. org), in collaboration with BOTE (boteboards.com) and Florida Outdoor Experience (floridaoutdoorexperience.com) set out to the Nature Coast for an expedition tagging tarpon not only for our enjoyment, but for those generations to come. Our crew for this foray comprised a group with an array of backgrounds including Dr. Aaron Adams of Bonefish & Tarpon Trust, Chris Wittman of Captains for Clean Water, photographer extraordinaire Sean Murphy, creative genius Rob McAbee of BOTE, accomplished angler Heather Harkavy, Gray Drummond, Owner of Florida Outdoor Experience, and the radiant Captain Lacey Kelly who serves as Operations Manager at the FOE headquarters in Chiefland.
Coinciding with the region's epic migration of spawning tarpon where fish eclipsing 150 pounds attract anglers from far and wide, we set out with the ultimate arsenal of shallow drafting inshore platforms to navigate the tongue-twisting waterways that make this region an inshore angler's paradise. But we were not after the world-record class tarpon that were feeding on the famed Chassahowitzka flats where Captain Steve Kilpatrick guided angler James Holland to the first 200-pound-plus tarpon ever caught on fly. Rather, we were focused on catching, implanting acoustic tags, and releasing 20- to 50-pound tarpon, which are the future of the fishery, to help determine potential spawning site changes and how freshwater flow into area waters might influence coastal migrations.
As an avid angler and the Director of Science and Conservation for Bonefish & Tarpon Trust, Dr. Aaron Adams has a particular interest in fish habitat and ecology and is a wealth of knowledge having conducted research across the U.S. and Caribbean for more than 25 years. Leading the tagging study along the blackwater rivers of the Nature Coast dripping with Old Florida mystique, Aaron's research is largely focused on tarpon migration and habitat use.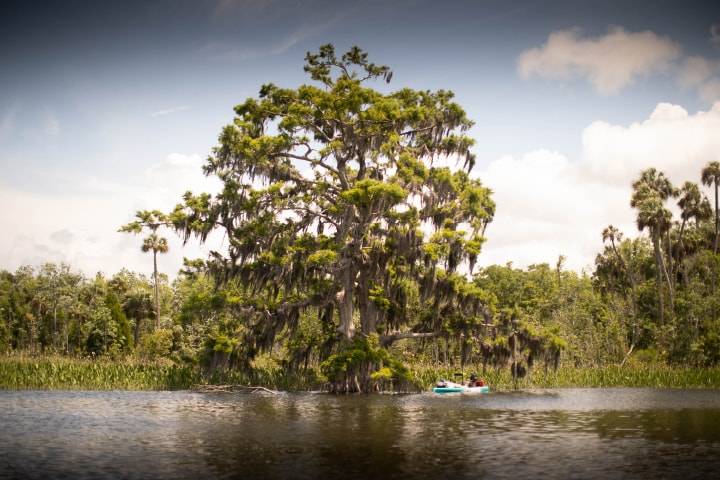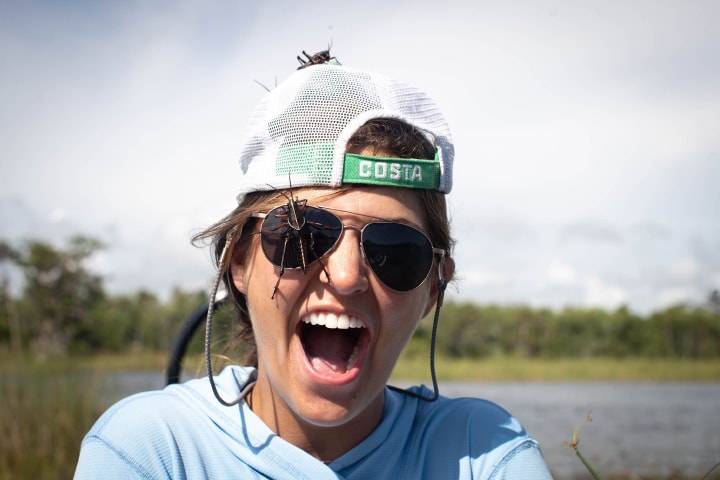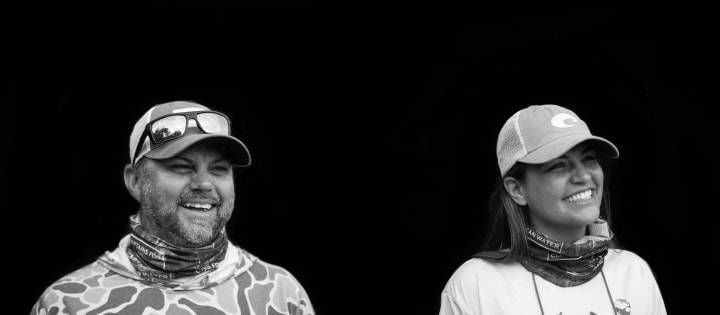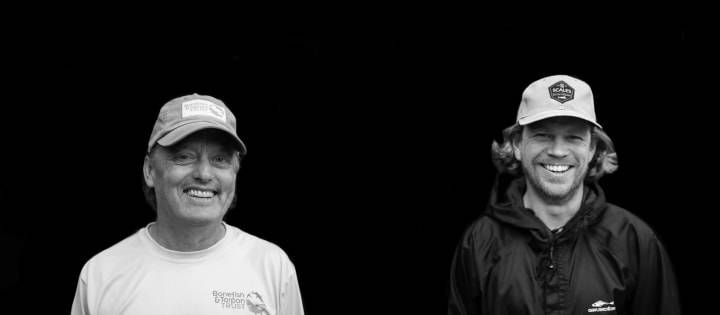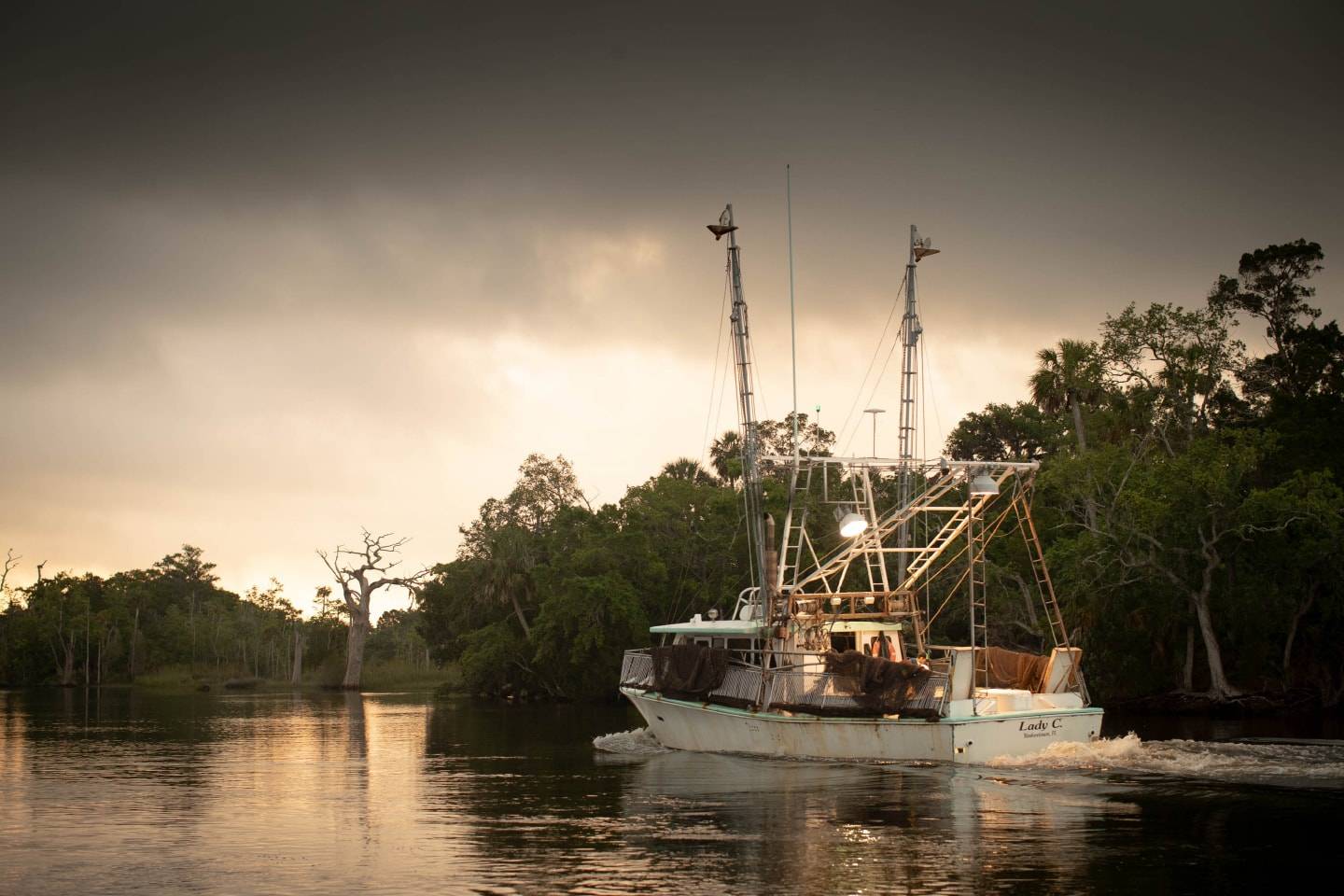 One of the big questions about tarpon is their movement pattern. It's been known for a long time that they can travel great distances, but we didn't know how far. So about 18 years ago, BTT started to fund research to satellite tag tarpon and track their movement. That gave us some good information, but we had to tag fish that were 100 pounds or larger, and the tag only lasted for about three months. The data revealed that tarpon from the Florida Keys would go as far as the Chesapeake Bay or Mississippi River. But that was it. Three years ago we started a project with acoustic tags, which we can surgically implant in fish as small as 20 pounds, or as large as we can catch them. And these tags last for five years.
We tagged a tarpon two years ago in Charlotte Harbor, and that fish went around the Florida Keys and up to Cape Canaveral before returning to the Keys. It then spent the next winter in the Everglades, but instead of following the same pattern the next year it just went to Key West and hung out. Did this tarpon not return to Charlotte Harbor because of excessive freshwater outflows from Lake Okeechobee into the Caloosahatchee River? That is just one of the questions we hope this tracking project addresses. The big picture is trying to understand how fish move, when they move and then why they move.
We're currently sitting in a region of Florida that has a lot of rivers running to the Gulf of Mexico, and a lot of those rivers are being modified for agriculture or coastal development. What we know from other places, like the Florida Everglades, is that this affects tarpon movements and behavior. So we want to proactively figure out what's going on and work with the local guides and anglers to manage our resources so tarpon don't get the short end of the stick.
We know tarpon have been around for 50 million years and they are pretty adaptive and can figure a lot of things out. But what is a real threat to tarpon that they probably can't adapt to is the loss of habitat. And that's somewhat with adults, but mostly juveniles. Making those connections between the juveniles, sub-adults and adults is a big reason we are doing this. Just in this week on the Nature Coast we've come across big adults as well as pretty small juveniles maybe only a year old, so this area right now has all of the habitats necessary to support the entire life cycle of tarpon. And the job of BTT and the anglers that support it is to make sure it remains that way. If anglers aren't already involved in advocating for habitat protection, then they need to be. This is the future of the fishery.
While this quiet stretch of the Sunshine State has managed to avoid the condo craze, it hasn't been without many sacrifices and a love for the land. The Nature Coast is a region where the locals have seen the bigger picture amid a state political system that's undeniably the most corrupt in the country. Lake Okeechobee and environs south, east and west are the center of continued debate—all in the name of Big Sugar spewing water high in nitrogen and phosphorous through the state's interior canals, suffocating the coasts with silt and muck low in oxygen. The damage that has been done to the saline estuaries is irreversible and nothing short of criminal.
However, the Nature Coast has remained rather unchanged and unless you've visited the region before, there are no words that can describe the landscape until you drive through what is often labeled Old Florida. This is the Sunshine State as I now know it, with a distinct transition from concrete jungles and corporate big box stores to ancient pine forests, vast wetlands, groundwater springs, canopied creeks and blackwater rivers amid one of the largest stretches of undeveloped coastline in the United States. But it hasn't remained intact on its own and only remains this way because of the many conservation lands and initiatives managed by private owners and public agencies.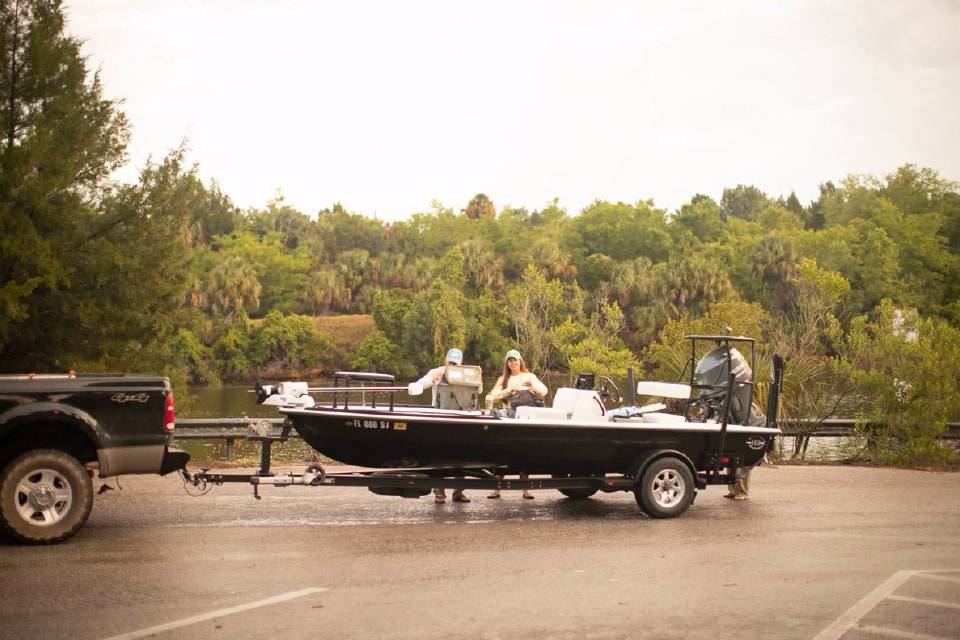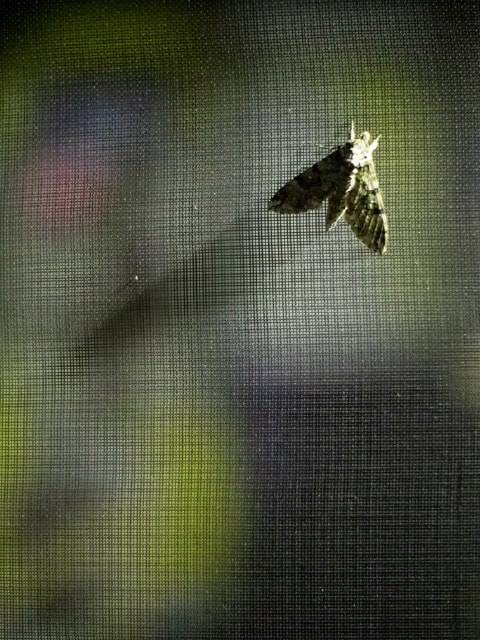 Gray Drummond is a sixth generation Floridian, whose family has been in Florida since before the Civil War, and understands the importance of giving back as well as anyone. A proponent of the state's numerous conservation groups and advocate of educating the public on the importance of protecting this unique ecosystem that's largely defined by water, his passion runs deep as the natural aquifer below.
We're living in the good old days, and we need to keep it like this. But the only way to do that is through education. I was raised with the appreciation that the more you give back to the land and to the water, the more it is going to give back to you. Being able to see that from an early age firsthand and experience the benefits from that shaped me as a person. Now I utilize that awareness in my guide service to bring people to a part of Florida with beautiful woods, natural oak trees where the limbs touch the ground, rivers and springs. While showing off the beauty of the land it really opened my eyes to how I was privileged to grow up with this in my back yard. The land my ancestors settled on in the 1840s is in close proximity to the Suwannee River and the natural spring is less than a mile away. So the aquifer underneath it is very protected and sacred to our water management district. Years ago I was trying to figure out how to safeguard this property and its natural resources. The Suwanee River Water Management District came to me with the idea that there were state funds allocated to put conservation easements on the property. I quickly signed up, and that ensured my family's property would never be developed. Ever. I can sell it or do whatever, but those rights will stick with it. And I lobbied to get many of my surrounding neighbors and private land owners to do the same thing to build connecting conservation lands.
My goal with the Florida Outdoor Experience is to show people the benefits of conservation. As I get older I really enjoy sharing the property and I truly feel that the only way people are going to realize the true importance of conservation is if they have access to properties and waters where they see the benefits with their own eyes. Whether we're tarpon fishing or turkey hunting, if my clients don't achieve their goals they are still going to leave with a smile because they are going to see a part of Florida that they didn't think existed. I love this state, it's everything to me, and that's why I'm so adamant about giving back.
Without the work of dedicated landowners and private stakeholders like Gray, this lush landscape might not be so magnificent. As a whole, Florida's economy is dependent upon a healthy environment and the ecosystems therein. It would only make sense for every citizen and politician alike to do everything in their power to stem degradation of pristine habitats and develop long-term regional strategies to protect the landscapes unique to our great state. Sadly, that is a dream and not the reality as much of Florida remains in a stalemate as corporations benefit from bloated federal farm subsidies and their lofty contributions to helpful politicians' campaign efforts. Amid the not so distant stench of Lake Okeechobee's polluted discharges, it seems the Nature Coast has gotten it right while largely flying under the public radar.
During our mid-May tagging trip, we enjoyed the most beautiful landscapes in all of Florida while implanting two juvenile tarpon with acoustic tags aboard the stealthy and stable BOTE Rover. Allowing operators to switch from tiller to paddle power in seconds with a capacity of 500 pounds, these nimble platforms were the perfect fit for stalking rolling tarpon along the stained waters of the northeast Gulf of Mexico where cypress knees, logs and drifting debris can make navigation treacherous.
Although it was a soggy week with a slow bite as a result of a remnant low bringing significant moisture and less than ideal low pressure to the region, everything fell into place and spirits were high thanks to a crew with infectious energy and the common goal of protecting and promoting Florida's most famed inshore sport fish and the clean waters they require to thrive.