The Missing Link: Carrying Your Stand Up Paddle Board
A stand up paddle board was designed to effortlessly glide through the water. Getting your paddle board to the water is a different story. For years, stand up paddle board users have had to make multiple trips with their boards and gear. There had to be a better way.
After a few brainstorming sessions, BOTE hit upon the missing link. Sometimes the simplest solutions are best. That's certainly the case with the BOTE Travelink System™, which is a customized carrying strap for a stand up paddle board.
"This system is for everyday use to ensure that you are not worn out before you even start paddling."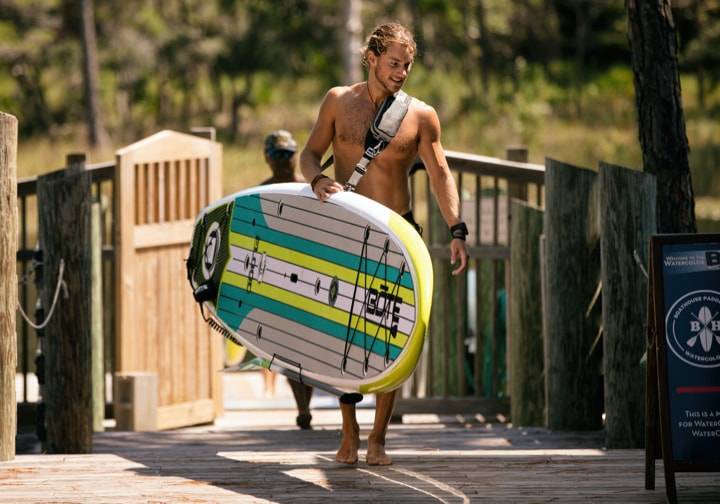 The BOTE Travelink System allows you to carry your board with ease.
This fully waterproof (yes, and even submersible) pouch is perfect for keeping all the little things dry. Our Highwater Hitchhiker is "small but mighty" and utilizes an innovative design to ensure that no water can seep into your bag so that you can enjoy your time out on the water without the stress of ruining your belongings being in the back of your mind.
In addition to its waterproofing abilities, this bag also comes with a mesh pocket that helps to keep your items organized. This feature is particularly useful if you have several small items that you need to carry with you, such as keys, phones, wallets, and other accessories. The mesh pocket allows you to quickly access whatever you need without having to rummage through the bag.
To attach the bag to your gear, there are two different options. You can attach the included velcro straps to the Travelink Carry Sling, a strap designed specifically for carrying your paddle board. Or alternatively, you can use the new MAGNEPOD™ feature, which allows you to attach the bag to just about anything else using a powerful magnet. This means you can easily attach it to your KULA, kayak, or any other gear with a MAGNEPOD.
Finally, the bag can be worn in multiple configurations thanks to the included carry strap. You can wear it over your shoulder like a traditional messenger bag or across your waist like a fanny pack. The Highwater Hitchhiker is a 'no bullshit' accessory that can seamlessly adapt to your specific needs and preferences.
*Travelink™ Carry Slings and Hitchhikers are sold separately.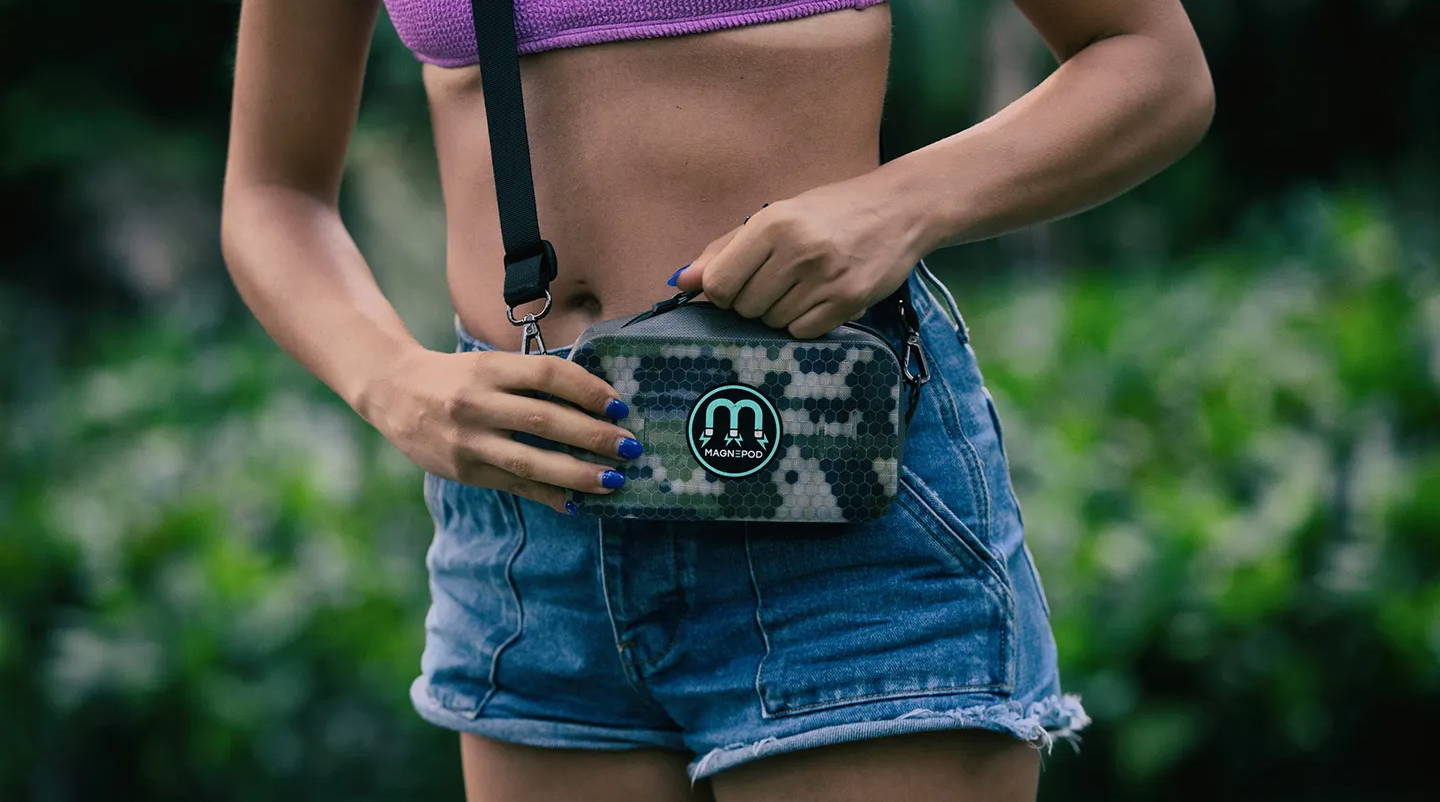 The newly upgraded Highwater Hitchhiker
SUPER-STRONG LATCH POINTS
These are seamlessly integrated into every stand up paddle board that BOTE makes, whether Gatorshell or Aero inflatable. They are even included on our leisure products, the Hangout Collection.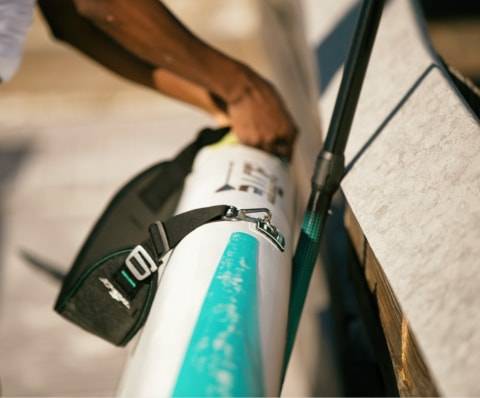 Adjustable & padded shoulder strap
The Travelink™ Sling clips onto your stand up paddle board with durable swivel clips. The Sling shoulder strap provides a more comfortable, ergonomic way to lift and carry the paddle board.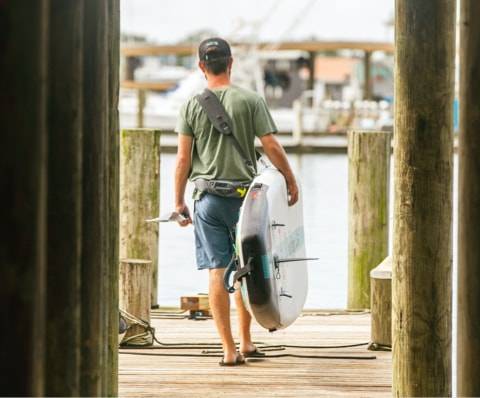 Eliminating the "dead arm syndrome'' for paddle board carriers, this simple, yet elegant innovation helps increase the enjoyment of each trip out on the water. This integrated SUP carry system was developed to increase comfort and ease in transporting and storing your stand up paddle board. Travelink™ also enables smaller paddlers to transport much larger paddle boards than ever before as it balances the weight and length across users more easily.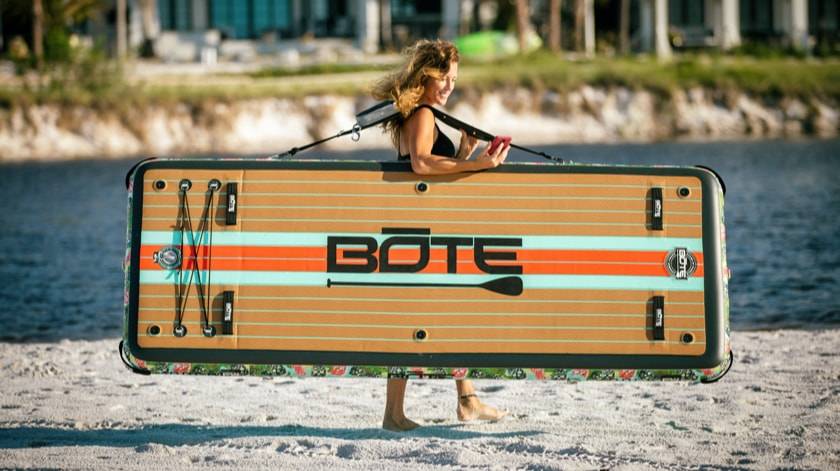 Two words: convenience and comfort. Using the Travelink makes tugging your gear effortless and stress-free.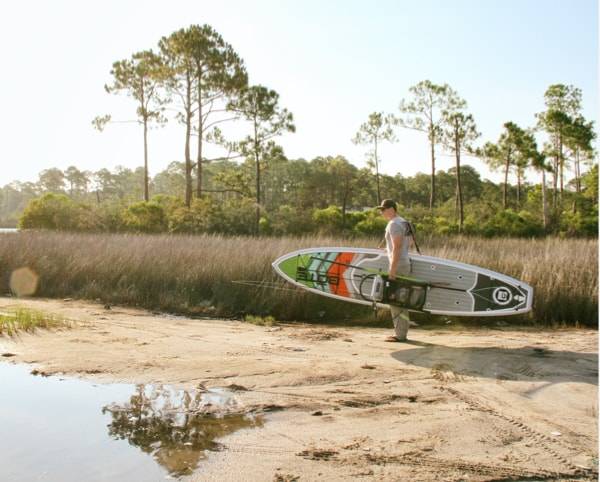 "A stand up paddle board has always been carried by the paddler using their fingers, hands and forearms via a center grab handle. This can become unpleasant in a matter of seconds. Transitioning the weight to the shoulders with an integrated system makes taking your board to the water much more appealing. This system was created so you could literally throw your board over your shoulder and walk to the water while carrying all your other stuff."
Corey Cooper, BOTE Founder and CEO
When you're done paddling, the Travelink System™ also helps to easily store your stand up paddle board by merely hanging the carry strap to a hook in your garage or storage shed. Some people even store on an exterior wall, but being careful to avoid any direct sun exposure. This is particularly helpful in storing solid paddle boards, which can suffer dents or damage when stored directly on the ground.
After a few hills and gusts of wind, you'll wonder how you ever carried your stand up paddle board without the Travelink™ system.
The Travelink System™ allows you to remove all weight from your hands and carry the board more safely and ergonomically to your next excursion. After a few hills and gusts of wind, you'll wonder how you ever carried your stand up paddle board without the Travelink™ system.