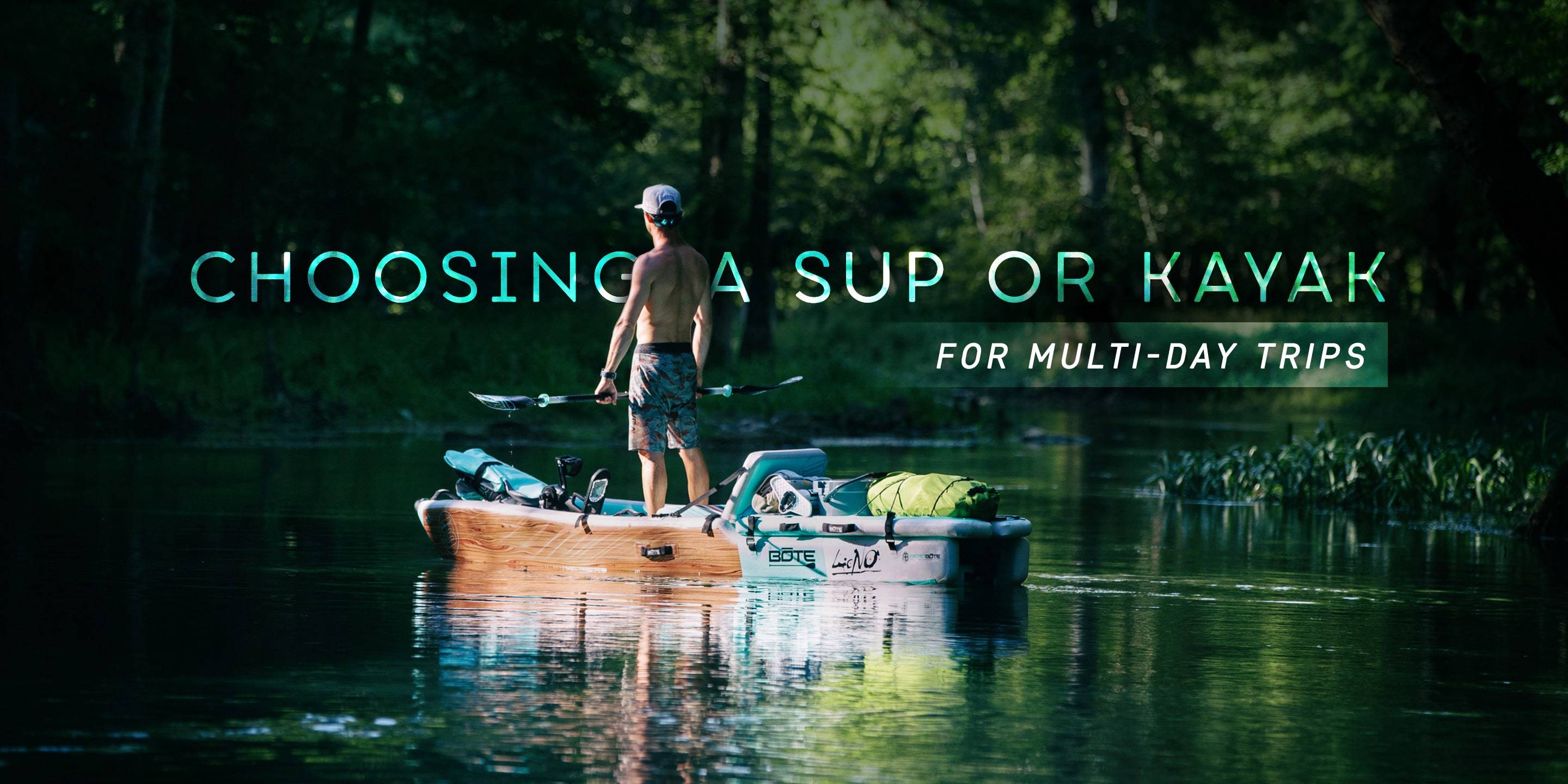 Choosing a SUP or Kayak for Multi-Day Paddling Trips & Expeditions
Hiking to remote campsites and overland camping are classic means of transportation for accessing off-the-beaten-path campsites with minimal water access, but you just can't beat a multi-day paddling trip. The most unique destinations often call for water travel and with the growing popularity of paddle boarding, it's no wonder that outdoor enthusiasts have leaned into incorporating SUPs into their camping trips. Whether it's an overnight outing, a weekend warrior escape, or a multi-week adventure, SUP and kayak camping is a pretty epic option to create an equally epic camping expedition.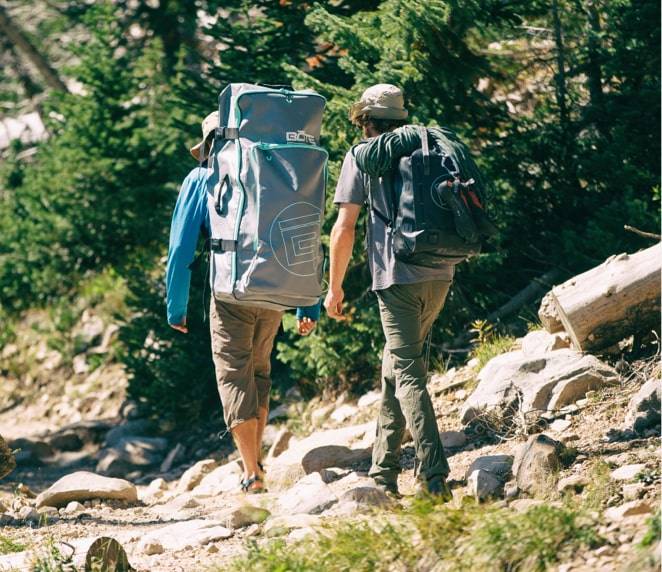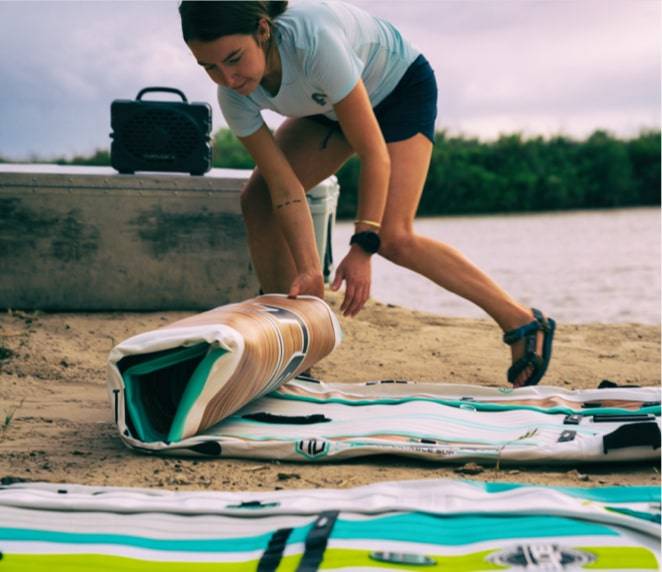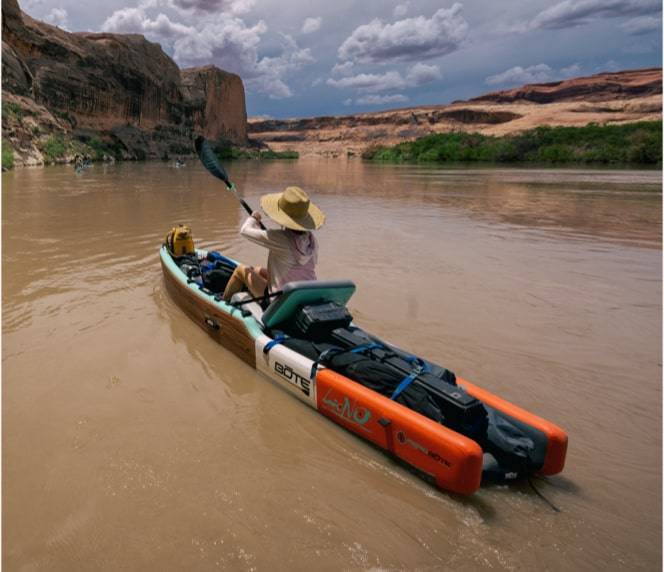 Many may wonder what makes SUP camping so enticing. Perhaps the most important reason is it allows campers to go farther and experience more each day by traveling along the waterway rather than by foot or vehicle. Whether the expedition is a standalone SUP adventure or a combination drive + hike + SUP extravaganza, leveraging the portability and durability of inflatable SUPs and kayaks is the ideal way to ensure you have the freedom to explore the great unknown by whatever means necessary.
So what type of SUP or kayak is best for your multi-day paddling trip? When it comes to camping, we've outlined what you need to consider when purchasing your SUP or kayak to help get you on your merry way to your next great outdoor adventure.
How long you're going and what you're bringing
Any lake, river, or ocean can be turned into a SUP expedition of a lifetime, you just need to make sure you have the right water vessel to support the length of your trip. The duration of your trip will play a direct role in how much gear and supplies you'll need, allowing you to estimate what type of weight capacity will be required of your SUP or kayak.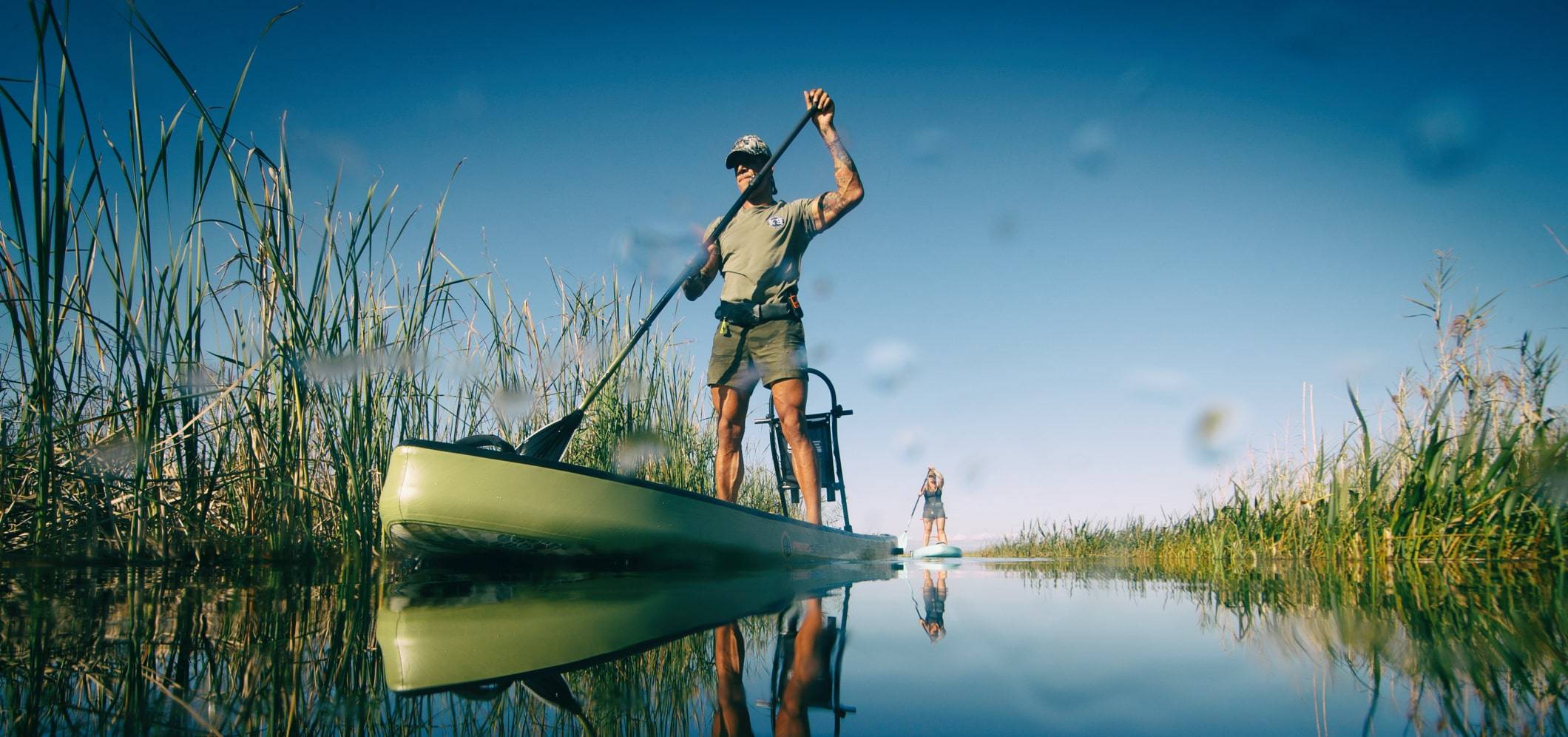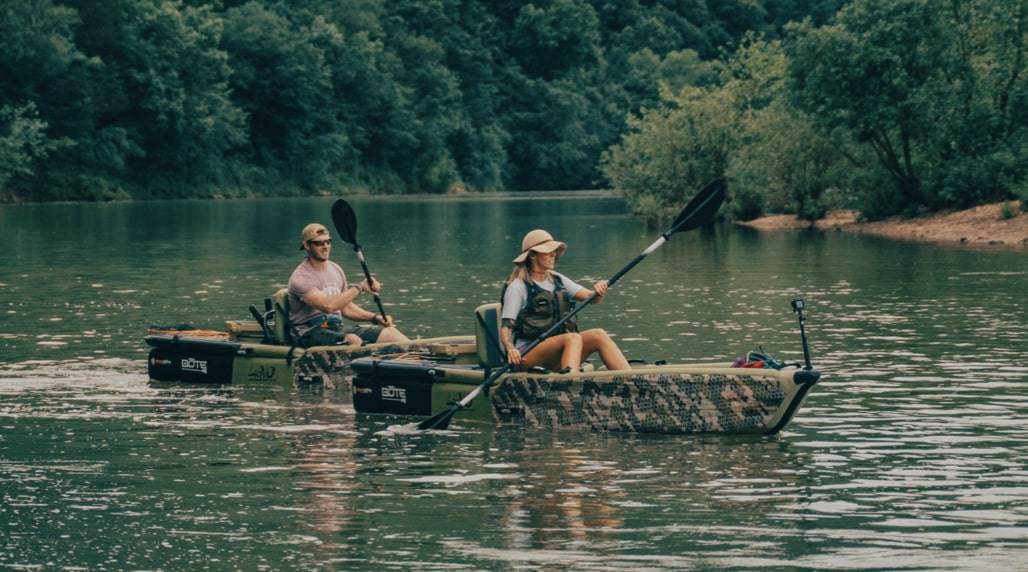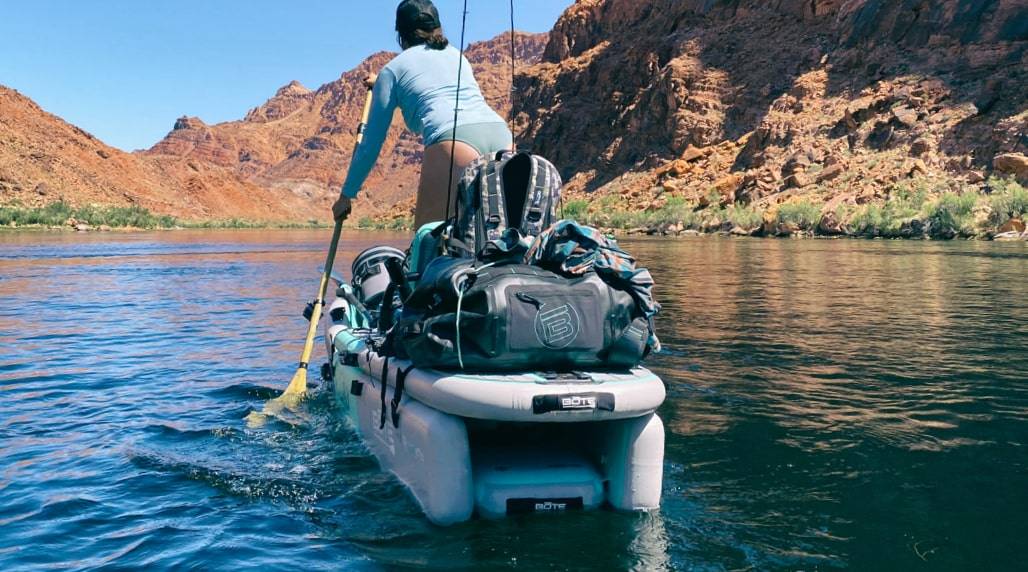 While all of our boards are built with flexible weight capacities for a range of riders, if you're planning a long expedition and need to be traveling with tents, KULA coolers packed with food and beverages, and other equipment, consider giving yourself some wiggle room on the weight with the Rackham Aero 12'4" Inflatable Paddle Board. With front and back bungee cords, a removable paddle seat, tie-down points, and a weight capacity of 400 lbs., this floating travel lodge can handle some pretty lengthy trips and keep you comfortable along the way.
If kayaking is more your style, look no further than the LONO Aero Inflatable Kayak which also offers a generous 400 lb weight capacity and almost identical compatibility features. Namely, with integrated KULA cooler and Rac System compatibility, you have ample spaces and places to tie down, snap it, and secure your gear until you reach your destination.
both inland and offshore conditions
Just because the campsite isn't right on the water, doesn't mean you shouldn't paddle to it. If you're going to an area where shoreline camping isn't viable and therefore you have to travel inland for a bit, consider a lighter paddle board. For shorter excursions with minimal gear required, our Breeze Aero Inflatable Paddle Board can be packed down into its dedicated travel bag at a weight of 28 lbs., making it super easy to sling over your shoulder and hike inland, if needed.
The type of water you're planning to paddle in will play a big role in what type of watercraft ends up being your vessel of choice as well. Smooth and slow-moving lakes and rivers make traveling via paddle board a breeze. The Flood Aero Inflatable Paddle Board is a super stable option thanks to its thick rails and entry rocker nose, so you can cruise to your campsite while staying high and dry. Going into rougher waters? No worries, the Rackham Aero is a diverse stand up paddle board that can be paddled standing, paddled sitting with an Aero Paddle Seat, and pedaled with the APEX Pedal Drive. Bottom line, you got options.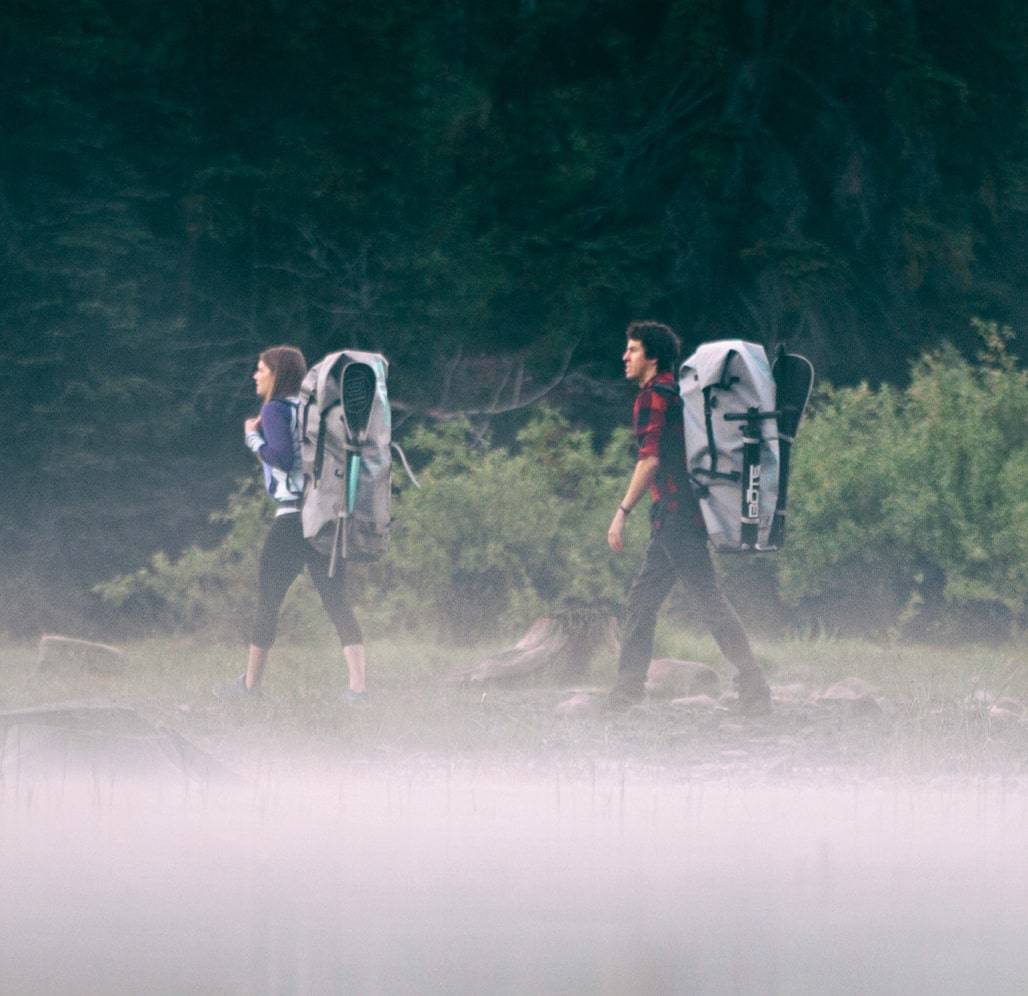 If your heart is set on a kayak, every BOTE kayak includes a sit-on-top design that's advantageous in those rougher waters due to the lower center of gravity that will help you keep you balanced. The high walls of a kayak also add additional protection to shield yourself from the elements, like choppy water and debris.
Whatever the conditions, when you buy Aero you can rest assured that the product has been stress tested in similar environments (hello, Green River) and designed with maximum durability in mind. Learn more about Aero Technology.
how hard do you want to work
When it comes to straight-line speed the kayak is faster than a SUP in most cases, but keep in mind that kayaking effectively requires a little more upper body stamina than SUPing. Thanks to our expandable platform methodology, you don't have to choose. With kayaks that convert to SUPs and SUPs that offer removable paddle seats and KULA compatibility, you can alternate between paddling while standing up or sitting down to maintain your energy.
Our favorite hybrid SUP/kayak options for multi-day trips:
The

Rackham Aero 12'4" Inflatable Paddle Board

is, first and foremost, a SUP, but comes complete with a seat so that you can paddle it like a kayak, and a port hole for the

APEX Pedal Drive

allowing you to pedal when your arms get tired.

The

LONO Aero 12'6" Inflatable Kayak

is an expedition-worthy kayak through and through, with options for both paddling and pedal drive. But if you get tired of sitting, it's designed to be paddled standing and with a SUP paddle as well.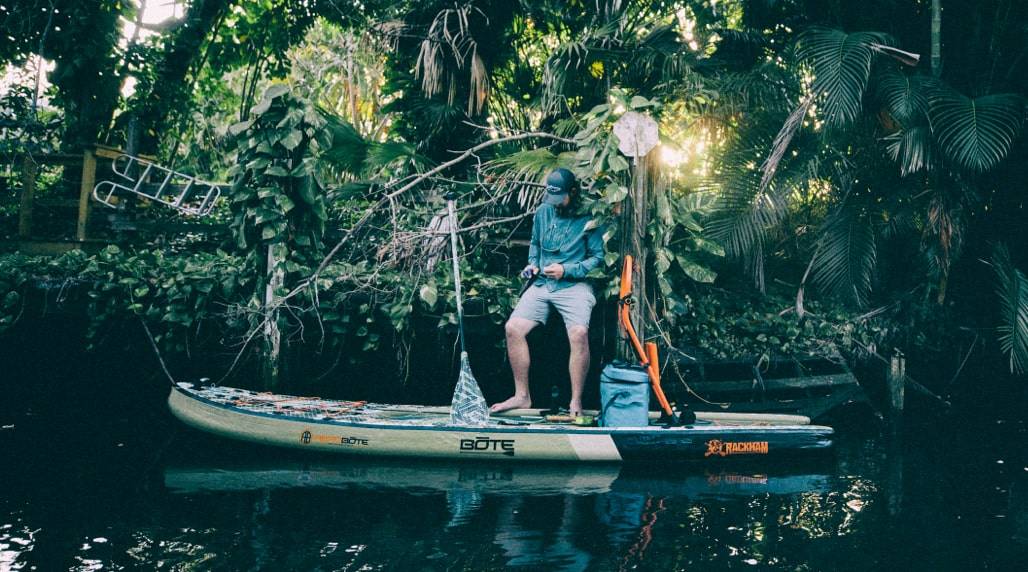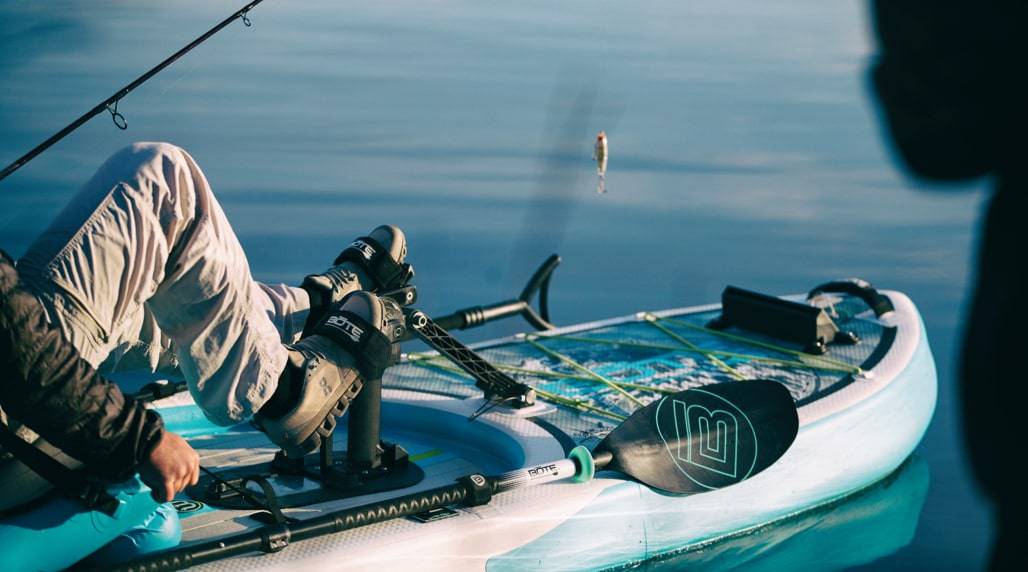 SUP Expeditions - The Choice is Yours
With all this new knowledge and wisdom, you're ready to take camping to the next level by turning your next adventure into a SUP or kayak expedition. Whether a stand up paddle board or an inflatable kayak is your vessel of choice, know that with BOTE Aero SUPs and kayaks, you'll have plenty of space, weight capacity, and integrated compatibility options, paired with unparalleled durability. Now go on, get! Adventure awaits.