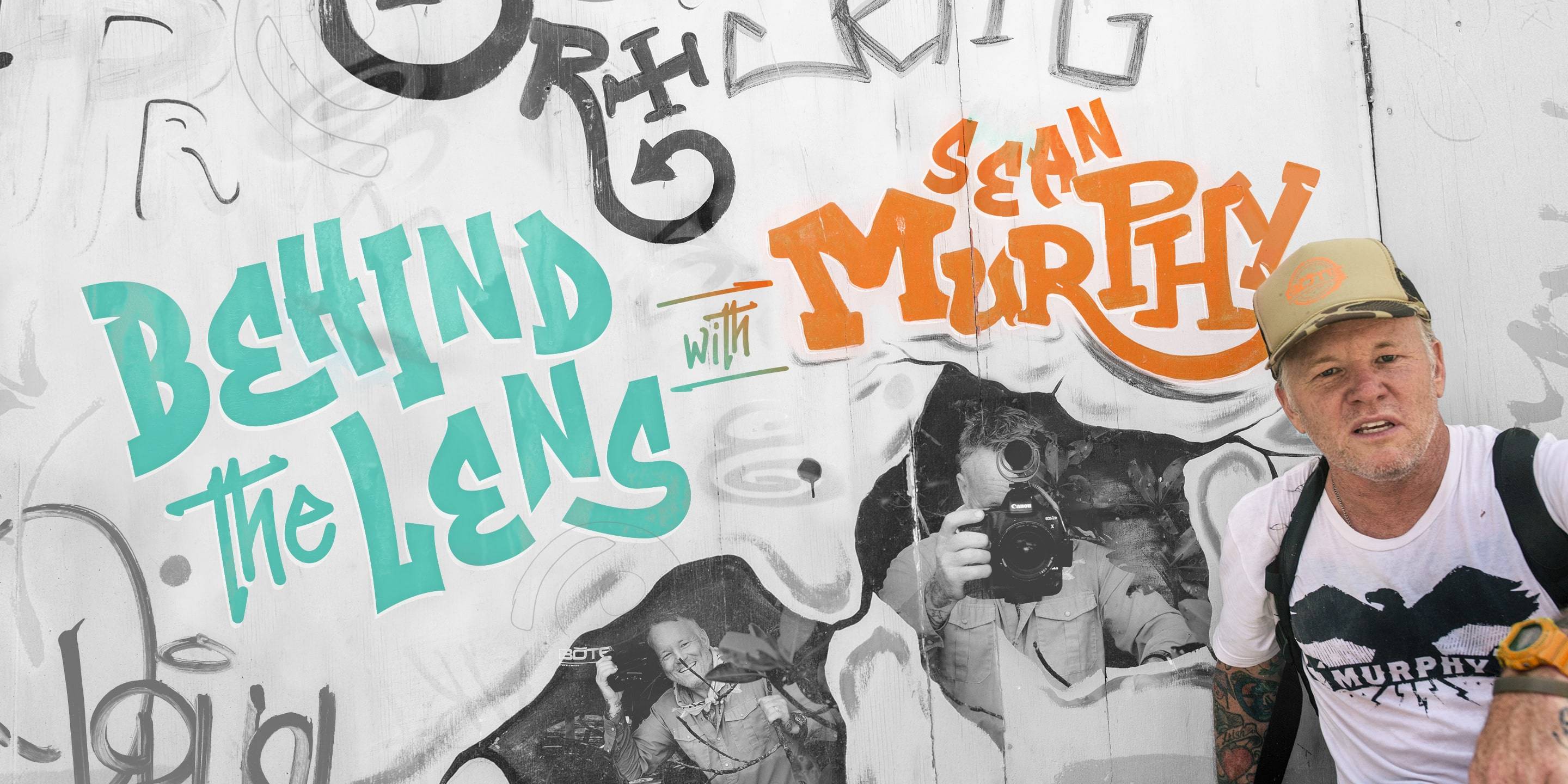 Behind the Lens with Sean Murphy
Sean Murphy, BOTE's Director of Photography, has been at it for over 30 years, spending most of his career in Los Angeles shooting everything from global brands like Adidas and Red Bull to the musical masterminds of Weezer and Tenacious D. He's a Florida boy though, and you know what they say: You can take the boy out of Florida, but you can't take Florida out of the boy. And it wasn't until recently that Sean decided to bring his gritty Americana style back to his roots. Back to Fort Walton Beach, Florida, where he established his own photography and videography 'compound' and currently works as the Director of Photography for BOTE—a brand he's been involved with since its infancy.
Sean's knack for capturing stunning, candid shots among chaos aligned perfectly with what BOTE was trying to accomplish: to bring some edge and grit to the crunchy granola outdoor industry. After over a decade together, Sean and BOTE are still pushing the envelope with the brand and the products that fall under the umbrella. So how did this 'lightning in a bottle' relationship even start? We sat down with the man himself, Sean Murphy, to get the seedy details.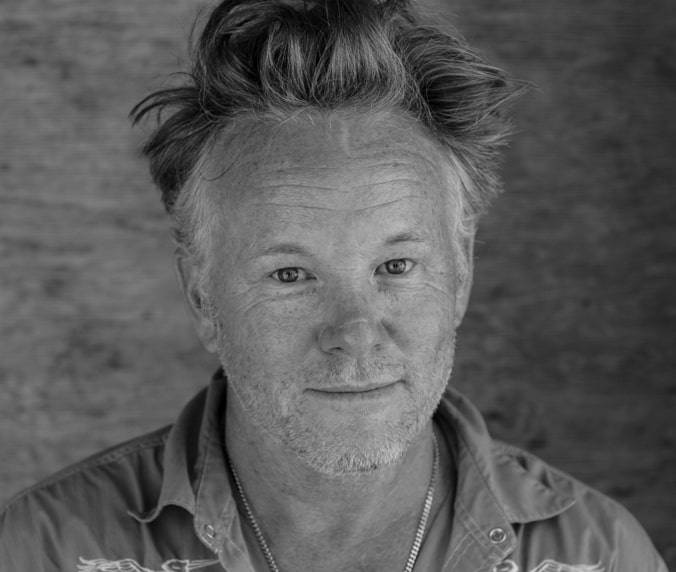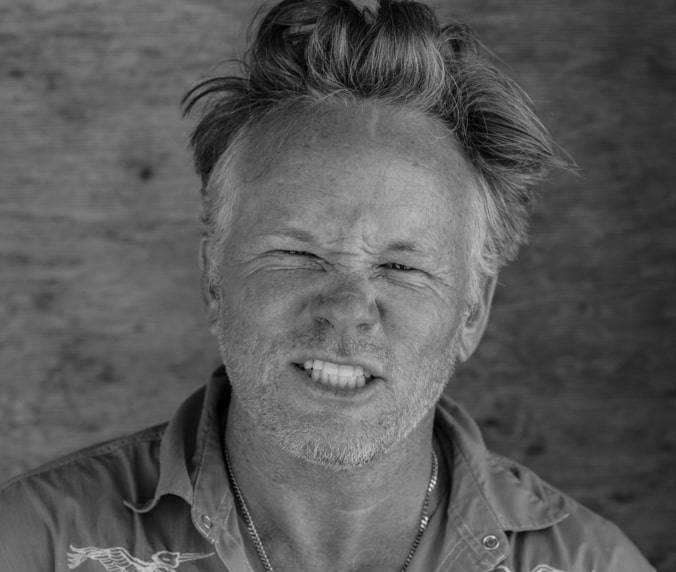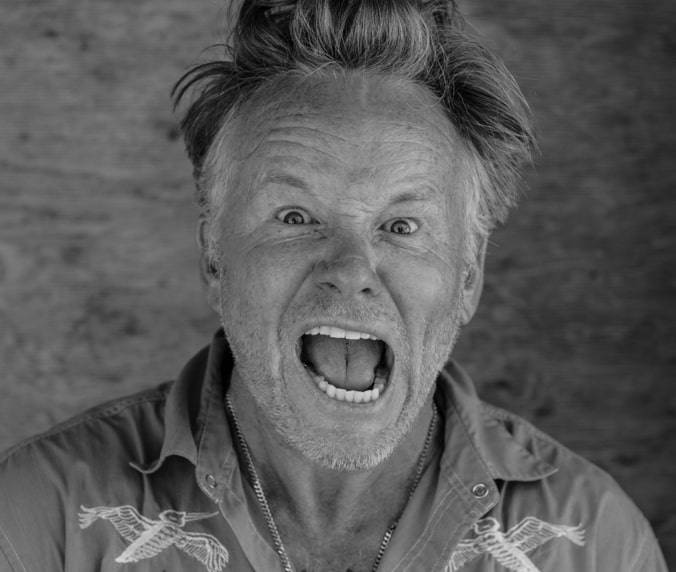 SO SEAN, TAKE US BACK TO 2008, WHERE IT ALL STARTED WITH BOTE.
One of my best friends I grew up with, Allen, had an engraving shop in Destin. I was hanging out with him one day in his shop when Corey and Magda (BOTE Co-Founders) walked in the door. Allen introduced me to them and explained that Corey was shaping boards in a storage unit in Destin. Allen would make them stickers for their boards because, at that time, they were making them one at a time, more or less. When I learned what they did, I was immediately interested in working with them.
So I went back to LA for a couple of years, and flash forward to 2011, I met Corey again and asked if I could come to take photos of him in his shaping room. Corey looked at me like, 'Why would you want to do that?' but he agreed, so I showed up at his shop and shot him shaping boards and putting paddles together. The very first photos I did of him were through the glass of what is now the Destin flagship BOTE store. At the time I shot that portrait, it wasn't a store, just a storage room for their boards.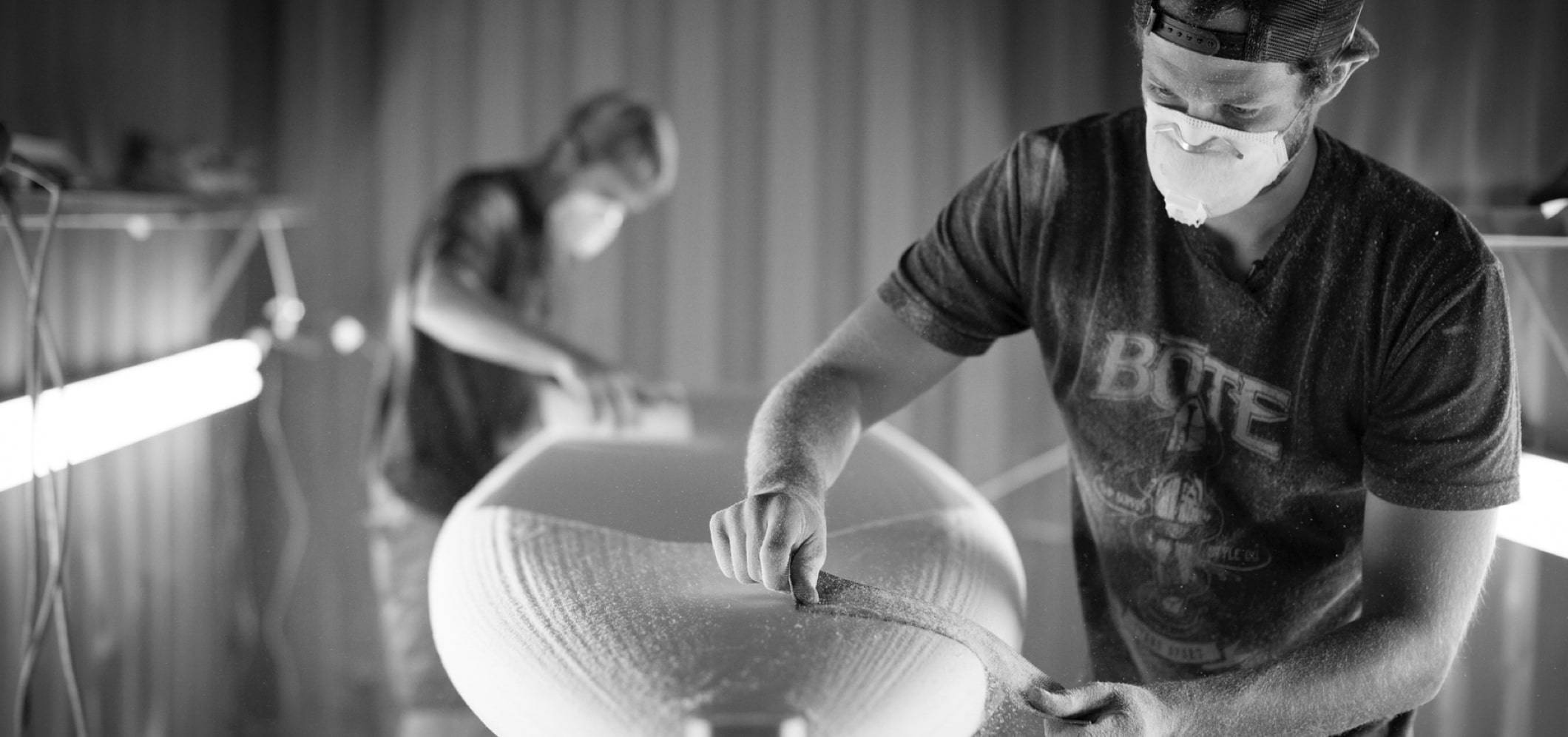 AFTER YOU SHOT THOSE PHOTOS, YOU WENT BACK TO LA FOR ABOUT 8 MONTHS, THEN BACK TO DESTIN FOR A BIT. HOW DO YOU KEEP RUNNING INTO COREY AND MAGDA?
When I came back in 2012, my friend Allen had sold his engraving shop business and was working for BOTE at the Destin flagship store. So now I was hanging out with Allen in the BOTE shop, and he's like, "Hey man, they (Corey and Magda) just bought this black mail truck, and it doesn't run or anything, but we should go do cool pictures of it." And I was like, "Okay, let's do it."
We didn't really tell Corey, we just drug that mail truck down through Destin with a rope on the back of Allen's jeep, and parked it on the side of a department store. Allen called Magda and a team rider at the time, Ethan, and asked them to come down and do a picture with us. I wanted to do a shot that was like an 80's surf brand shoot that kind of didn't make sense, but it was just f@#&! cool. We had Magda on top of the truck dumping a gas can over the truck like it was gasoline. I smashed a window in and put Ethan in the car, it was badass.
I shot that and then went back to LA. And then, they hired a graphic designer named Rob McAbee. Well, Rob somehow saw that photo and said we need that guy to shoot our catalog. So the vehicle for me working with BOTE was my friend Allen introducing me, of course, and Rob McAbee seeing something in that photo. He had a vision for the brand, and I was connected to that vision, to him, in that moment. So Corey called me and was like, "Hey man, do you want to shoot our catalog? How much money do you want?" And I said, "I don't want any money, just give me a board." I didn't want to make it about money. I just wanted to do a cool shoot with them.
YOU SAID ROB HAD A VISION OF THE BRAND, AND YOU WERE CONNECTED TO THE VISION. WHAT WAS IT ABOUT YOUR STYLE THAT CLICKED FOR BOTE?
The outdoor lifestyle industry is pretty flat. The photography and videography doesn't really have an edge to it. It's nice and it's pretty. I think BOTE thought: here's a guy that's from Florida, and he's a fisherman and a surfer, but he lives in LA shooting music and celebrities and advertising for 20 years. That marriage of gritty LA and laid-back Florida could really be amazing.
Their catchphrase is Stand Apart, so, in the beginning, that meant really pushing the envelope with edgy shit, like if we were shooting a band. Very urban, cool, and retro. It was all these elements that were exciting. At the time, I didn't think much of it because I just shoot what I always shoot. It just happened to work. They eventually got a building in Fort Walton Beach and started the darkroom, and as we get bigger and bigger, it becomes hard to stay true to your roots and that's where we are now.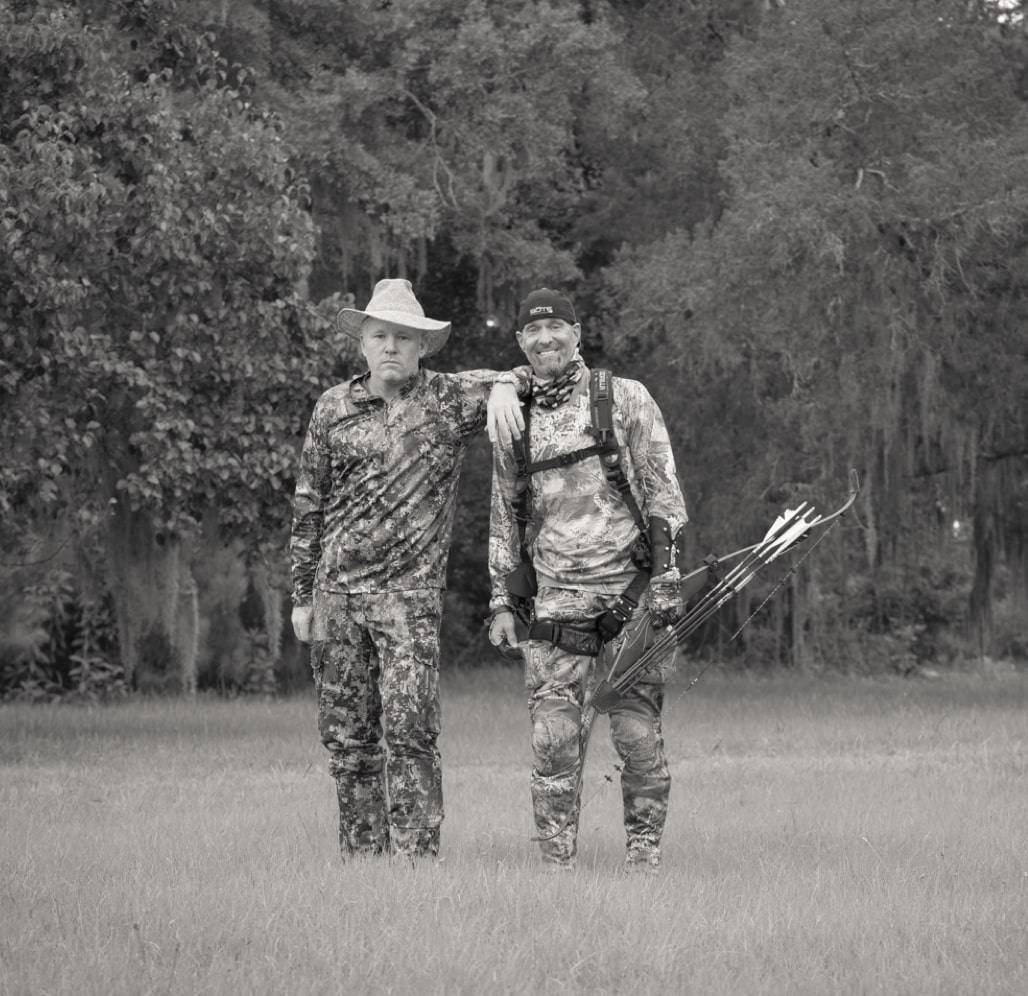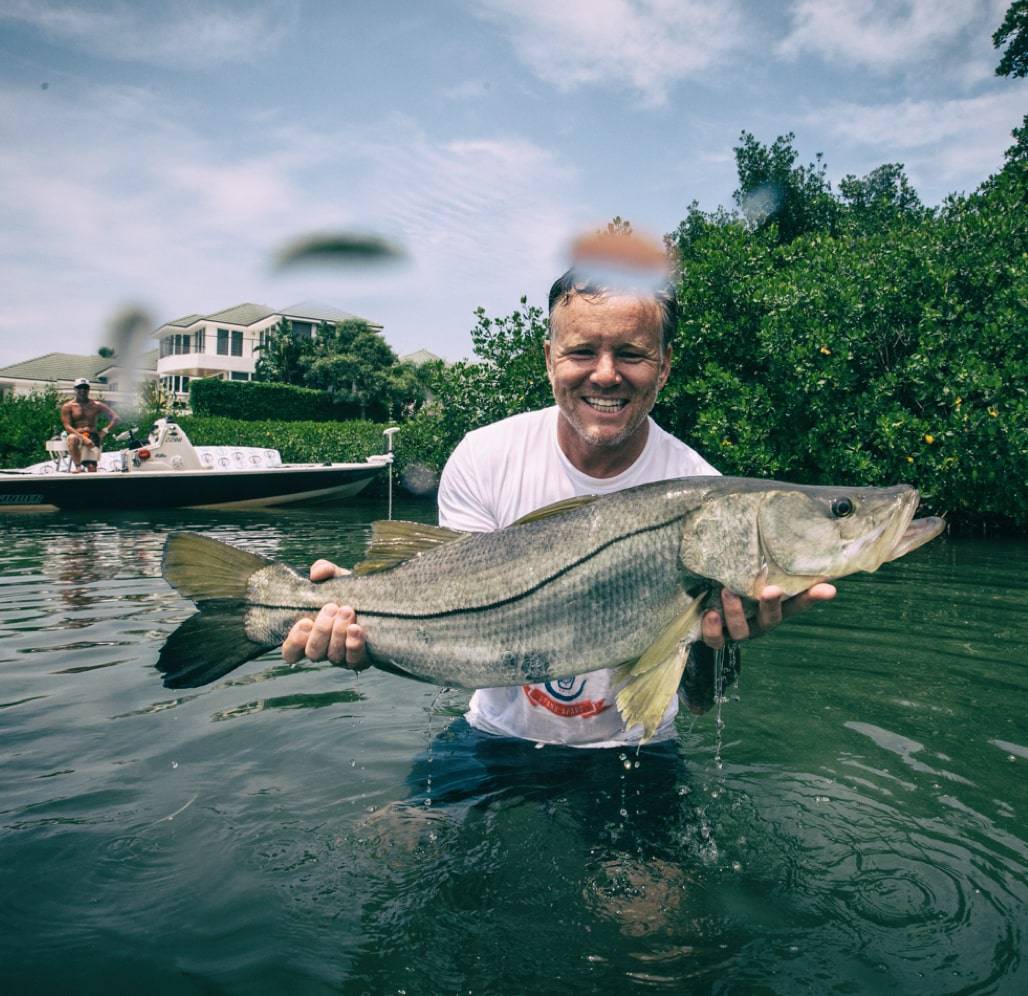 IT SEEMS LIKE, IN THE BEGINNING, IT JUST MADE SENSE. NOW IT'S BEEN ABOUT 10 YEARS. HOW DO YOU STAY TRUE TO THE BRAND?
I think what's at the helm of the ship that motivates the entire team is Corey. He's the most unique person I've ever met. His energy level is so high, there are very few people who have that motor. I have it, fortunately, or unfortunately, depending on who you ask. Corey and I have similar music, vision, and stylistic tastes, so that's very helpful.
But you have to make money, you have to sell boards. Corey would rather shelf something regardless of what it costs to produce than put it out there because it may be a little off-brand. And I think that says something about Corey. He knows, I know, we all know we can't deviate from our roots, our core genetics, we have to stay true to that shit. Over time, as we keep growing, it can be hard to stay like that but somehow we're managing. Somehow we get shit done.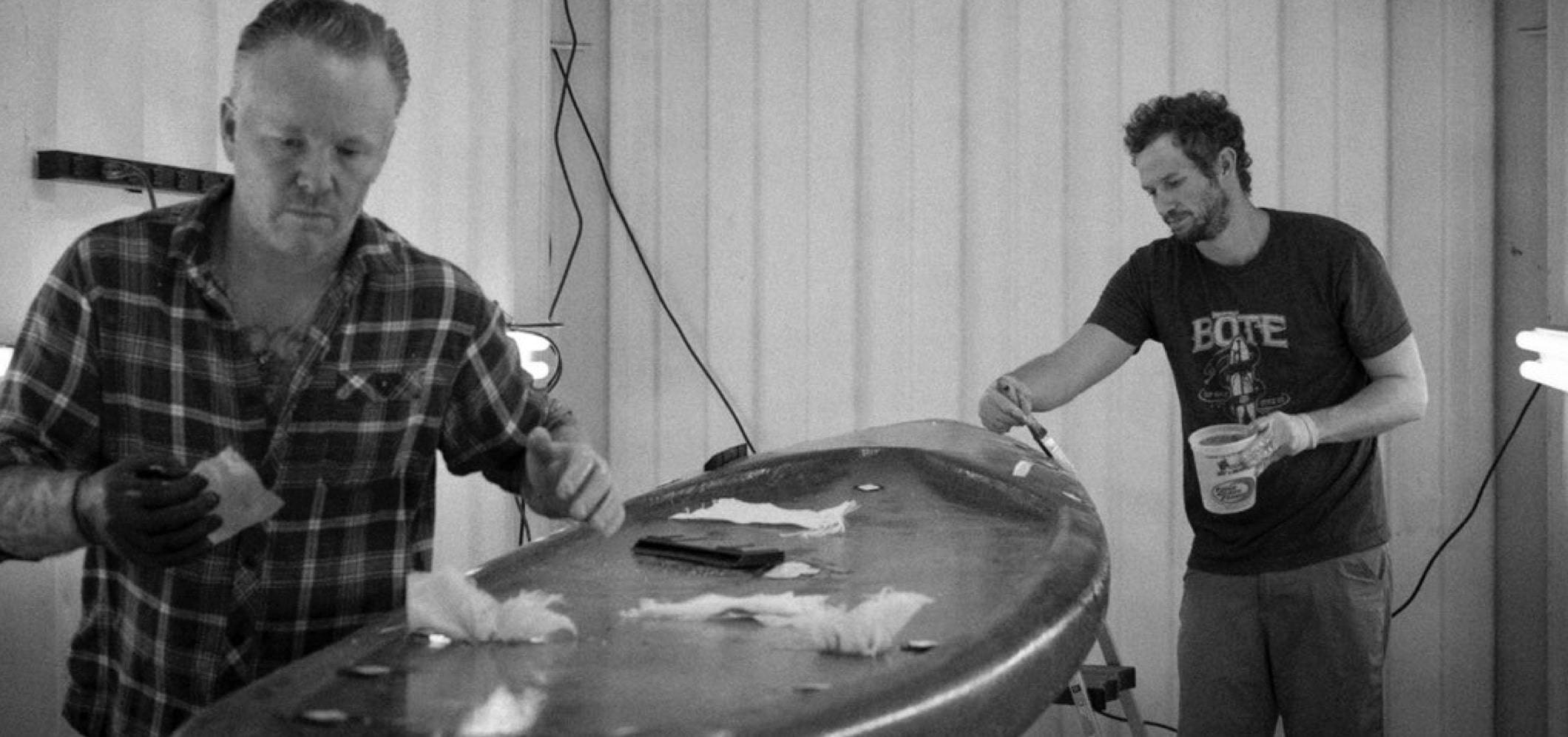 YOU'VE MENTIONED YOUR LOVE FOR MUSIC A COUPLE OF TIMES NOW, AND IN THE BENEATH THE SURFACE PODCAST: SWEETWATER - THE ROAD TRIP, YOU TALK ABOUT LISTENING TO THE SONG REGULAR JOHN BY QUEENS OF THE STONE AGE CLOSE TO 300 TIMES IN A SINGLE NIGHT. IT SEEMS LIKE WHAT YOU LISTEN TO PLAYS A BIG PART IN YOUR WORK.
I don't party, but I can still get in the mindset and be on that level without drinking, it's unusual. That trip we were listening to that Queens of the Stone Age song over and over and doing super creative photos all over Atlanta and it was just f@#&! magic. It just takes us to another place.
Music is everything to us. I think it drives our ideas. Corey and I would watch Anthony Bourdain's shows and we'd talk on the phone about how badass it was. How killer the sound design, editing, b-roll, narration, and all that shit. That was a big inspiration throughout the year, that show and shows like it. We latch onto music, shows, and travel that really get to the underbelly of culture.
IT SOUNDS LIKE THE BRAND IMAGERY STEMS FROM SHOWCASING THE UNDERBELLY OF CULTURE. HOW DO YOU BALANCE THAT?
You obviously can't sell paddle boards with hookers and cocaine, but something about the concept works. We found a happy medium where we can still keep it gritty and real and authentic. It's like something floating perfectly in the middle of a water glass. It doesn't float to the top or the bottom, it's just in its perfect place. That's where we are on the brand imagery. It's a magic space.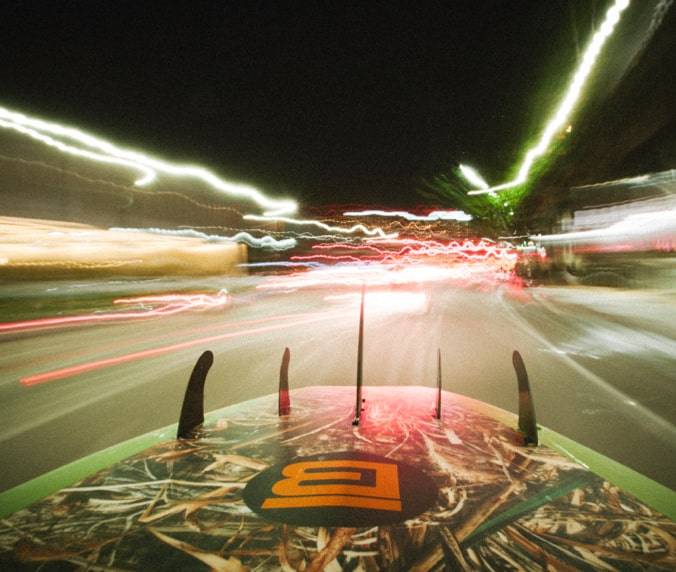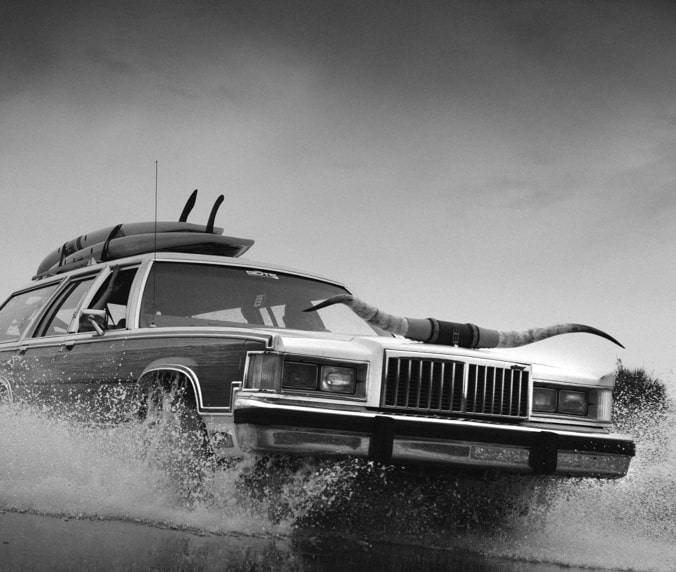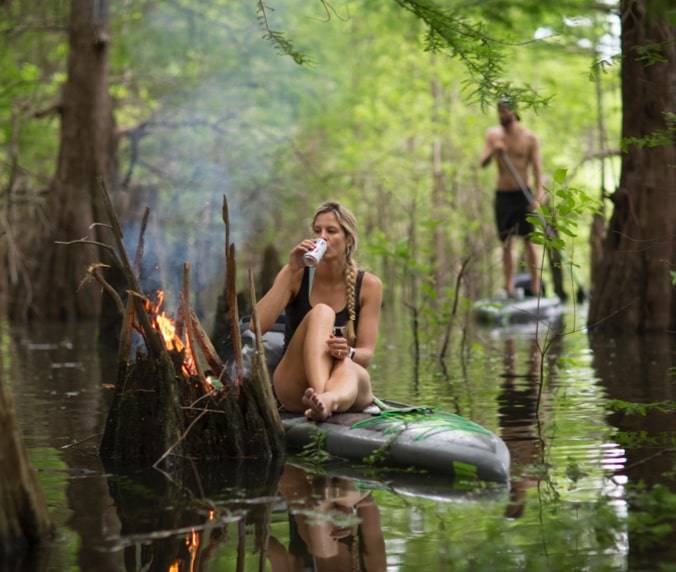 WHY DO YOU FEEL SUCH A CONNECTION TO THE BOTE BRAND?
I've grown to love their (Corey and Magda's) family. I've done all the pictures of their kids since they've been born. I'm like their family historian, documenting their family's growth from when Corey was a wunderkind at 27 years old, to now, the CEO of a huge brand with a beautiful family. Watching his hair change colors and his kids grow up and his business grow. That's special to me.
We've all grown together. I'm so ingrained in the company's genetics and I'm riding this wave till it ends. I'm loyal to the end. They trust me and I have a lot of freedom. There's a lot of expectation and pressure, but at the same time they don't micromanage me and they know I'll get it done. I know the brand, lifestyle, area, culture, surfing, fishing, fashion, pop culture, and music. You can't teach that shit. You can never replace this team and what everyone brings to the table. It's like raising a championship horse. One of those horses that wins every f@#&! race and that same breeder will try to recreate that over and over for the rest of their life and they'll never be able to do it. Why is that horse so fast? There's no reason it should be that way, but it is. That's the way we are. It's just the right mix of ingredients. I don't think it will ever happen again.
I know this is hard, but tell me about your favorite BOTE photoshoot.
There are a lot of them, but the one Corey and I will always talk about until the end of time would be the Everglades trip in 2014. I wasn't a paddler at that point in time. BOTE had just started the Darkroom and so the idea came up to paddle 100 miles to the Everglades. We assembled a team and decided to make boards for the trip. We didn't bring any food, because we were gonna catch food and cook it. But when we got there, there was an unusual cold front that came through so it was like 30 degrees. No fish, nothing to kill or eat. We paddled 25 miles one day, 12 the next, then 20 and 35. I almost died. We got into fights. F@#&! gnarly. But the imagery from that shoot was insane. To take a picture on that shoot, you paid the price. We were against the current and wind the whole time. I had about 200 lbs of equipment on the board. It was brutal. We talk about that many times a year, to this day. It was probably one of the most special shoots we've done.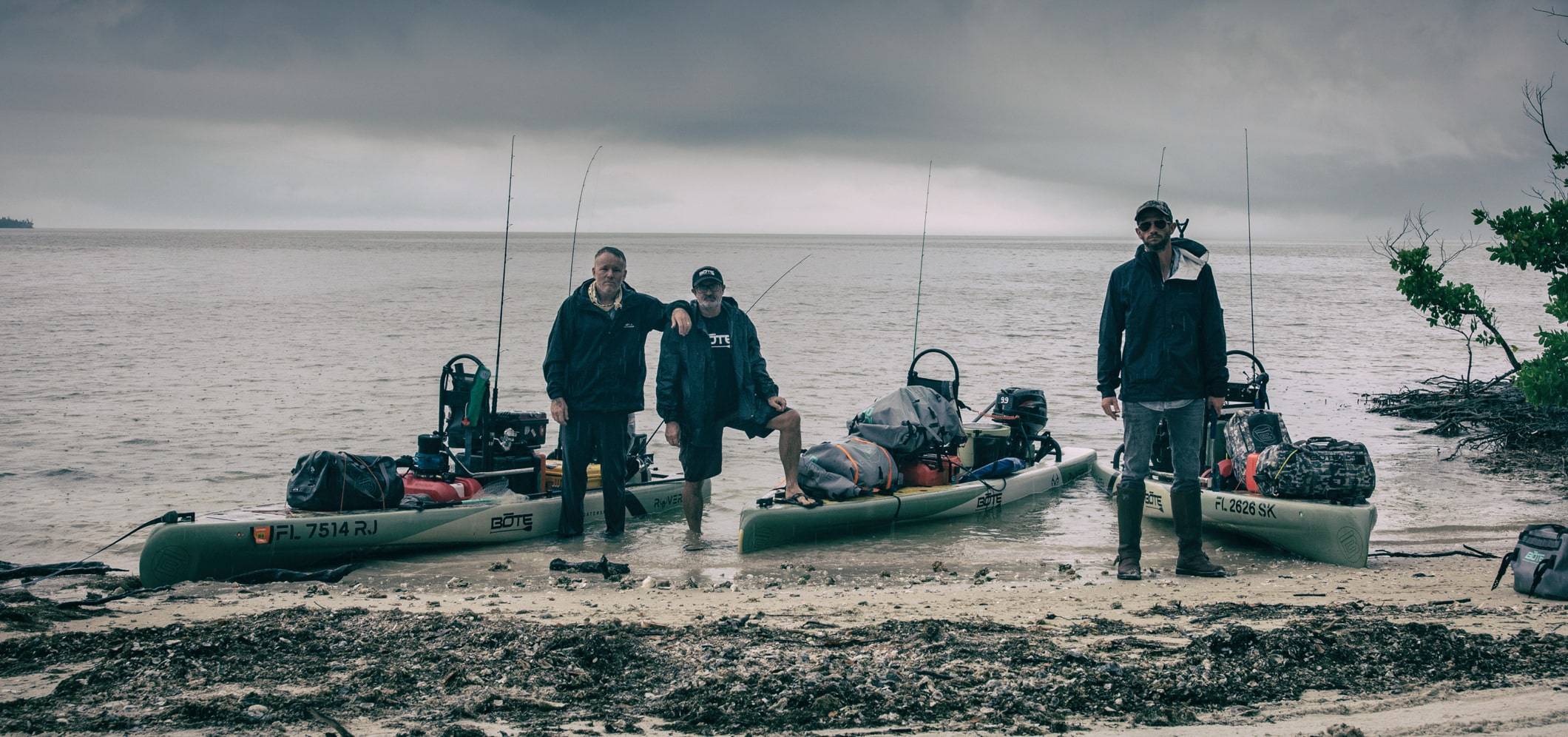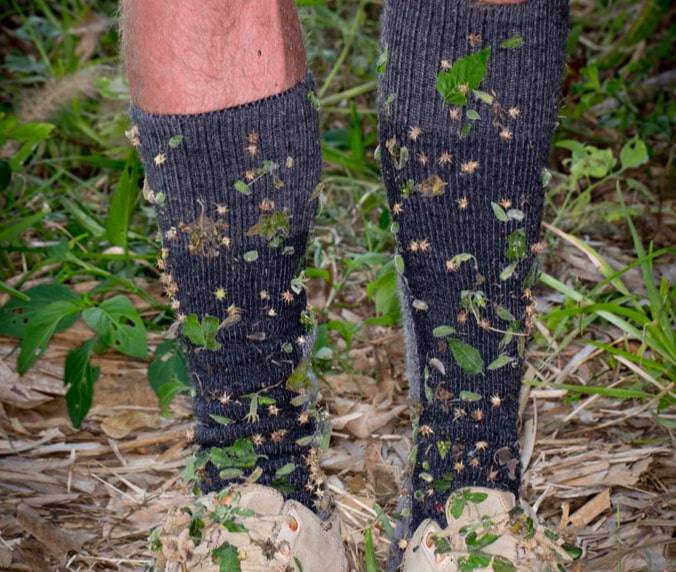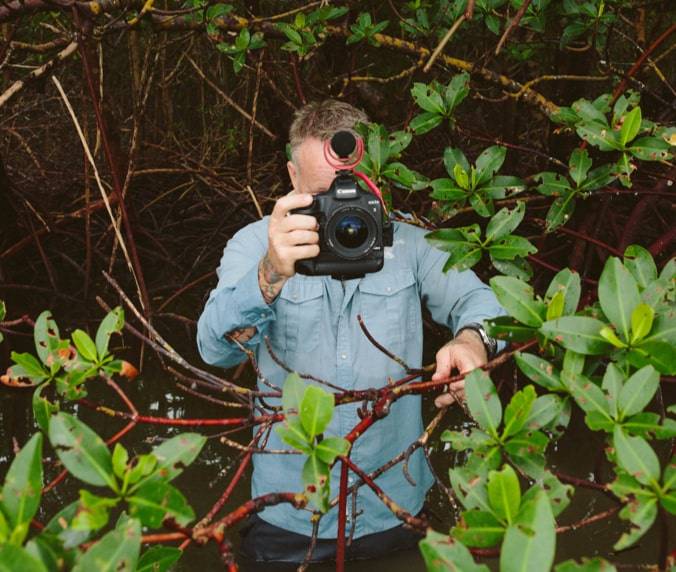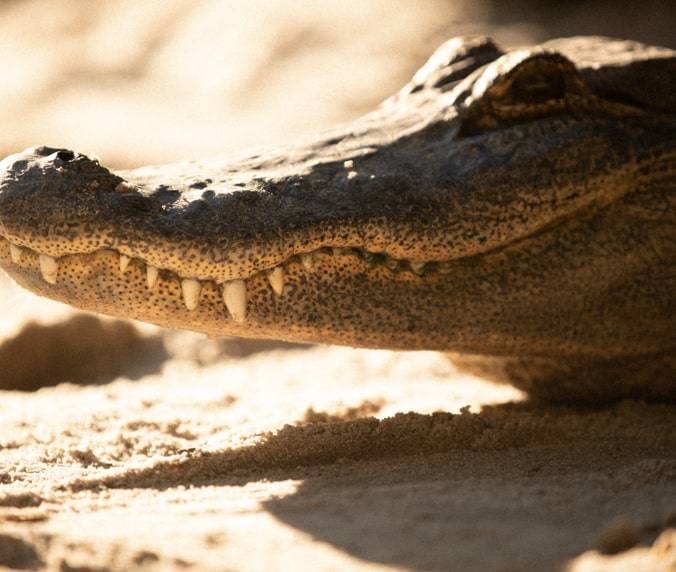 WAS IT SPECIAL BECAUSE OF ALL THE DIFFICULTIES YOU RAN INTO?
It was special because the entire thing was a complete cluster f@#&. Everything that could go wrong, went wrong. We probably should have died. The photos were extremely hard to take. And it was a great bonding experience for all of us. Something we'll never forget. A lot of ideas came from that trip and we used them in so many different ways to market BOTE. It was a milestone, in my opinion, that pushed us through the next year and gave us a lot of inspiration to go further and faster.
TIME FOR THE SHAMELESS PLUG: WHAT BOTE PRODUCTS DO YOU USE?
I'm pretty basic because I fish. My first board was a 12' HD solid paddle board and I used it until it got stolen a year ago. It was a camo design, in perfect shape. It was heartbreaking. Now I use a 14' Rackham solid paddle board and outfit for fishing. It holds my Tackle Rac and rods and my camera gear goes in front near my feet. It has the space I need to do all the stuff I need to do and handles the ocean and choppy water so I can go into sketchy areas.
And obviously, I always have an inflatable paddle board with me for any travel shoot, because they are just so easy to take with me anywhere.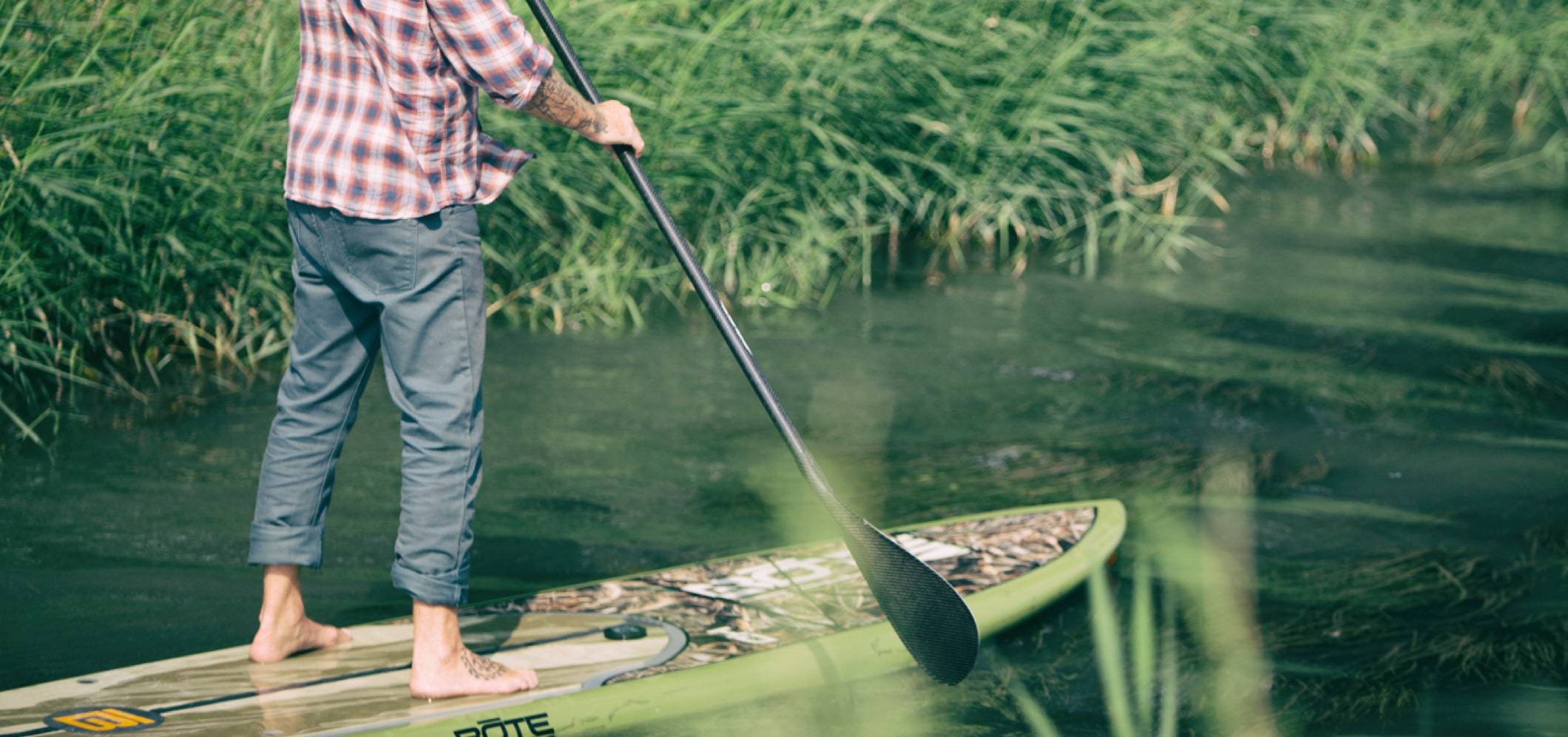 WHAT ADVICE DO YOU HAVE FOR SOMEONE LOOKING TO GET INTO OUTDOOR LIFESTYLE PHOTOGRAPHY?
You need to be comfortable with your surroundings. In my opinion, it helps to be part of the culture so you can understand what you're looking for. I know what's going to happen a few seconds ahead and can position myself for a great shot. I know everything about the area and where I need to be before it happens, so I'm not reactionary. You can't be reactionary because you missed the action.
Having been on a thousand different shoots, I can take all that experience and funnel it in. But if you don't have that experience, you can still do your research and apply that to your situation. Because if you're reacting, you already lost the shot.
SEAN MURPHY - EXPOSING THE UNDERBELLY
Sean concluded this interview offering anyone to reach out to him if they have questions about photography. You can find all his contact info at Sean Murphy Photography. And he means it, we can vouch for him. While he is incredibly gifted at his craft and is quite a jack of all trades, he is first and foremost magnetically badass. We all have an underbelly to us, that gritty, unrefined side that we naturally want to tuck away, but Sean Murphy sees the endearing qualities within it and manages to shoot it spot on.
For more on Sean Murphy's work with BOTE, follow our stories page, he's almost always involved in all our shenanigans. Or follow along in the Beneath the Surface Podcast, where hosts Corey Cooper and Sean Murphy struggle to stay on topic but always manage to talk about cool shit.