Micro Skiffs
go farther, faster
Micro Skiffs
go farther, faster
Micro Skiffs Collection
What do you get when you smash up a best-in-class stand up paddle board with a flats skiff? A BOTE Micro Skiff. More than a paddle board and easier to maneuver and transport than a flats skiff, the micro skiff is the ultimate fishing machine for those who want to go farther, faster.
Let's get past the first question: "Can I put a motor on it?" The answer is, finally, hell yes.
BOTE Micro Skiffs allow the rider to get super shallow, be really stealthy, and have a simple approach to fishing. Designed to be paddled or motorized with an outboard motor, a micro skiff transports you to even the gnarliest honey holes. Turn the power on to cruise across large bodies of water, then cut it and start paddling to ease through the shallows without disrupting what's happening beneath the surface.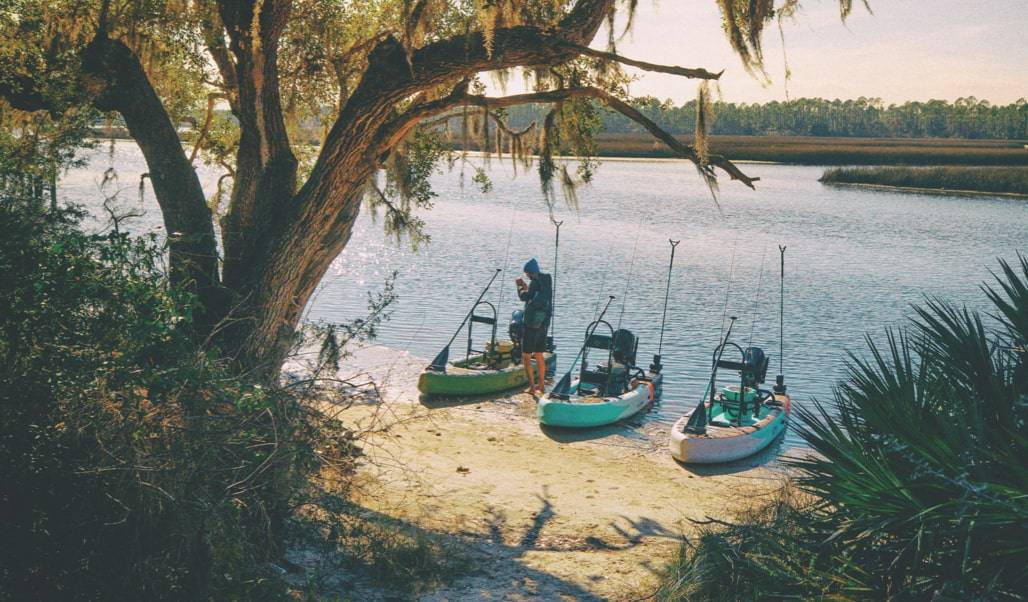 The ultimate fishing machine is a paddle board/skiff hybrid, or what we like to call the Rover. By scaling down a flats skiff to just the essentials—a drop deck cockpit, thick rails, and an actual hull—and combining those features with the construction of a stand up paddle board, the Rover Gatorshell 14′ Micro Skiff and Rover Aero 12′6″ Inflatable Micro Skiff are engineered for speed, stealth, and stability.
With two options to choose from, look no further than our BOTE Micro Skiffs collection for the best solid skiff and inflatable skiff on the market.
Which one is right for you?
Rover Gatorshell 14′ Micro Skiff
Our solid micro skiff, the BOTE Rover Gatorshell 14′, is nearly three times thicker than a typical paddle board and compatible with our patented removable Moto Rac system. The Rover can carry up to a 9.9 HorsePower motor with a top speed of 18 mph. And, with thicker rails, a displacement nose, and only 3 inches of draft, the Rover absorbs chop, paddles like a dream, and allows you to get to those hard-to-reach places that other boats can't access.
Gatorshell Technology construction means this thing is built to last. Thanks to ABS Plastic combined with ballistics grade composites, the Rover Gatorshell is engineered to be 6X tougher than traditional epoxy. And with a capacity of up to 500 lbs and an unloaded weight of 105 lbs, this BOTE is easier to transport than your standard boat without compromising capacity. Load it down with a motor, all your fishing gear, a Rac system, KULA, and then some. Because with the Rover Gatorshell 14′, you're hitting more than one fishing hole on today's journey.
Whether your hobbies include hunting, fishing, or simply exploring the unknown, the Rover Gatorshell 14′ it's the all-in-one, do-it-all platform for you.
Rover Aero 12′6″ Inflatable Micro Skiff
The Rover Aero 12′6″—the slightly more compact, inflatable skiff version of the Rover Gatorshell 14′— features everything you love about its solid counterpart but can be packed down into the provided carry bag to take your water-based adventures around the world and back again.
Throw a compatible outboard motor on it to reach speeds of up to 16 mph or paddle nimbly through shallow backwaters with just 3″ of draft. Built with military-grade PVC, the Rover Aero 12′6″ inflates to a rock-solid board in minutes to ensure peak rigidity for maximum performance.
Top it off with ample capacity of up to 500 lbs, this inflatable skiff carries all your gear, favorite compatible accessories, and modular Rac system integrations for unparalleled functionality.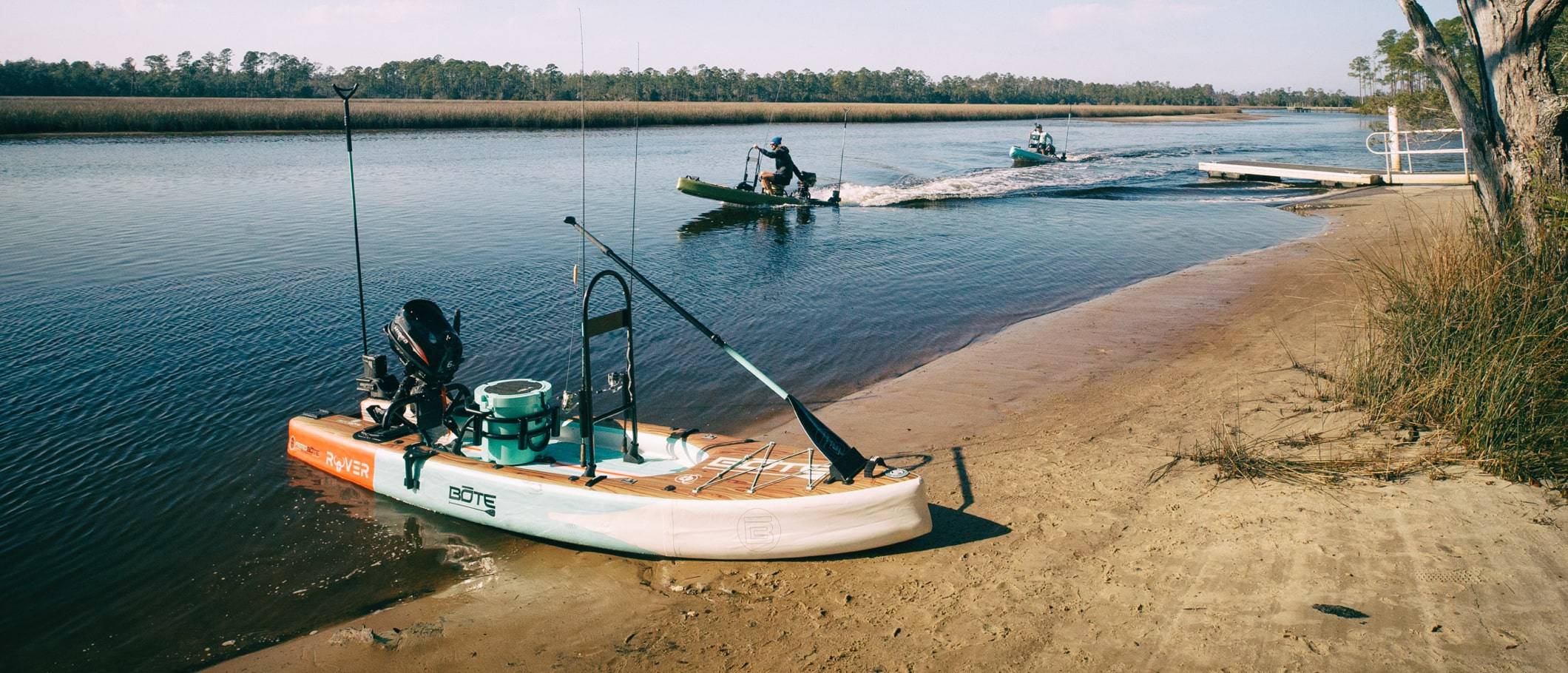 Micro Skiff Accessories
With a weight capacity of up to 500 lbs and ample deck space, there's plenty of room to deck out your BOTE Micro Skiff (solid or inflatable) with accessories that help keep your gear secure throughout even the wildest adventures. We're talking integrated attachment points for securing your paddle, Rac system, Sandspear, and even a MagnePod Tumbler—because we know you'll get thirsty out there.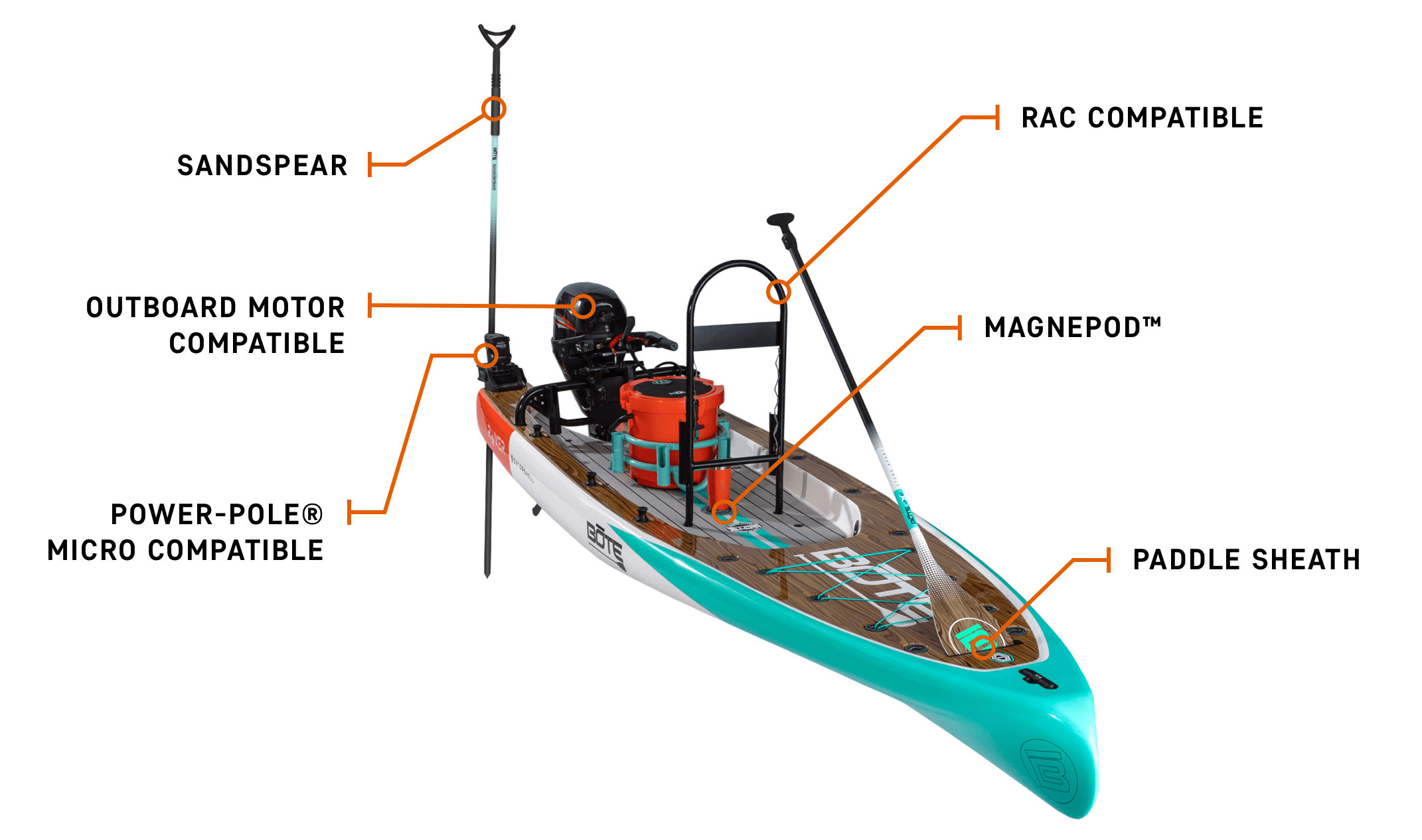 The Best Micro Skiffs on the Market
It all started with a nagging question we just couldn't escape, and it turned out to be one of the coolest iterations of a BOTE product we've ever made.
PEOPLE WERE MOVING FROM LARGE BAY BOATS TO FLAT SKIFFS. SO, WITH THE PADDLE BOARD, I WAS LIKE, MAN, THIS IS A KILLER WAY TO GET SUPER SHALLOW AND TO BE REALLY STEALTHY AND HAVE A SIMPLE APPROACH TO FISHING. SO WE SCALED A SKIFF DOWN, A PADDLE BOARD UP, SMASHED THEM TOGETHER, PUT A MOTOR ON IT, AND THERE YOU GO.

— Corey Cooper / CEO, Beneath the Surface Podcast, Episode 3: The Rover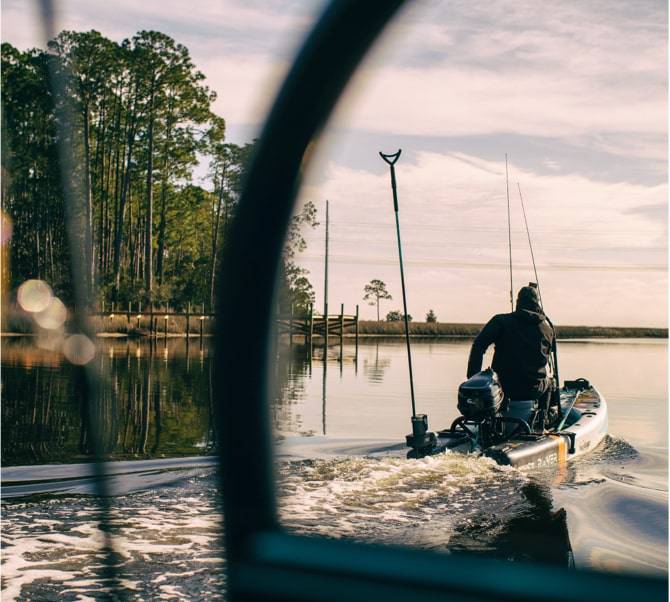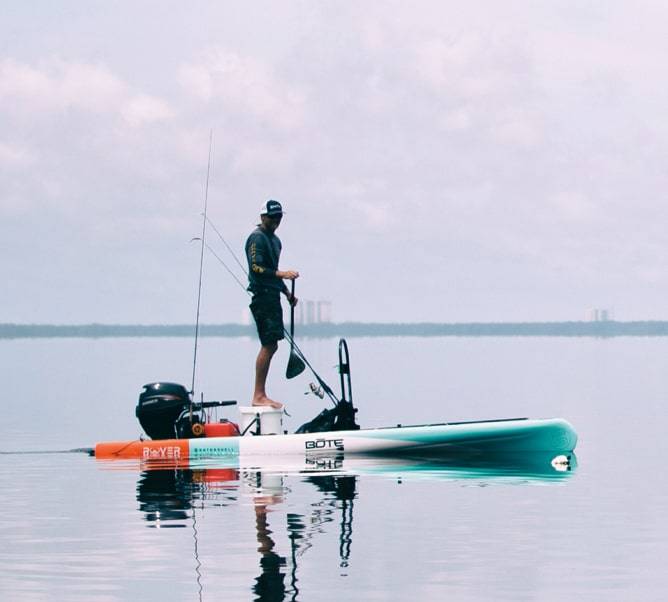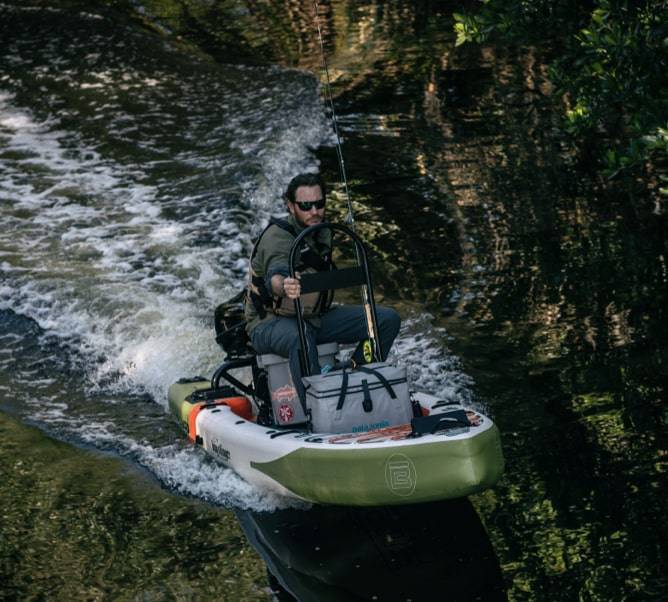 As you can expect with all BOTE products, our solid skiffs and inflatable skiffs are unparalleled in quality and performance, and more specifically, in speed, size, and stability. Look no further than right here for the best micro skiffs on the market.