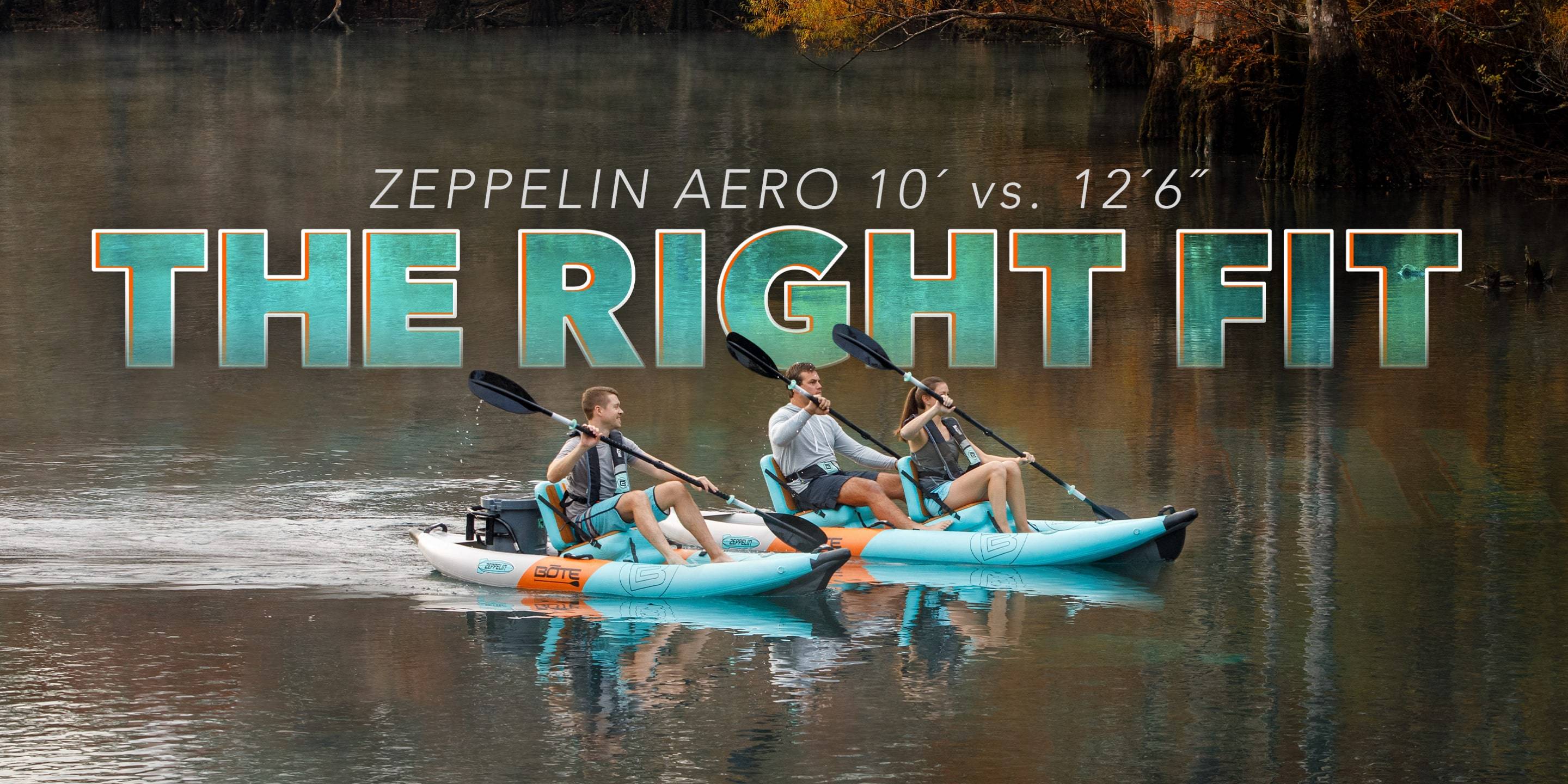 The Zeppelin 10′ vs. 12′6″: A Comparison Guide
As our line up of inflatable kayaks grows and evolves, we understand it can seem a bit daunting to find the right inflatable kayak for your lifestyle. At present we have three core styles; the DEUS, the LONO, and the Zeppelin.
Today, we're going to compare the two models within the Zeppelin—the Zeppelin Aero 12′6″ Inflatable Kayak and the Zeppelin Aero 10′ Inflatable Kayak. Right off the bat you can probably tell they vary in size, but there's a lot more to it than that. Let's go beneath the surface with a Zeppelin inflatable kayak comparison guide.
Let's talk about the main differences between the Zeppelin Aero 12′6″ and the 10′. Both are truly exceptional kayaks for those looking for great day-to-day recreational cruises, with some key differentiators you're gonna wanna know about.
Zeppelin Aero 10′ - Single Seat
Zeppelin Aero 12′6″ - Tandem
Seat
Probably the most relevant difference between these two kayaks is the traveler capacity. The 12′6″ comes equipped as a tandem kayak that can be transformed into a single seat with just a few shifts and clips, while the Zeppelin Aero 10′ is strictly a single-seater. So if you're interested in picking up some water drifters (aka friends without kayaks), the 12′6″ has your back. If kayaking is more of a single-person sport, the 10′ is the perfect plus one.
Zeppelin Aero 10′ - 10 feet long
Zeppelin Aero 12′6″ - 12 feet 6 inches long
Inherit in the name; the Zeppelin Aero 10′ is a good two and a half feet shorter than its 12′6″ counterpart. While the length of the 12′6″ is accommodating for the tandem seat functionality, the 10′ only has to worry about a single-seat, allowing it to skimp on some of the length while still tracking just as smooth as the 12′6″. Simply put, both are going to ride like a boss and provide stability and ease in maneuvering, regardless of your kayak ability.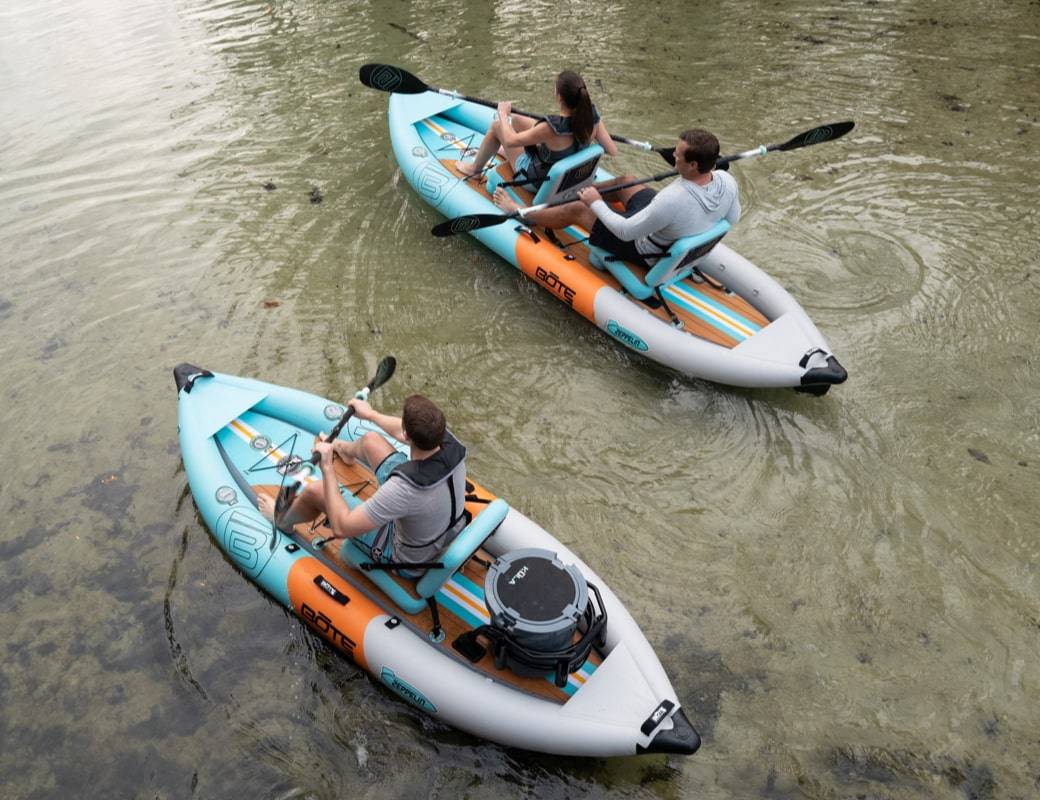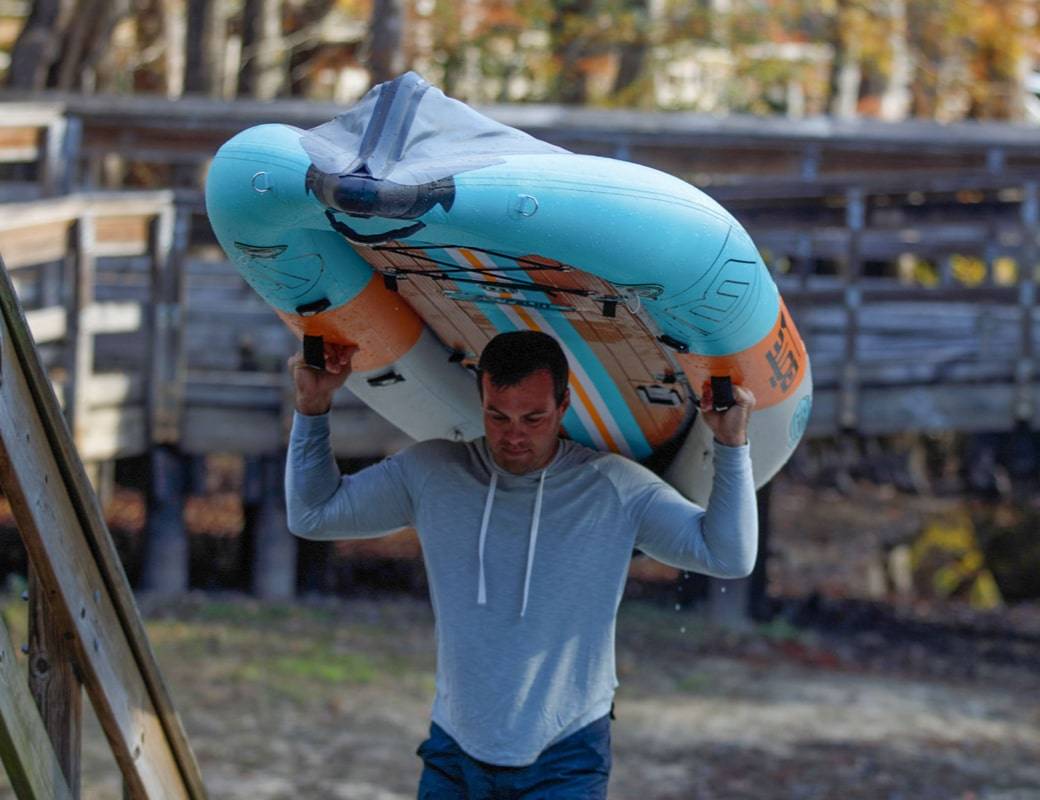 Zeppelin Aero 10′ - 37.5 lbs inflated/46 lbs loaded bag weight
Zeppelin Aero 12′6″ - 41 lbs inflated/50 lbs loaded bag weight
The difference in weight between these two super stable inflatable kayaks isn't much, only 3.5 lbs, to be exact. But sometimes, saving on a couple of lbs can make all the difference if you typically ride solo and take this from the car to the water on your own. If you plan to use your kayak strictly as a solo ride and are looking to save on weight, the Zeppelin 10′ is a good option, but if you want the freedom to bring along a buddy, they can help you haul the couple extra pounds the 12′6″ carries.
Zeppelin Aero 10′ - 300 lbs
Zeppelin Aero 12′6″ - 600 lbs
Since the Zeppelin 10′ is a single-seat kayak, the weight capacity of 300 lbs perfectly suits your solo pursuits with room for some cold brews and still plenty of weight capacity to spare. Considering the Zeppelin 12′6″ is configured to hold two passengers, it only made sense to build this water vessel to hold double the weight. With a 600 lb weight capacity, you and your buddy, and maybe even a fur-pal or two, can coast along all day, staying high and dry even when packed down to capacity.
Similarities Where It Counts
We may have launched the Zeppelin Aero 12′6″ first, but when we decided to create a single-seat version of it, the Zeppelin 10′, we made sure to keep the best parts of the 12′6″, just in a slightly smaller form.
Robust design, portability, and versatility are hallmarks of the Zeppelin family, and both versions offer multiple applications in different water types. They readily adapt to changing conditions, from wind to waves, without compromising performance. Go more places, stay out longer, and enjoy every detail in these durable watercraft designed with exploration in mind.
The Zeppelin Aero 10′ and 12′6″ feature Aero Technology, which includes a military-grade PVC skin combined with a proprietary drop stitch floor panel, creating a virtually indestructible product no matter the length of the craft. Translation? You'll feel just as comfortable taking it in rivers or oceans as you do in lakes or canals because it can handle it.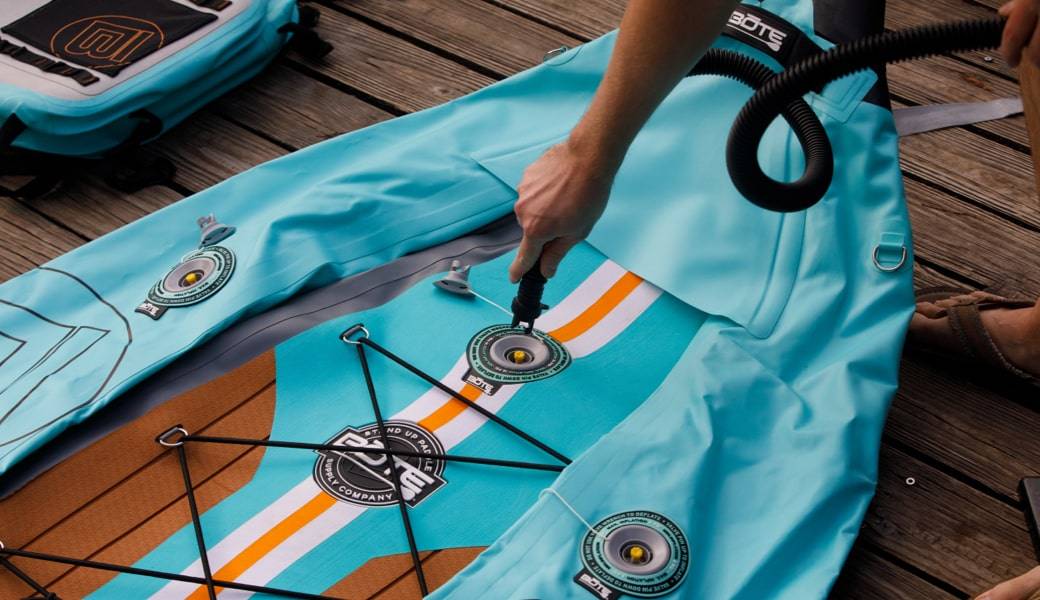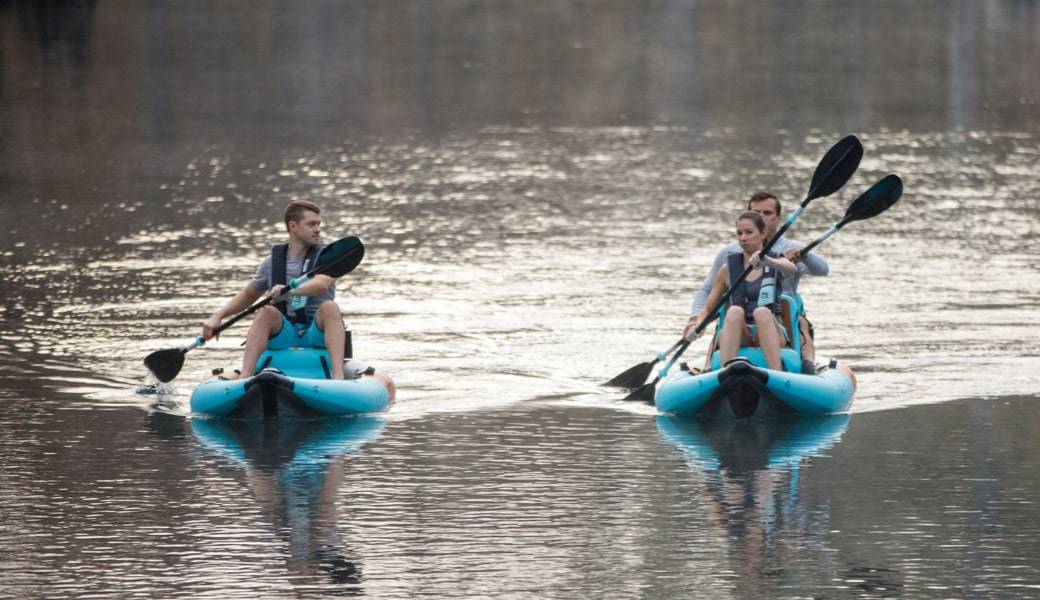 With tens of thousands of composite fibers attached to the top and bottom of these kayaks, reinforced construction gives it rigidity and stability, and you'll appreciate every fiber as you're plowing through swells and cutting through waves. Excellent tracking and control make it easy to propel and maneuver, resulting in a smooth ride that glides over the water allowing you to focus on the journey ahead uninterrupted.
You'll note the same features you know and love from us here at BOTE, including D-rings, paddle tie-down straps, and comfortable grab handles for ease of transport. Equipped with a 6-inch removable center fin, bungees for extra storage, and a pair of slide-in Aero Rac Receivers, both the 12′6″ and the Zeppelin Aero 10′ readily accommodate an array of accessories.
A repair kit is included for fast fixes, and a lightweight, high-pressure inflatable pump makes setup and breakdown quick and easy, so you can spend your time where you really want to be - on the water. A MAGNEPOD™ connection point makes it compatible with our MAGNEPOD™ Magnetic Drinkware, so feel free to pop a cold one into your MAGNEKoozie and sip accordingly. BOTE's ever-growing selection of accessories encourages you to rig your kayak out how you want and change it up when you need.
When it comes to the Zeppelin Aero 12′6″ and Zeppelin Aero 10′, you really can't go wrong. With each, you'll find impressive design and unparalleled performance, so it's just a matter of your specific needs and lifestyle. Then deck it out with your favorite accessories and get ready to spend more time on the water, which is the goal here, right?