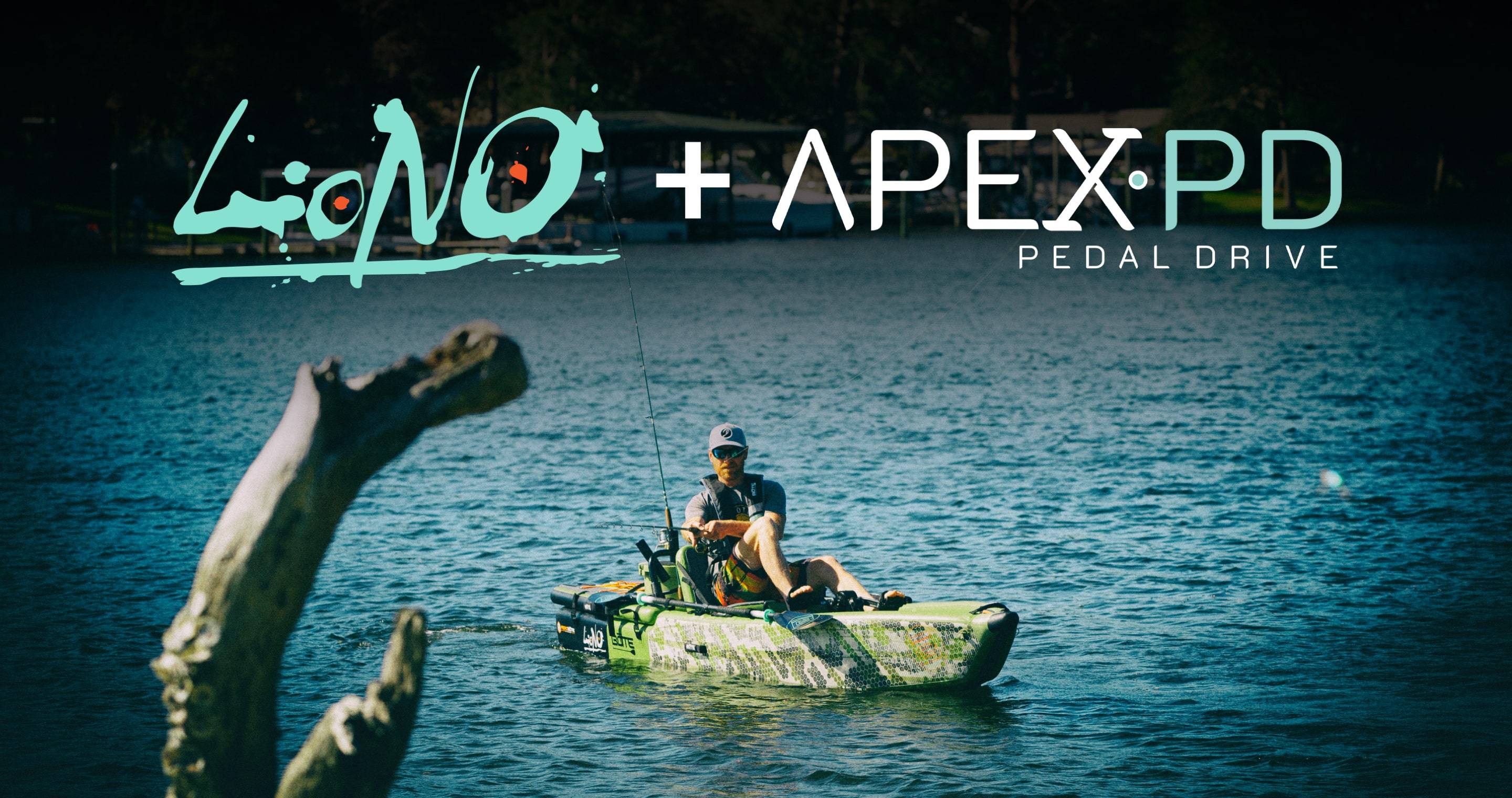 THE LONO, REIMAGINED
So you've mastered the flat, calm inter-coastal waters but want to venture out and catch a few waves, you may be tempted to buy or rent a surfboard from the local surf shop. But, before you add yet another board to your fleet, you may find that the paddle board you already own can be a great option for catching your first wave.
Sometimes change can be hard. The quest for improvement can backfire badly. Sequels can be disasters (looking at you, Dumb and Dumberer).
Other times—when the stars align and the paddle board deities are looking down on you in delight—your pursuit for the innovative life can be rewarded more handsomely than a Bonnie & Clyde holdup at a banking convention.
Innovation is the name of the game at BOTE. And resting on laurels, no matter how buoyant they might be, isn't in our DNA.
The reimagined LONO is one such example. Known as the "Ultimate Fishing Inflatable", the original LONO Aero Inflatable Kayak was BOTE's initial venture into the inflatable kayak seascape. And in many ways, it revolutionized the kayak market, outperforming traditional solid kayaks and offering a solution for rack-less sedan-driving paddle anglers everywhere. Not to mention, the fact that the LONO allows you to transform from a kayak to a standup paddle board at a moment's notice is pretty clutch.
In the words of Co-Founder & CEO Corey Cooper, "The LONO is a portable, packable, badass, high-end, inflatable fishing kayak."
So, allow us to re-introduce you to the reimagined LONO. Oh, and the all-new APEX PD (short for Pedal Drive).
"THE LONO IS A PORTABLE, PACKABLE, BADASS, HIGH-END, INFLATABLE FISHING KAYAK."
- COREY COOPER, BOTE CO-FOUNDER & CEO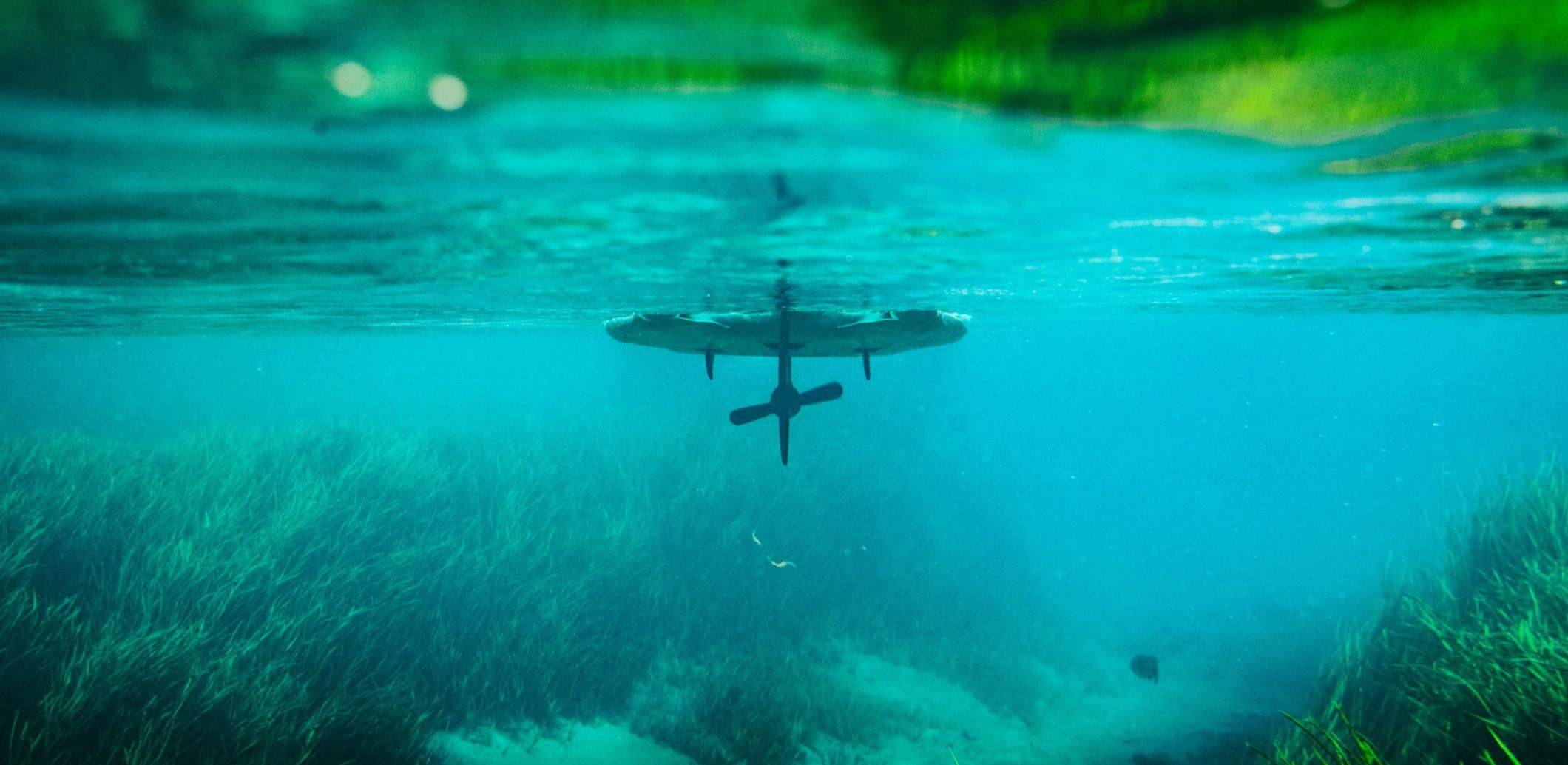 WHY THE SEARCH ENDS AT LONO x APEX PD
The revolutionary LONO is no pool toy. (Even if it is fun as hell to play with.) It's essentially a high-end convertible standup paddle board meets a sit-on-top fishing kayak. But what sets it apart is how it moves through the water like a Lamborghini on Highway 1—if, let's say, said Lambo had been invented by Inspector Gadget himself. In other words, it's decked out in badass accessories, yet never to the point of frivolous exhaustion.
In fact, the LONO is like a living, breathing, floating example of the "Expandable Platform" philosophy that's driven so much of the BOTE brand ethos and product development over the years. At the center of its design is a damn fine paddle vessel—something that will go the distance and go anywhere. But sprouting from this paddle-first focus is a collection of some of the most thoughtful and innovative features & accessories in the game.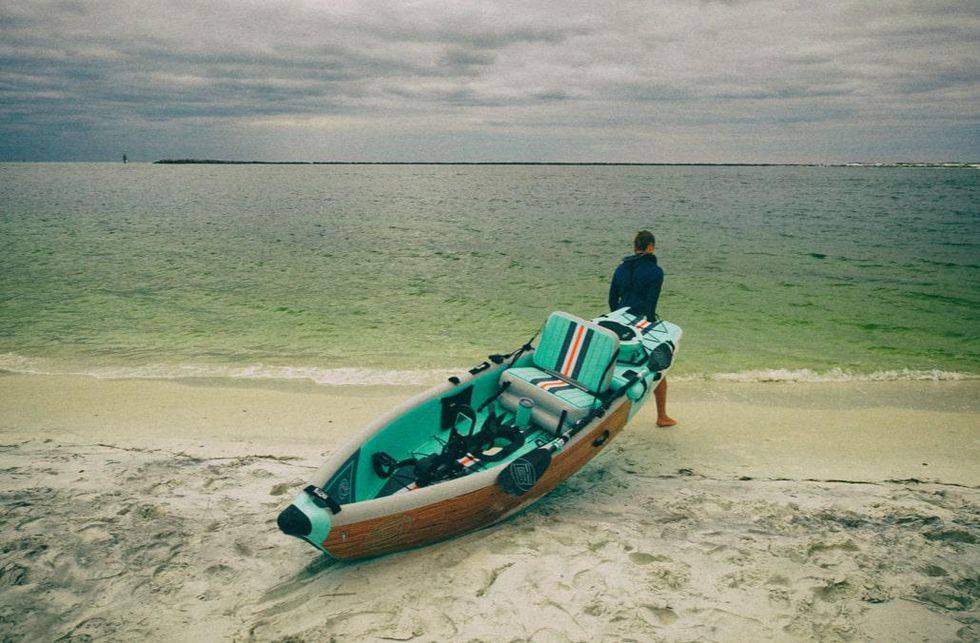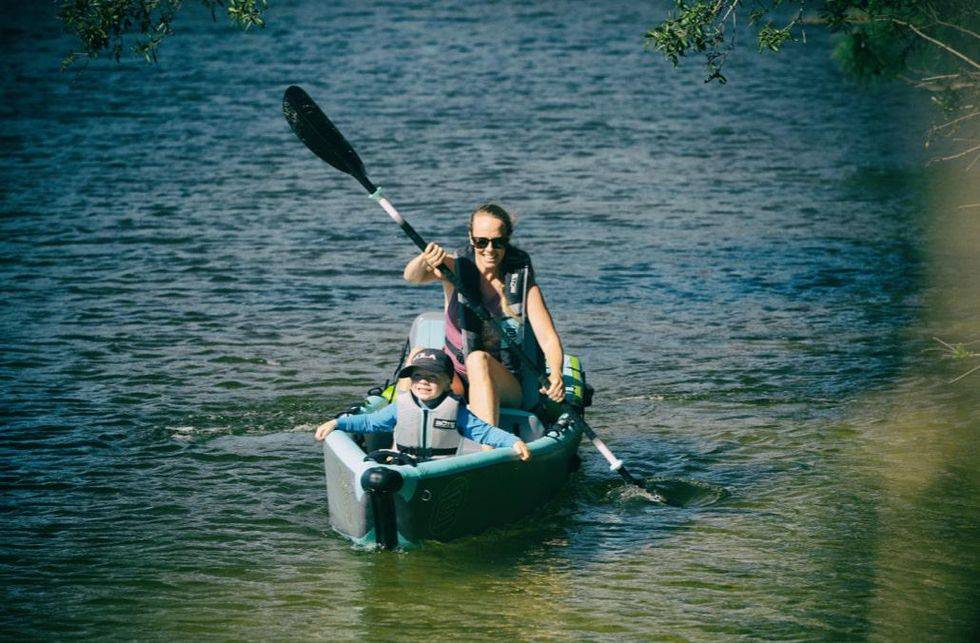 We're talking military-grade PVC skin that is virtually indestructible, tens of thousands of composite fibers that connect the top and bottom halves of the chamber and create super solid rigidity, and a whole host of other simple yet obsessively considered perks: adjustable seats, paddle keepers, Sandspear™ sheaths, Power-Pole Micro® mounting plates, third-party mounting points for Go-Pro cameras, and the brand new MAGNEPOD—a magnetic drink retention system that secures your beverage in place with the immovability of a certain cargo ship in the Suez Canal. (All around the world, regular old cupholders are silently sobbing at their forthcoming irrelevancy.)
Finally, the add-on you've all been waiting for: the all-new APEX Pedal Drive. This groundbreaking innovation is what will take the LONO from great to greater.
As BOTE Creative Director Rob McAbee says, "Apart, they are impressive. Together, they are incomparable."
The APEX PD offers no-touch transition between forward and reverse, ambidextrous & intuitive steering control, a spring-loaded kick-up rudder, super-tight turning radius, and a 10:1 propeller-to-pedal rotation ratio. In simpler terms, it's fast and incredibly efficient.
"APART, THEY ARE IMPRESSIVE. TOGETHER, THEY ARE INCOMPARABLE."
- ROB MCABEE, BOTE CREATIVE DIRECTOR Minimal strain, maximal gain. All new LONO's will now have the floor port, while the APEX PD itself will be sold separately.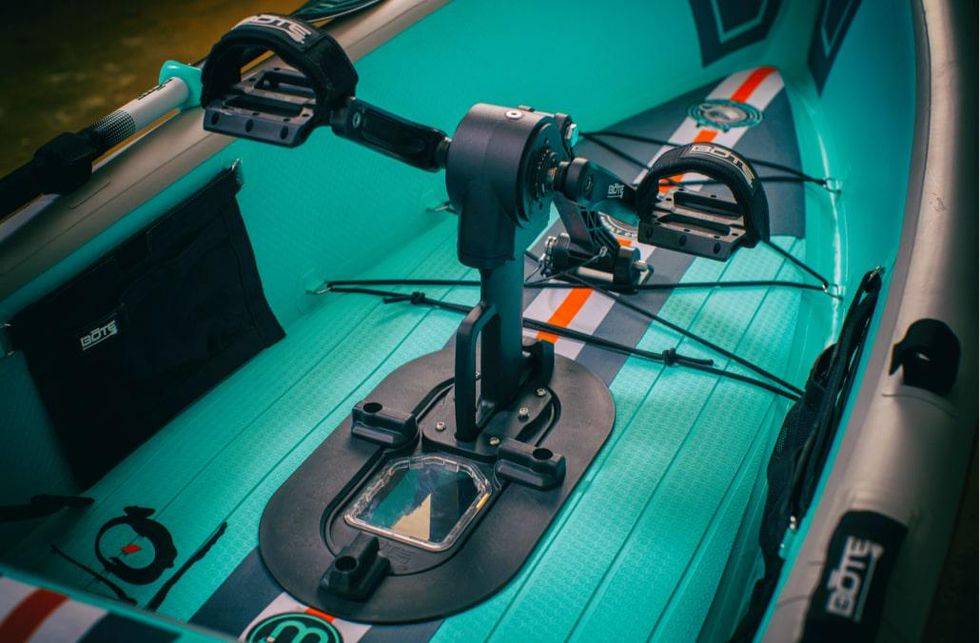 Whether you're an adventure-mom looking to bring along your kid for a fishing trip or a dad-bod-dad looking for a low-impact way to get on the water, the LONO thrives on its versatility. Sure, a lot of BOTE boards can boast that. But with the LONO, the versatility across the personality spectrum is almost eerily vast. Like the late-great Alex Trebek, the LONO gets along with everybody and doesn't have a critic in the world. It caters to the paddle-angler in all of us.
If you're the mama bear type looking to introduce your kids to the wonders of paddle boarding or even the fed-up mom trying to escape those kids for a few hours of alone time on the water, the LONO's got your back. If you're the barrel-chested grizzly guy looking to cut through rugged waters and explore fishing holes deep in the backcountry, the LONO's got you. And yep, even if you're the Jim-Harrison-old-timer type looking for an easy-entry, easy-on-the-body way to contemplate life's biggest questions while searching for elusive tarpon, the LONO is there for you.
PORTABILITY: THE LONO GOES WHERE YOU GO
As with many BOTE products, one of the best aspects of the new LONO is its supreme portability. In a matter of minutes, you can transform this inflatable from something that fits in a backpack to a fully functional watercraft—which means supreme ease of transportation.
VERSATILITY: THE LONO DOES WHAT YOU DO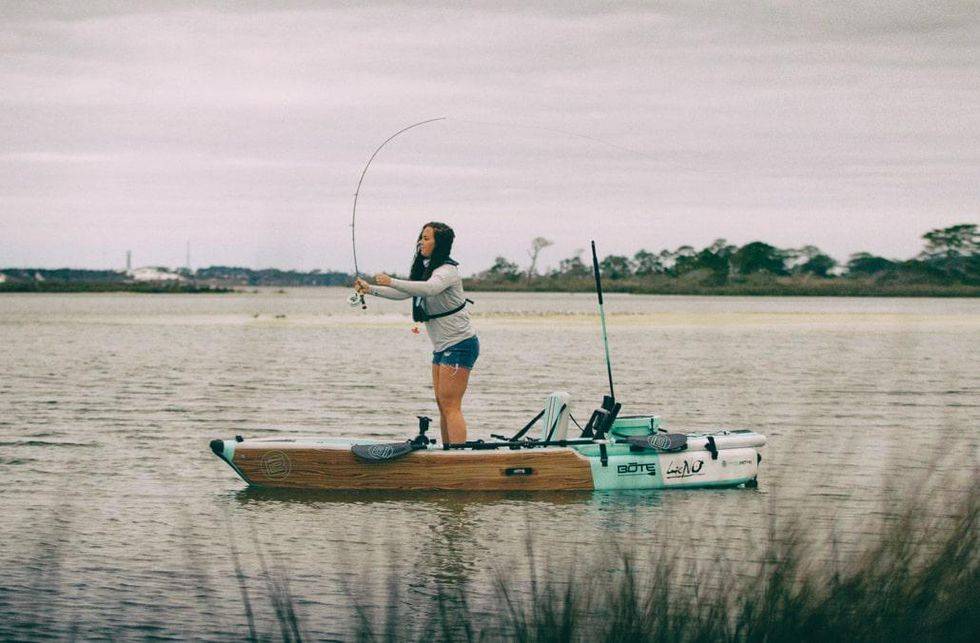 The LONO doesn't discriminate on what kind of adventures you want to take it on. Have a secret fishing hole a dozen miles deep in the backwaters? The LONO will take you there. Or maybe you're just getting started with paddle fishing? The LONO will hold your hand gently the entire way there (except when it comes time for casting—that's on you).
PACKABILITY: GOOD THINGS COME IN SMALL PACKAGES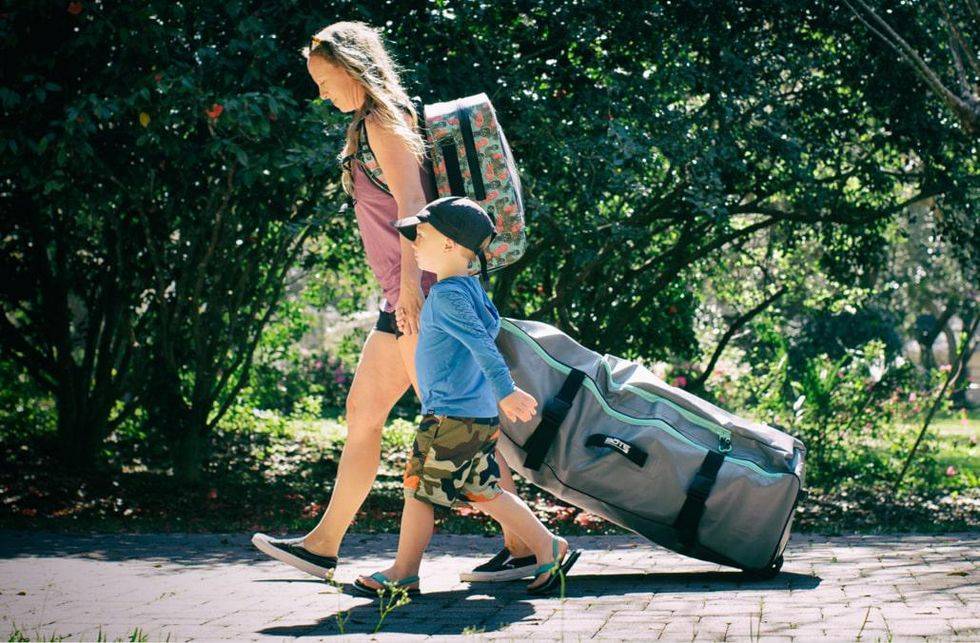 Ah, packability—the complementary cousin of portability. Since the LONO packs down into something as small as a large-ish backpack, you can easily fit it in even the tiniest of sedans. And even if you live in a studio apartment in Manhattan, you could find room for it in your closet.
DURABILITY: TOUGH AS NAILS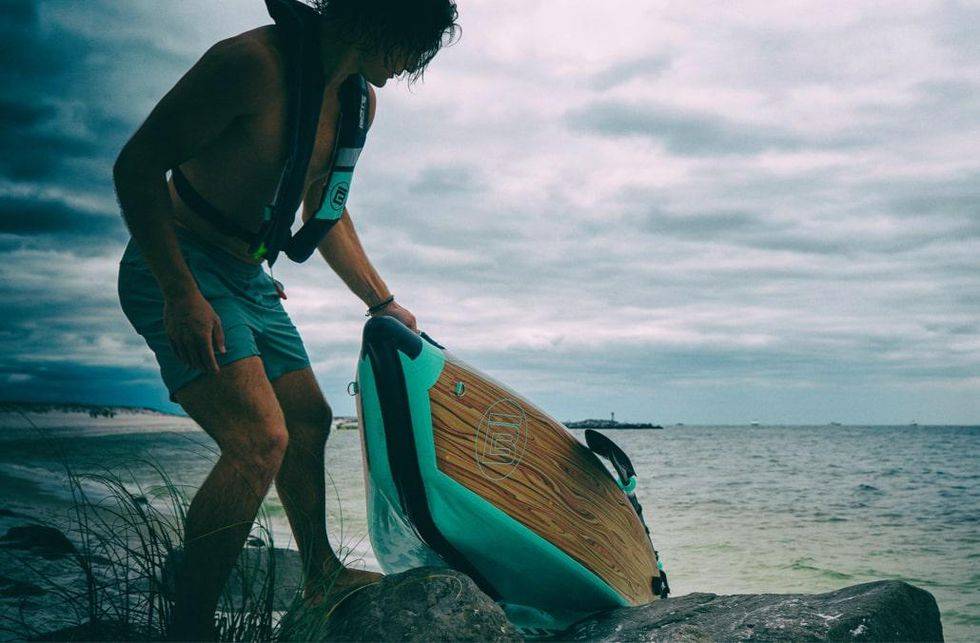 Go ahead, scrape it across some beach rocks. Beat it up. Bump it against the flailing tail of a mackerel. The LONO is designed to handle dings and scratches, and its military-grade PVC skin is virtually indestructible.
PEDAL-DRIVEN: GOING THE DISTANCE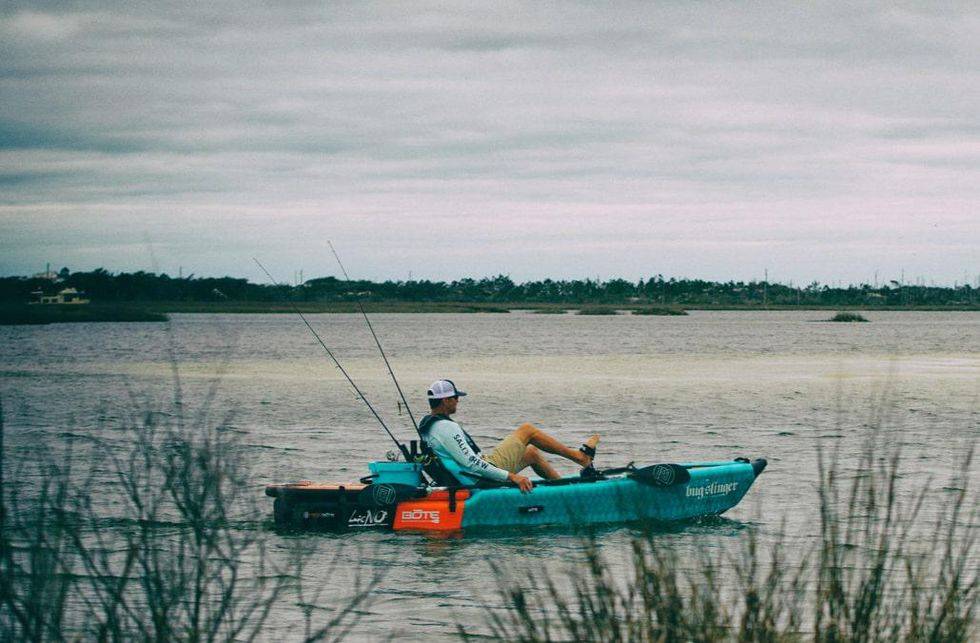 With the floor port for the APEX Pedal Drive embedded into each new LONO model, you'll never again have to worry about exhausting all your energies paddling before the fishing even starts. The APEX PD goes the distance. And it can take even the most rickety old out-of-shape grandpa along for the ride. AKA, it's easy and efficient to travel in.
SPEED: QUICK AS A DOG CAN LICK A DISH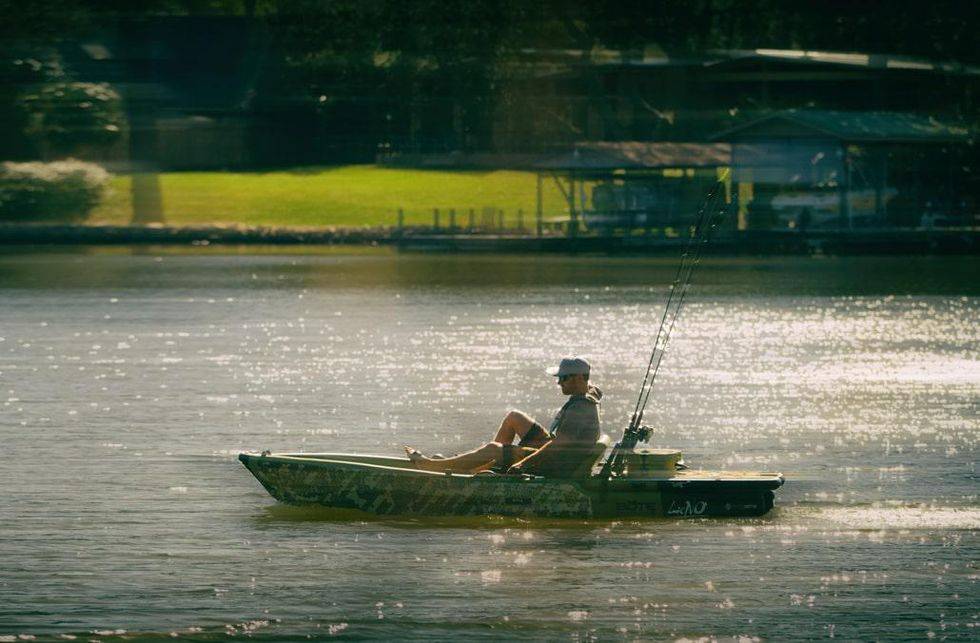 Finally, it's fast. So, if you've got the need for speed, then you need the LONO. Thanks to the shockingly efficient pedal drive, you can cut through even the choppiest of waters like a table-saw through butter.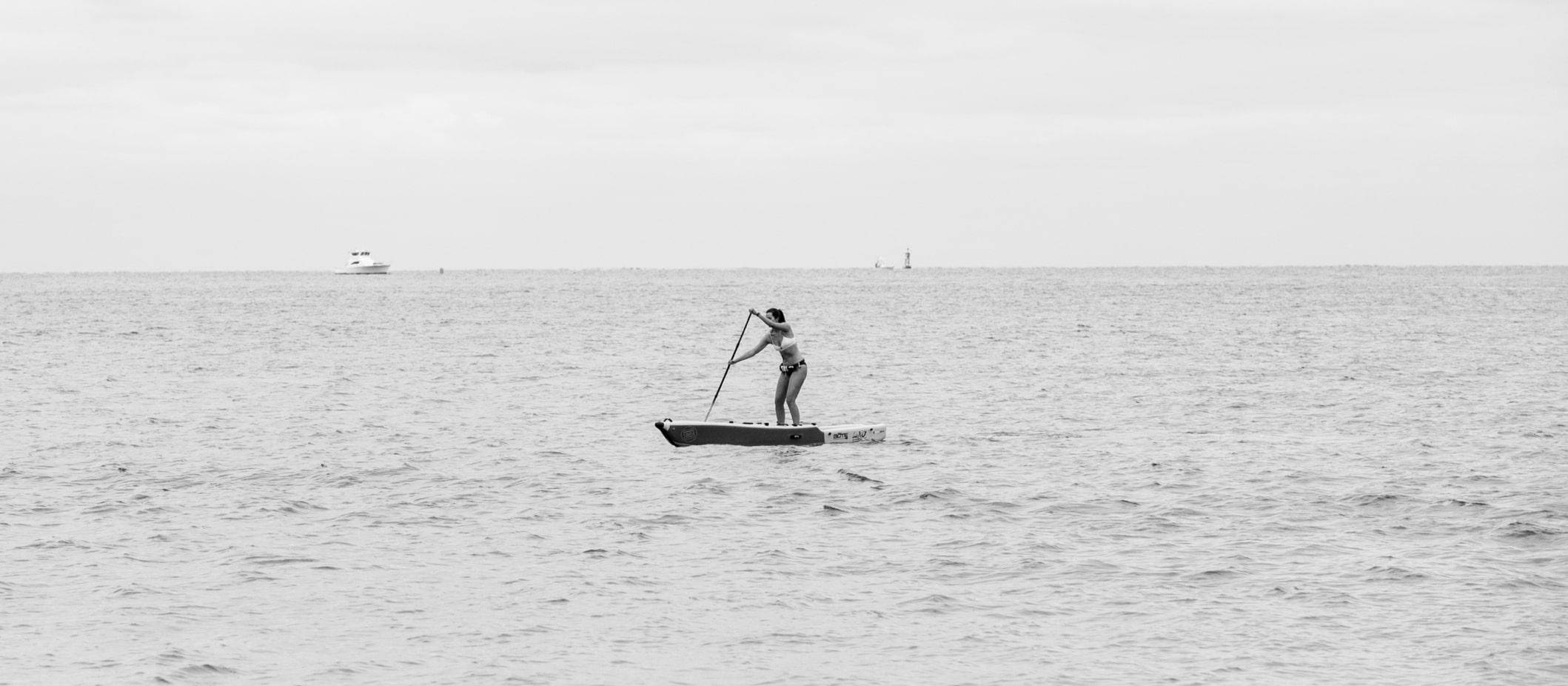 If you're looking for a dynamic way to get on the water, the new LONO delivers. And when combined with the all-new APEX PD, it's almost too much of a good thing to handle. Never before have all these features and benefits been combined in one easy-to-use, delivered-direct-to-your-door, badass package.
Whether you're hitting your favorite fishing spots or just hitting the local launch with your family, it's time to say goodbye to compromise and hello to the reimagined LONO Inflatable Kayak.