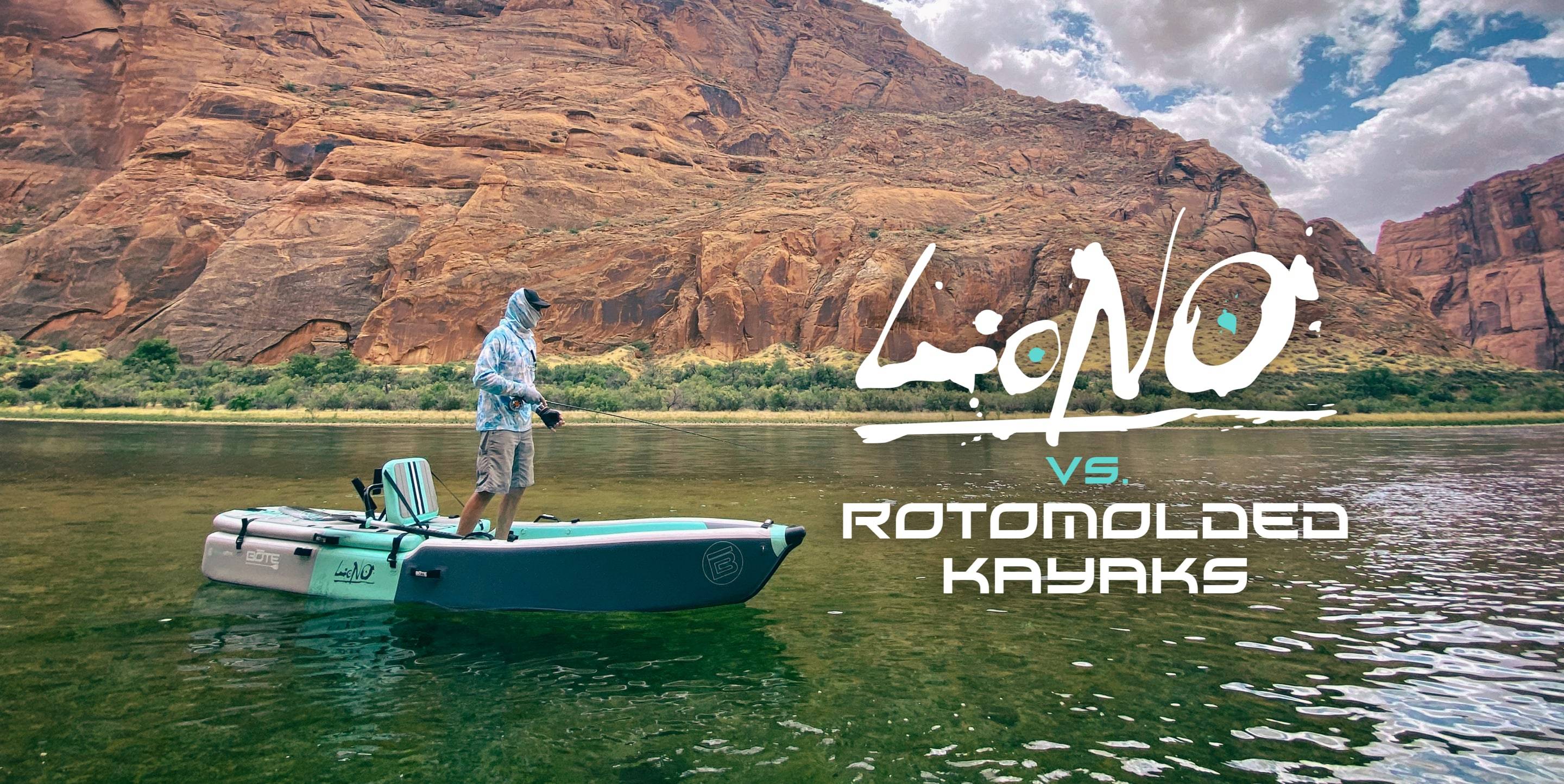 LONO AERO INFLATABLE KAYAK VS. ROTOMOLDED KAYAK
If you're anything like us, you're not into the idea of buying or gifting products that do just one thing. Like any good angler, you're all about function and versatility. Just like you want your knife to be a screwdriver, pliers, and a bottle opener in one, you probably also want your kayak to double as a paddleboard that can be deflated and stored in your trunk or closet.
We're all about functionality and durability, and we're excited to talk about the LONO Aero inflatable kayak, one of the most versatile items in our product line and our entry into the kayak category.
I'm sure the first time you heard "inflatable kayak" you imagined something like a ducky, which you'd typically rent to float or paddle down a river on the 4th of July or a brutally hot August weekend. But that's not the type of inflatable kayak we're talking about. We've developed the best inflatable kayak you can find, and it's way more badass than a rotomolded kayak and a hell of a lot more functional than a ducky.
If you're new to the inflatable kayak game we recommend getting to know the key differences between rotomolded and inflatable kayaks. After learning more about the product specifications and features, you'll quickly come to realize why the latter of the two, specifically the LONO Aero inflatable kayak, is far superior. For one thing, we don't set out to make mediocre products, we set out to make the best products in every category. We started by improving every element of the paddleboard fishing experience, and now we're tackling kayak fishing by introducing the best inflatable kayak on the market.
WE'VE DEVELOPED THE BEST INFLATABLE KAYAK YOU CAN FIND, AND IT'S WAY MORE BADASS THAN A ROTOMOLDED KAYAK AND A HELL OF A LOT MORE FUNCTIONAL THAN A DUCKY.
DURABILITY
When a rotomolded kayak bangs into rocks or other surfaces it is going to create dings and nicks in the plastic, which will eventually affect the paddling performance by creating more drag.
By contrast, the patent-pending LONO Aero is a durable inflatable kayak that transforms from a soft shell into an extremely hard and sturdy kayak when inflated, thanks to tens of thousands of composite drop-stitch fibers that marry the top and bottom halves of the chamber. When under pressure the fibers become taught and create an extremely rigid, solid platform. This technology combined with the military-grade PVC makes this durable inflatable kayak virtually indestructible.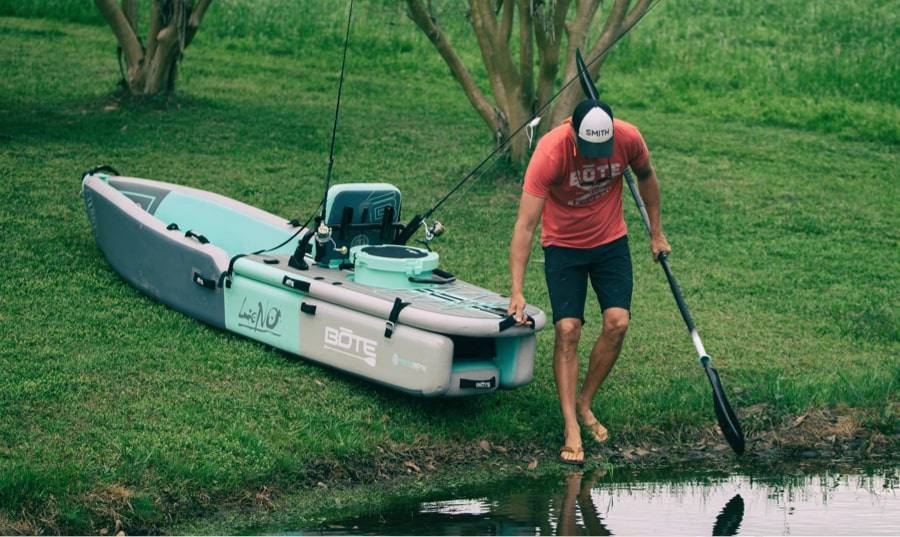 Lightweight Materials
Just like comparing an inflatable paddleboard to a solid paddleboard, the main difference between an inflatable kayak and rotomolded kayak are the construction and materials.
BOTE inflatable kayaks are constructed out of military-grade PVC which packs down easily but becomes very rigid and durable when inflated. On the other hand, the typical rotomolded kayak is built out of plastic powder that is poured into a mold, heated, and then rotated to form one solid, heavy piece of plastic.
If you're paying attention you'll recognize the obvious: an inflatable kayak is filled with air, so it's going to be lighter and easier to maneuver than its rotomolded counterparts.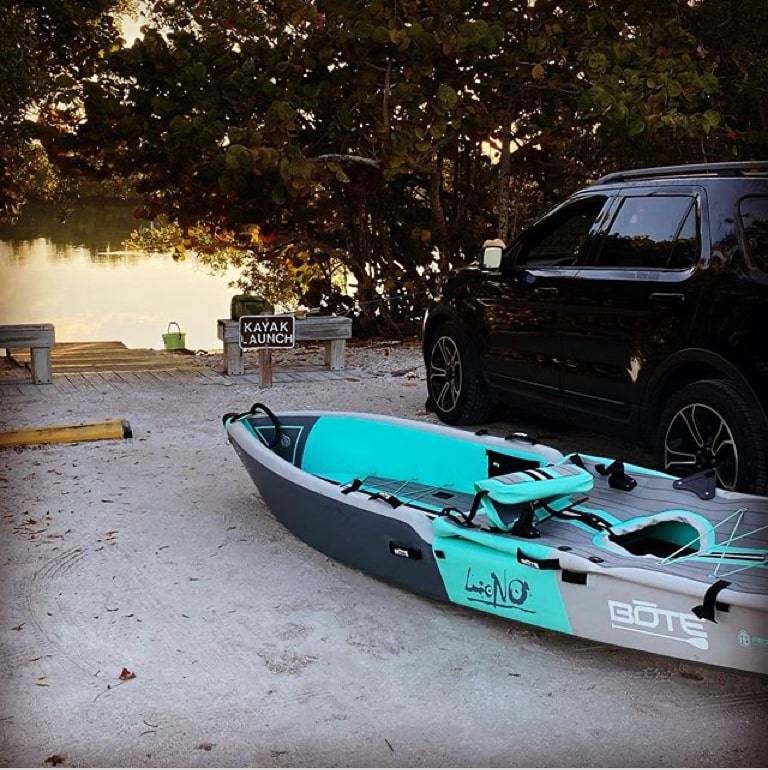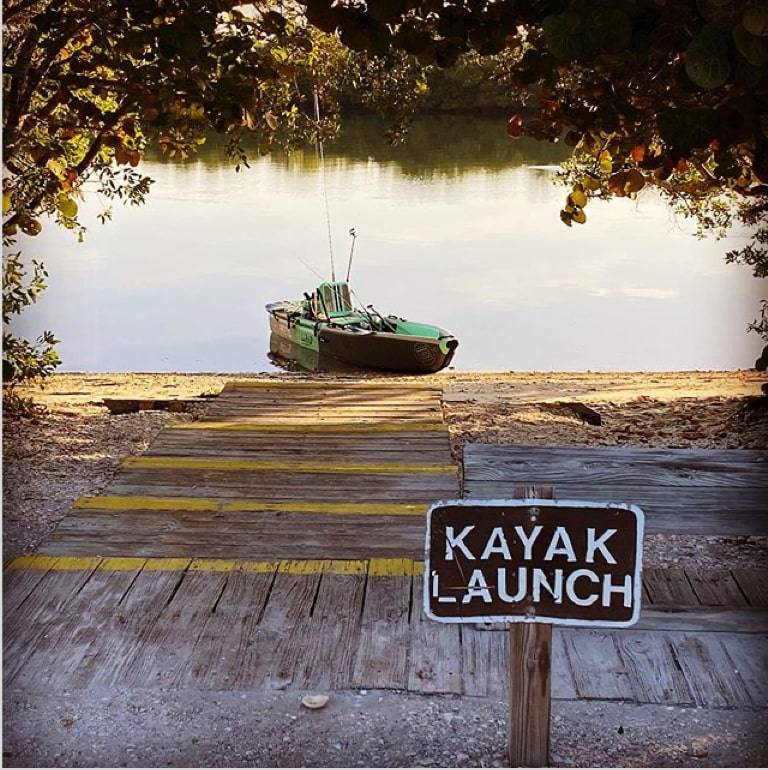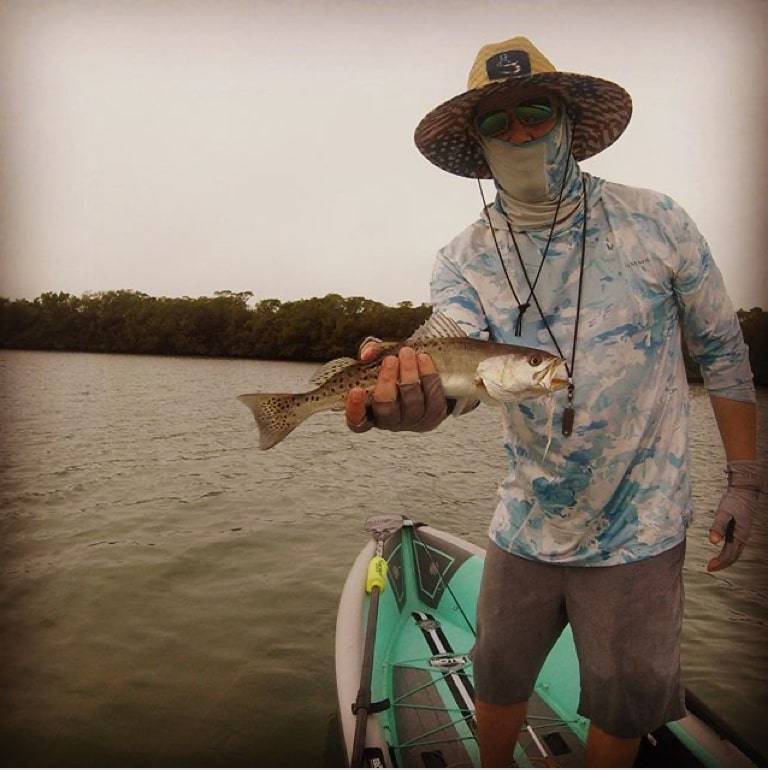 Photos by @primal_fly_fishing
"THIS IS NOW THE TALK OF THE TOWN AT THE BEACH. INCREDIBLY STABLE AND EASY TO SET UP. I TOW IT ON MY BIKE TO THE HARBOR AND WHEEL IT TO THE DOCK. 15 MIN TOTAL SET UP AND TEAR DOWN. EVERYONE COMMENTS ON HOW COOL IT IS. I USE IT ON THE OCEAN AND IT HANDLES THE CHOP WITH EASE. HIGHLY RECOMMEND"
- JEFF M.
Portability
No roof rack, truck, or trailer required. That's the beauty of an inflatable kayak for adventure seekers and travelers; it's highly portable. If you have room for a suitcase then you have room for a deflated kayak. You can even check the travel bag as luggage on your next flight.
Ready to hit the water? No need to wait on a buddy to help you load and unload. When you're heading out to go fishing in an inflatable kayak, just throw everything into your trunk and inflate it next to the river.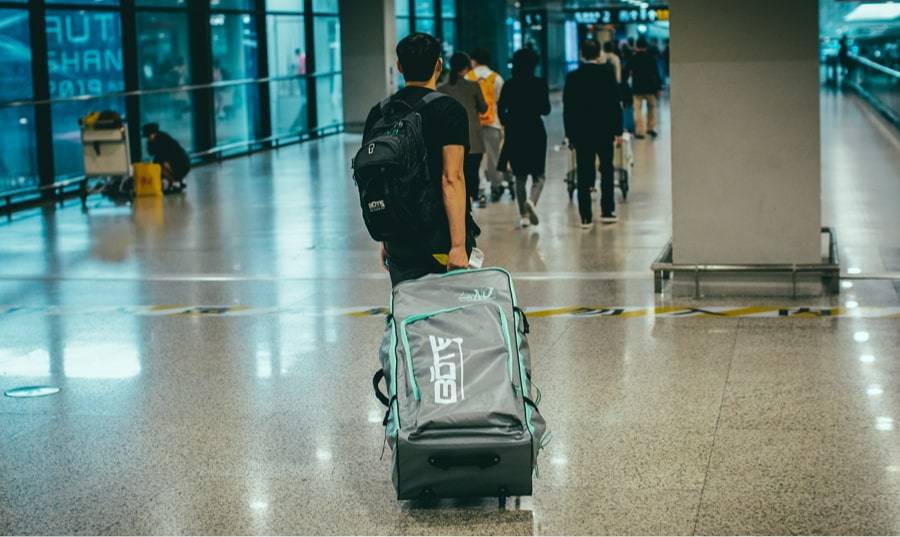 Storage
One of the main things to think about when buying any sort of recreational water vessel is where to store it. The Lono Aero inflatable paddle board packs down into a bag that's 39″ L x 18.5″ W x 11.5″ D, which can fit just about anywhere. No need to build a rack system or plan to park your car in the driveway to make room for it in the garage.
Once the unit is deflated and stored in the bag, you can keep it in a closet or even under your bed. If you do happen to have extra storage space, just leave it inflated. When inflated to the recommended PSI, the fibers cause the air pressure to distribute evenly across the top and bottom surfaces forming a hard, stable platform that's ready to go at a moment's notice.
Versability
We like options over here and firmly hold the belief that variety is the spice of life. So why in the world would you buy an outdoor adventure vessel you can only sit on?
Transition between sitting and standing seamlessly with our detachable and inflatable top seatbacks on both the LONO and DEUS inflatable kayaks. The elevated seating area also gives you more visibility since you aren't sitting at water level. This is a great option for sight fishing in clear water or seeing branches or limbs that may be in murky water.
If you want to take it off and transform the kayak into a paddleboard, no problem. Unhook the straps on the side and you're instantly paddling one of the best standup paddle boards on the market.
There's also an open transom in the back that will let any water that happens to get on the deck to flow right off the back. No one wants to have a wet ass from sitting in the water all day.
IF YOU WANT TO TAKE IT OFF AND TRANSFORM THE KAYAK INTO A PADDLEBOARD, NO PROBLEM. UNHOOK THE STRAPS ON THE SIDE AND YOU'RE INSTANTLY PADDLING ONE OF THE BEST STANDUP PADDLE BOARDS ON THE MARKET.
Attachments
Just like every BOTE product, we like to give you options. The open area to the front of the kayak is the perfect amount of space for a child or pet to tag along. But you can also use it to store duck decoys and fishing gear. The LONO shares many of our feature options, which allows you to accessorize and configure it to fit your style and needs. Our selection of accessory Racs are the perfect addon to get you started customizing your LONO and making it your own.
You might be thinking, "this sounds bad ass but I really don't want to pump this thing up every weekend." We get it. Save yourself the headache by keeping it inflated or getting our electric aero pump. Or, just get the LONO Aero inflatable kayak Essentials Package and the pump--plus pretty much everything else we designed for kayak fishing--will come with it.
Whether you're into kayak fishing or paddle board fishing, check out our LONO Aero inflatable kayak for the best of both worlds.