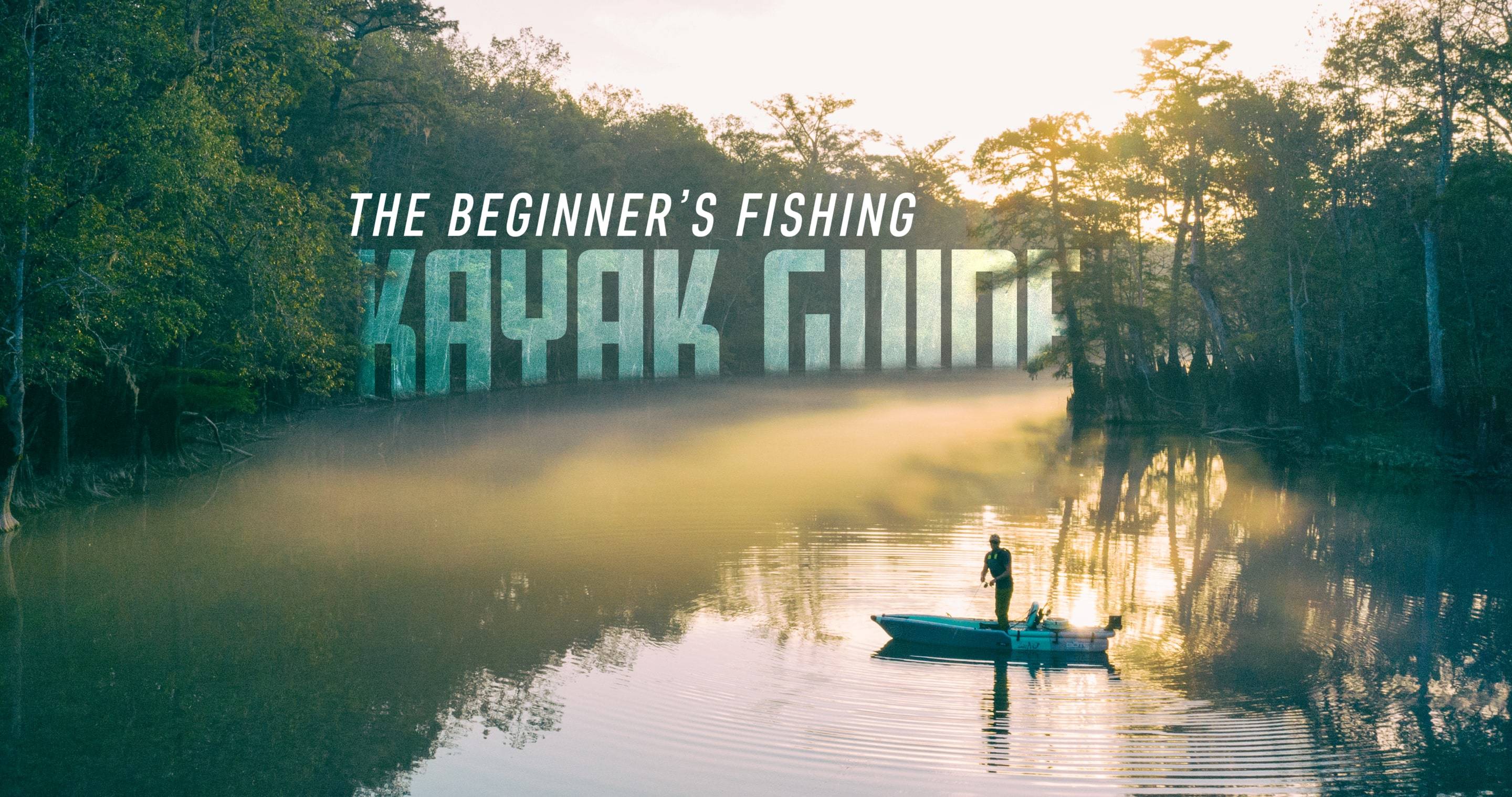 Fishing Kayak Guide for Beginners
Even if you're new to kayak fishing, chances are you know at least one thing: it's an incredible—and incredibly rewarding—activity. Not only does it combine two of the world's best watersports (ahem, fishing and kayaking), but kayak fishing is also unmatched for ease of use, affordability of the equipment compared to motorized boats, and eco-friendly fun and exercise.
Of course, you probably already know all this. What you might not know, however, is what kind of paddle vessel might be right for you when it comes time for kayak fishing.
That's why we're here: to introduce you to the LONO Aero Inflatable Kayak—the best inflatable fishing kayak for beginners on the market. So, sit back, relax, and learn what to look for in a fishing kayak.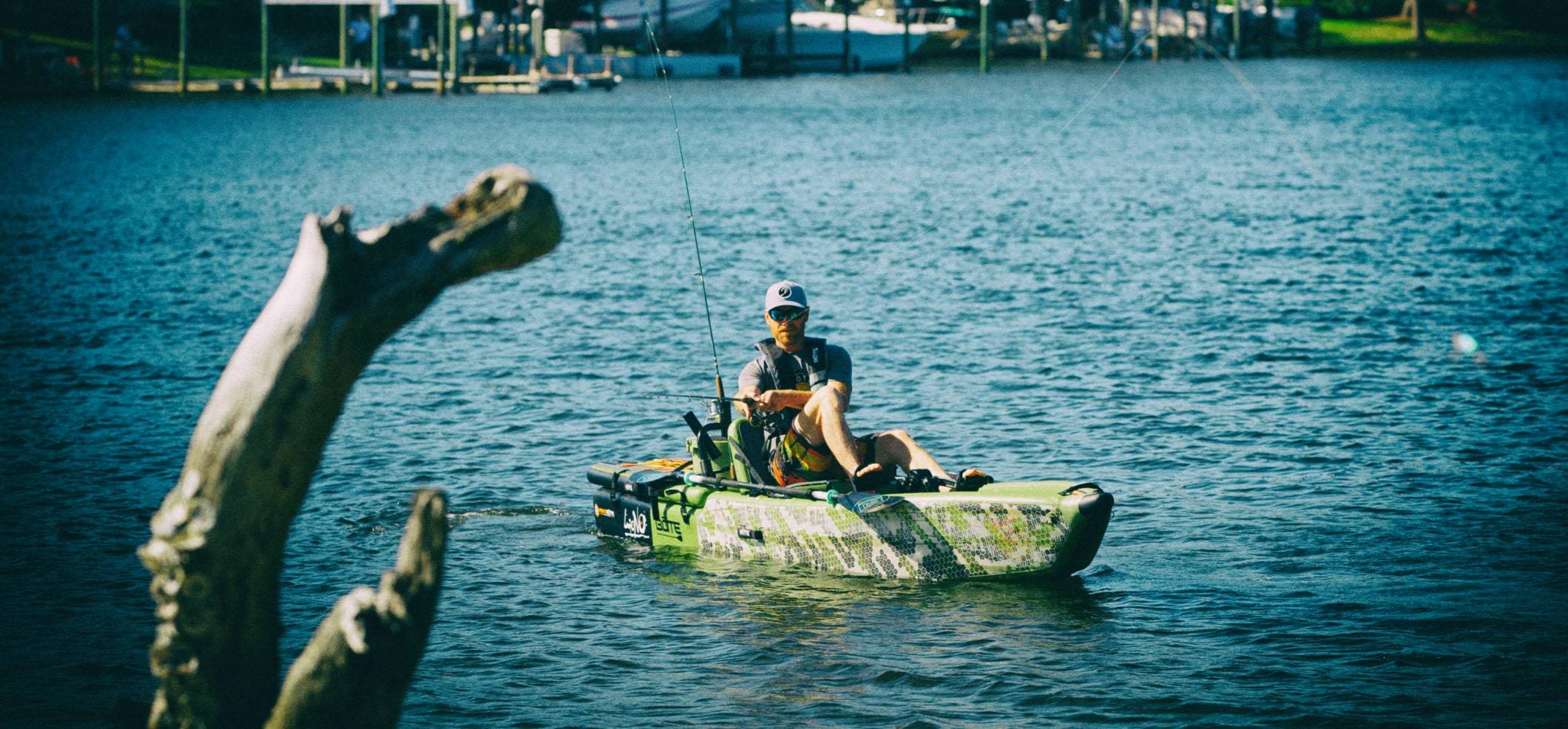 Benefits of Inflatable Kayaks
Maybe the best thing about inflatable kayaks is their room for personalized potential. In other words, inflatables fully fall within the boundaries of one of BOTE's founding philosophies: the idea of an expandable platform.
An expandable platform, according to BOTE Co-Founder and CEO Corey Cooper, is the idea that a paddle board can become so much more than a paddle board. It can become an entire mode of living; a personalized vessel for adventure. The paddle board itself is like a blank canvas, from where paddlers and kayakers alike can accessorize and deck out their vessel to create their own unique, fully customized platform.
The LONO Aero Inflatable Kayak is the ultimate expandable platform. At its core, it's first and foremost a reliable paddle vessel. If all you want to use it for is paddle excursions, it will do the job a thousand times over. But if you want to beef it up to become a fully decked out paddle fishing rig, the options are essentially limitless. As Corey says, "Paddle first, accessorize later."
There are simple things going for the LONO like paddle keepers, mesh stash pockets, adjustable seats, and the MAGNEPOD drink retention system that secures beverages in place through the power of magnets. But there are also big league additions like Sandspear™ sheaths, Power-Pole Micro® mounting plates, third-party mounting points for Go-Pro cameras, and last but certainly not least, the all-new APEX•PD—a revolutionary new pedal drive system.
Why You Need a Pedal-Drive Kayak
We can all agree kayak fishing is great. One of the worst parts, however, is rooted in biology: humans only have two arms. And while we're certainly no mathematicians, by our count: two arms doesn't bode so well for simultaneous usage of a paddle and a fishing rod. Something's gotta give. And that something is the APEX•PD—a pedal drive system that allows for hands-free paddling. So you can spend less time fumbling between your paddle and fishing rod and more time trolling the waters with all the nimble stealthiness of a ninja.
In addition to freeing up your arms, the APEX is also pretty damn easy on your legs too. With no-touch transitions between forward and reverse as well as ambidextrous steering control and a super tight turning radius, "intuitive" doesn't even begin to describe how easy the pedal drive system is. Not to mention, the 10:1 propeller-to-pedal rotation ratio means making ground is absurdly efficient and faster than a mako shark on steroids. You'll be cutting through the water with unmatched ease.
"APART, THEY ARE IMPRESSIVE. TOGETHER, THEY ARE INCOMPARABLE."
- BOTE CREATIVE DIRECTOR, ROB MCABEE
Just as kayaking and fishing go together like whiskers and catfish, the LONO and APEX PD is a match made in heaven for anglers everywhere. Each new LONO Aero Inflatable Kayak model comes embedded with an APEX clear-view port hole (the APEX is sold separately). As BOTE Creative Director Rob McAbee says, "Apart, they are impressive. Together, they are incomparable."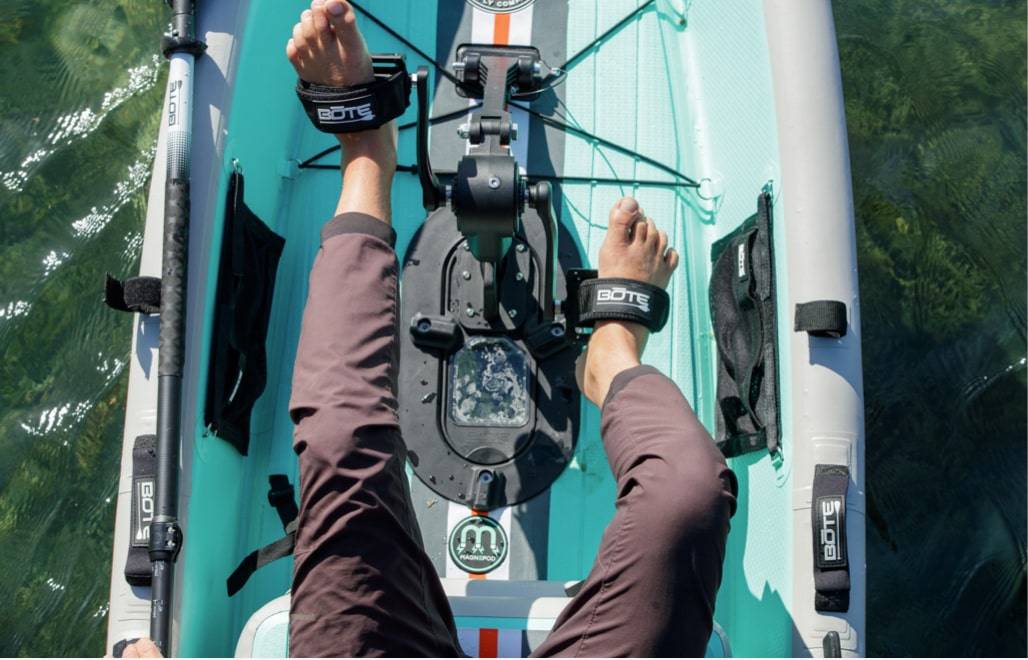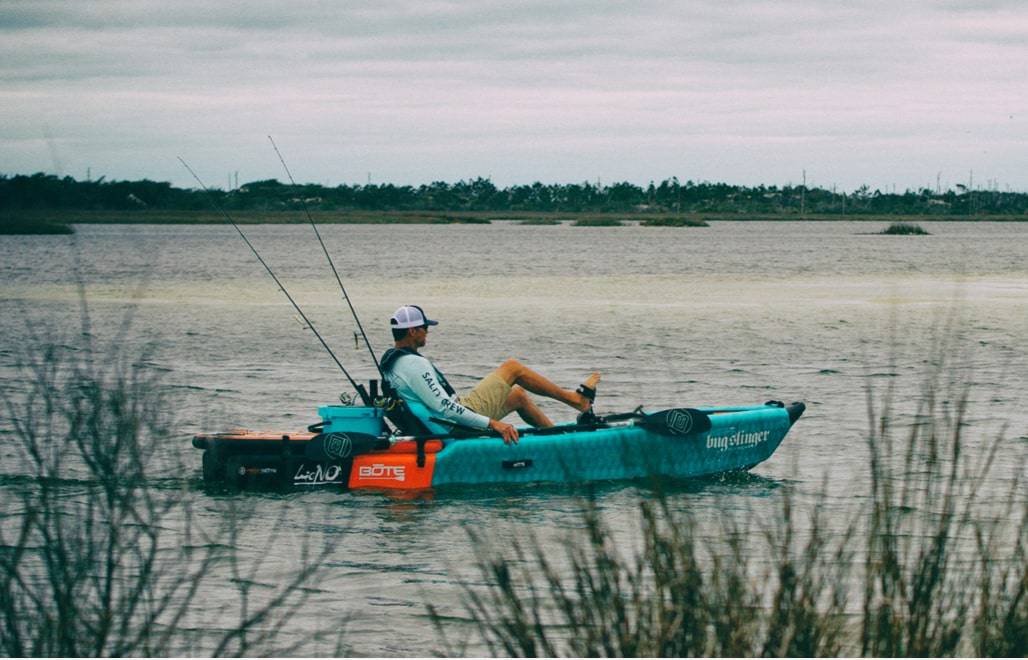 What to Look For in a Fishing Kayak
First, let's do some myth-busting. There are plenty of folks out there who think hard shells are the only way to go with kayak fishing since they're not susceptible to lure punctures. But these folks just simply haven't met the LONO yet.
Thanks to its military-grade PVC skin, the LONO Aero Inflatable Kayak is the definition of durability. And the tens of thousands of composite fibers that connect the top and bottom halves of the chamber ensure the boat is more rigid than Forrest Gump's posture. You can ding it, bump it, and beat it up without worrying about harming the integrity of the LONO.
In addition to durability, the reason inflatable kayaks are the way to go is multifaceted. First, inflatable kayaks are incredibly packable and portable. With hardshell kayaks, you're probably looking at a huge chunk of storage space in your garage and a cumbersome car rack system that would make a vehicle from Mad Max: Fury Road look basic. But with inflatables, you can transform your kayak from a badass paddle vessel into something super compact and lightweight in a matter of minutes. This makes storage and portage incredibly easy.
Second, inflatable kayaks are extremely versatile. Especially the LONO—the most versatile inflatable fishing kayak on the market. The LONO doesn't discriminate on what kind of adventures you want to take it on. It can handle choppy surf or shallow sandbars, placid lakes or currents. When you're a beginner kayak angler, this versatility is incredibly useful because chances are you're still, ahem, testing the waters when it comes to figuring out what kind of paddle fishing you like. And while you're out there enjoying your waterborne sampler's platter, the LONO can go where you go and do what you do.
The LONO is tailor-made for the beginner kayak fishing experience. Why? Because you'll never outgrow it. To put it simply, the LONO was designed to expand and evolve as you grow from beginner to advanced and beyond.
LONO + APEX PEDAL DRIVE KEY FEATURES