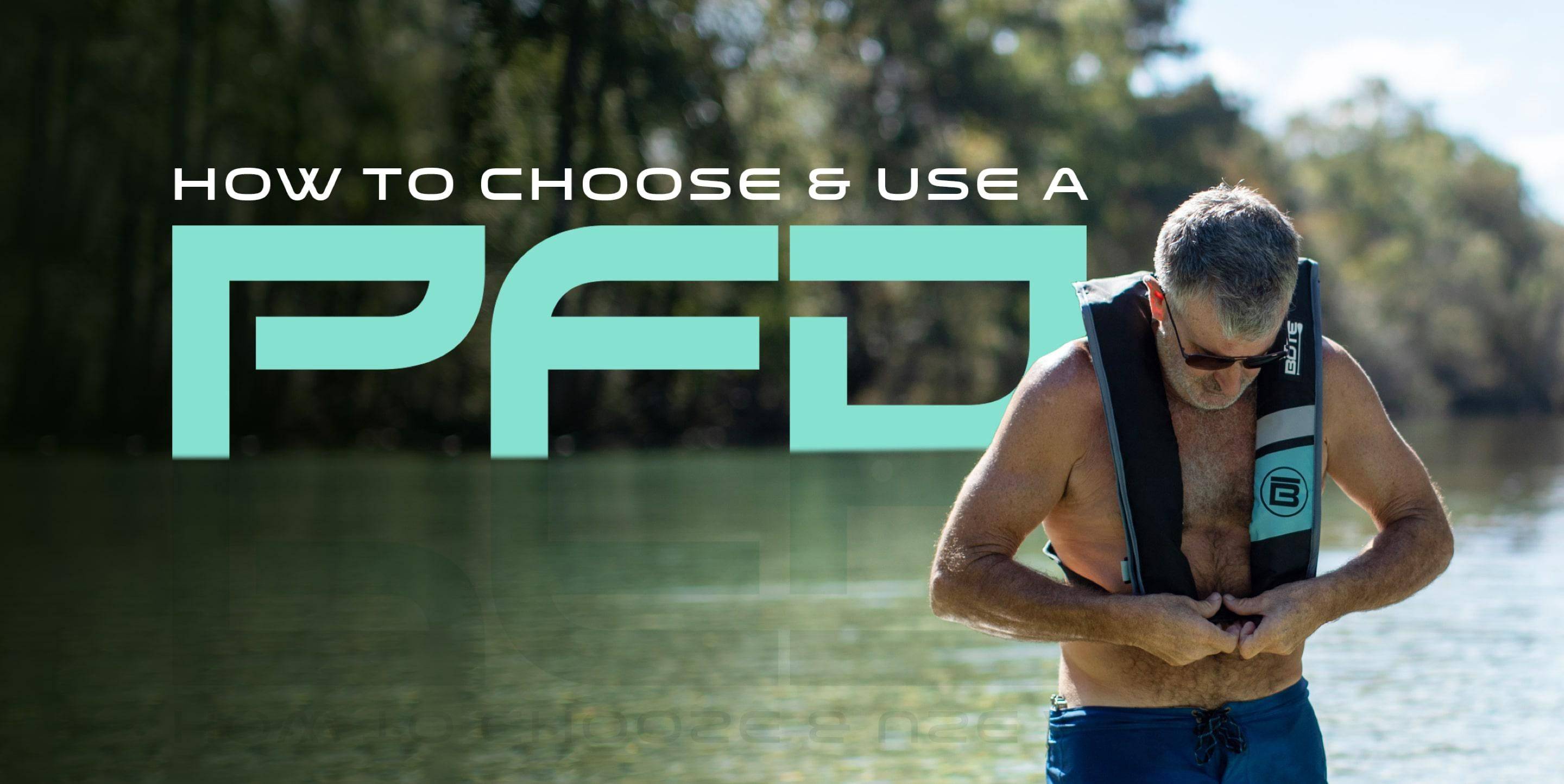 STAY SAFE OUT THERE: HOW TO CHOOSE AND USE A PFD
If you're getting started in the world of stand up paddle boarding and kayaking, you may be in the market for a personal floatation device, known as a PFD. While PFDs aren't the sexiest topic in the world of watersports, safety is a key component to the overall SUP experience.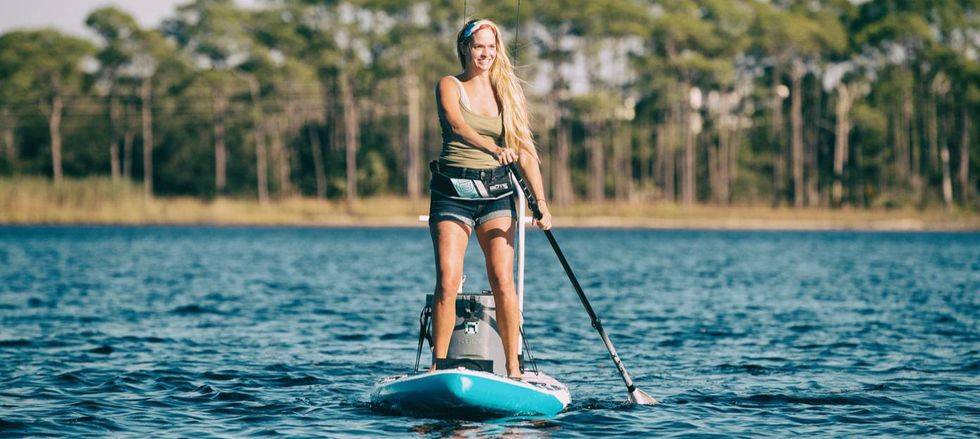 PFDs are required by the U.S. Coast Guard for all types of water vessels, from BOTEs to boats, spanning a variety of waterways throughout the U.S. Further, states and counties often set additional regulations for their respective areas, so it's important to understand the lay of the land in your hometown and your favorite travel spots before you invest in a personal floatation device for your stand up paddle board, inflatable kayak, or micro skiff.
You're probably familiar with the neon orange, foam-filled vests with wrap around straps available at convenient stores and outfitters nationwide. While these standard PFDs can be perfectly acceptable options when evaluating PFD options, you may find that it's more likely to stay on your board than on your body. Here's what to look for when buying a personal floatation device.
WHAT TO LOOK FOR IN A PFD
Slim Profile - Bulky PFDs or life vests can be very uncomfortable and inhibit movement, so for the outdoorsman and long distance paddler they can really get in the way. Opt instead for a PFD with a slim profile that hugs the body. If the PFD feels like a second skin you're more likely to keep it on your person.
Material - "Inherently buoyant" or traditional PFDs are often filled with foam and have a bulky shape as a result. The problem with foam is that it can become waterlogged, making it heavy and wet for hours to come. We like inflatable options wrapped in soft neoprene. For one thing, there's nothing for the water to latch onto, so they dry incredibly fast. Two, they're inherently lightweight as they fill with air once inflated. And three, soft neoprene feels smooth against your skin, so it's comfortable to wear all day long, in and out of the water.
Buoyancy - Buoyancy requirements are dependent upon whether you'll be paddling or motoring, your weight, and the type of water where you plan to spend most of your time.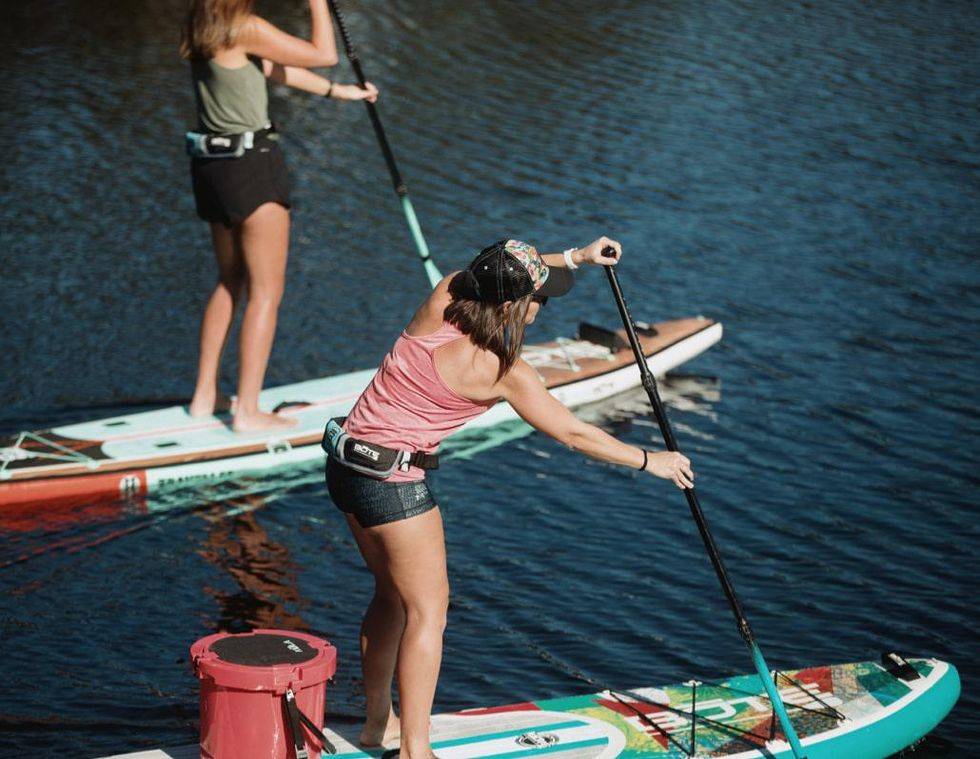 According to the U.S. Coast Guard, "most adults only need an extra seven to twelve pounds of buoyancy to keep their heads above water. A PFD can give that 'extra lift,' and it's made to keep you floating until help comes. But a PFD is a personal flotation device and it's important to get the right one for you. Your weight isn't the only factor in finding out how much 'extra lift' you need in water. Body fat, lung size, clothing, and whether the water is rough or calm, all play a part."
BOTE PERSONAL FLOATATION DEVICES AND SAFETY GEAR
"NO ONE WANTS TO BE THE GUY ON THE WATER WITH A BADASS PADDLE BOARD AND A FLUORESCENT ORANGE VEST. WE GET IT. BUT RATHER THAN COMPROMISING YOUR SAFETY, CONSIDER INVESTING IN A PFD THAT BLENDS IN A LITTLE BETTER AND FITS COMFORTABLY SO YOU WON'T HAVE RESERVATIONS ABOUT WEARING IT."
- Zack Eckert, Director of Sales at BOTE
BOTE Inflatable Vest PFD - The BOTE Inflatable Vest PFD is an automatic vest with the option to become manual. How does it work? Once water gets inside a small capsule it activates and triggers the inflation. However, if you plan to be in and out of the water often, you can convert it to manual inflation.
With a 24g cylinder and 26 lbs of buoyancy, the BOTE Inflatable Vest PFD is designed to wrap around the back of your neck and secure around your stomach, floating you in an upright position. Plus, with built in super-soft neoprene wrapped in classic black, gray, and seafoam, it blends in with your vibe and keeps you comfortable whether you're sandbar hopping on a SUP or going far and fast on a micro skiff. This vest is classified Type V non-convertible with Type III performance, so it must be worn to be legal.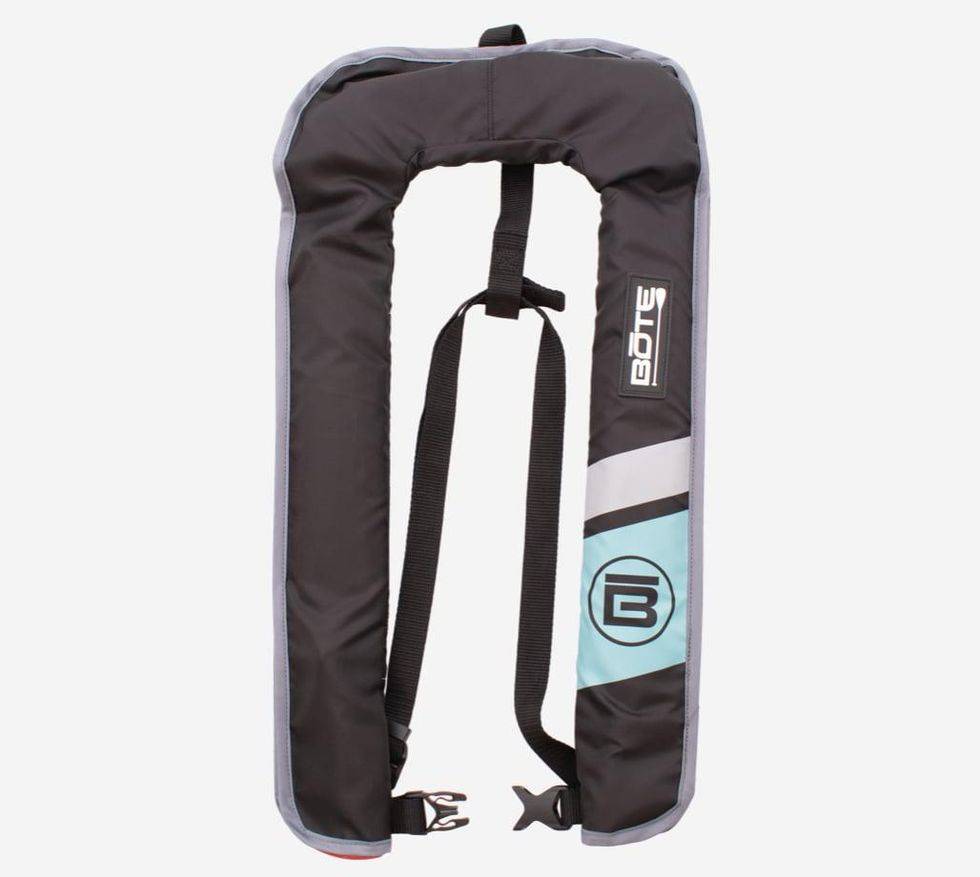 BOTE Inflatable Belt PFD - We redesigned the classic inflatable belt PFD to make it more comfortable and stylish. With soft-touch neoprene against the skin and a wider belt strap, the BOTE Inflatable Belt PFD fits snug and comfortably for all-day wear. Designed for manual inflation with a 12g cylinder and 16.5 lbs of buoyancy, the BOTE Inflatable Belt PFD is Type V non-convertible with Type III performance, so it must be worn to be legal. Perfect for smaller bodies of water where lower inflation meets USCG requirements.
Coiled Leash - While a leash that keeps you connected to your highly buoyant board isn't considered a PFD, it's still highly recommended. In many places, it's required. A coiled leash is a great addition to your safety set up for any SUP board, keeping you safely attached to the board but coiled and compact when not in use.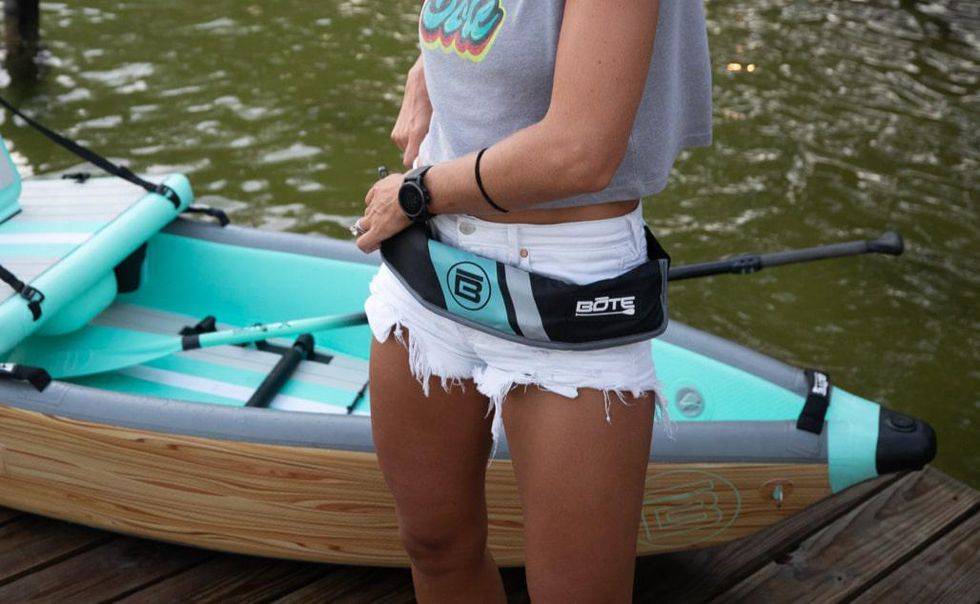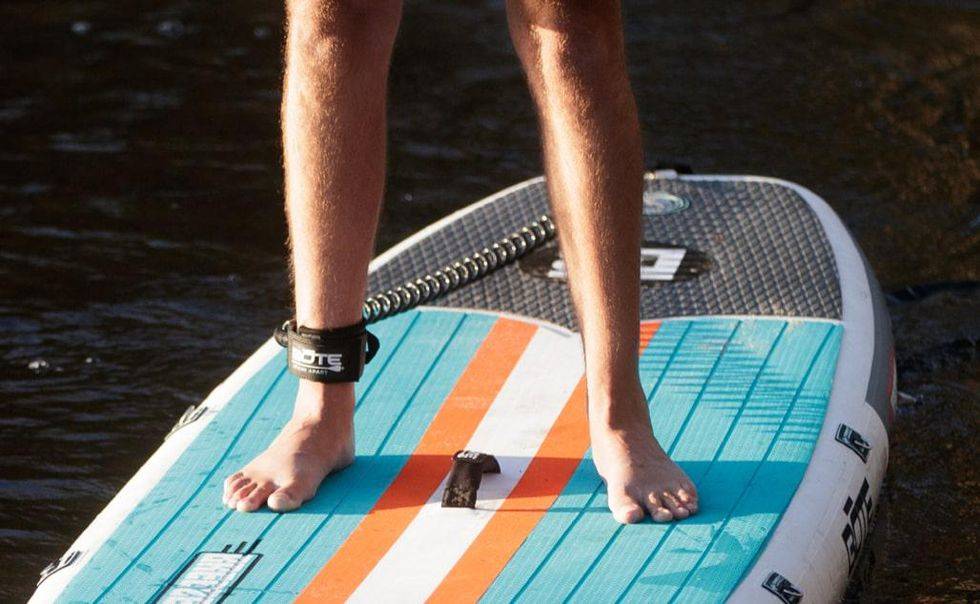 If you already have a PFD and you're venturing out for your first paddle, you may be wondering how to use it. While the requirements vary by state and county, it's always a good idea to wear your PFD on your body and secure it in place according to the manufacturer's instructions. It seems simple enough, but we see a lot of PFDs attached to their stand up paddle board, kayak, or micro skiff by way of a bungee cord. The problem is that your board and your PFD are highly buoyant and you aren't, so you should always be attached to at least one of the two.
When it comes to stand up paddle boards, leashes may or may not be required based on local guidelines. However, it's always advisable to wear a leash. Your best bet is to wear your PFD and fasten the leash around your ankle.
"IN PLACES WHERE THE MINIMUM REQUIREMENT IS THAT A PFD IS ON THE BOARD VERSUS ON YOUR PERSON, WE SEE A LOT OF PEOPLE BUYING THE CHEAPEST THING THEY CAN FIND AND STICKING IT UNDER THE BUNGEES AT THE FRONT OF THE BOARD. THIS IS PROBLEMATIC FOR A NUMBER OF REASONS. IF A LEASH ISN'T REQUIRED OR BEING USED, IT'S VERY EASY TO GET SEPARATED FROM YOUR BOARD IN A LARGE BODY OF WATER. SO IF YOUR BOARD FLOATS AWAY WITH YOUR PFD, YOU MAY FIND YOURSELF EXPENDING A LOT OF ENERGY TO GET BACK TO THE VERY ITEMS THAT ARE MOST BUOYANT--YOUR BOARD AND YOUR PFD."
- Zack Eckert, Director of Sales at BOTE
For additional information, check out these videos:
It all started with a paddle board, but now it's more about the lifestyle. Whether you're into river kayaking, SUP surfing, or fishing on a skiff, you can find just about everything you need to get out on the water right here at boteboard.com. And while it may not be the sexiest topic, safety is a key component to the overall experience.
"WE RECOGNIZED THAT THE PFD OPTIONS IN THE MARKETPLACE WEREN'T SEXY AND DECIDED TO FIX IT. OUR BOTE PFD OPTIONS NOT ONLY LOOK GOOD BUT THEY'RE HIGHLY DURABLE AND MEET U.S. COAST GUARD REQUIREMENTS FOR THEIR CATEGORY. THE $10 NEON VESTS PEOPLE ARE USED TO SEEING AREN'T THE ONLY OPTION. WHILE THE BRIGHT COLORATIONS SERVE A PURPOSE--TO HELP PEOPLE FIND YOU IN CASE OF EMERGENCY--THE BRIGHT YELLOW OR ORANGE DOESN'T NEED TO BE EXPOSED UNTIL INFLATED IN AN EMERGENCY SITUATION. WHAT WE CAME UP WITH IS TWO HIGHLY FUNCTIONAL PRODUCTS THAT HAPPEN TO BE A BIT SEXIER THAN WHAT PEOPLE ARE USED TO SEEING. AT BOTE WE'RE ALL ABOUT THE LIFESTYLE, AND SAFETY IS A PART OF THAT."
- Zack Eckert, Director of Sales at BOTE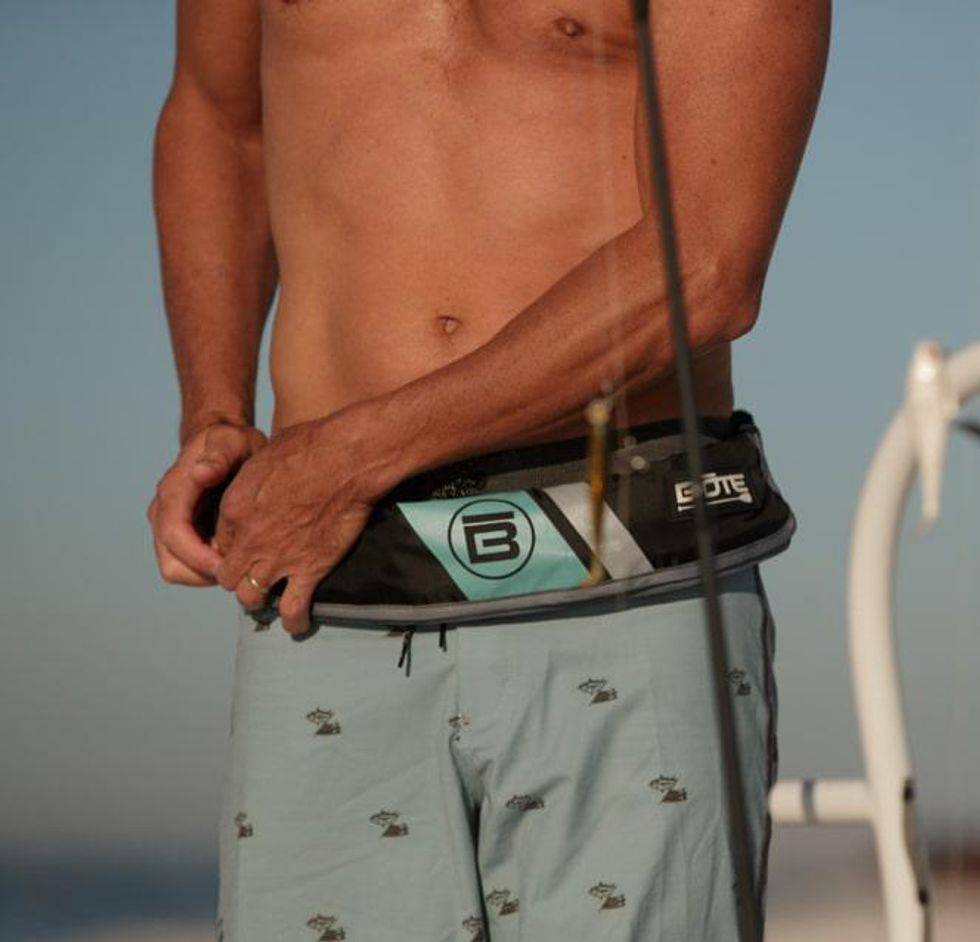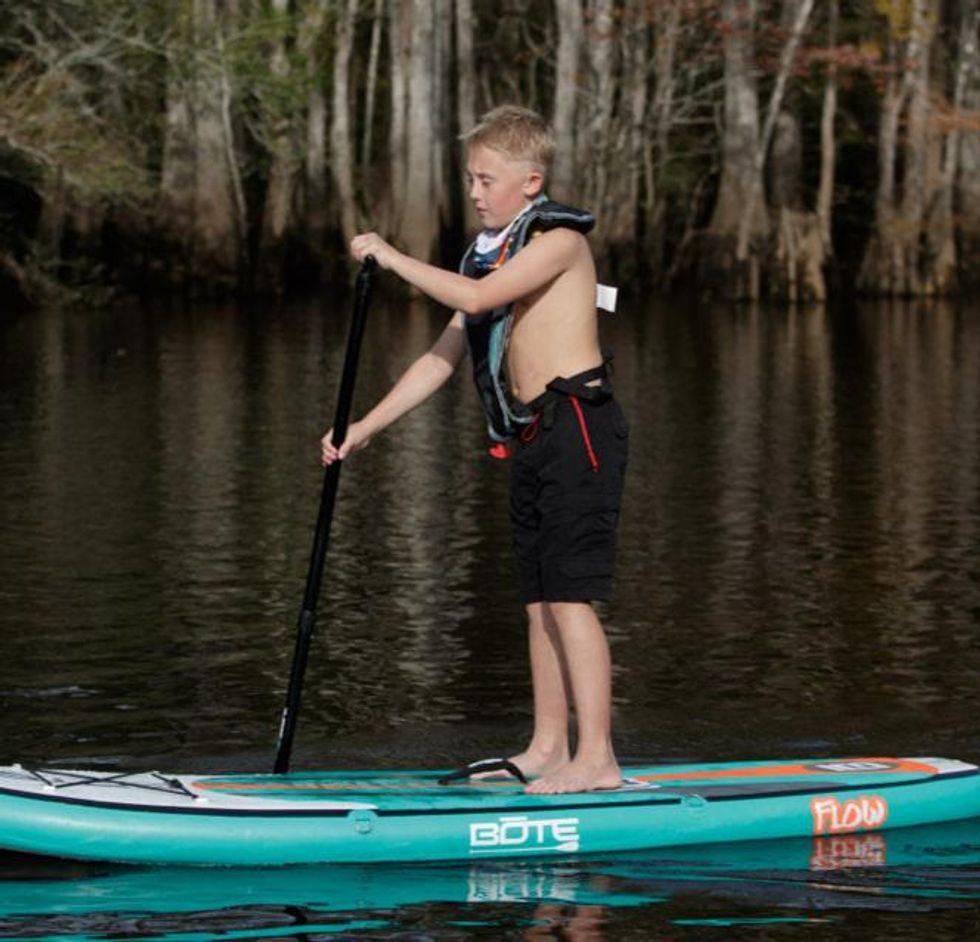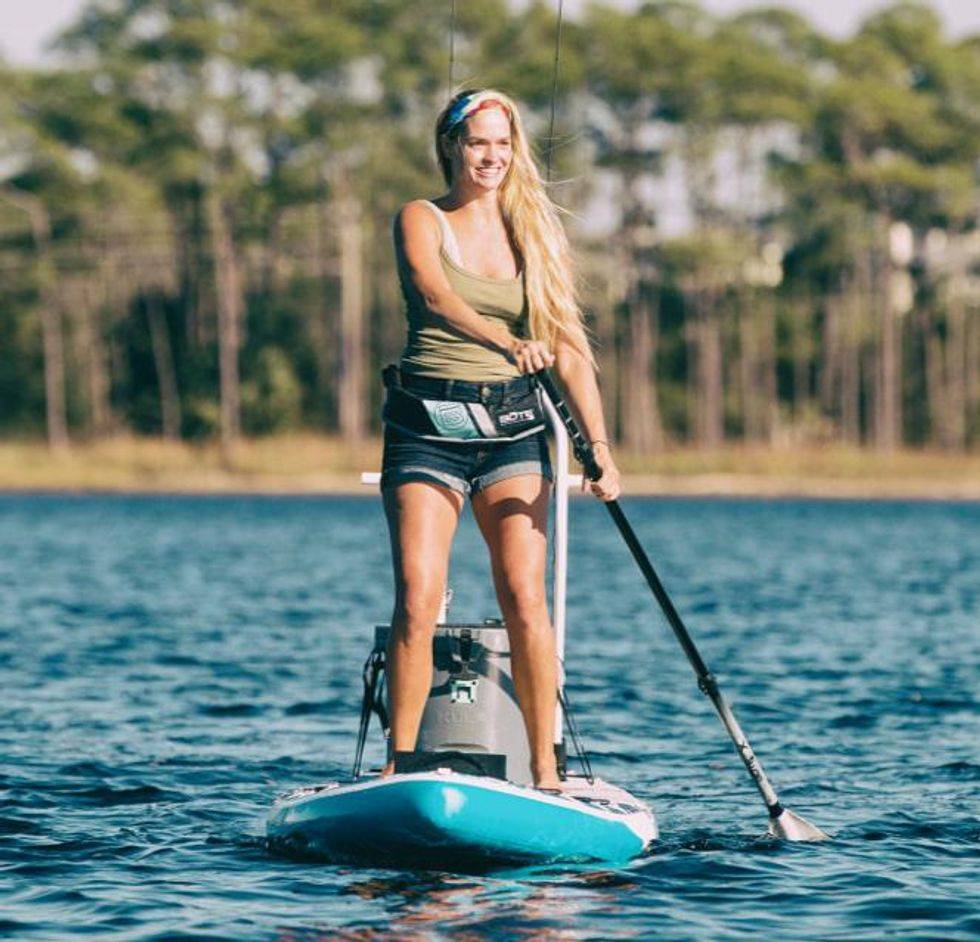 For more information about U.S. Coast Guard requirements for PFDs, check out their PFD Selection, Use, Wear & Care instructional page. And don't forget to familiarize yourself with state and county regulations at home and where you plan to travel. We at BOTE aren't the authority on water safety, we're just here to help you be prepared, stay safe, and look good doing it.