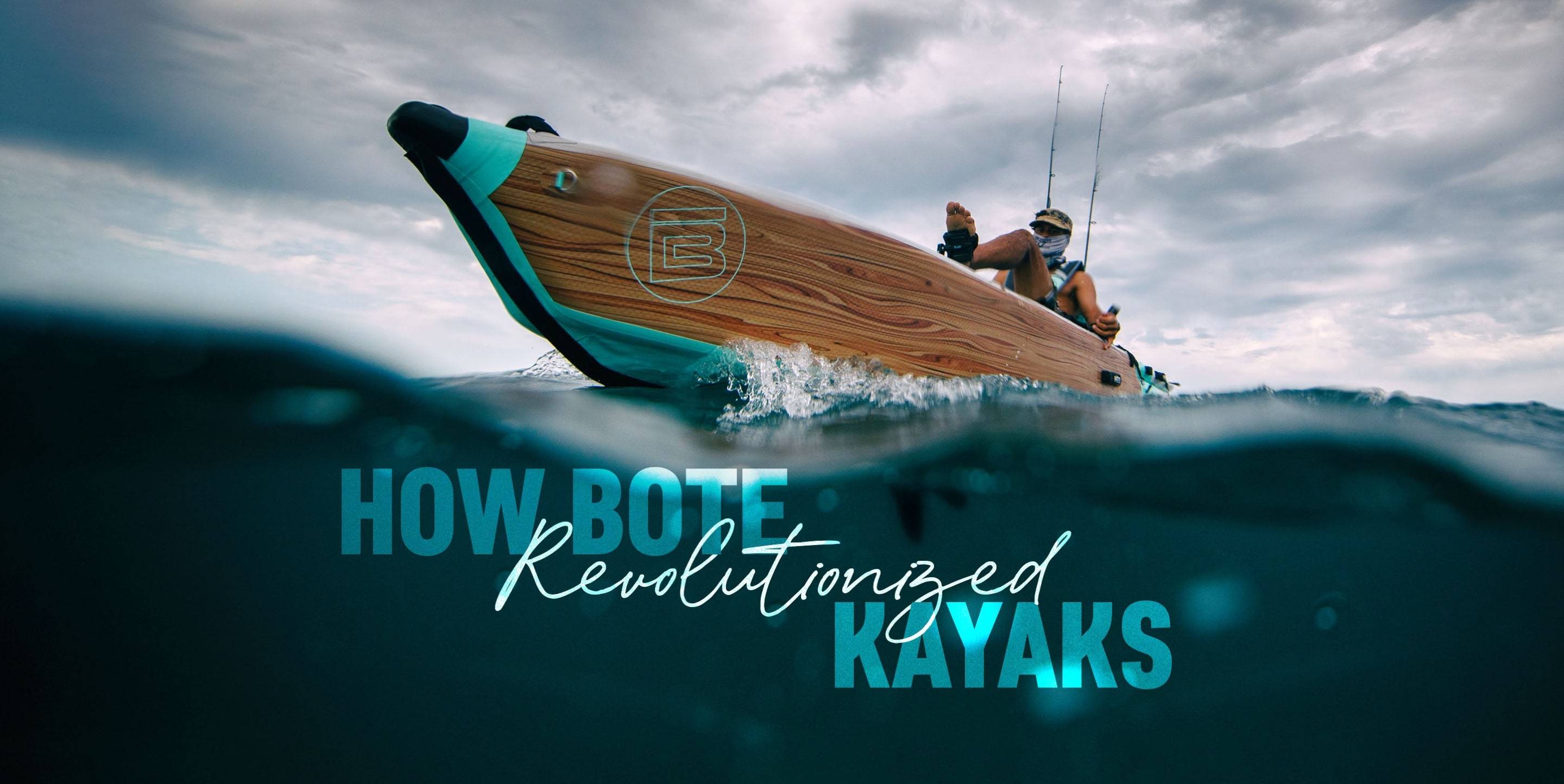 How BOTE Revolutionized Kayaks
We've come a long way since 4,000 years ago — back when the world's first kayaks were made of driftwood and seal skins.
Today, there's a staggering smorgasbord of kayak varieties, shapes, sizes, brands, purposes, you name it, on the market. So we knew if we were going to enter the kayak space we would need to do it in true BOTE style – with innovation and industry-shaping technology.
The general structure of a kayak and its use cases were well established, but what if we applied AeroBOTE Technology to the familiar construction? Or approached the 'inflatable kayak' category as an expandable platform? In just a few short years, we've revolutionized the meaning of 'inflatable kayak' and helped kayaks as a category enter a new evolutionary phase; one where the word kayak is no longer synonymous with 'heavy' and 'a pain to transport'.
Don't believe us? Read on to learn how BOTE revolutionized inflatable kayaks.
A Brief Retrospective of BOTE
Since our humble beginnings in Destin, FL, with a dream, a lot of grit, and seven grand in the bank, BOTE has always strived to Stand Apart. Or, more formally, we've always strived to "Stand Apart through industry-shaping innovation, fresh ideas, and simplicity to create a product that defines a lifestyle." In short, innovation is in our blood. And always has been. You probably know us for our fleet of world-class, world-renowned stand up paddle boards. But the way we see it, innovation doesn't know the meaning of a rearview mirror. So, we kept pushing, kept innovating… right into the inflatable kayak category. First, we launched the LONO, BOTE's first-ever drop-stitch inflatable kayak design. And true to form: We never looked back.
---
"Stand Apart through industry-shaping innovation, fresh ideas, and simplicity to create a product that defines a lifestyle."
---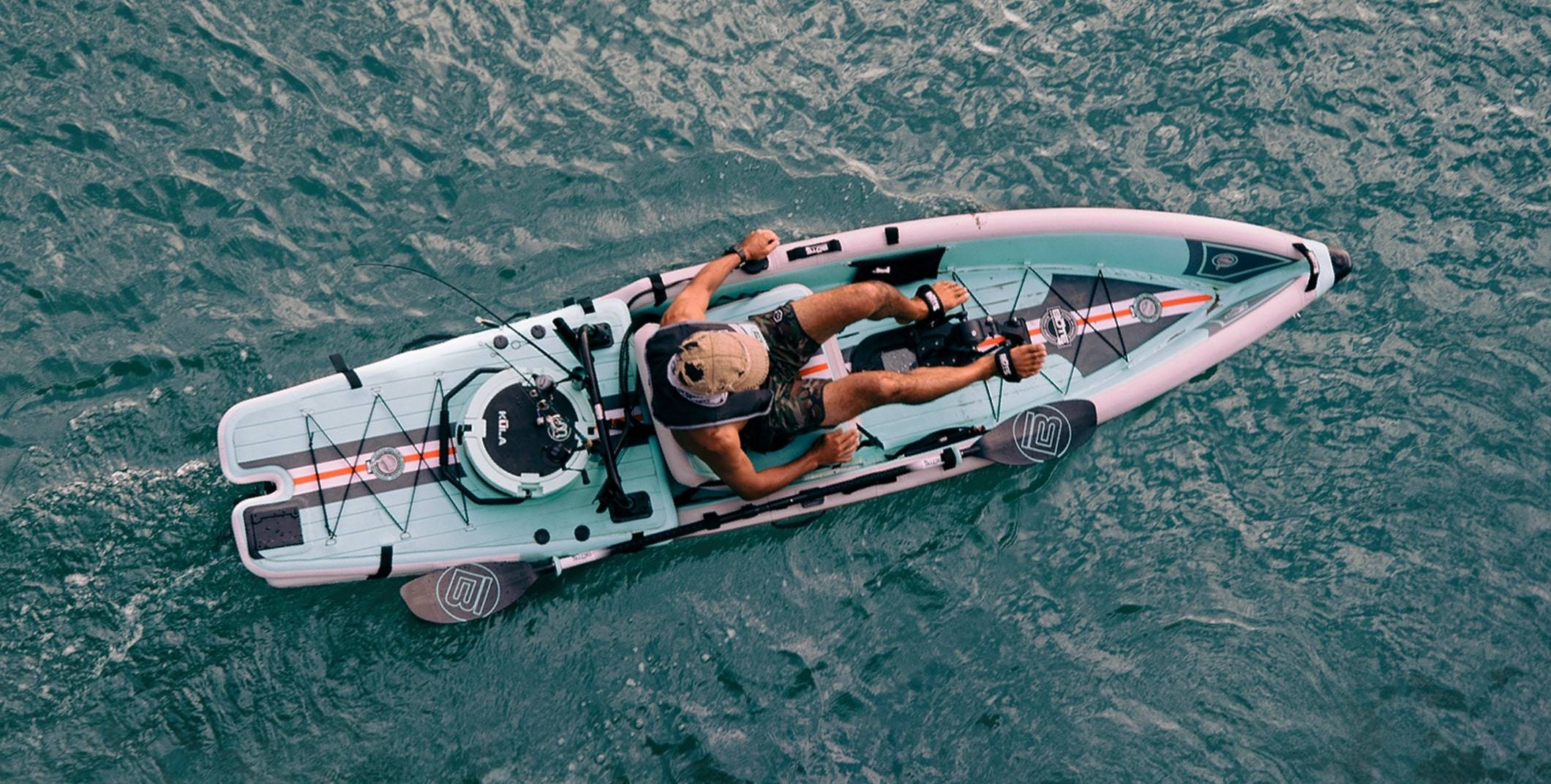 How BOTE Revolutionized Kayaks
Over the years, we've created a dangerously good-looking (and durable) group of inflatable kayaks. How we've done it is at once simple and painstakingly meticulous.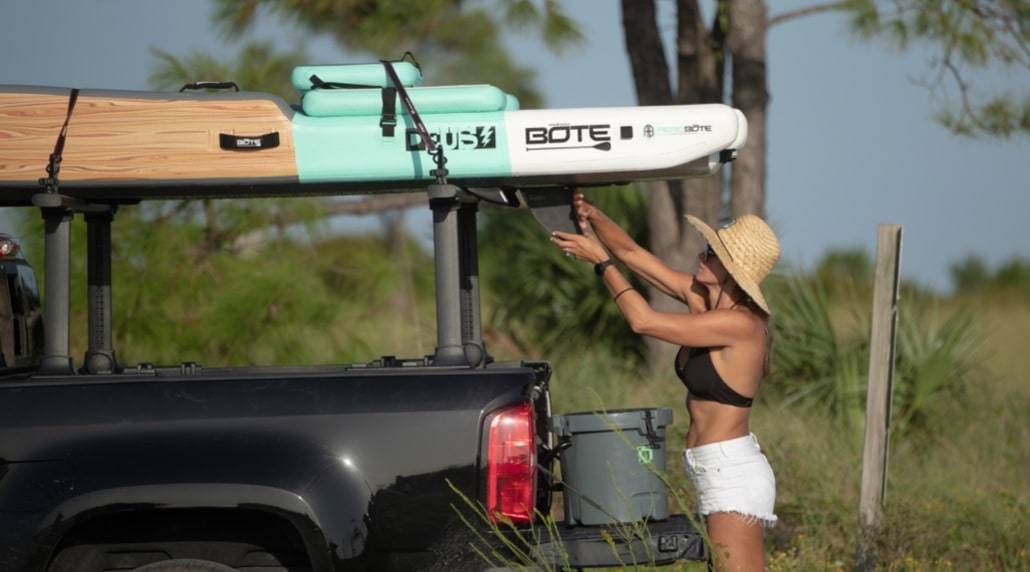 As Rigid As a Solid Kayak
The words "inflatable" and "kayak" didn't always go together so well. Back in the Bronze Age of kayaks, it used to be that fiberglass and polyethylene were the only materials you could find. But that didn't sit so well with us. We figured if we could make an inflatable stand up paddle board that performed as well as a solid SUP, why couldn't we apply the same patented and perfected Aero Technology to the world of inflatable kayaks. So, that's exactly what we did. The result? A fleet of inflatable kayaks so rock-solid, you'd be forgiven for thinking you're on a solid kayak when you're actually on an industry-leading BOTE inflatable kayak.
Peak Stability & Durability
The last thing you want in an inflatable kayak is a watercraft vessel that doesn't perform. BOTE inflatable kayaks are built to keep you happy and safe on the water thanks to their extremely stable platforms, elevated seating options, and wide base, consistently delivering on all fronts from safe and stable to guaranteed good times.
Having tested, retested, paddled, and perfected our Aero Technology across our fleet of inflatable SUPs and kayaks, saying we've learned a thing or two about durability over the years would be an understatement. "Durability" is in the BOTE DNA. The military-grade PVC skin across our fleet means that vessels outfitted with AeroBOTE construction can withstand being tossed around, banged, bumped, and scraped with low risk of damage or permanent blemish.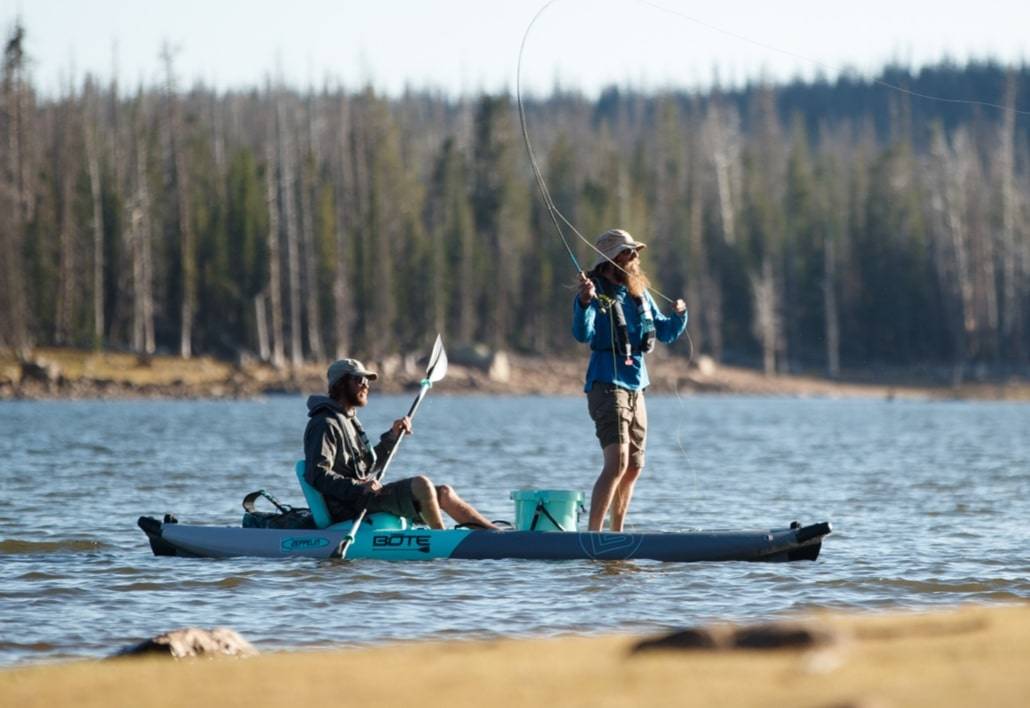 Ridiculously Portable Kayaks
Gone are the days of cumbersome, 80 lb polyethylene kayaks. With BOTE's fleet of inflatable kayaks, we made sure that it's never been easier (or lighter-weight) to pack and carry your 'yak. What makes them truly unique is their packability. Our inflatable kayaks come equipped with a custom travel bag so they can pack down into even the smallest spaces. On the go or on the water, BOTE inflatables go wherever you go.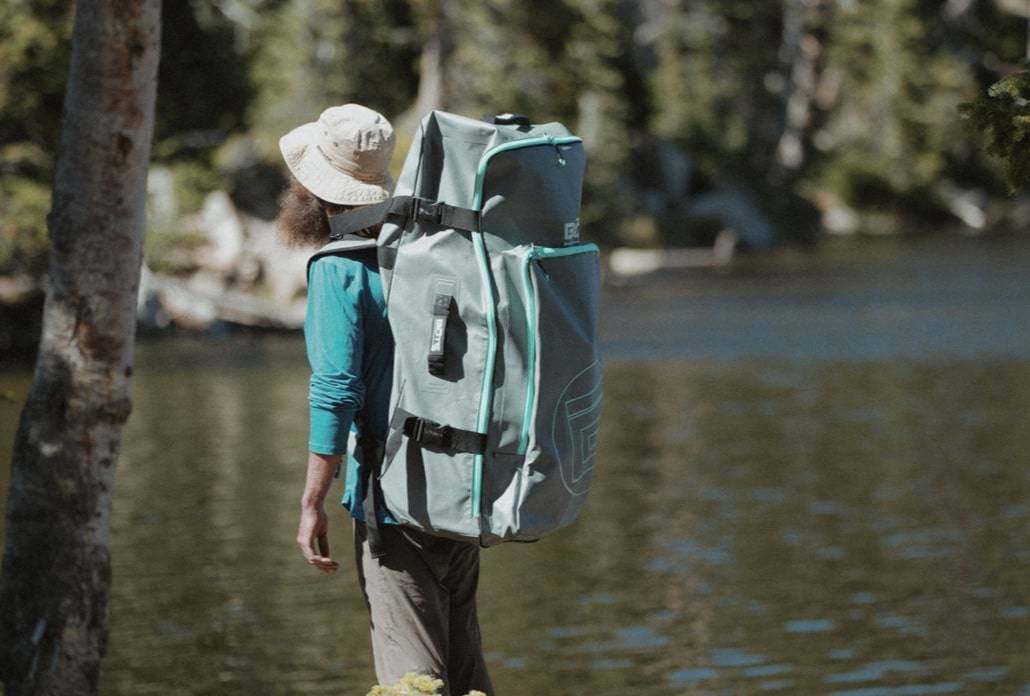 More Than a Kayak
BOTE's lineup of kayaks, from tandems to singles, fishing kayaks to recreational all-arounders, is wildly diverse and more versatile than a Swiss Army knife. And because versatility is such a huge component of the BOTE lifestyle, we made sure to infuse each of our kayaks with a wide range of transformational options. Want an extra rider to tag along? Go tandem with the Zeppelin 12'6" (which also converts to a single-seat kayak in seconds). Want to convert your DEUS Aero from a sit-on-top kayak to SUP? Remove the top chamber, and it becomes a super stable stand up paddle board. Want to paddle hands-free? The Pedal Port built into the deck of the LONO Aero allows for the separately sold APEX Pedal Drive to convert it from paddle-driven to pedal-driven.
Needless to say… you want options? We've got options.
Expandable Platform Ethos Continues
Here at BOTE, an "expandable platform" is the idea that a watercraft can become so much more than a simple paddle device. It can become an entire mode of living, a personalized vessel for adventure, an empty canvas, from where paddlers can personalize and accessorize their watercraft to create an entirely unique paddle experience.
Of course, most importantly is the paddling itself. As BOTE Co-Founder and CEO Corey Cooper says, "For me, it's always been, 'paddle first, accessorize and personalize second.' But both had to coexist simultaneously."
Bottom line, when you get a BOTE inflatable kayak, you're first and foremost getting an exceptional paddle vessel. But you're also getting something that can be seamlessly decked out with tons of gear and goodies. Pedal Drives, KULAs, MAGNEPOD compatibility, extra AeroSeats, you name it. The number of extra add-ons and built-in potential in BOTE inflatables can take your kayaking experience from great to legendary.
---
"For me, it's always been, 'paddle first, accessorize and personalize second.' But both had to coexist simultaneously."
- Corey Cooper // BOTE Co-Founder and CEO
---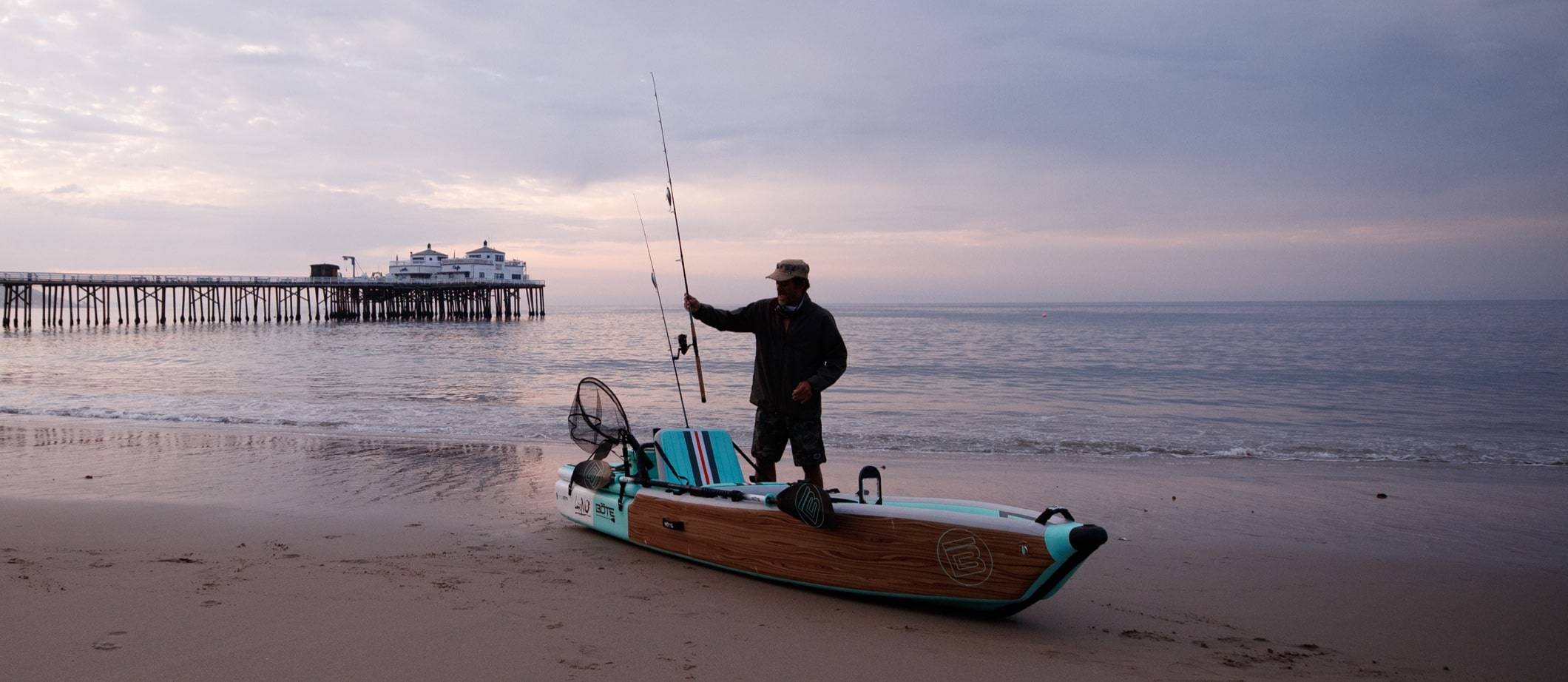 The BOTE Inflatable Kayak Fleet
Want to get to know our inflatable kayak fleet in more detail?
Zeppelin Aero Inflatable Kayaks
The Zeppelin is the most versatile one- or two-person kayak in the BOTE waters. A self-draining hull and removable floor chamber differentiate the Zeppelin from its stablemates. An inflatable watership that welcomes the individual with the Zeppelin 10' and tandem with the Zeppelin 12'6"—that's what this kayak is all about.
The Zeppelin Aero 10' is a pint-sized single-seater that packs a punch. Because like a Scandinavian living room, sometimes stripped back and paired down is the best design form. We've taken our 12′6″ tandem kayak and turned it into a supremely stable, 10-foot version that packs down to an incredibly small footprint so you can take your kayak with you anywhere.
Alternatively, suppose you've got the need to bring a friend along or some serious gear. In that case, the Zeppelin Aero 12'6" is what tandem kayaking dreams are made of. With a high capacity and standard tandem style that can be transformed into a single-seat, the Zeppelin 12'6" is an excellent option for the whole family to spend time on the water together.
DEUS Aero Inflatable Kayaks
The DEUS Aero is everything a solid kayak wishes it was: extremely lightweight, extremely useful, and extremely awesome. This versatile recreational kayak puts The Transformers to shame. The DEUS is a sit-on-top kayak and a stand up paddle board in one thanks to the innovative removable top chamber, doubling as an extra floating platform. From travel bag to 11-foot kayak in a matter of minutes and carrying a weight capacity of up to 300 lbs, the DEUS Aero Inflatable Kayak is the perfect recreational inflatable kayak. And the military-grade PVC construction makes the DEUS lightweight and easy to store.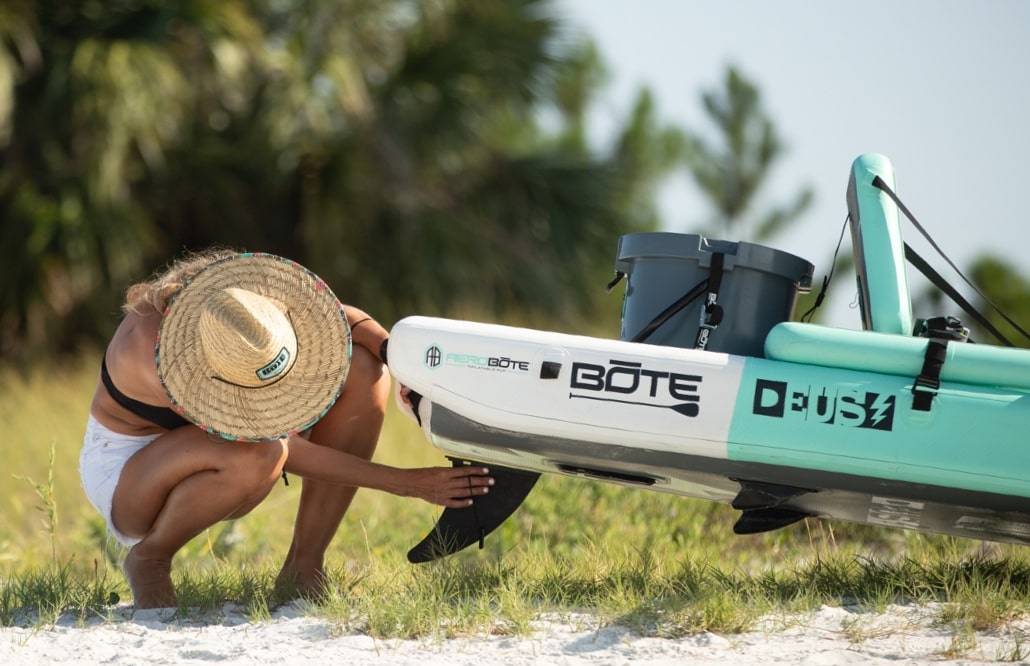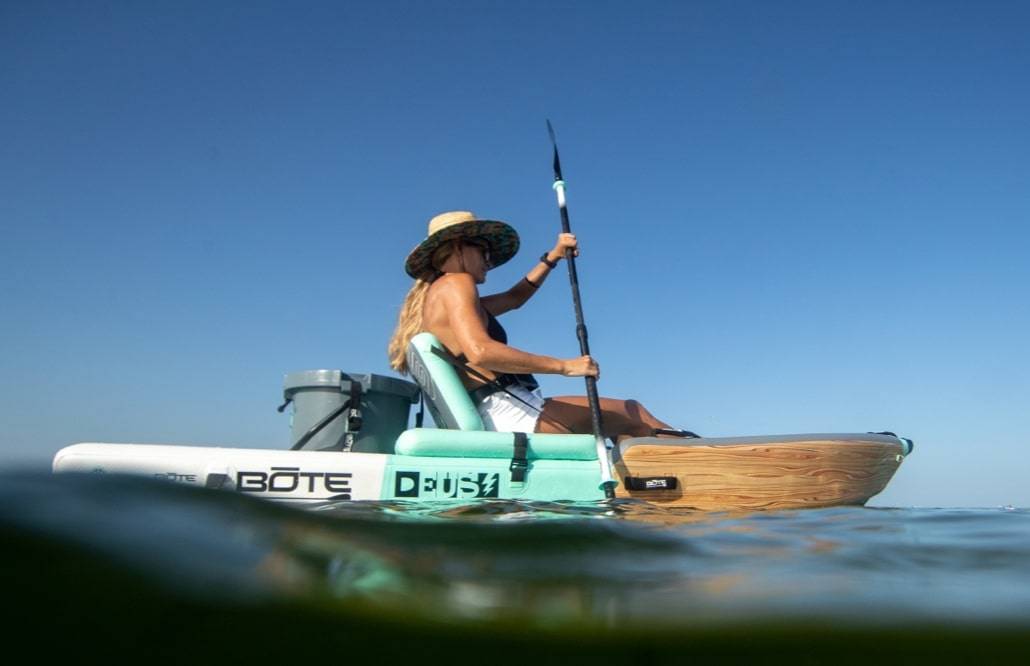 LONO Aero Inflatable Kayaks
Known as the "Ultimate Fishing Inflatable," the original LONO Aero Inflatable Kayak was BOTE's initial venture into the inflatable kayak seascape. And in many ways, it revolutionized the kayak market, outperforming traditional solid kayaks and offering a solution for rack-less sedan-driving paddle anglers everywhere.
In the words of Co-Founder & CEO Corey Cooper, "The LONO is a portable, packable, badass, high-end, inflatable fishing kayak."
The LONO offers a unique four-chamber design for maximum versatility, so you can fish standing up or sitting down, float the removable top chamber as an extra platform, then pack it down into the provided travel bag and hit the road. You want speed, packability, portability, versatility? The LONO's got your back (and your butt).
---
"The LONO is a portable, packable, badass, high-end, inflatable fishing kayak."
---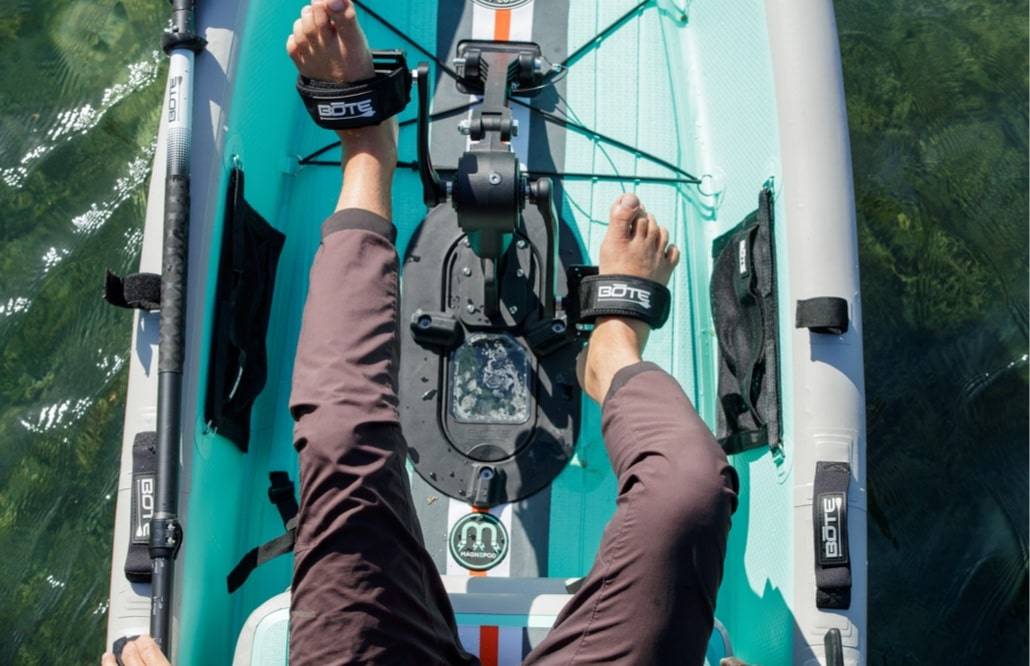 Oh, you also want to paddle hands-free? The separately sold APEX Pedal Drive offers no-touch transition between forward and reverse, ambidextrous and intuitive steering control, a spring-loaded kick-up rudder, super-tight turning radius, and a 10:1 propeller-to-pedal rotation ratio. AKA, it's fast and incredibly efficient. Whether you're hitting your favorite fishing spots on the weekend, gearing up for a water-borne expedition, or just hitting the local launch with your family, it's time to say goodbye to compromise and hello to the LONO.