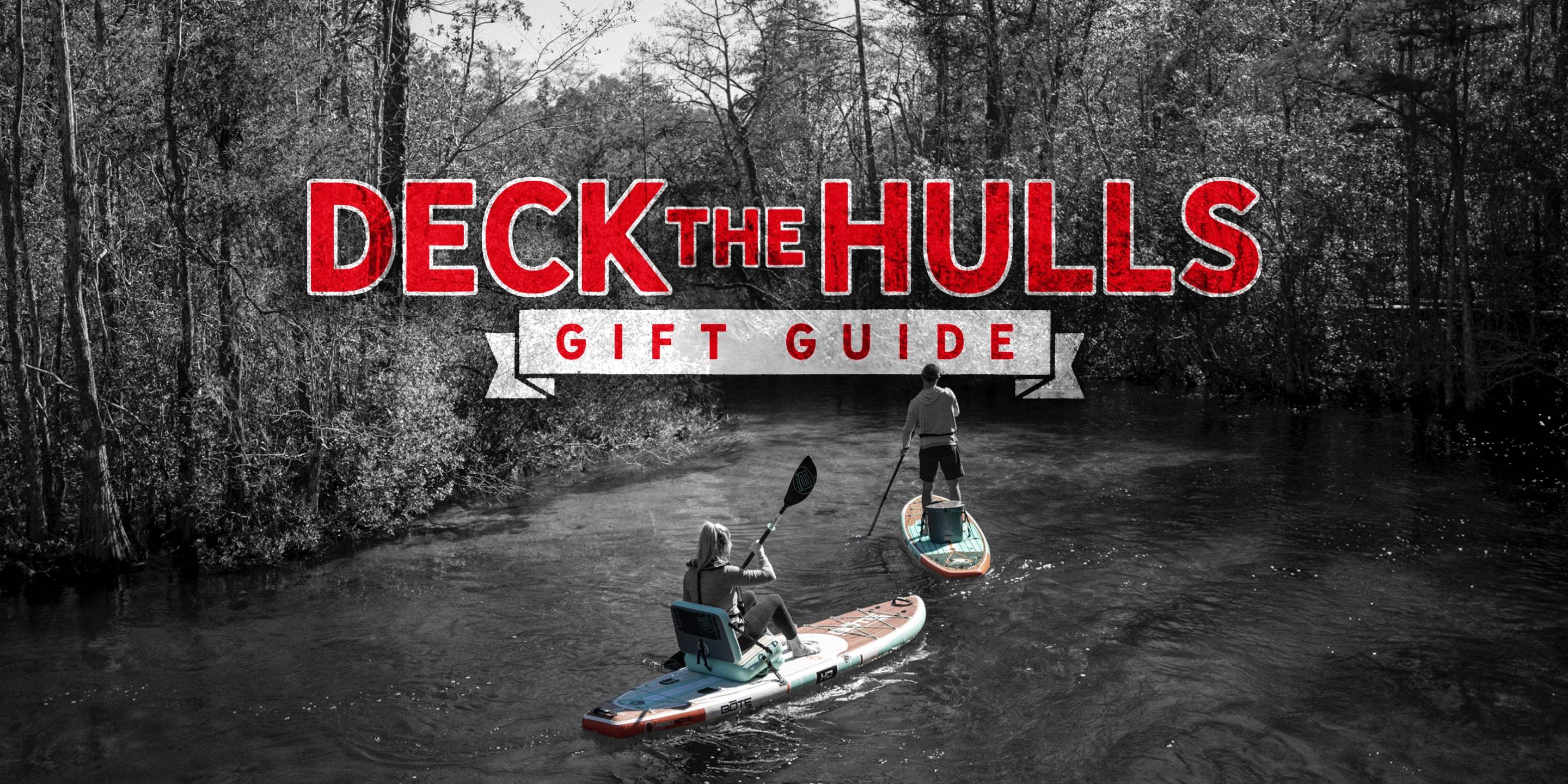 Deck the Hulls Gift Guide
At BOTE, we don't just deck the halls. We deck the hulls. We also love a good pun.
It's that time of year again—the holiday season. And we're sure you're putting on your thinking caps about what to get all the important people in your life. Each year gets harder and harder as you try to outdo former years to keep your street cred for being an excellent gift giver.
So for your friends and family who already have a stand up paddle board, you're in luck, because while a SUP board is a gift that keeps on giving, so is the gear that can attach to it. Know someone new to the paddle game? Then start them off right with some key SUP gear that'll change their life. Or how about a kayak angler who seems to have it all? Well, we'd beg to differ once they see the fishing gear we have available.
Bottom line, the gifts don't stop when it comes to SUP boards and inflatable kayaks. Decking the hulls (planing, displacement, entry rocker, etc.) with BOT gear is a great way to keep expert gift-giving status without breaking the bank.
Beginner Paddling Essentials
If your buddy just dropped a pretty penny on their first stand up paddle board, they're likely gonna be getting on the water ASAP to test out their shiny new purchase. They're not even familiar with all the paddling gear that's available to them at this point in the game, so it's a good thing they have awesome friends like you to take them from beginner to intermediate with these SUP essentials.
Great for beginners still perfecting their stroke and getting used to different levels of water conditions, a PFD is a must-have for SUP boards and kayaks alike. Our Inflatable PFD Belt is discreet, sleek, and will get the job done should you need to use it. Our Inflatable PFD Vest is a simple and sleek take on your standard bulky life jacket. When it comes to safety, you can't go wrong with either, although we recommend the Belt for SUP and the Vest for kayaking.
While we're placing the coiled leash as a beginner essential, this gift is a huge benefit for anyone who's experienced the pain of chasing your SUP board after you've fallen off it (which is everyone). When you fall off your SUP, you naturally push away from your board, so having it attached to you with a leash will save you time and potential damage to your board.
We pride ourselves on making high quality, nearly indestructible SUP boards and kayaks that are easy to carry. Still, if you're looking to gain a free hand, the Travelink™ Carry Sling will make transporting your SUP board as effortless as snap and go. And if you want to double down on the gift of a Travelink™, add on our Travelink™ Hitchhiker for extra storage for items like keys and a wallet.
SUP Gear Extras for the Recreational Paddler
Have a friend or loved one who lives the SUP lifestyle each day? Do they find time to get on the water as much as possible? They enjoy the purest form of paddling, but that doesn't mean they should be paddling completely stripped of awesome extras.
The all new Aero SUP Paddle Seat allows any paddle board owner to convert their SUP into a kayak-style watercraft in seconds and it's compatible with all BOTE Inflatable and Solid SUPs that feature Travelink™ and KULA attachment points, including previous board styles. For those who love to SUP but have been eyeing a kayak, want to be able to sit for added stability while you've got a kid or dog on your board, or those who just want to take a load off, the Aero SUP Paddle Seat is a game changer.
The perfect round cooler, our hard KULAs come in a 5-gallon capacity that can store all your beverages and snacks for the day, plus they make an awesome seat when you want to take a break from paddling. Or check out our 2.5-gallon capacity hard KULA, still giving you ample space to store all the essentials or for big-batch cocktails, because, well, it has a freaking tap on it!
Our Softy 5-gallon and 2.5-gallon KULA coolers take all the awesomeness of the hard cooler, like the shape, design, and integrity, and pack it down into a soft form for a lighter version of the hard KULA. If you have a friend looking for a KULA to use every day, then Softy all the way.
If your recreational paddler has already splurged on a KULA, then enhance their swag with some BOTE-ified drinkware. Snag anything in our new MAGNEPOD™ line of magnetized drinkware, from can koozies to tumblers to bottles. Drinks stay ice cold and firmly secured to your compatible SUP board or kayak.
This handy attachment allows anyone who already owns a solid BOTE paddle board that features a Stashpod to upgrade to a MAGNEPOD™ / Stashpod Lid, making their board MAGNEPOD Drinkware compatible. This is the ultimate stocking-stuffer for anyone who already has a board.
Fishing Gear for the Avid Angler
Probably the most critical consideration when setting out on a SUP fishing adventure is how and where an angler can store all their gear. It's not like they're on land with endless surface area to place their essentials. That's why we've created Rac Systems, our gift to you and your gift to your angler friends.
Simple in form, killer in function. The Rocket Rac stores up to four rods while taking up little space. Perfect for both SUP boards and kayaks, it's the ideal companion for fishing day trips.
With room for two rods, multiple gear attachments points, and a foam hook-caddy to store your most essential flies and lures, the Grab Rac is an all-around angler's dream. Not to mention, it sits at the perfect height for you to grab onto for extra stability while motoring along on your Rover.
If you're nostalgic, the Tackle Rac was the first Rac System in the lineup and continues to be one of our most popular. Weighing in at just 4 lbs, the Tackle Rac provides stability and storage and is compatible with most of our SUP boards.
The Rac-daddy of Rac Systems, the Power Rac, is a self-contained, electric command center that takes your fishing game to the next level by allowing you to fish well into the night. With an LED light board, built-in nav lights, and additional accessory points, the Power Rac is a sure way to say 'you're an awesome friend' to someone who owns a Rackham Paddle Board or Rover Micro Skiff.
Gear that Helps You Transport and Store
If you have a buddy who takes the utmost care of their things, then this section is for them.
Available in all our SUP board sizes, a board bag will keep any SUP board safe from the elements. Thanks to its two zippers, it's easy to put on and even easier to carry with its shoulder strap. If you know your buddy's board has to be stored outside, then our board bag's reflective backing will keep their board protected.
Simply slide these pads over the bars of your roof rack to prevent scratching and wear to your SUP board. Made of high-quality, no-fade polyester, our roof rack pads are the perfect price point for this year's white elephant.
No matter the paddler and no matter the price point, one thing is for sure, these gifts will not disappoint and surely will not end up on eBay for resale. Give the gift of getting outdoors with paddling gear your friends and family will love for years to come.