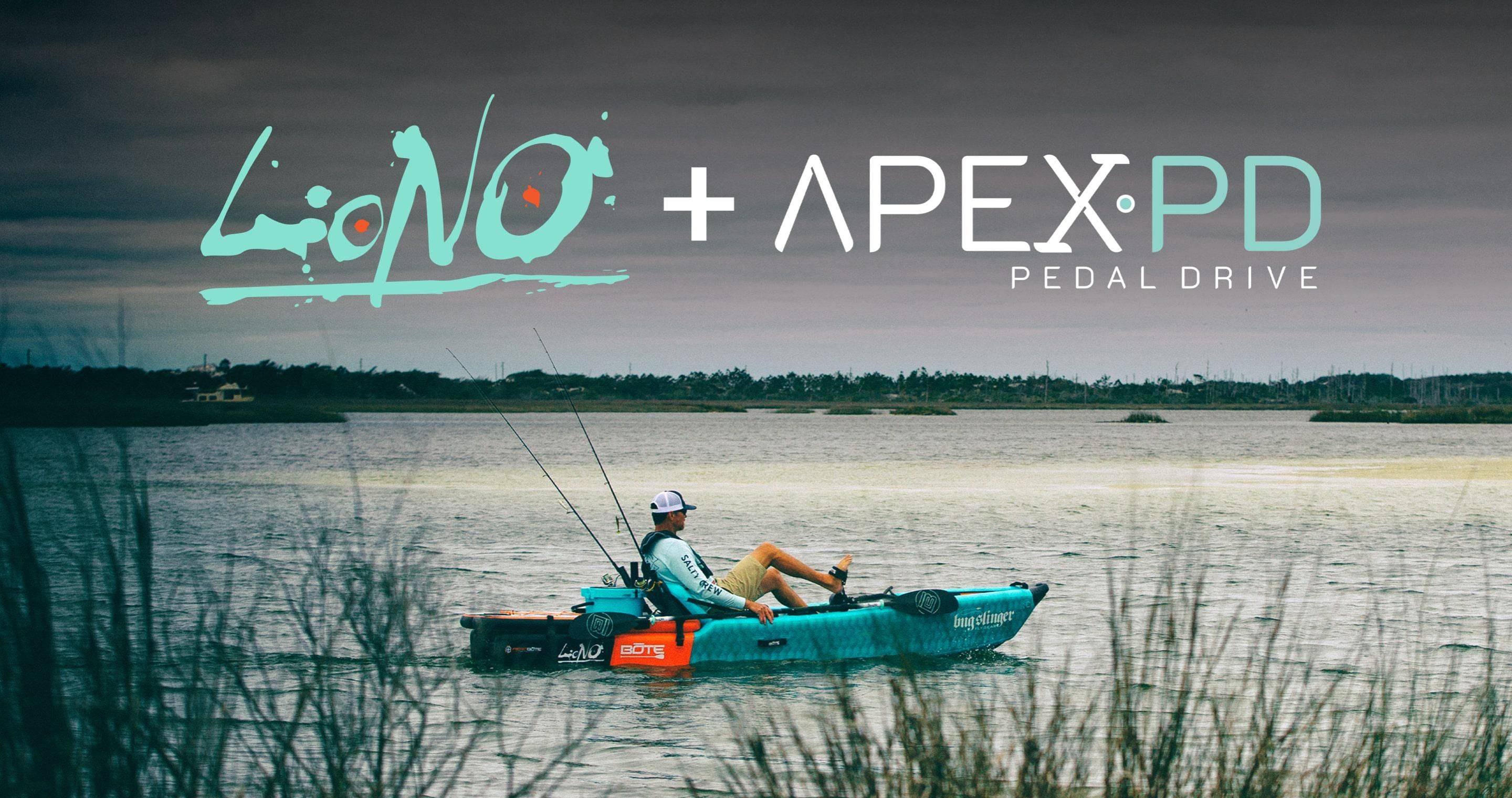 Best Fishing Kayak for Men
The reimagined LONO is the Ultimate Inflatable Fishing Kayak. For anglers of all stripes and sizes, it delivers an unmatched, unrivaled, unbelievable paddle (and pedal) fishing experience unlike any other.
So, if you're the kind of guy that lives for fishing and longs for the weekend, the LONO is for you. If your idea of a man-cave is less "poker table in a musty basement" and more "freedom and fresh air in the great outdoors", then the LONO is for you. If casting lines and spinning yarns and chasin' tail belong in your list of life's highest callings, then the LONO is for you.
Read on to find out why the LONO is the best kayak for fishing, for every fisherman out there.
The Best Fishing Kayak for Men
Whether you're a saltwater fisherman or a freshwater fanatic, the LONO will go where you go. Why? Because it's insanely versatile. Thanks to an all-star lineup of innovative features and accessories, you can tailor your kayak to your adventure of choice.
Most noteworthy of all perhaps is the floor port compatibility with the all-new APEX Pedal Drive. The APEX PD is what transforms the "paddle" part of your paddle fishing trip into a hands-free, pedal kayak adventure.
Want to cut through choppy ocean waves like a machete through mango? The shockingly efficient pedal drive will do the job. Want to casually cruise down a river without worrying about scraping your rudder against rocks below? The spring-loaded kick-up rudder is easy to manage, and the ambidextrous & intuitive steering control (not to mention the super-tight turning radius) will ensure you're always in control. And of course, if you want to spend less time alternating between paddle and rod, and just focus on your fishing, this fishing kayak with pedals is there for you like that elusive tarpon from '95 simply never was.
WHAT MAKES THE LONO STAND APART
The LONO isn't your grandfather's fishing kayak. It's a revolutionary high-end hybrid inflatable that can be a standup paddle board one minute, then a sit-on-top pedal kayak the next. To put it simply, it's the best kayak for fishing. What this means for fishermen is simple: You're always in control. Cast your lines standing up or sitting down. Venture into choppy waters or maneuver through tight, shallow reeds. Float and fish if you're feeling lazy, or stand up and dig if you're wanting more of a workout. The versatility of the LONO means the choice is always yours.
THE LONO ISN'T YOUR GRANDFATHER'S FISHING KAYAK. IT'S A REVOLUTIONARY HIGH-END HYBRID INFLATABLE THAT CAN BE A STANDUP PADDLE BOARD ONE MINUTE, THEN A SIT-ON-TOP PEDAL KAYAK THE NEXT. TO PUT IT SIMPLY, IT'S THE BEST KAYAK FOR FISHING.
HANDS-FREE & SHOCKINGLY EFFICIENT
What's more, each new LONO comes equipped with a clear-view porthole for addition of the all-new APEX PD. The hands-free benefits of a pedal drive cannot be overstated enough. And don't worry about coming down with a case of Ricky Bobby syndrome where you don't know what to do with your hands. Your rod in one hand and a big fat snapper in the other will take care of that. Meanwhile, the 10:1 propeller-to-pedal rotation ratio will make moving through the water easier than a game of basketball vs. a toddler.
In short, the LONO is great for everyone. But it's especially great for guys that live for fishing. With unmatched efficiency and incredible versatility, the LONO is more than just a fishing kayak with pedals; it's a way of life. Say goodbye to compromise and hello to the best kayak for fishing, the reimagined LONO Inflatable Kayak.