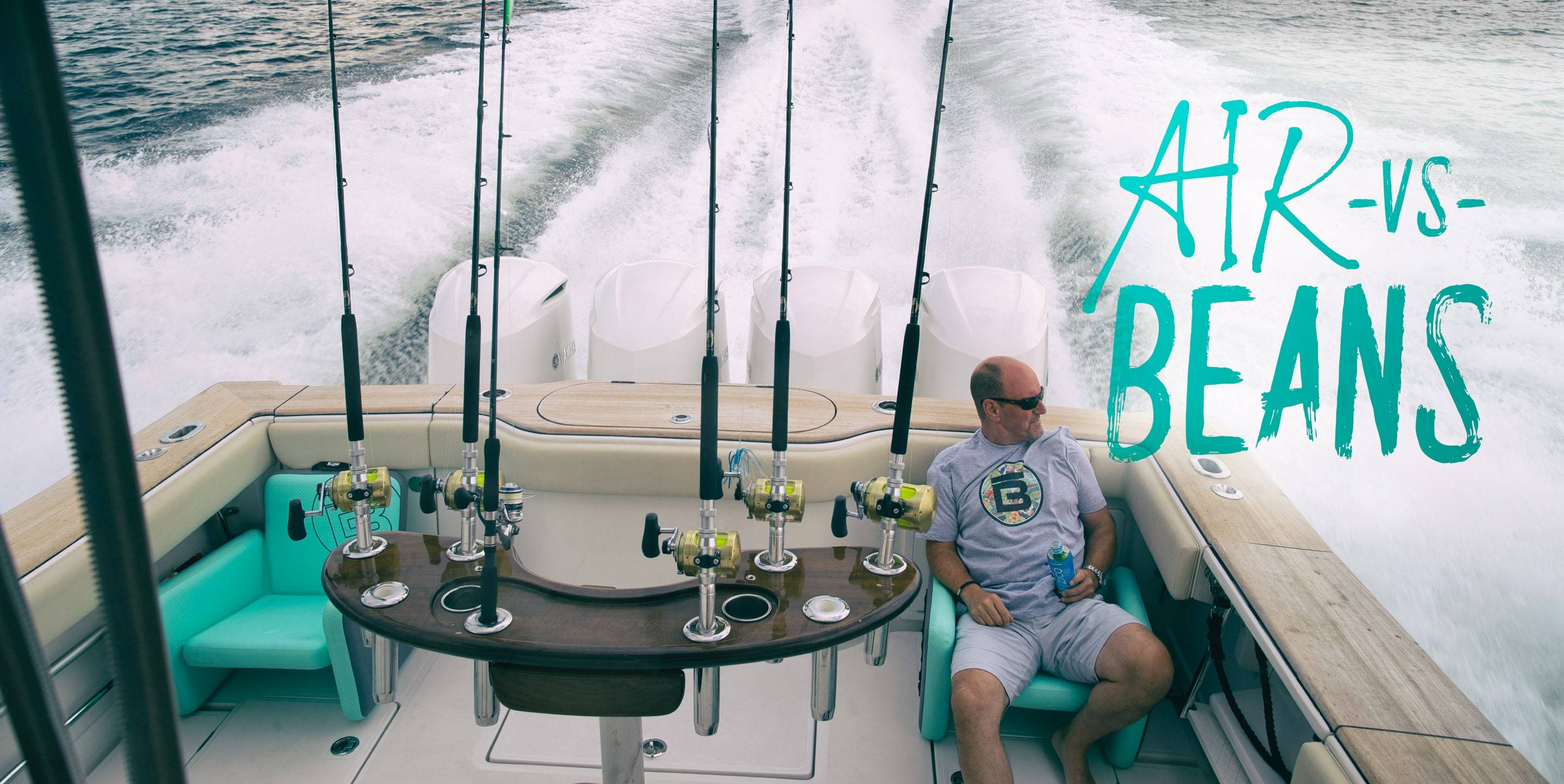 AIR V BEANS
What are we talking about here? No, not that, get your mind out of the gutter. This is a comparison. A test of sorts. Sure, it may sound extremely odd to compare an atmospheric gas (air) to organic plant matter, but believe it or not, they share something in common. They can both be used as inner structural support for a variety of items from balloons, to packing materials. The common item we are going to discuss in particular happens to be a fan favorite, chairs.
Aero Chair vs. the Bean bag Chair.
More particularly, the Aero Chair vs. the Marine Bean Bag Chair. Marine bean bag chairs or boating bean bag chairs have been around for a long time. And quite frankly, they do a great job of providing moveable, comfortable, and slightly portable seating. The bean bag chairs can be great on sailboats, center consoles, pontoon boats and everything in between. However, they have a few less desirable "side effects" when not being used. For instance, they don't collapse, so they can take up a considerable amount of space. The insides (for most of them) aren't water-resistant, and they can be prone to mildew and absorbing water. And sometimes, the benefits of zero structure can be less desirable when trying to simply sit upright.
What we are here to do is brag about our Aero Chair. As mentioned above, bean bag chairs can be great; we happen to think our Aero Chairs make a better marine chair. The best thing about the Aero Chair is that it uses air to create the perfect marine seat. It is constructed from military-grade PVC and welded together to make a high-pressure airtight chamber. When inflated, the Aero Chair is extremely rigid yet elastic enough for the user to feel comfortably supported. The Aero Chair also has no permanently solid parts, will not scratch any surface due to the inflatable legs, is completely watertight, and the best part, when you aren't using it simply deflate it, and it stores at a fraction of the size of a bean bag.
Let's Start the Competition. First, how they are both made:
CONSTRUCTION
The bean bag chair is constructed with an outer layer of marine-grade vinyl. Typically, the vinyl is sewn together and then filled with Styrofoam pellets (the beans). The beans and the vinyl surface combine to create an amorphous structure that can have a semblance of a shape, like chairs or teardrops, but when weight is applied (a fancy term for sitting on it), it compresses, changes shape, and looks different than it did before sitting. I am sure most people have had the awkward experience of rolling off a bean bag. Also, the sewing or stitching of the vinyl exterior can lead to water penetration of the interior. In a nutshell, they are not waterproof.
The patented Aero Chair is constructed from drop-stitch PVC inflatable core panels utilizing our AeroTech System. In simple terms, it is constructed from inflatable panels whose surfaces are connected by thousands of strings that allow the panels to inflate to high pressure while maintaining their shape. This means we have developed a seat that is extremely small when deflated and extremely rigid and stable when inflated. The air makes a perfect structural support for your most valuable assets: Your rear and your boat. Rigid enough to be a real chair yet pliable enough to not dig into the surface of your boat. Coupled with the Aero Foot pump, it takes about 1 minute to inflate the Aero Chair fully.
So, it looks like Aero Chair takes the victory here: Aero Chair 1, Bean Bag 0
THE AERO CHAIR DEFLATES TO APPROXIMATELY 30% OF ITS ORIGINAL SIZE AND ABOUT 25% THE SIZE OF THE BEAN BAG CHAIR. THIS MEANS YOU CAN STORE 4 AERO CHAIRS IN THE SAME SPACE AS YOU COULD STORE YOUR BEAN BAG CHAIR WHEN NOT IN USE.
SIZE & STORAGE
When fully inflated, our Aero Chair XL is almost identical in size to an Arm Chair Marine Bean Bag. The critical difference is the size of the product when not in use. The Aero Chair deflates to approximately 30% of its original size and about 25% the size of the bean bag chair. This means you can store 4 Aero Chairs in the same space as you could store your bean bag chair when not in use. This is the pain point with Marine Bean Bags. Even if you love them to death when using them, where do you put them for storage? The Aero Chair wins hands down here
Another plus for Aero Chair: Aero Chair 2, Bean Bag 0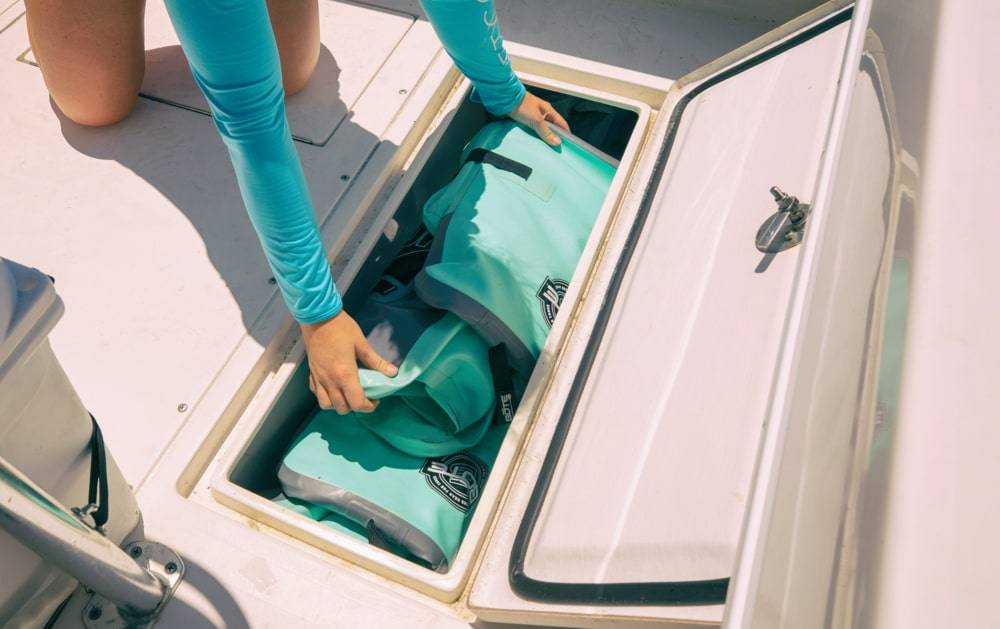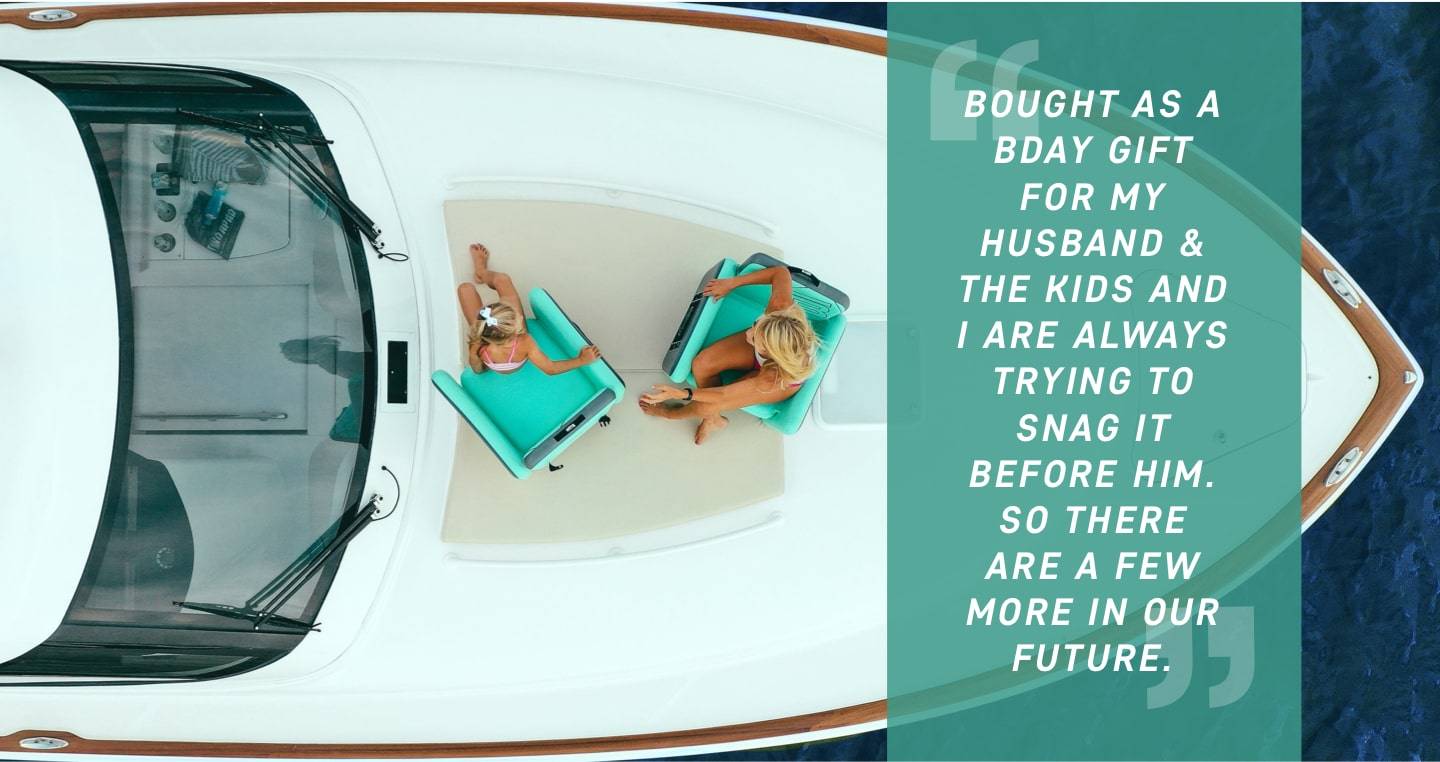 IT'S THE FAVORITE CHAIR
"We live at the beach and have been through some beach and boat chairs. This has quickly become the family favorite. Bought as a bday gift for my husband & the kids and I are always trying to snag it before him. So there are a few more in our future. We love that it folds down so easily and blows up easily. We can store it on the boat or camper with out it taking up room and when blown up it fits perfect between the side of the boat and the bench seat. I personally love how sturdy it is when blown up. I can sit side ways in it with my legs hanging over the arms and it's comfortable. Not something you can do in a beach chair, camping chair and still be comfortable. Well worth the money."
– Katherine G.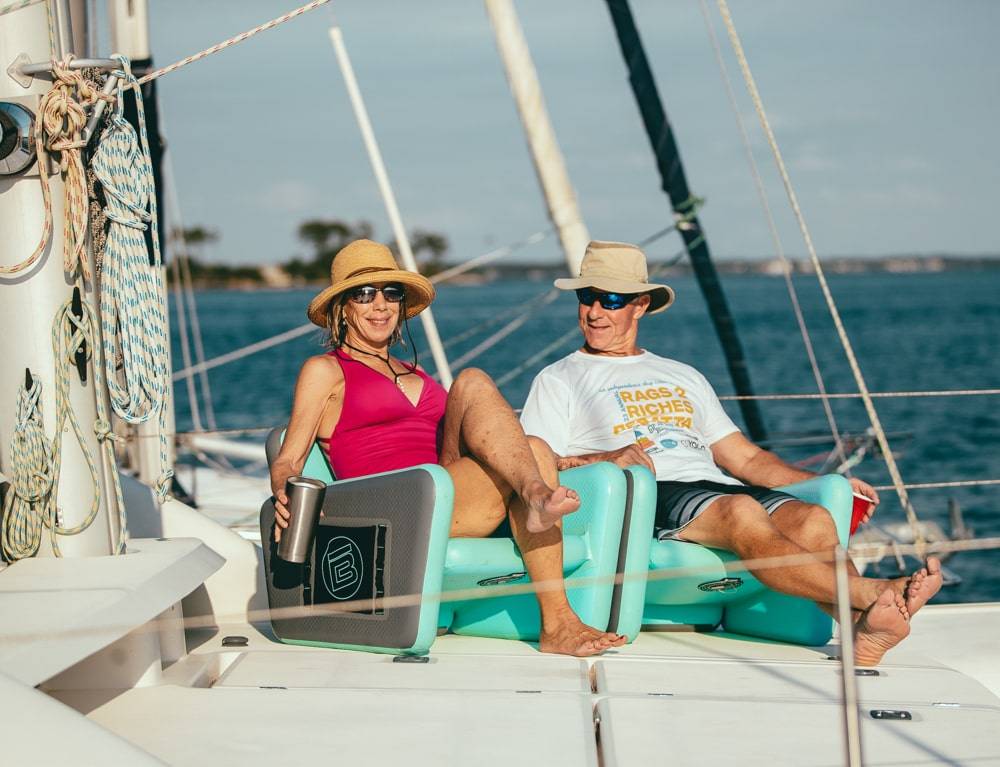 WEATHER RESISTANCE
The Aero Chair is constructed with the same PVC we use on our paddle boards, kayaks and skiffs. The Aero Chair is made to be completely submerged in water and exposed to the sun. While it may lose some vibrancy of its color over years of sun exposure, it's built to take it. Hose it off, wipe it down with cleaner, and you're good to go. It's completely welded seams keep the air inside, and the water out.
Bean bags can deteriorate over time. Depending on the quality, the stitching and sewing can get torn, which causes the bag to open up and spill the beans. They can also be a magnet for moisture, insects, and dirt due to the size of storage, tear and rips, etc. If you get a poor-quality bean bag chair with cheap filling, it can absorb water and mildew…which can cause some pretty bad odor.
Aero Chair 3, Bean Bag Chair 0.
WEIGHT
The average Marine Bean bag weighs 10-12 lbs.
Our Standard Aero Chair Weighs 7 lbs, and the XL Weighs 11.
Let's call this one a draw, give the Bean Bag a breather.
Aero Chair 3, Bean Bag 0.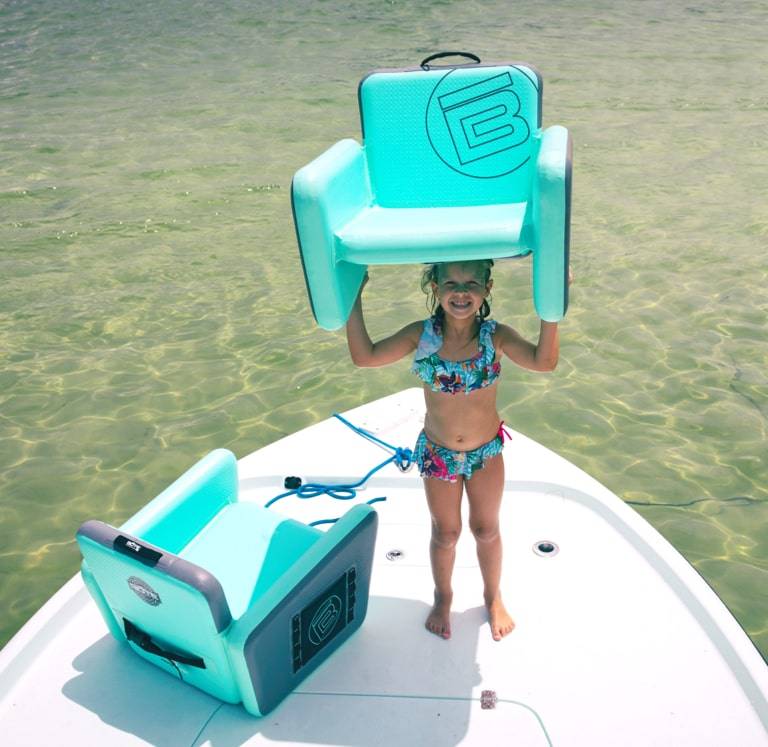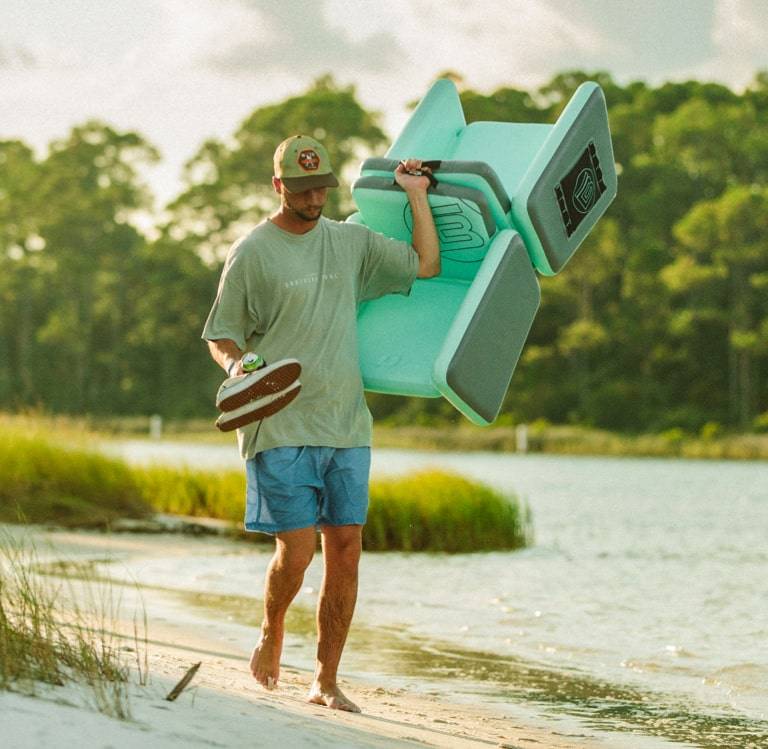 SWEET CHAIR
"We were looking for another Bean Bag for the kids on the boat and choose this instead and are happy with the choice. Its a lot more versatile beach/sandbar/pool and takes up much less space when stored. You need a Bote pump to fill it. Takes like 10 seconds with the foot pump and its ready to go. Havent had it long enough to know if it will last forever yet but the material is very thick and its sturdier then I thought it would be."
– Don W.
THE AERO CHAIR, HOWEVER, IS EXCELLENT EVERYWHERE. MOVE IT FROM BOAT TO BEACH, AND YOU'VE GOT A BEACH CHAIR. TAKE IT CAMPING. IT PACKS DOWN PRETTY SMALL. TAKE IT TO THE BALLPARK AND SHOW IT OFF. THE APPLICATIONS ARE ENDLESS.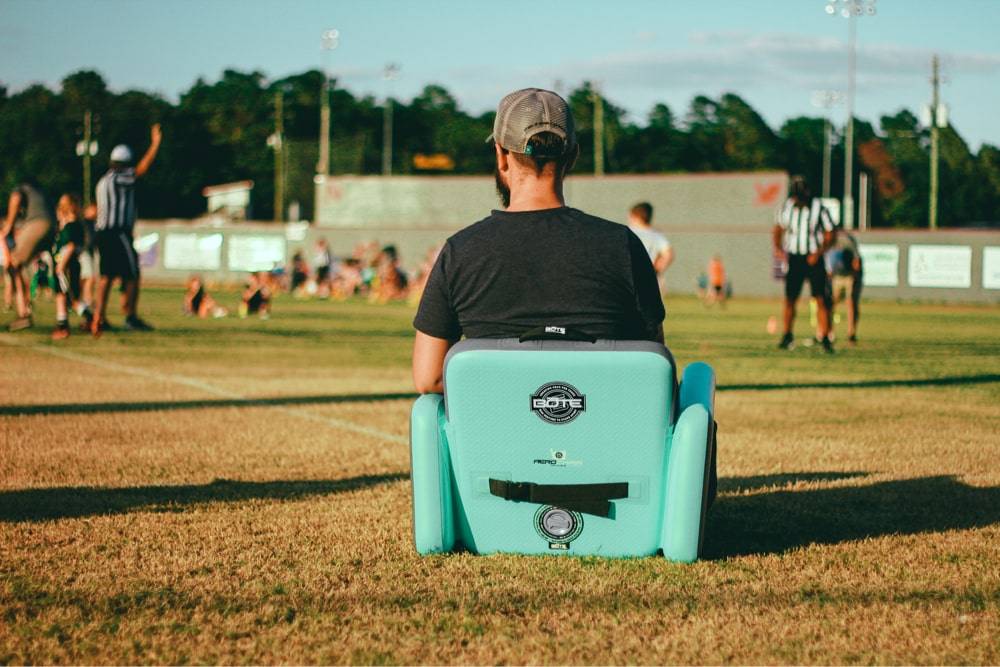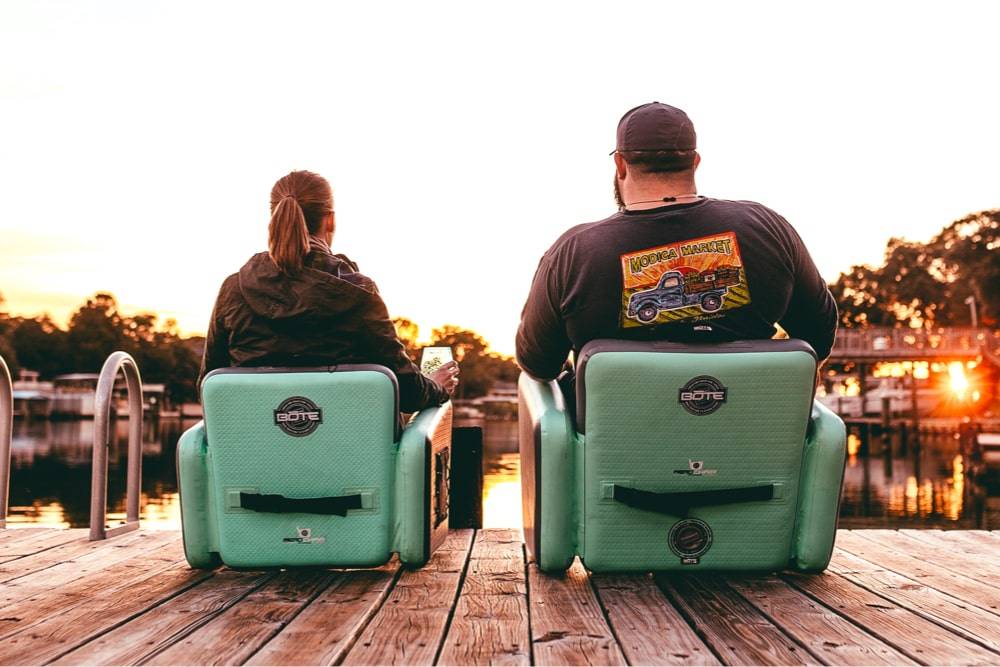 OTHER USES
The Bean Bag Chair lives on the boat. For various reasons, people need to keep them on the boat. They can be easily torn when being used on rough surfaces, and they can attract sand and dirt if used on a sandbar or beach, and most importantly, they don't make an actual decent seat.
The Aero Chair, however, is excellent EVERYWHERE. Move it from boat to beach, and you've got a beach chair. Take it camping, it packs down pretty small. Take it to the ballpark and show it off. The applications are endless.
Aero Chair 4, Bean Bag 0
In summary, the Aero Chair is a similar size to bean bag chairs yet deflates and stores at 25% the size of bean bag chair. Its completely weather resistant, waterproof, and watertight, provides a rigid support structure, has multiple and versatile uses, and is lighter. What more proof do you need?
Aero Chair is the winner. Check em out; we recommend buying multiples, so when your friends ask for a seat, you've still got one.