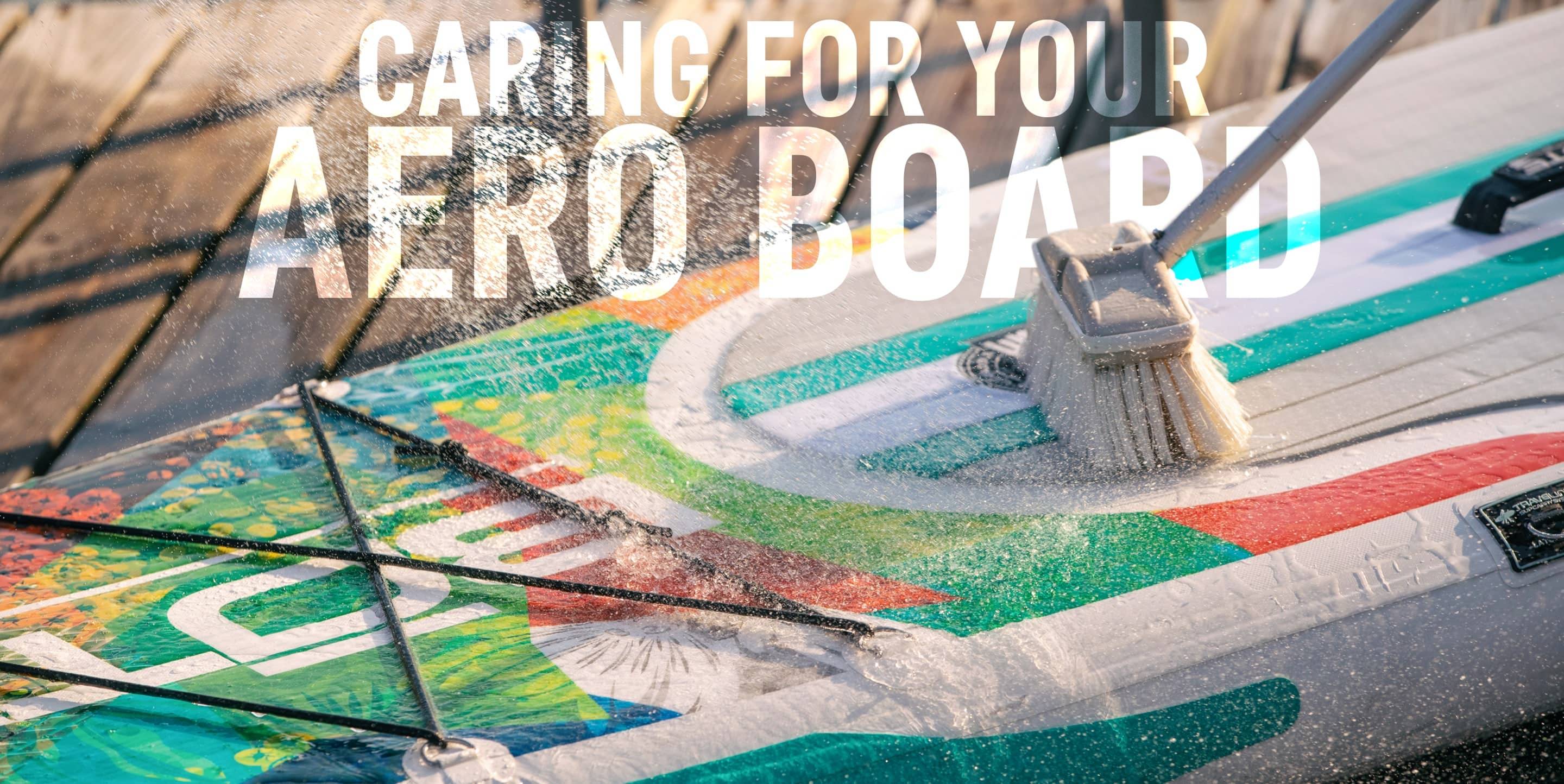 LONG LIVE INFLATABLES: CARING FOR YOUR AERO
Have you ever stopped to inventory your water toys and much to your despair, you walk into a closet filled with half-deflated, duck taped patched, pitiful excuses for water apparatuses? Adding insult to injury, you went cheap, sacrificing durability and style, and ended up with a fleet of shitty, no-longer-buoyant boards and floats that barely made it through a single season.
Or maybe that's not you. Maybe you got smart instead.
With an uncanny resemblance to our revolutionary Gatorshell product line and an extensive range of compatible accessories available to pack down your inflatable with everything you need to hit the water, you made a great choice when you purchased your personal fleet of AeroBOTE inflatable paddle boards, kayaks, docks, and chairs.
You probably purchased an AeroBOTE inflatable product due to its incredible versatility, durability, ease of transportation, and compact storage (I mean, they literally pack down into a backpack or duffle bag). But what you may not have realized is that you hit the jackpot when you purchased an item built with our proprietary AeroBOTE Technology, designed to stand the test of time no matter how hard you beat it up. But no matter what you do with your inflatable paddle board or kayak on a daily basis, the key to keeping your inflatable looking as fresh as the day you bought it is to care for it with a little fresh water and keep an eye out for small blemishes that could turn into big problems later.
And what you put into it is exactly what you get out of it, in every capacity.
So whether you recently purchased a Flood Aero Inflatable Paddle Board, LONO Aero Inflatable Kayak, an Inflatable Dock, or a set of Aero Chairs, we've put together a few basic steps for keeping your AeroBOTE products in killer form season after season..
HOW TO CLEAN, CARE FOR, AND STORE AEROBOTE INFLATABLE PRODUCTS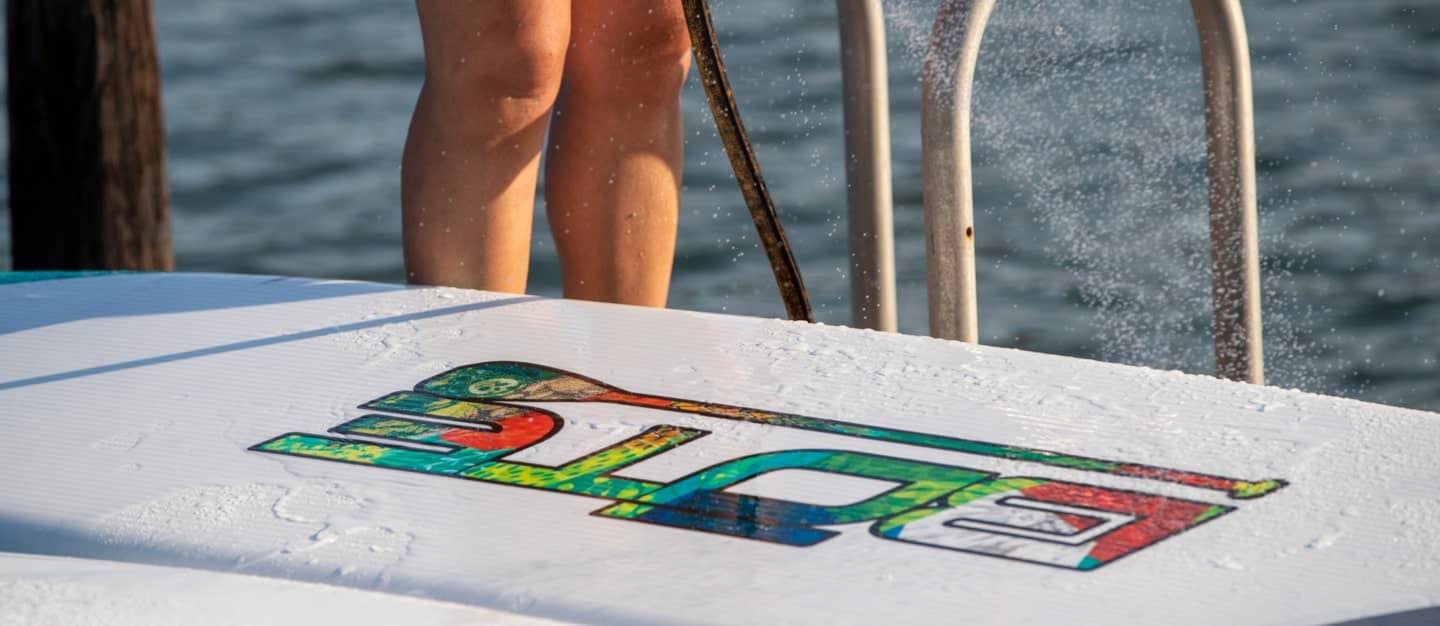 RINSING WITH FRESH WATER
It's worth stating the obvious here. When you're ready to wrap up your day, always rinse any BOTE product with fresh, clean water. When it comes to items like Aero Chairs and Inflatable Kayaks, don't forget to run fresh water throughout the nooks and crannies to prevent build up. This simple step can extend the lifetime of any water toy for years, particularly in brackish and saltwater regions.
CLEANING YOUR INFLATABLE
Rinsing with fresh water is a great first step, but make sure to follow it up with a good clean. I mean, we all go home after a day at the beach and take a shower, right? Riiiiight?
If you notice smudges or dirt, wipe with a damp cloth. If a cleaner is needed, use an environmentally safe cleaner with no harsh chemicals, like Simple Green, and a damp cloth or very soft bristle brush. Pro tip: The Mr. Clean Magic Eraser will help get those darker smudges out.
Once you remove all the smudges and dirt, wash off the cleaning solution by rinsing with (wait for it...) fresh water. Then step back to see your inflatable looking like new.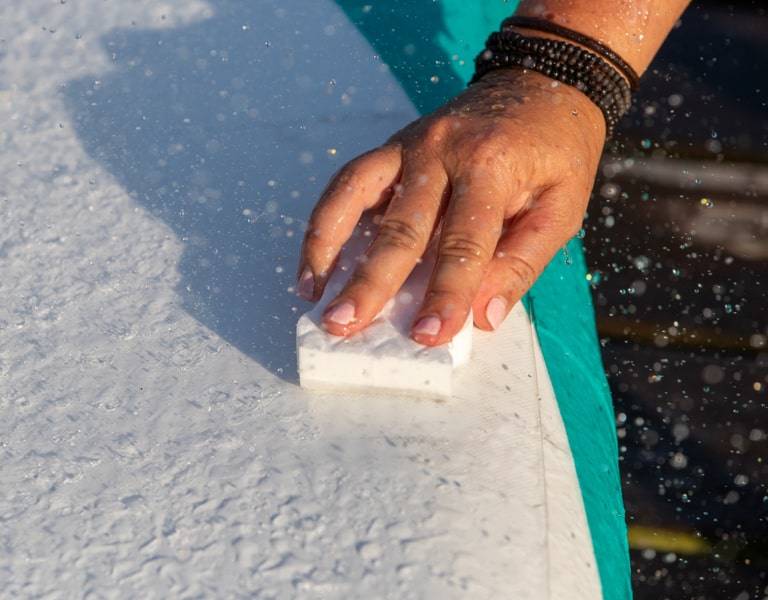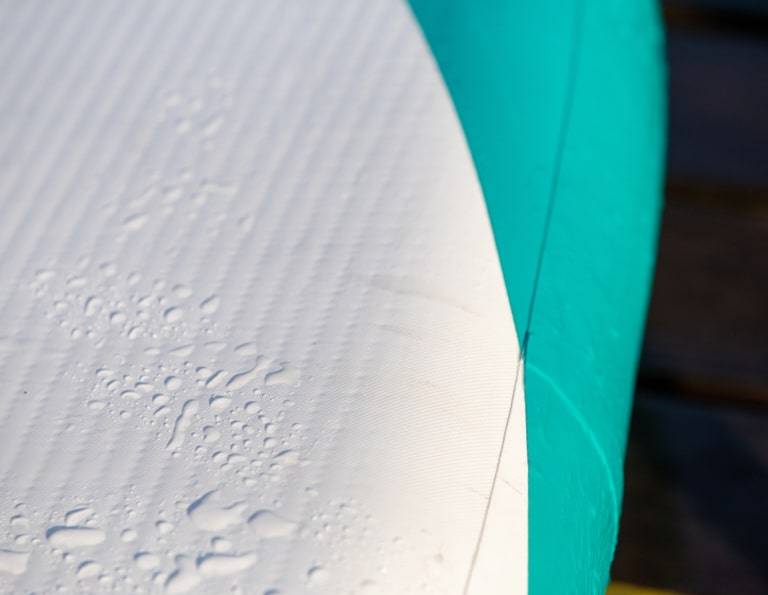 ---
PRO TIP: FOR DARKER SCRATCHES AND SMUDGES A MR. CLEAN MAGIC ERASER WILL LITERALLY DO MAGIC AND HAVE YOUR BOARD LOOKING GOOD AS NEW. ONCE ALL THE SPOTS ARE REMOVED, MAKE SURE YOU REMOVE ALL THE CLEANING SOLUTION BY RINSING IT WITH FRESH WATER THEN ALLOW THE BOARD TO DRY BEFORE STORING.
---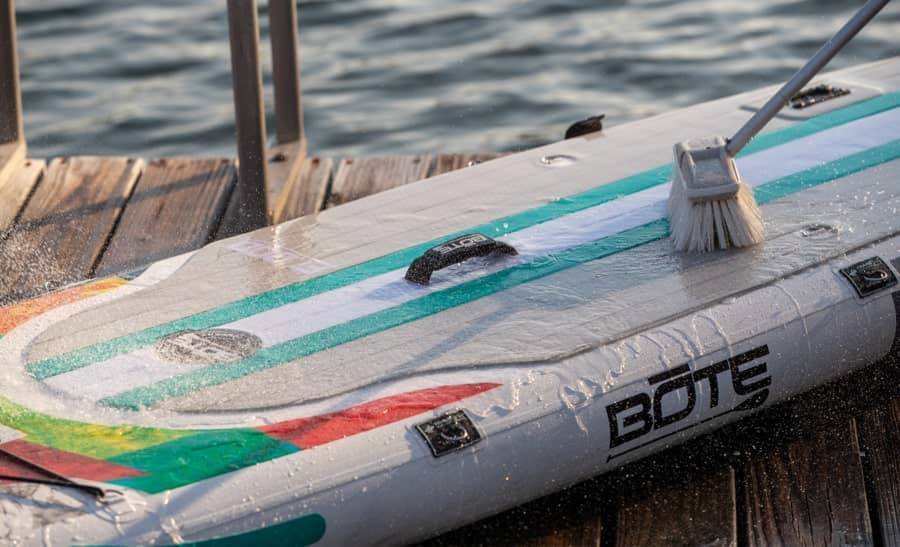 PRESERVING DECK PADS
Inflatable paddle boards and Aero Docks are equipped with a soft, textured deck pad to help you grip and stay steady when you're using it. This texture and softness could allow for grit to build over time and you may see a discoloration appear without somewhat regular cleaning.
To clean your deck pad, use fresh water and a gentle bristle scrub brush to loosen the dirt, then wash it away. If the grit is soaked in or the discoloration is still there, use an environmentally safe cleaner on your deck pad. Spray on, gently scrub, and rinse your deck pad of the grit and the cleaning solution.
AIR IT OUT
When you're ready to store your inflatable, release the air and roll it up in the same fashion you unrolled it. Each BOTE inflatable product comes with its specially designed bag for both the protection of the inflatable and the ease in your transportation of it.
It's up to you whether you prefer to store your inflatable partially inflated or completely deflated and rolled up. If you want to keep your inflatable ready and waiting, reduce the PSI until it is compressible by hand.
Always let your inflatable air-dry before packing it up and storing it. As an added measure, you can optionally throw a DampRid packet into the bag. This will help keep it from building up mildew and taking on that high-humidity summer stink.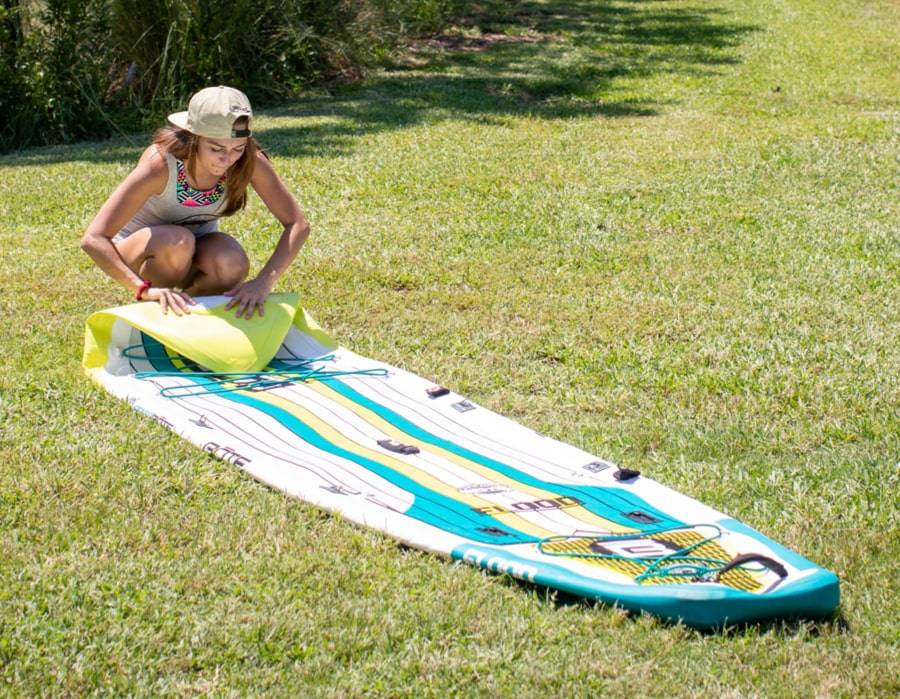 ---
PRO TIP: MAKE YOUR LIFE A LITTLE EASIER AND LEAVE YOUR INFLATABLE IN THE SUN FOR 5-10 MINUTES BEFORE ROLLING IT UP. THIS SHORT BURST OF SUNSHINE WARMS THE MATERIAL AND MAKES IT MORE PLIABLE FOR EASIER PACKING.
---
STORING YOUR INFLATABLE
There is such a thing as too much sun. It both weakens the material and seams and increases the pressure beyond its design limits. Do right by your inflatable by storing it out of direct sunlight when not in use and keep in a cool, dry place. This will help avoid bursting or fading of colors.
HOW TO FIND AND PATCH AN AIR LEAK
If you notice your inflatable isn't as firm to the touch after inflating it, you may have an air leak. Air leaks can be easily identified and patched up, here's how.
Step 1: Make sure your inflatable is at its recommended PSI. Mix a small amount of cleaner and some water in a spray bottle.
Step 2: Spray the solution in the common problem areas first, like the edges of the valve and the seams. Look for bubbles that form and grow after the soapy water has coated the surface. When checking the seams, run your finger over the seam lightly, removing any foam bubbles and watch to see if any air bubbles reappear.
If the valve and all seams appear to be free of leaks, work in sections as you spray the remaining surface areas. Take your time and watch for air bubbles forming.
If you noticed active air bubbles, you identified an air leak. Make note of where it is and make sure to wash off the cleaning solution with fresh water.
Step 3: Patch it up. All AeroBOTE products come with a Repair Kit including patches, glue and a valve tool. More severe tears may require professional help in mending, but our Repair Kit should be able to cover most.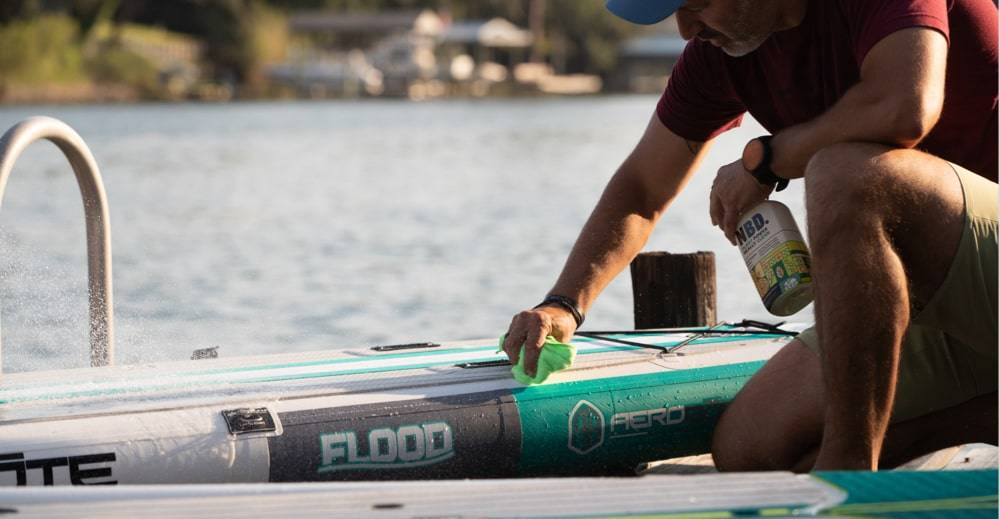 We're stoked to bring you a wide selection of inflatables that are sexy, versatile, and virtually indestructible. In most cases, it takes less than five minutes to care for an AeroBOTE at the end of a long weekend of getting your paddle on, ripping lips, and drinking one too many chiller lites on your inflatable dock.
YOUR INFLATABLE IS BUILT TO LAST, JUST TAKE GOOD CARE OF IT AND GIVE IT THE MINOR AMOUNT OF ATTENTION IT NEEDS TO ROCK ON FOR YEARS TO COME.