MEET THE ZEPPELIN AERO INFLATABLE KAYAK
The result of a timely tryst between a highly utilitarian father and a swiss army-like mother, the Zeppelin is the most versatile kayak in the BOTE waters. A self-draining hull, removable floor chamber, and optional second seat differentiate the Zeppelin from its stablemates. An inflatable watership that welcomes the individual and tandem alike.
WHERE AIR & WATER COLLIDE
If you're considering adding a kayak to your rolodex of water platforms, look no further than our most versatile inflatable kayak yet, the Zeppelin Aero Inflatable Kayak. The beauty of this inflatable kayak is its adaptability. Whether you're casting a line in your favorite fishing hole, going for a leisurely paddle, or popping on an additional Aero Paddle Seat (available for purchase) to turn the Zeppelin into a tandem kayak, we pulled out all the stops when creating this recreational machine. And yes, we'll say it again, this bad boy can go from a single to tandem kayak with just a couple clips and shifts.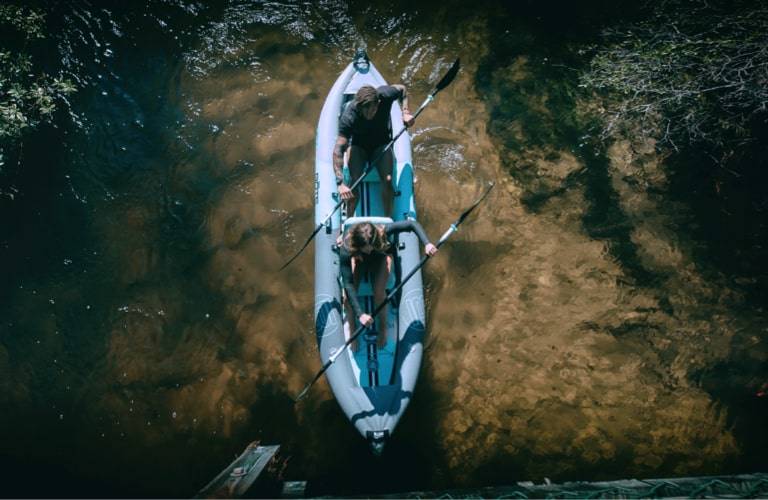 HIGHLY VERSATILE
Combining ease of use and transportability, the inflatable Zeppelin is the most versatile craft in the BOTE line-up. With the ability to shift from single user to tandem by adding the optional second seat is a game changer.
EXTREMELY PORTABLE
The portability of the Zeppelin is undeniable. Whether you have a smaller vehicle with no roof mounting system or you take public transportation, the Zeppelin can go with you. Taking a flight to a remote location or on a family getaway, the Zeppelin is able to be checked on most airlines. Going on a cruise to the islands or have a boat of your own, yep, the Zeppelin can accompany you wherever you want to go.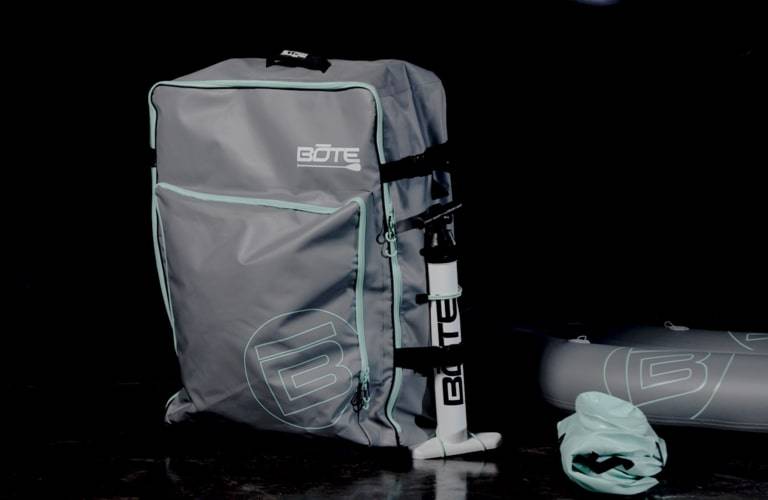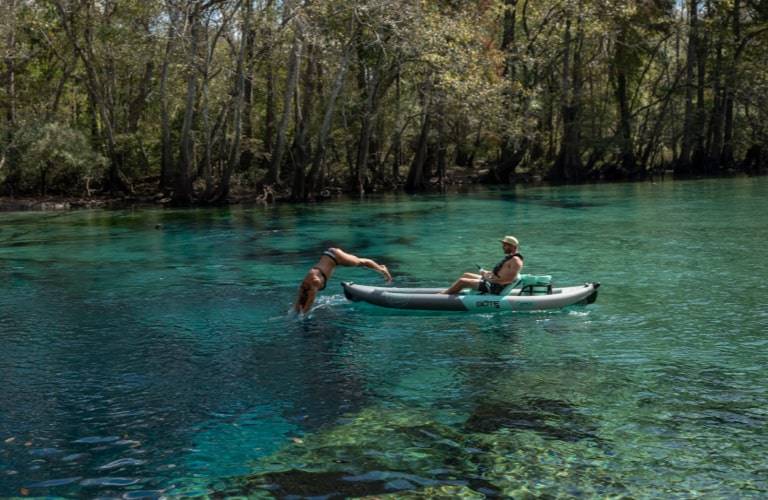 SUPER STABLE
The combination of the AeroBOTE constructed removable floor and the 9" lightweight side chambers makes the Zeppelin incredibly stable for one or two paddlers. With a 600lb weight capacity it would be difficult to find a sturdier watercraft in its class.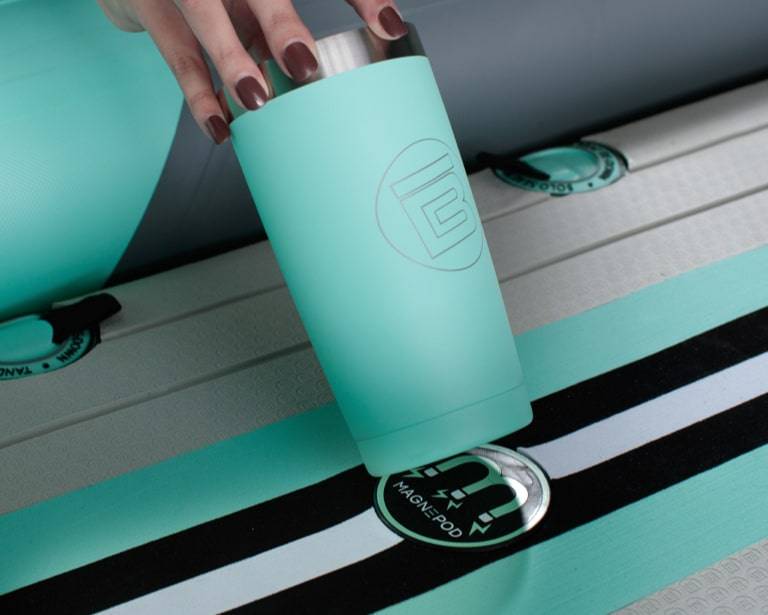 MAGNEPOD™ Compatible
A revolutionary, tool-less drink retention system that utilizes magnets to make securing your beverage a snap.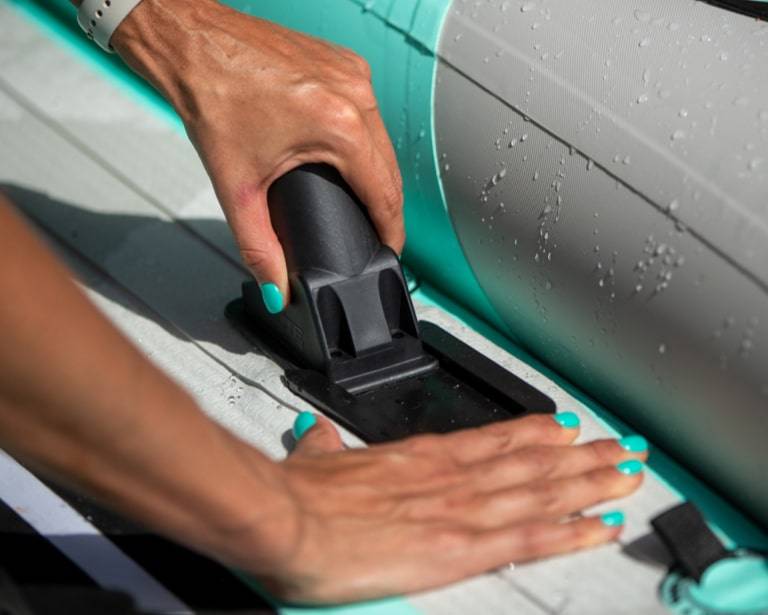 SLIDE-IN RAC RECEIVERS
New slide-in Rac Receivers make it even quicker to get out on the water with your favorite accessories.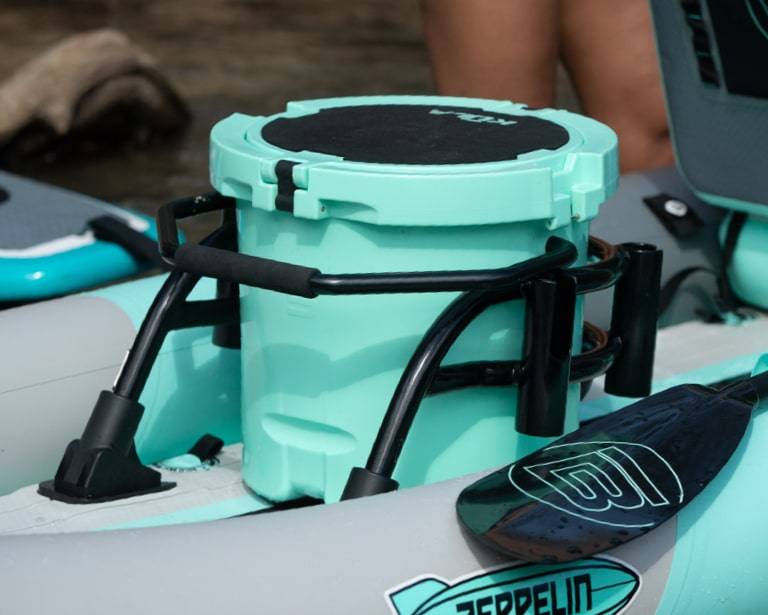 BUCKET RAC COMPATIBLE
Two rac receivers in the rear of the Zeppelin allows for a Bucket Rac to be installed when in solo configuration.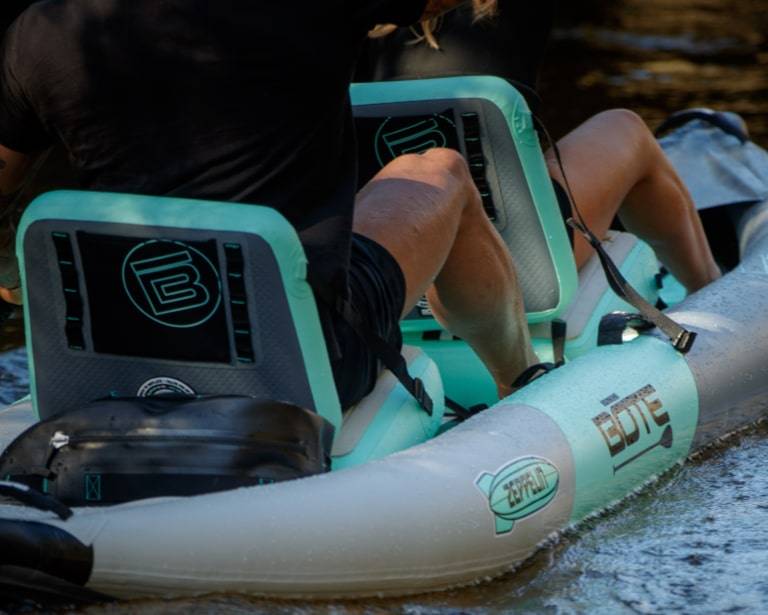 TANDEM COMPATIBLE
Add an Aero Paddle Seat to make it compatible for tandem paddling.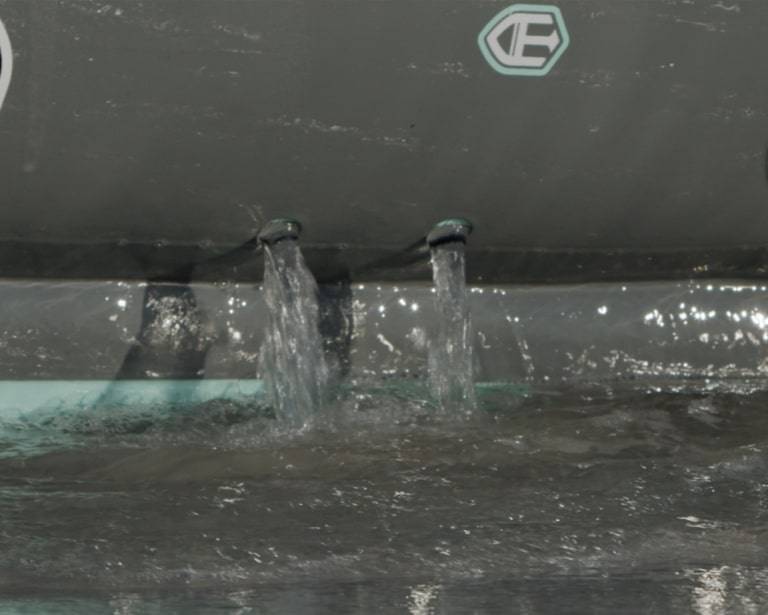 SELF-DRAINING COCKPIT
Utilizing gravity and momentum the kayak can rid of unwanted water by draining through the stern.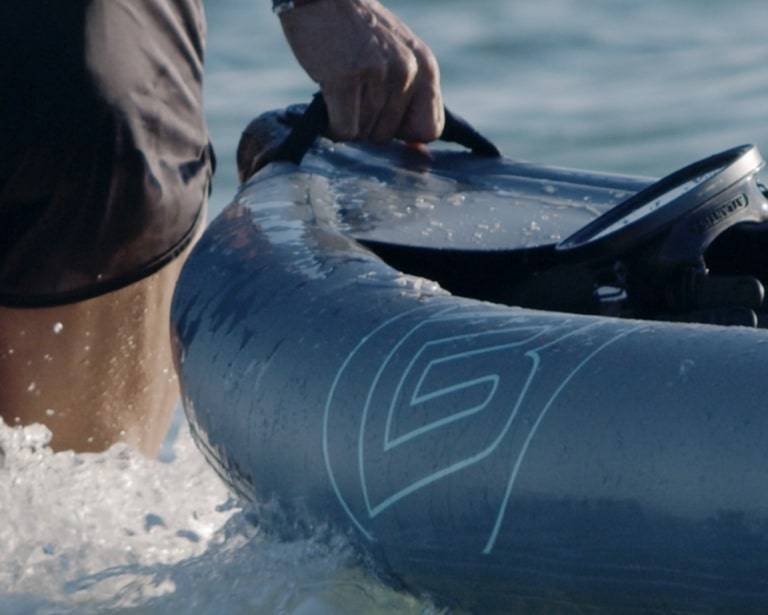 GRAB HANDLES
Redesigned to be the most comfortable Grab Handle. No more numb fingers or weak leverage while transporting your board.
BUNGEES
Adjustable Bungee Straps provide quick and easy storage of extra gear.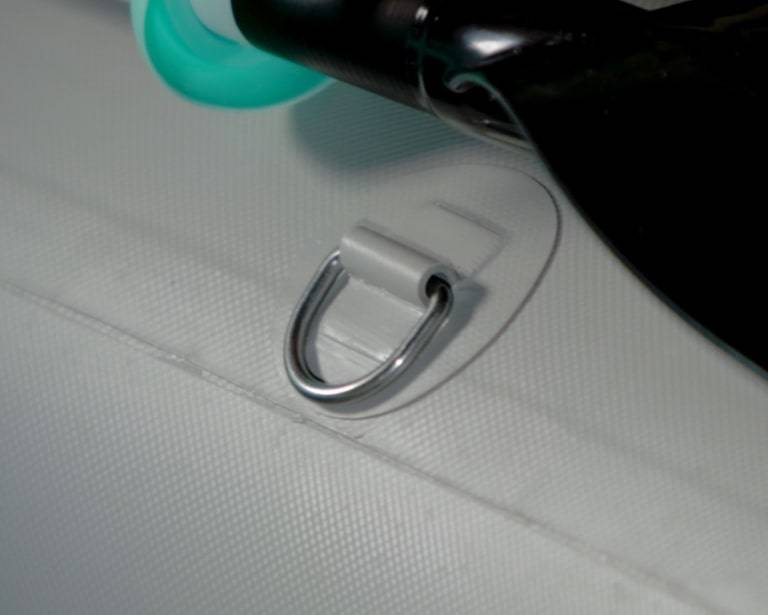 COOLER TIE DOWNS
Tie down points on the deck pad are perfect for lashing down a cooler (or other gear).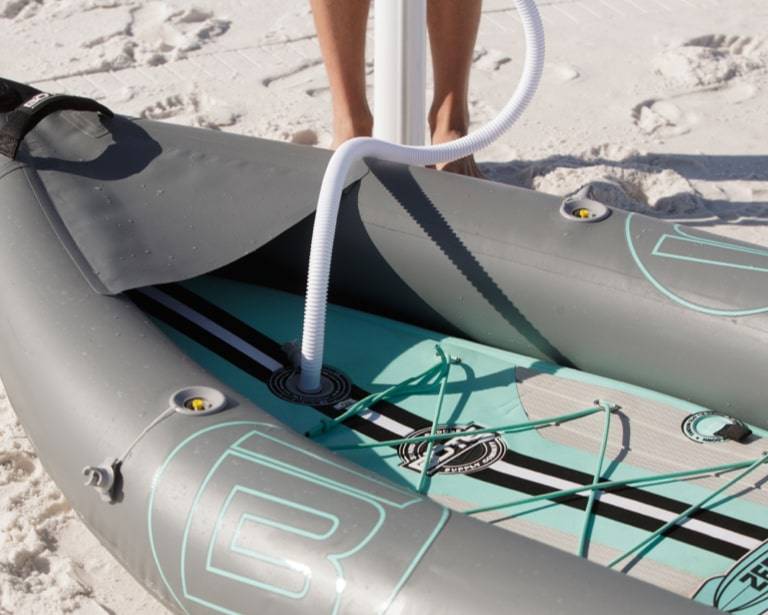 INFLATE/DEFLATE PORT
Compatible with high pressure pumps capable of connecting to HR valves.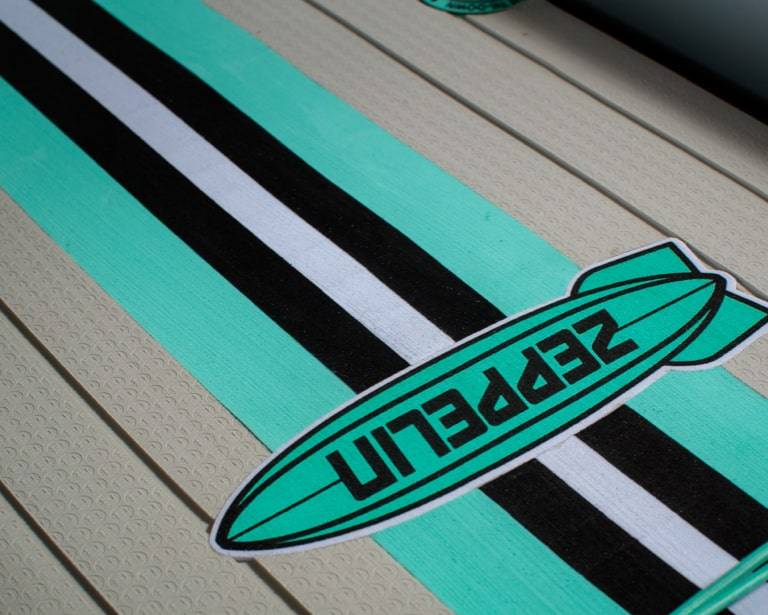 BVA DECK PAD
The BVA multi-textured deck pad is heat sealed to shed water and provides plenty of cushion to reduce fatigue and anti-slip traction.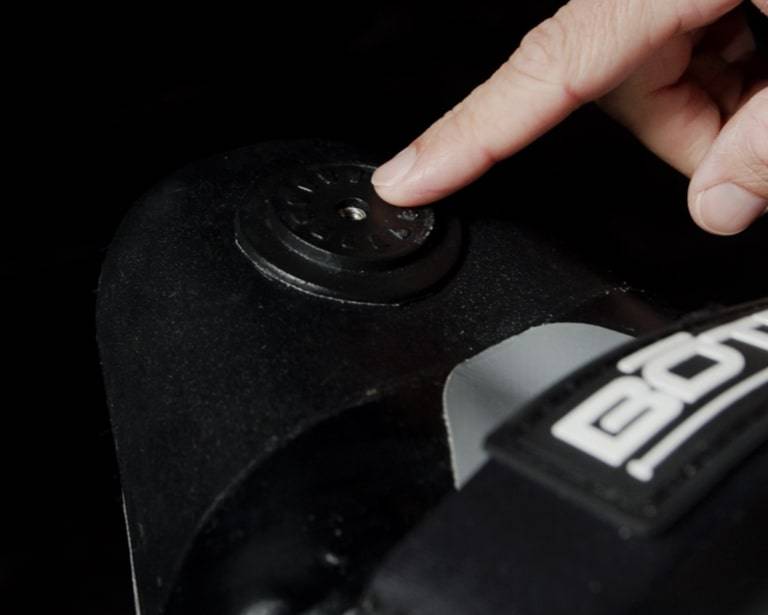 ATTACHMENT POINTS
Accessory mounting points allow for any 1/4:20 accessory attachment. Found atop the kayak.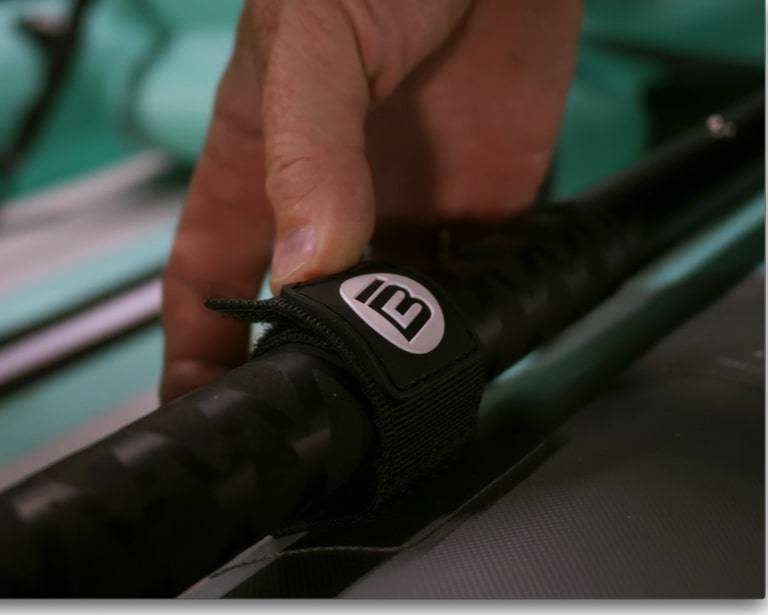 VELCRO PADDLE STRAPS
Velcro paddle straps allow for paddles and other equipment to be safely secured.
COMPARE
DEUS Aero
Zeppelin Aero
LONO Aero

4-Chambers with
Flared Bow & Keel Guard

1 Floor Chamber
2 Pontoon Chambers

4-Chambers with
Flared Bow & Keel Guard

MAGNEPOD™ Accessory Compatible

Aero Paddle Seat Compatible

Aero Cup Holder Compatible

Power-Pole® Micro Compatible

Accessory Mounting Points