Inflatable docks
Portable Swim Platform
Inflatable Docks Collection
Think you don't need an inflatable dock in your life? Think again.
Water pursuits look different for every person, every season of life, and also, sometimes even every weekend. Sure, some weekends are meant for adventure, but others are meant for straight-up rest and relaxation. Simple, durable, versatile, and extremely stable, you can't go wrong with a BOTE inflatable dock for your leisurely pursuits.
Offered in two highly versatile sizes, the Dock 10 inflates to a 10x10' square and Dock 7 to a 7x7' square. Yes, they are quite simply giant floating squares. And yes, you just might need one. It's a floating island, it's a yoga platform, it's a splash party fun zone for swimming kids of all ages, and it's an extension of your existing dock. It's the extra space you've been looking for at home and on the go.
Inflatable Docks were built as our first foray into the floats category. While the concept is extremely simple, it has proven to be one of our most popular water pursuits of all time. Because giant floating squares = loads of fun. Toss it off your dock, off a boat, or into the pool, and you've got yourself a "private island" on nearly any body of water.
But which one is right for you? Let's dive in.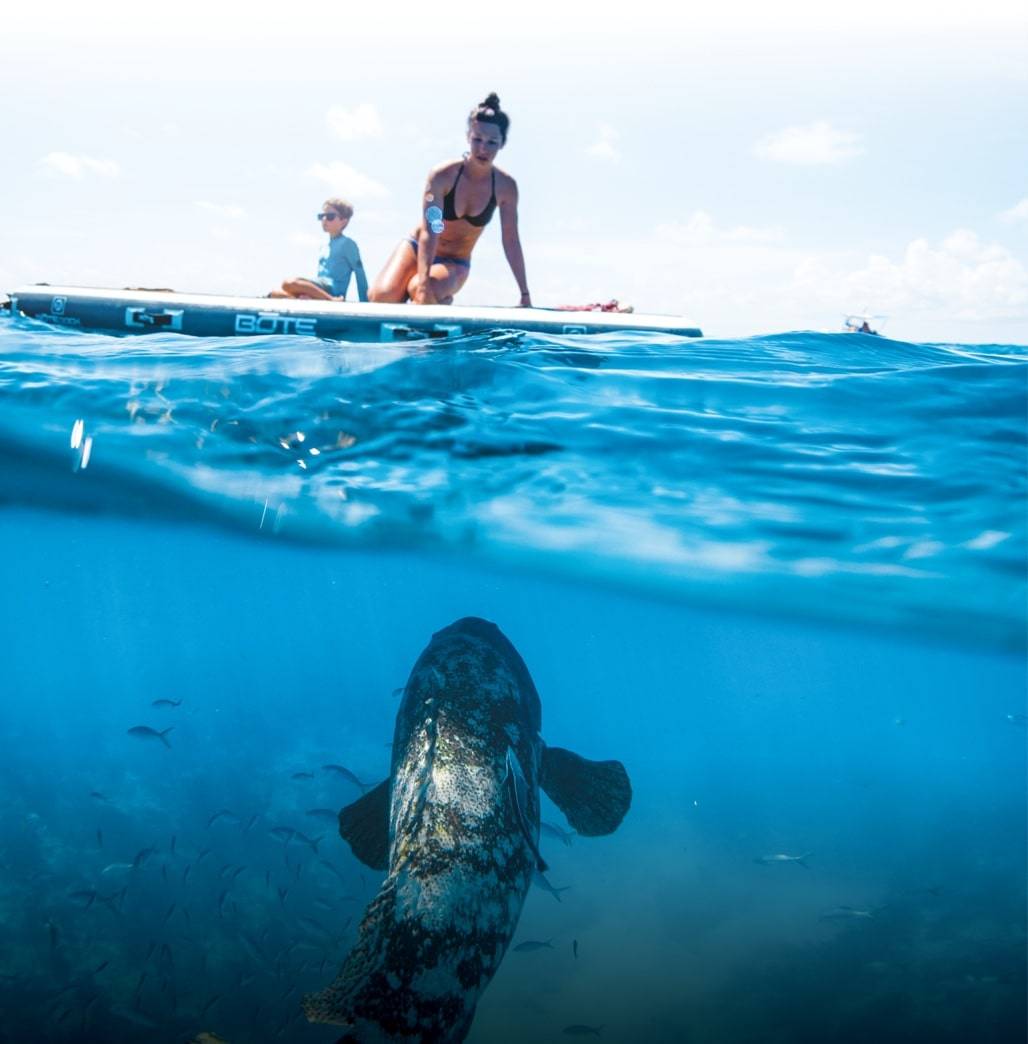 inflatable floating dock sizes
Our inflatable floating docks come in two highly versatile sizes—7' x 7' (Dock 7) and 10' x 10' (Dock 10). Each size offers identical features, with variances only in surface space, capacity, and carrying weight (when deflated and rolled into the provided carry sling).
INFLATABLE DOCK 10
The Dock 10 offers 100 square feet of surface space and can accommodate up to 1,500 lbs. of capacity for you and your water toys, or a few friends, Aero Chairs, and a KULA or two. If you're looking for a more significant amount of real estate on the water, the Dock 10 delivers the extra space you need to enjoy it with friends, accessories, and then some.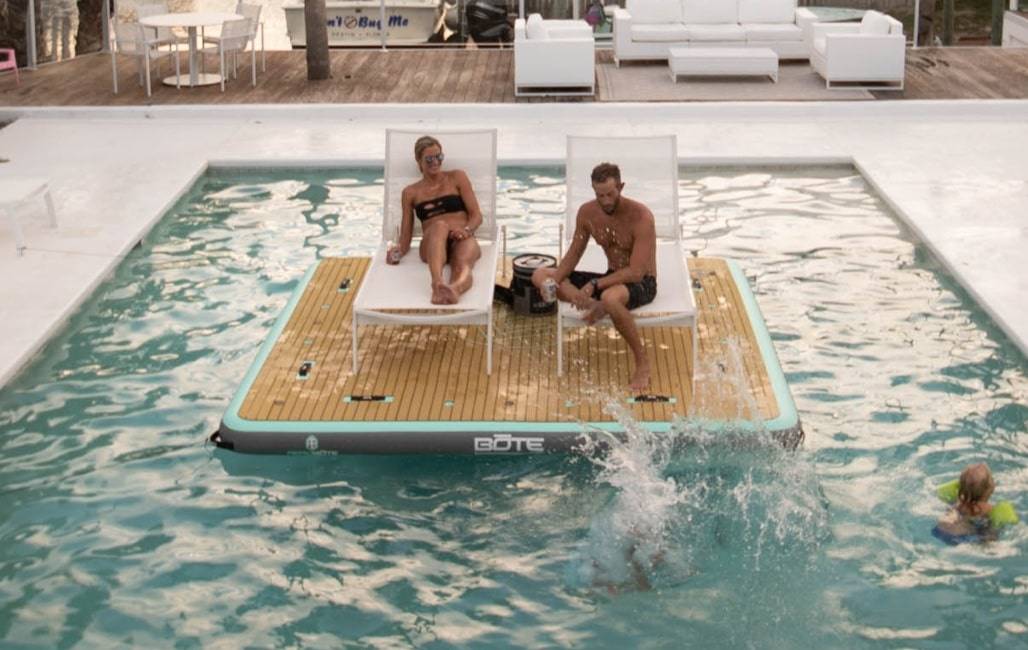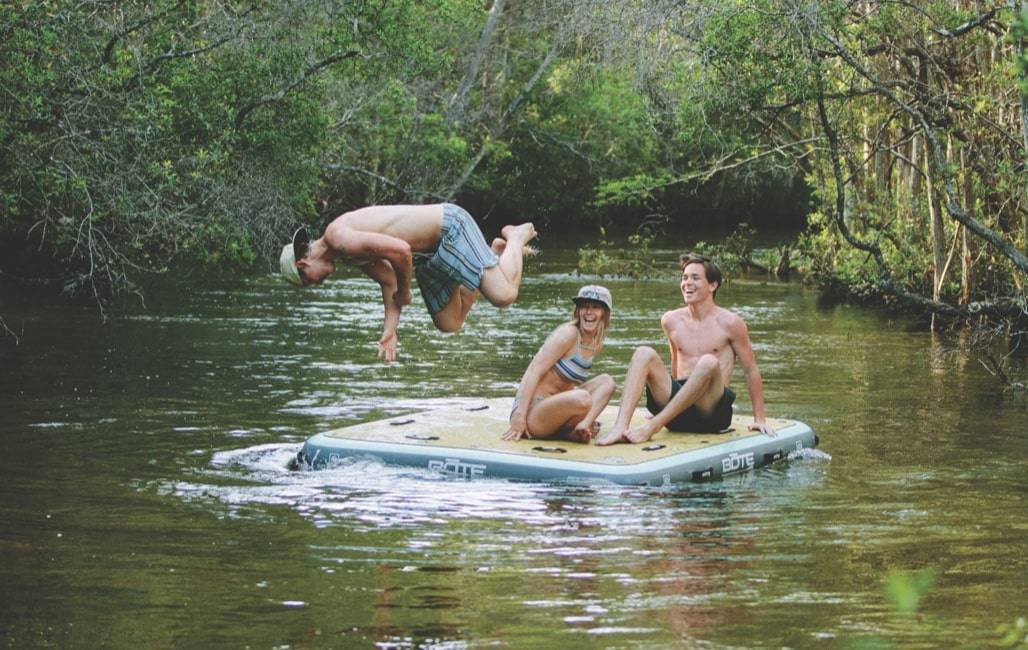 INFLATABLE DOCK 7
The Dock 7 delivers 49 square feet of surface space and 1,050 lbs. of capacity. The Dock 7 is the ideal amount of space for you and your loved ones, a couple of Aero Chairs, and a KULA or two, without the excess real estate or carrying weight (clocking in at just 35 lbs).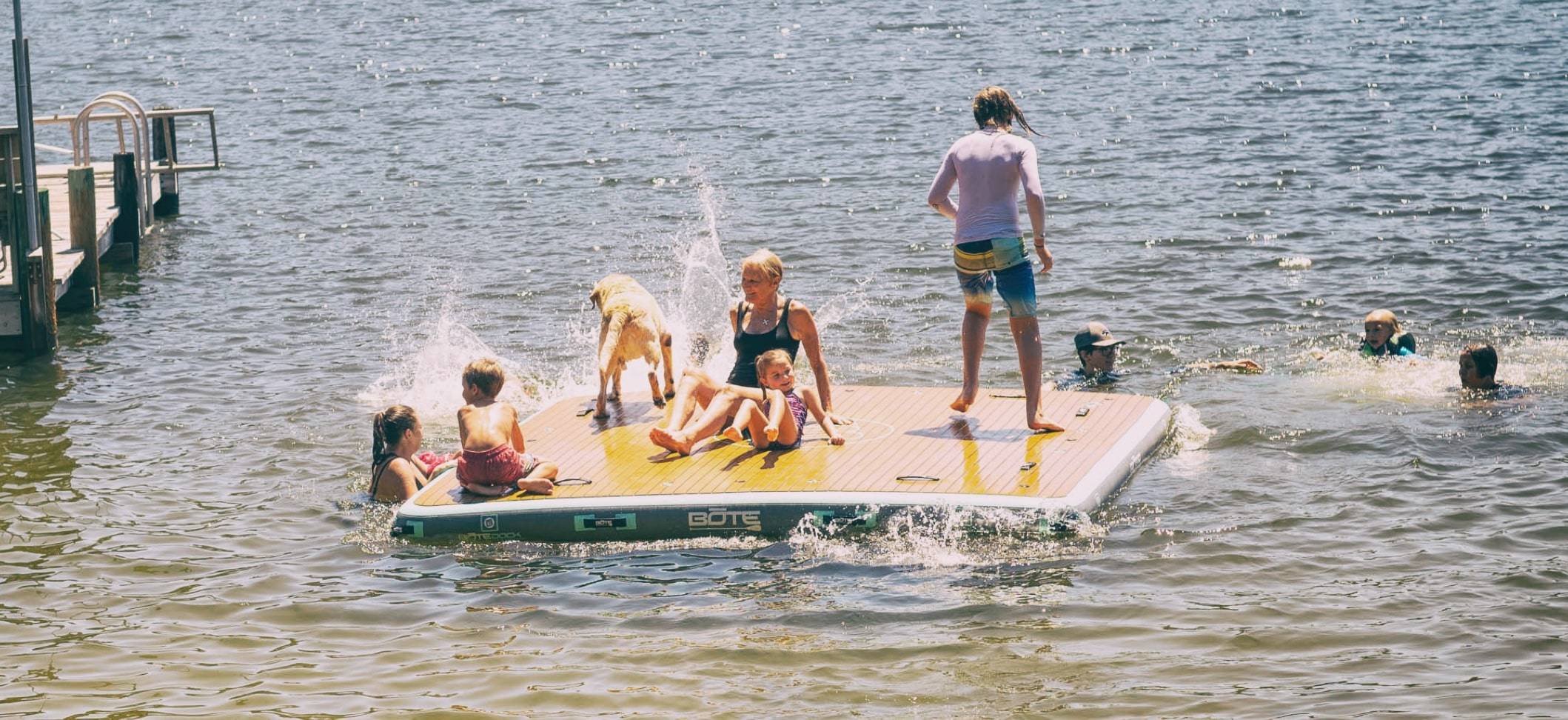 INFLATABLE FLOATING DOCK FEATURES
An inflatable floating dock is only as good as its construction. BOTE inflatable floating docks are not—we repeat: are not—giant pool toys that last for one week-long vacation. These floating docks, like everything we design, are built to stand the test of time.
DURABILITY AND CONSTRUCTION
Designed with military-grade PVC skin and a slip-resistant deck, or what we call AeroBOTE construction, whatever size BOTE floating dock you choose ensures your real estate on the water is built to handle even the wildest summer parties or even a two-year-old hopped up on sugar with a couple of furry friends.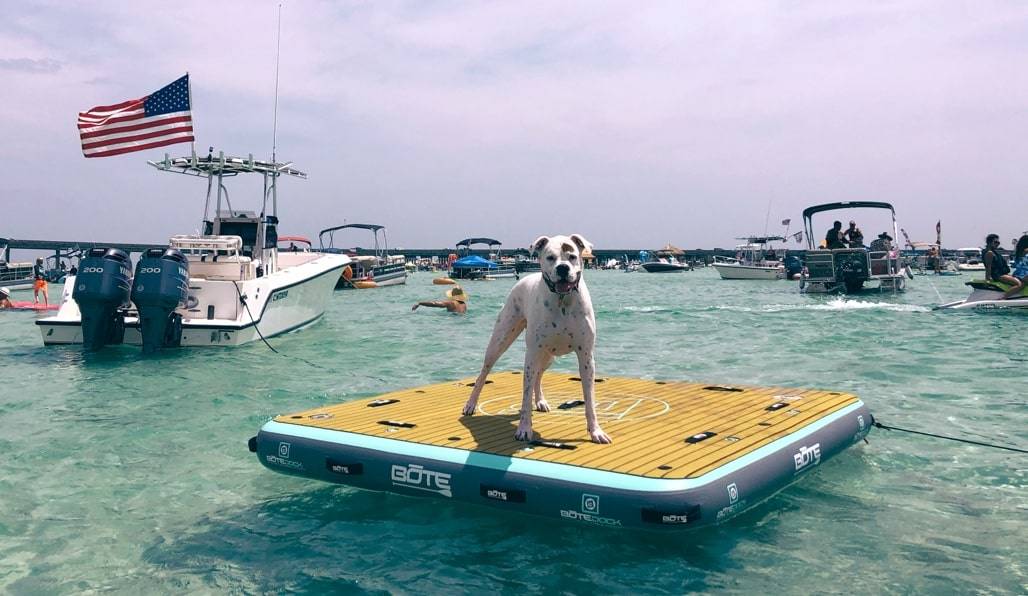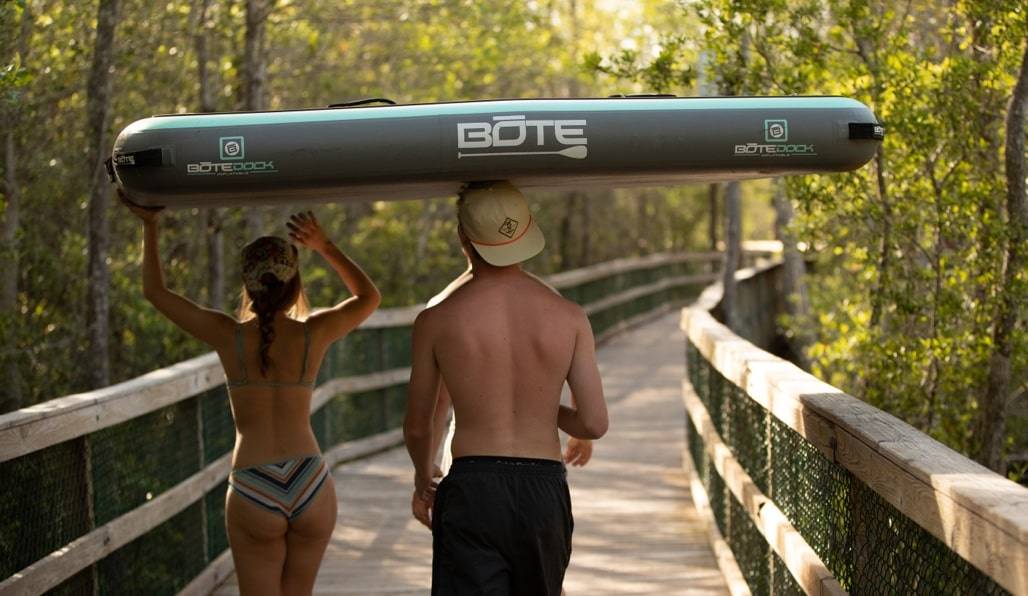 STORAGE AND PORTABILITY
AeroBOTE construction allows BOTE inflatable docks to transform from folded up like a burrito in a provided carry sling to a floating private island in minutes. The uniquely flexible material allows for superior ease of transportation and storage without compromising durability.
VERSATILITY AND FUNCTIONALITY
Thoughtfully placed accessory attachment rings and grab handles may not be the sexiest features, but they're absolutely essential. Grab handles allow easy entry and exit from the water, while accessory attachment points allow you to secure objects like dry bags or easily tie up to the nearest dock, boat, or even create a massive flotilla.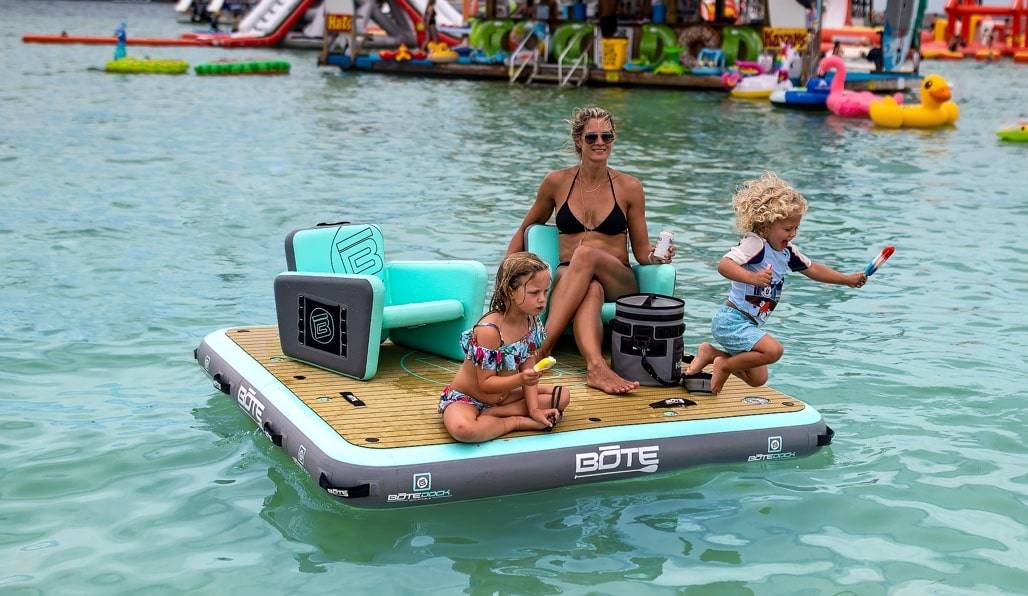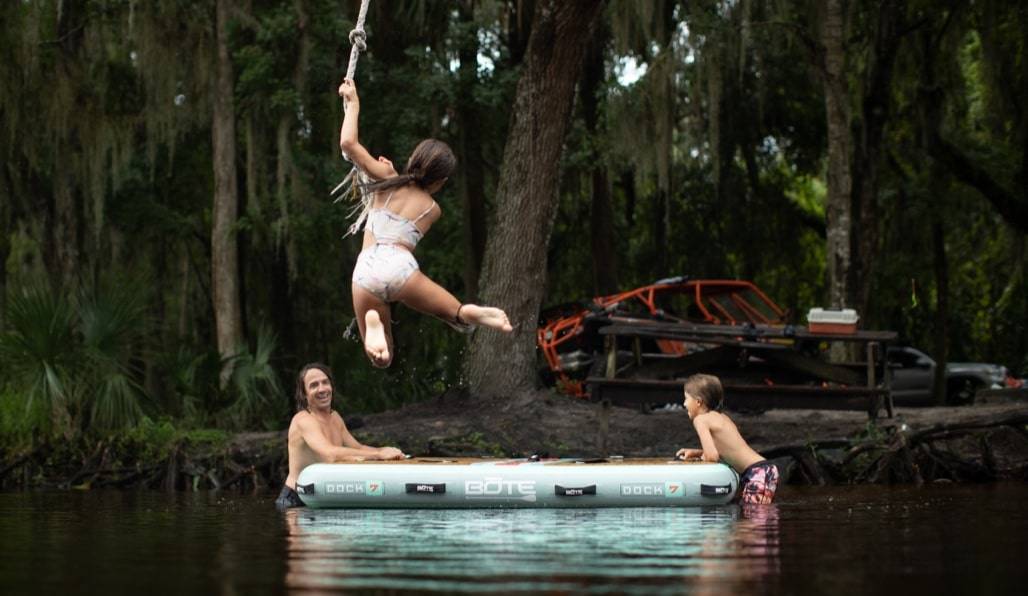 STYLE AND SIMPLICITY
The concept is simple: it's a giant floating square. But it's so much more, because it's whatever you want it to be from one weekend to the next. Plus, as with every BOTE product, design is everything. So rest assured that each size comes in a variety of styles so you can choose a design or color story that suits your personality and lifestyle.
Whatever your style or lifestyle, whatever your water pursuits, level up your real estate on the water with a BOTE inflatable dock.